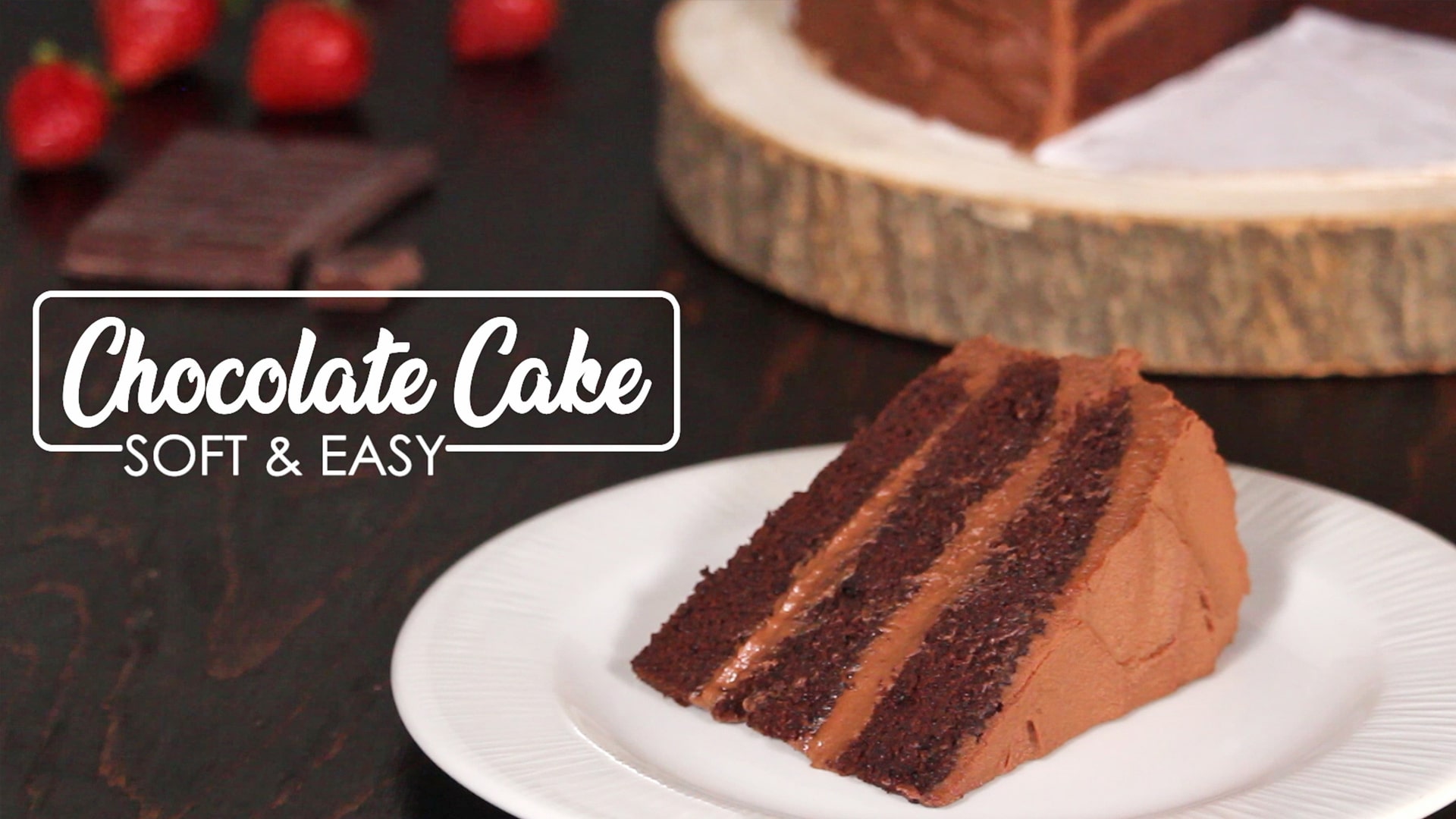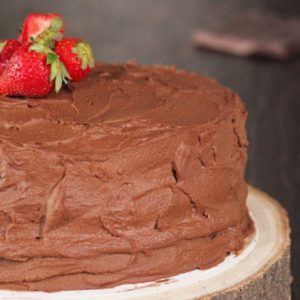 MY BEST CHOCOLATE CAKE
How to make the best chocolate cake, super moist, easy and rich in chocolate!
You can make the cake batter in few minutes, you don't need any mixer, just a whisk to mix the wet ingredients into the dry ingredients. The result is simply amazing: you'll get a very moist and soft chocolate cake!
The filling is an easy whipped chocolate ganache, incredibly fluffy and soft. This cake is light because is without butter and milk. If you like chocolate, you have to try it, you won't regret it!
Ingredients
Chocolate Cake
260 g

(2 cups + 2 tbsp)

all purpose flour

65 g

(2/3 cup)

unsweetened cocoa powder

250 g

(1 cups + 2tbsp)

caster sugar

4 g

(1 tsp)

baking powder

2 g

(1/2 tsp)

baking soda

1/2 tsp

salt

3

eggs

room temperature

120 ml

(105 g - 1/2 cup)

flavorless vegetable oil

sunflower seed oil, canola oil...

125 g

(1/2 cup)

unsweetened plain yogurt

room temperature

240 ml

(1 cup)

hot water

1 tsp

instant Espresso powder

or instant coffee powder

1 tsp

vanilla paste

or vanilla extract
Chocolate Frosting
30 g

(about 2 tbsp)

apricot jam puree

or a jam without fruit chunks (optional)

300 g

(10,5 oz)

dark chocolate

600 g

whipping cream
Instructions
Chocolate Cake
In a large bowl sift the dry ingredients: flour, cocoa powder, sugar, baking powder, baking soda, salt and mix until well combined. Set aside.

In a medium size bowl mix eggs, vanilla and yogurt.

Add slowly the oil and mix with a whisk until well combined.

Incorporate the egg mix into the flour mix until well combined.

Mix Espresso powder with hot water and combine it in the cake batter in 3 times.

Equally divide the cake batter into 3 cake pans (20 cm - 8 inch) greased, lined with parchment paper and sprinkle with sweetened cocoa powder (about 385 grams of batter for each cake pan; you can use a kitchen scale to divide it).

Bake in preheated oven (no fan, upper and lower heat) at 180°C-350°F for about 15 minutes or until a toothpick comes out clean.

Cool down slighlty then remove from the pan and cool down completely on a wire rack.
Chocolate Frosting
Finely chop the chocolate.

Bring to a simmer the whipping cream, but not boil it. You can heat it over a stovetop or in the microwave.

Pour the hot cream into the chopped chocolate, wait for 2 minutes, then stir well until the chocolate will completely melted and the mix turns out smooth. If you see some chocolate lumps, you can microwave for few seconds to completely melt the chocolate.

Refrigerate the chocolate filling for about 1 hour or until is completely chilled.

Mix at medium-low speed with an hand mixer the chocolate filling, until it become creamy like a soft whipped cream. Be careful to not overbeat it, or it will curdle!
Assembly
Heat some apricot jam few seconds in a microwave or over a stovetop until become fluid.

Brush the first cake layer with some apricot jam: don't use too much jam or the cake will slide when you will frost it!

Add one layer of chocolate filling using a piping bag (round 1 cm tip). You can also spoon the frosting without using a piping bag.

Add the second cake layer on top and repeat with the jam and the chocolate filling.

Top the cake with thw third cake layer.

Frost the cake with the remaining chocolate filling and use the spatula to make rustic swirls.

Refrigerate for about 1 hour before serve it.
Video
Notes
You can store the cake in refrigerator for about 5 days.
Bring it to room temperature before serve it, or remove from the fridge at least 15 minutes before.
It's delicious served with whipped cream!
I always suggest to use a kitchen scale to equally divide your batter into three cake pans to get identical cake layers.
You can also bake your cake in one cane pan. Then, after it cools down, you can cut it and divide it in three layers.
If you use only one cake pan, remember that your cake needs some minutes more to bake. Always use a toothpick to check: it's done when the toothpick comes out clean.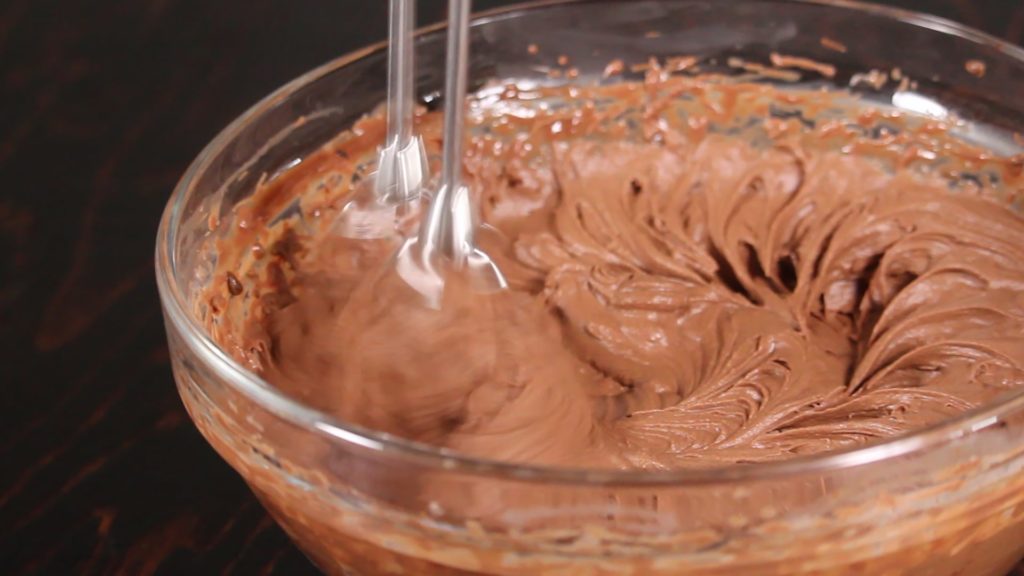 To get the best chocolate frosting and dessert, always use the best quality chocolate. I know it could sound a commonplace suggestion, but I've often heard that "kitchen" or compound chocolate is perfect for baking…I'm not agree. Chocolate flavor is essential in a chocolate dessert, mostly when it's no-bake like this frosting.
Making this frosting is pretty easy but pay attention to these steps:
melt completely the chopped chocolate in hot whipping cream;
be patient with refrigerating time: if your frosting isn't chilled enough, it won't whip;
don't whip it too much, stop when it creamy or it could curdle. If it looks too soft, I suggest you to chill in refrigerator until get your desired consistency.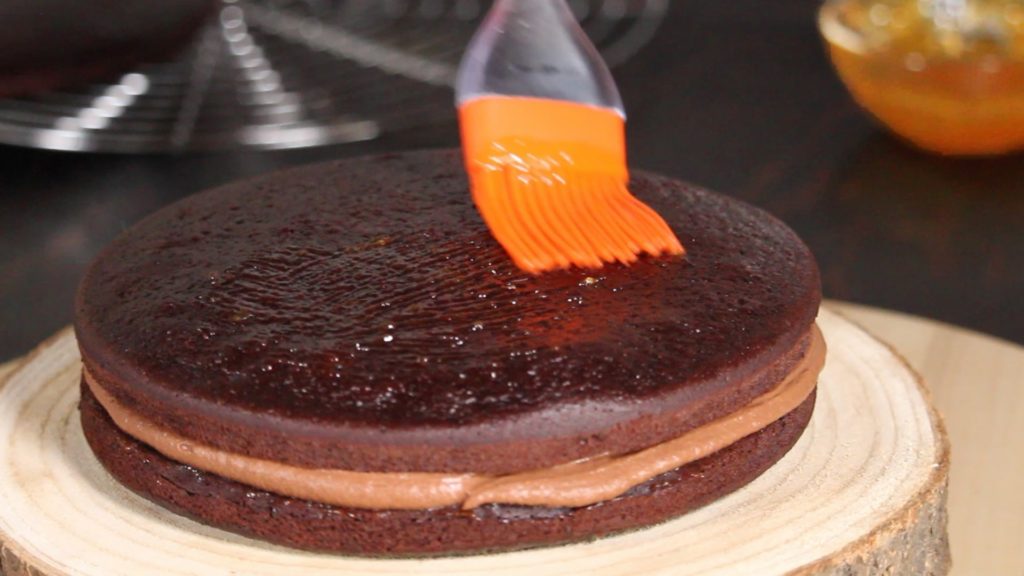 Apricot jam is not essential in this recipe. It gives extra moisture and sweetness to the cake, but the cake won't taste of jam…it's not a Sachertore.
Remember to not use too much jam, or your cake layers will slide when you frost the cake!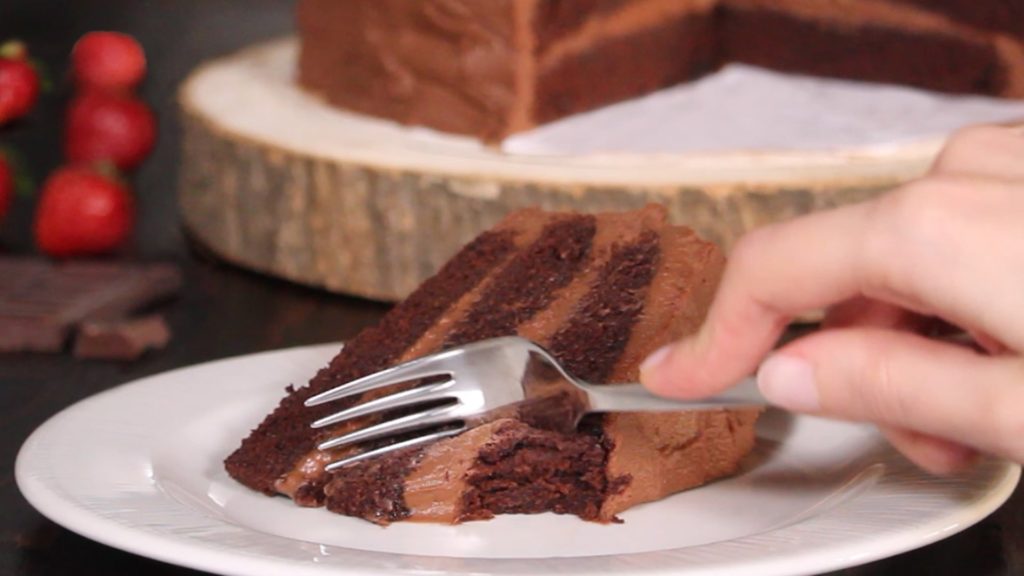 I usually refrigerate a bit the cake before slicing and I use a knife soaked in hot water and perfectly dried. After I make a cut, I clean my blade, this will help you to get perfect cake slices!