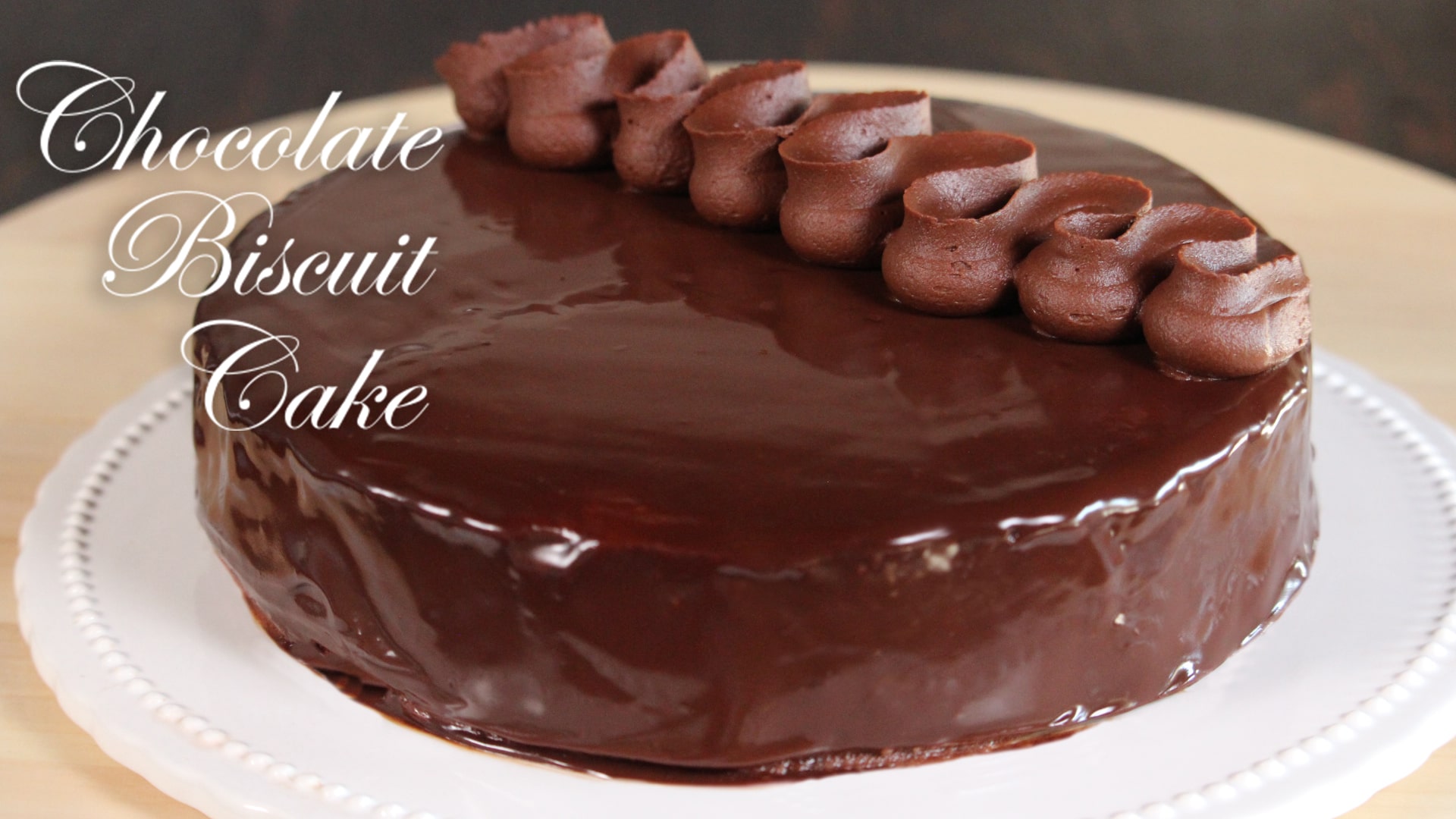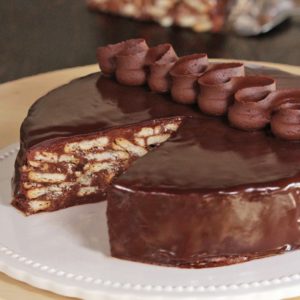 NO-BAKE CHOCOLATE BISCUIT CAKE
No-Bake Chocolate Biscuit Cake is a very easy and decadent cake that every chocolate addicted will love!
Made with few simple ingredients, like chocolate, butter, sugar and tea biscuits, you can assemble it in few minutes, just be patient for the chilling time in refrigerator (2-3 hours).
I suggest to use high quality chocolate like dark chocolate bars (at least 55% cocoa), no compound chocolate, because the chocolate taste is very important in this recipe!
You can use any kind of rich tea biscuits you like; I suggest to do not use Digestive or light biscuits, the taste won't be rich and sweet as it should be.
Use caster or superfine sugar; if you can't find it, go for powdered sugar. Granulated white sugar is a bit too coarse for this recipe and it won't dissolve completely in the butter mix.
This chocolate biscuit cake is perfect as afternoon Tea sweets: it was the favourite Tea cake of Queen Elizabeth II!
Ingredients
BIscuit Cake
110 g

(1/2 cup)

unsalted butter

room temperature

110 g

(1/2 cup)

caster/superfine sugar

or powdered sugar

110 g

(4 oz)

dark chocolate

chopped

200 g

(7 oz)

tea biscuits
Chocolate Ganache
120 g

(4 oz)

dark chocolate

chopped

120 g

(1/2 cup)

whipping cream

or heavy cream
Instructions
Biscuit Cake
Mix butter and sugar with a hand mixer until pale, fluffy and the sugar almost dissolves.

Melt chocolate in microwave or over bain-marie.

Incorporate melted chocolate (not too hot but still very warm) into the butter mix until well combined.

In a very large bowl, break tea biscuits into small pieces but do not use a rolling pin or a food processor, use your hands: be patient and break biscuits into very small pieces! If you break them into medium-large pieces, the cake texture will turn out with some holes.

Pour butter-chocolate mix into crushed biscuits and gently mix until all the biscuit pieces are completely and evenly coated with chocolate.

Place into a 18cm-7inch lined and greased springform pan or a cake ring lined with acetate. Press well the cookie mix to avoid holes in the cake texture.

Place in refrigerator for about 2-3 hours or until completely set.
Chocolate Ganache
Slightly melt chopped chocolate in microwave or over bain-marie.

Heat whipping cream until very hot but not boiling.

Pour hot cream into chocolate in 2-3 times and mix until get a very smooth and shiny chocolate ganache.

Wait few minutes until the ganache slightly cool down (about 37°C), unmold the cake and glaze it.

Gather the leftover ganache, place it into a bowl and put in freezer for about 30-45 minutes or until thickened.

Decorate the top with a piping bag with a St. Honoré piping tip filled with the chilled chocolate ganache.

Wait 30 minutes beofre serving.
Video
Notes
Store in refrigerator for about 1 week.
Remove from the fridge about 20 minutes before serving.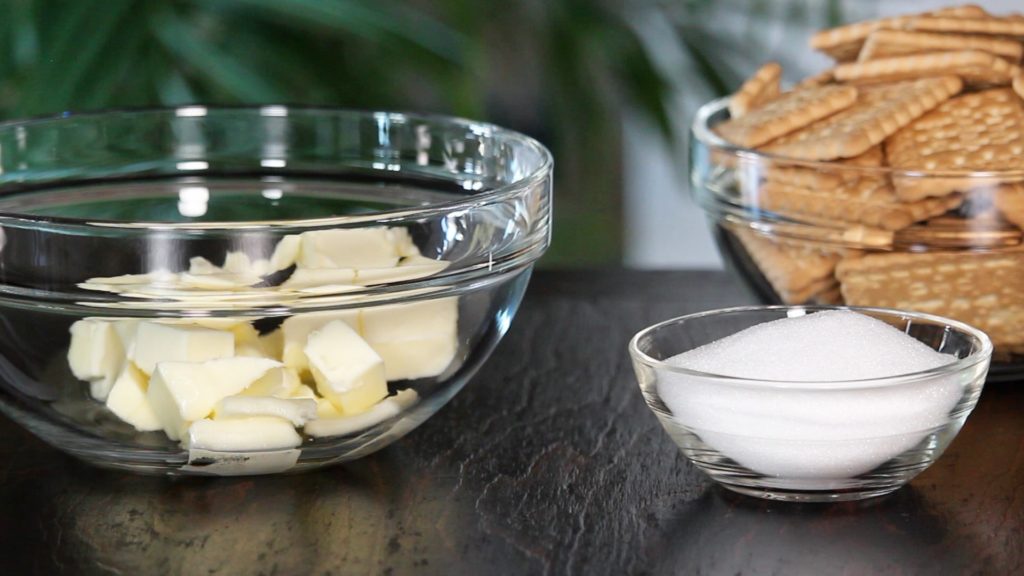 For this cake is important to use a superfine sugar, like caster sugar. If you can't find caster sugar, you can use powdered sugar, but do not use granulated white sugar beacuse it's too coarse and it would not dissolve in butter!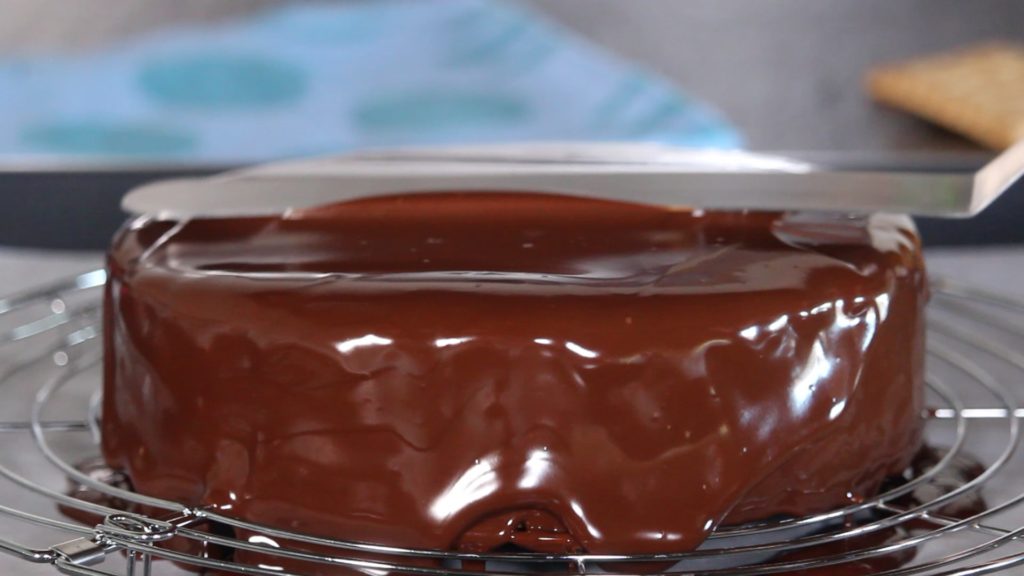 In this recipe chocolate is very important because it's the main flavor you can taste. For this reason I suggest to use high quality chocolate bar and not use compound or chocolate chips.
To get a perfect shine ganache, slightly melt chopped chocolate in microwave or bain-marie, then pour the hot whipping cream gradually in 2-3 times and mix until get a very smooth mix. If you can see some chocolate lumps, return to microwave for few seconds.
Wait few minutes for glazing the cake: the chocolate ganache shouldn't be too hot or too chilled, the right temperature is about 35-37°C.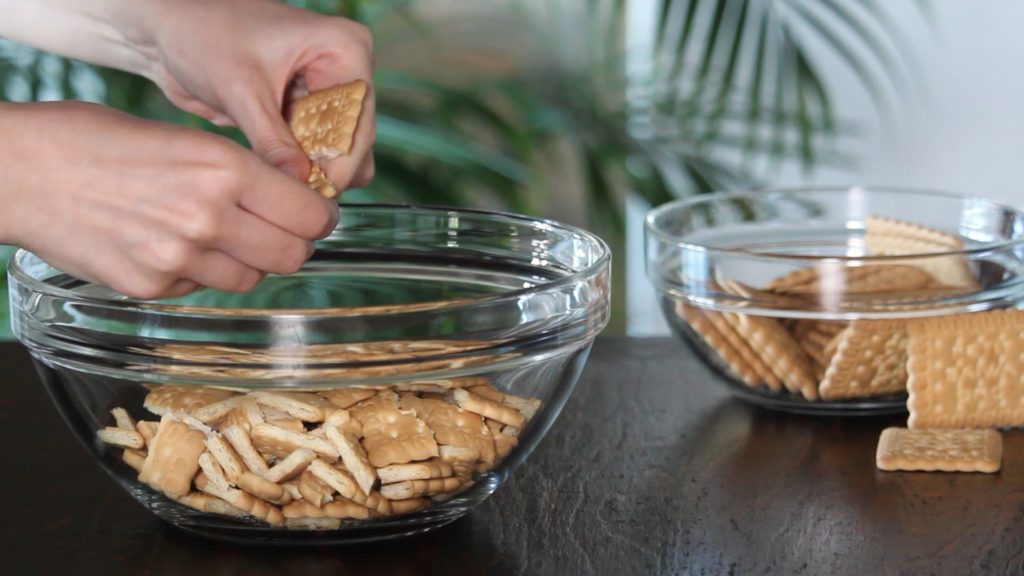 This cake is perfect made with rich tea biscuits, because the biscuit taste is predominant, so use rich and high quality biscuits.
Chocolate Biscuit Cake is incredibly easy to make but you should pay attention to this two key points:
You have to break your cookies into very small pieces! Please, be patient and break them into smaller pieces than I did 😀 this is the most important thing if you want to get compact cake texture without holes in the middle and inrregular cake's top, bottom and sides.
Press the chocolate-cookie mix very well in the cake mold, so the cake will be compact and firm.
The Chef Darren McGrady was the royal Queen Elizabeth's pastry chef and told this biscuit cake was the favourite of Queen Elizabeth II for her afternoon tea.
If you carefully prepare it, you are having a true Royal dessert!