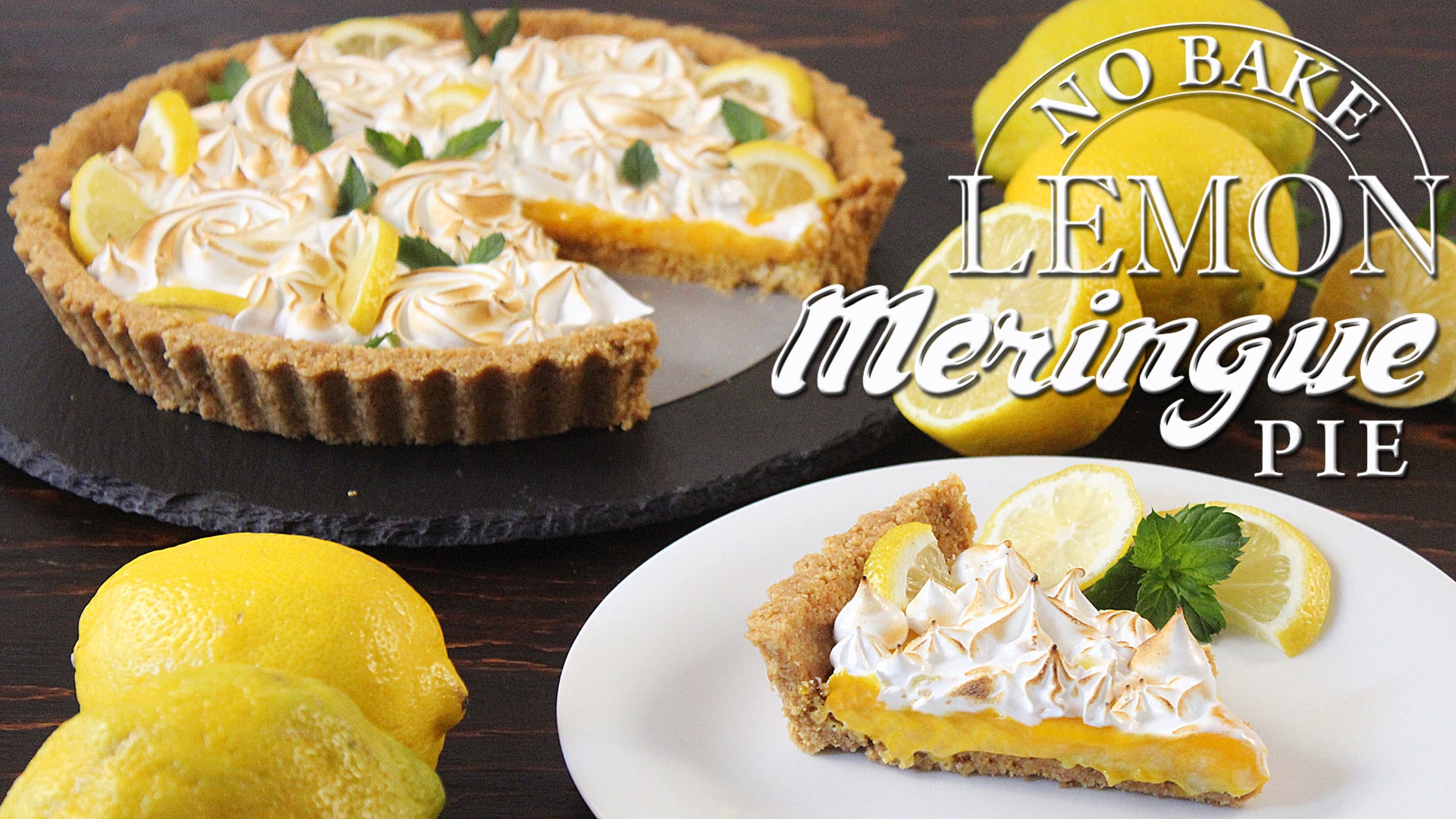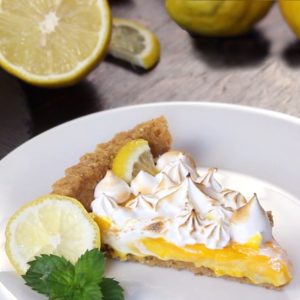 NO-BAKE LEMON MERINGUE PIE
One of the most refreshing pie you can ever taste is this Lemon Meringue Pie!
Made in a no-bake version with a crispy Digestive cookie crust (but you can use your favourite cookie type!), it features a silk and smooth homemade Lemon Curd and topped with a sweet Italian Meringue just slightly toasted on top.
If you love lemon falvor, you can't miss it, it's the Summer's queen cake!
Ingredients
Crust
300 g

(10,5 oz)

Digestive cookies

or your favourite biscuits

140 g

(2/3 cup)

unsalted butter

melted
Lemon Curd
5

egg yolks

1

whole egg

140 g

(2/3 cup)

caster sugar

The peel from 1/2 large organic lemon or from 1 small lemon

100 ml

(1/2 cup)

fresh lemon juice

you got if from about 2 lemons

9 g

(1 tbsp)

cornstarch

60 g

(1/4 cup)

unsalted butter

chilled
Italian Meringue
90 g

egg whites

from about 2 medium size eggs, room temperature

240 g

(2 cups+2tbsp)

caster sugar

60 g

(5 tbsp)

water

1 tsp

vanilla extract
Instructions
Crust
Place the biscuits into a ziplock bag and use a rolling pin to turn into fine crumbs (you can also use a food processor).

Transfer the crumbs into a bowl and incorporate the melted butter until evenly combined.

Using a spoon, press the crumbs mix against the bottom and sides of a round 22 cm-9 inch tart pan. Refrigerate for at least 30 minutes, meanwhile prepare lemon curd.
Lemon Curd
In a large bowl, add cornstarch, fresh lemon juice, eggs, sugar and lemon peel (I suggest to peel the lemon with a sharp little knife and remove the white, that is bitter, from the yellow peel).

Whisk to combine and place the bowl to cook over a bain marie (a pot with boiling water), be careful: the egg's mix bowl has not to touch the boiling water!

Keep on stirring, cook at medium-high heat for about 10 minutes or until lemon curd starts to get thick.

Remove from the heat, remove the lemon peel (if you have grated the lemon peel, you have to sieve the lemon curd while it's hot).

Add chilled butter and combine.

Cover with plastic wrap, creating contact with the lemon curd, and refrigerate until prepare the italian meringue.
Italian Meringue
In a small saucepan, combine sugar with water and place on medium heat. Using a candy thermometer*, measure syrup temperature: when it reaches about 220°F - 105°C start whipping the egg whites until firm foamy.

*IF YOU HAVEN'T A CANDY THERMOMETER: when the sugar syrup starts boiling, let it boil for about 10 minutes: the syrup will be ready when a cooled drop of it forms a firm but pliable, sticky ball that holds it shape briefly.

When the syrup reaches 250°F -121°C, pour it immediately and gradually over the whipped egg whites while mixing continuously.

Continue beating at high speed until the bowl has cooled slightly, and glossy stiff peaks have formed (for about 6-7 minutes); meanwhile the meringue is cooling, incorporate vanilla extract.
Assembly
Pour the lemon curd into the pie crust and distribute evenly with a spatula.

Place the italian meringue into a piping bag and pipe different shapes over the lemon curd.

Before serving, use a torch to toast the meringue, or you can grill the cake in oven at 400°F-200°C for about 3 minutes or until slightly golden brown.

Decorate with lemon slices and fresh mint leaves. Enjoy!
Video
Notes
You can store it in refrigerator for about 2-3 days.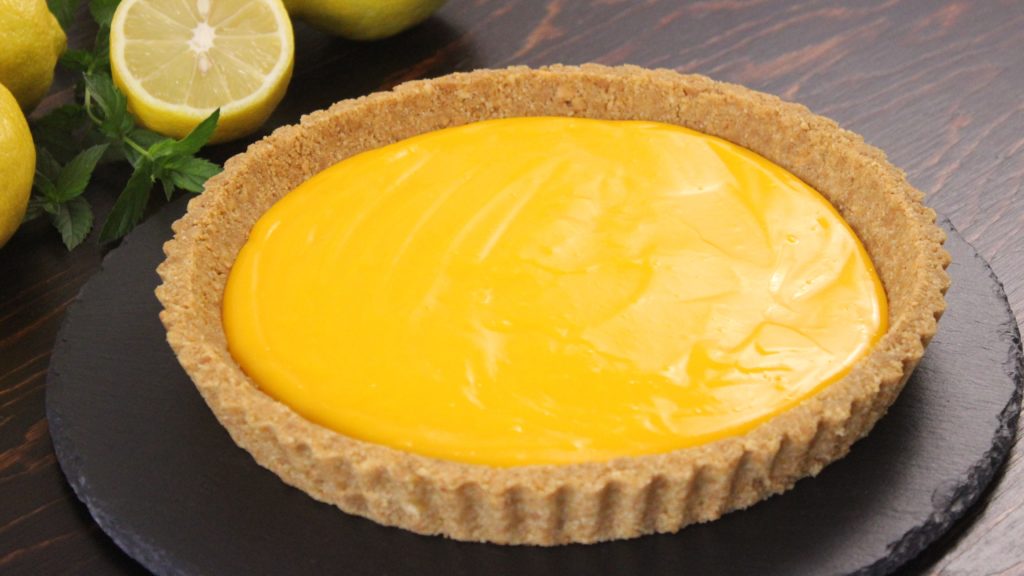 You can substitute the no-bake crust with a store-bought or homemade pie crust.
Here you can find my perfect Pie Crust Recipe I made for my Pumpkin Pie!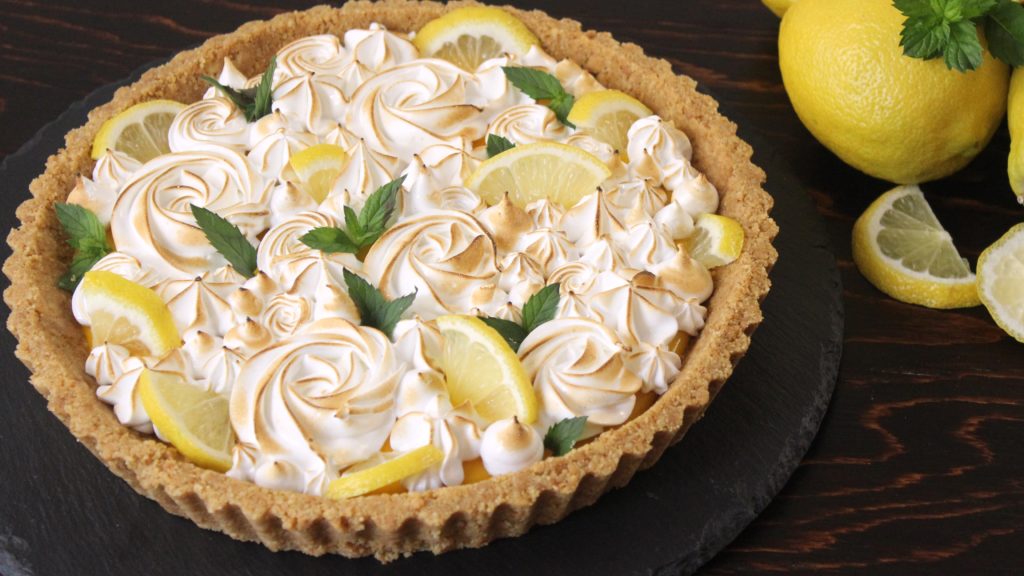 Use oranic lemon for this recipe because you need the peel. 
Lemon Curd taste pretty strong of lemon (even if mine it is not strong like many other ones I tasted in my life!), if you're not a lemon fan, this cake is not for you!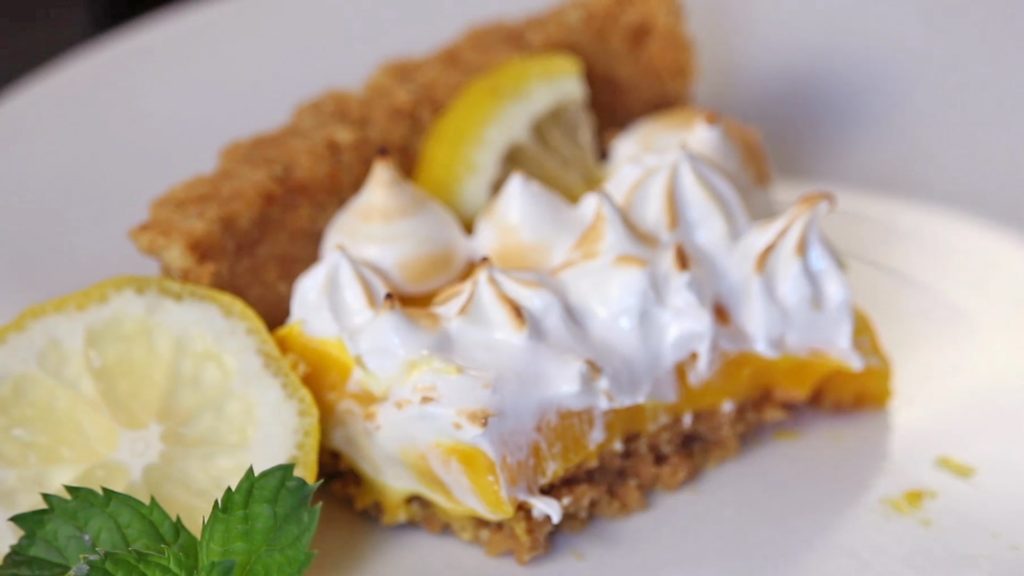 You can make Lemon Curd one day in advance and store it in refrigerator. Cover with plastic in contact with the curd to prevent forming a peel.