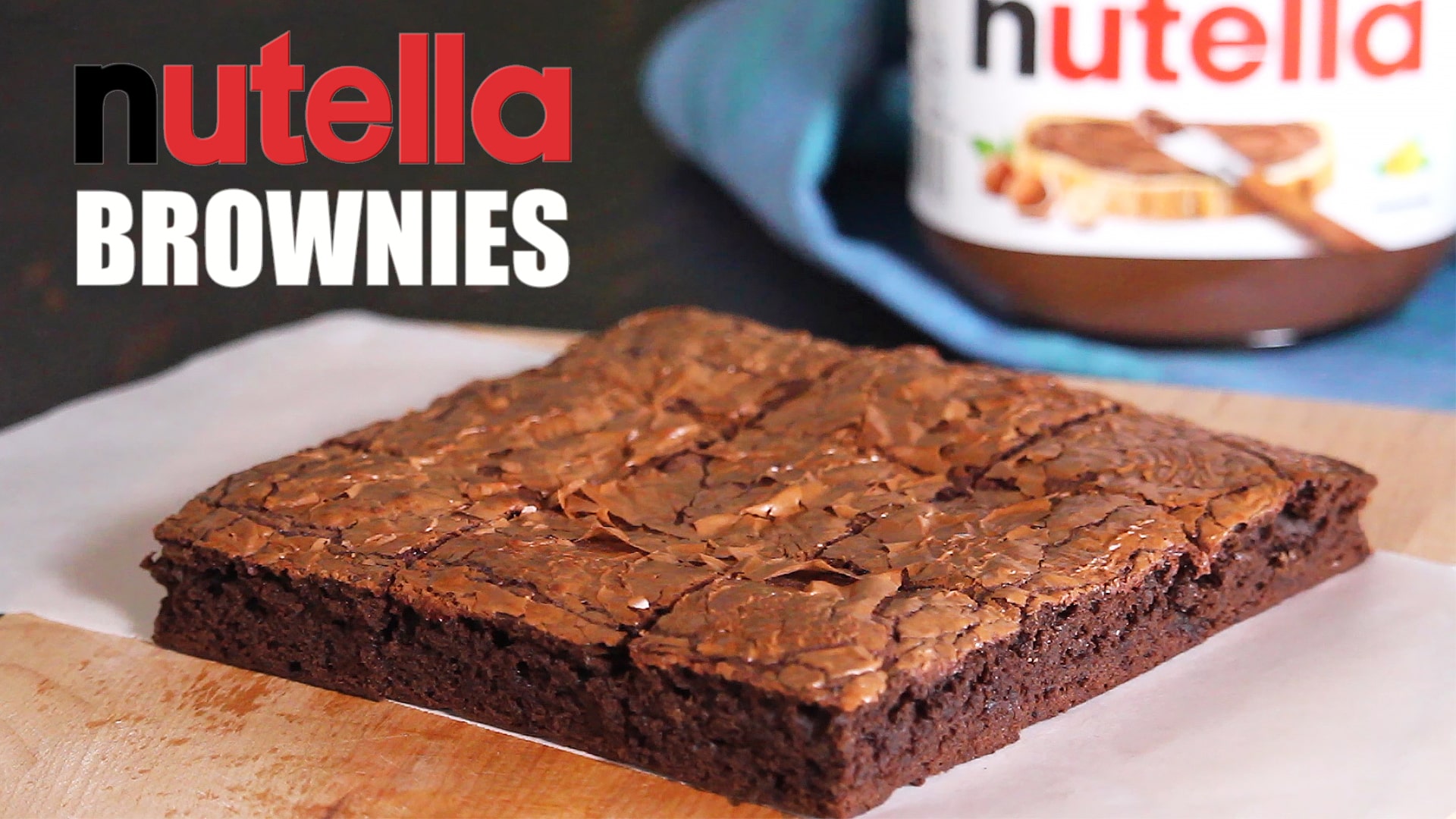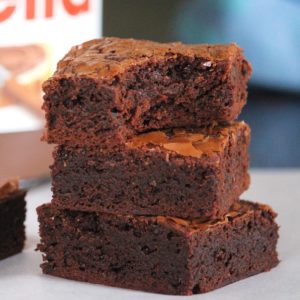 NUTELLA BROWNIES
You need just 4 simple ingredients to make this incredible fudgy Nutella Brownies! In few minutes you'll get crinkle top brownies with an irresistible chewy and rich center.
These brownies are made with a lot of creamy Nutella, cocoa, eggs and flour: that's it! You can put them together in few minutes and bake for less than 20 minutes. I love fudgy brownies, if you prefer fudgy than cakey texture, I suggest to not overbake them. They are ready when the top is dry but, if you test the center with a toothpick, it comes out slightly moist and not completely dry.
This recipe is incredibly quick and easy, you can also prepare them with your kids: they surely fall in love with these brownies!
Ingredients
2

large eggs (125 g)

room temperature

300 g

(1 cup)

Nutella

40 g

(1/3 cup)

all purpose flour

15 g

(2 tbsp)

unsweetened cocoa powder

1/4 tsp

salt
Instructions
In a large bowl, mix the eggs with a hand mixer for some minutes until double/triple its volume and become light and thick.

Add slightly warmed Nutella (you can heat the jar in microwave for few seconds) and mix just until combined (don't overmix).

Add sifted flour, salt and cocoa. Gently fold with a spatula until well combined and don't overmix.

Place the batter into a lined and greased 20x20cm - 8x8inch cake pan and spread evenly.

Bake in preheated fan oven at 175°C-345°F for about 16-18 minutes. Be careful to not overbake: a toothpick comes out with moist crumbs and not completely dry.

Slightly cool down for few minutes in the pan, then cool down completely on a wire rack.

Using a hot knife, trim the edges (optional) and cut in 9 pieces.
Video
Notes
Store at room temperature covered with plastic wrap or in a plasic box for 2-3 days.
You can also store in refrigerator for 6 days but bring at room temperature before serve it.
You can store in freezer for up to 1 month.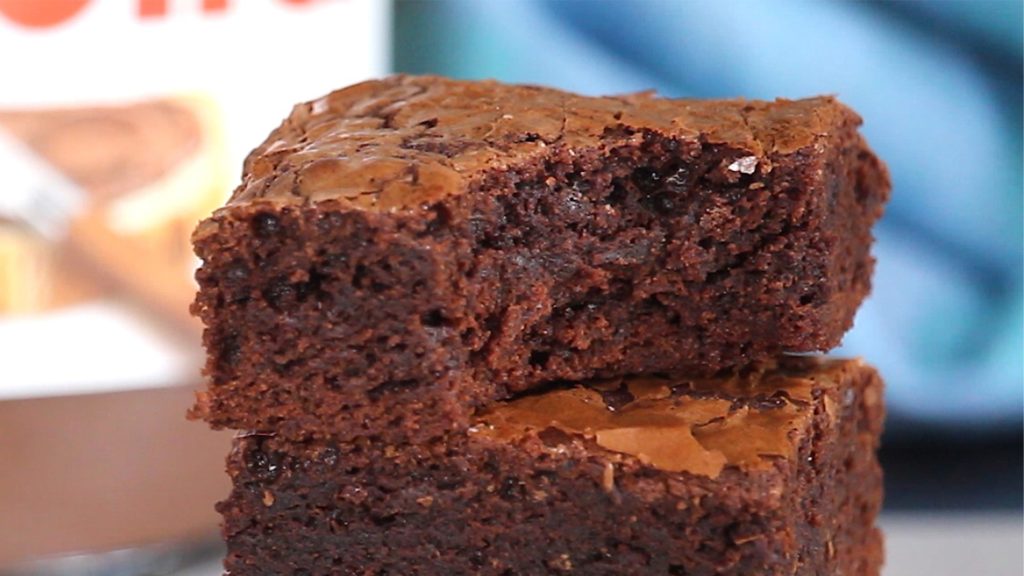 You don't need to add any sugar in this recipe because Nutella is very sweet and with this recipe you'll get sweet Nutella brownies. If you're using other type of hazelnut spread, you can taste the batter, decide if it's sweet enough and add sugar according to your taste.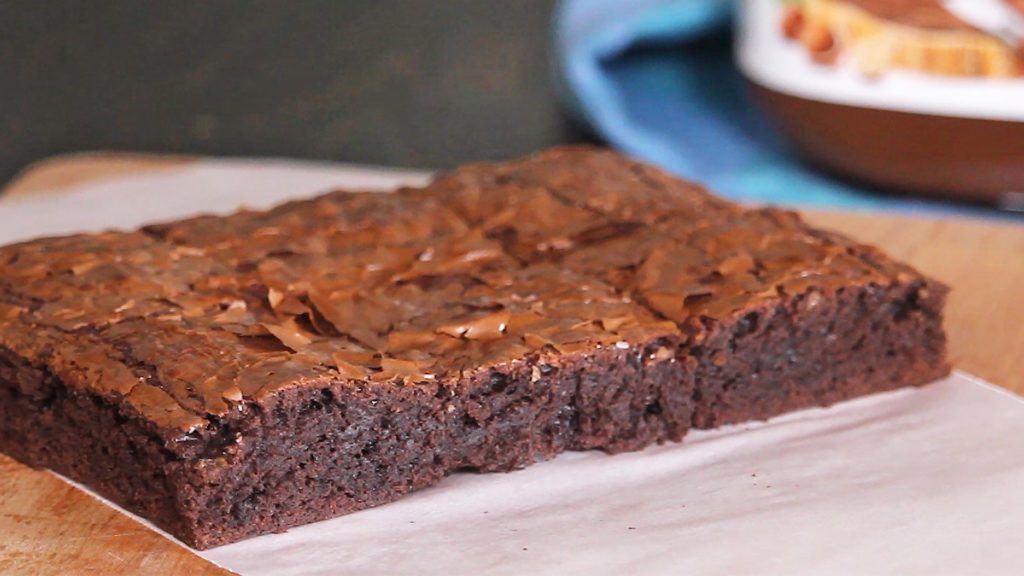 I've trimmed the edges and slice in 9 squares, but it's totally optional. You can also slice in 16 little squares, that's the perfect size if you're setting up a sweet table buffet!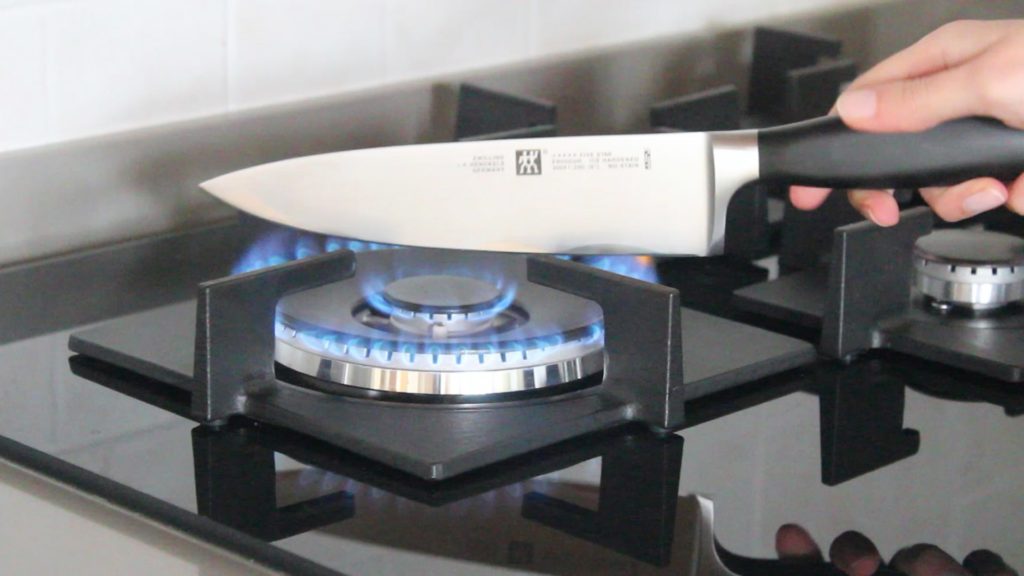 The best way to make perfect neat cuts when you slice brownies, is to heat your chef knife (not a serrated knife). Some people use hot water, then dry the blade before make the cut. But I prefer to heat directly over the stovetop: your blade will be very hot in 3 seconds!