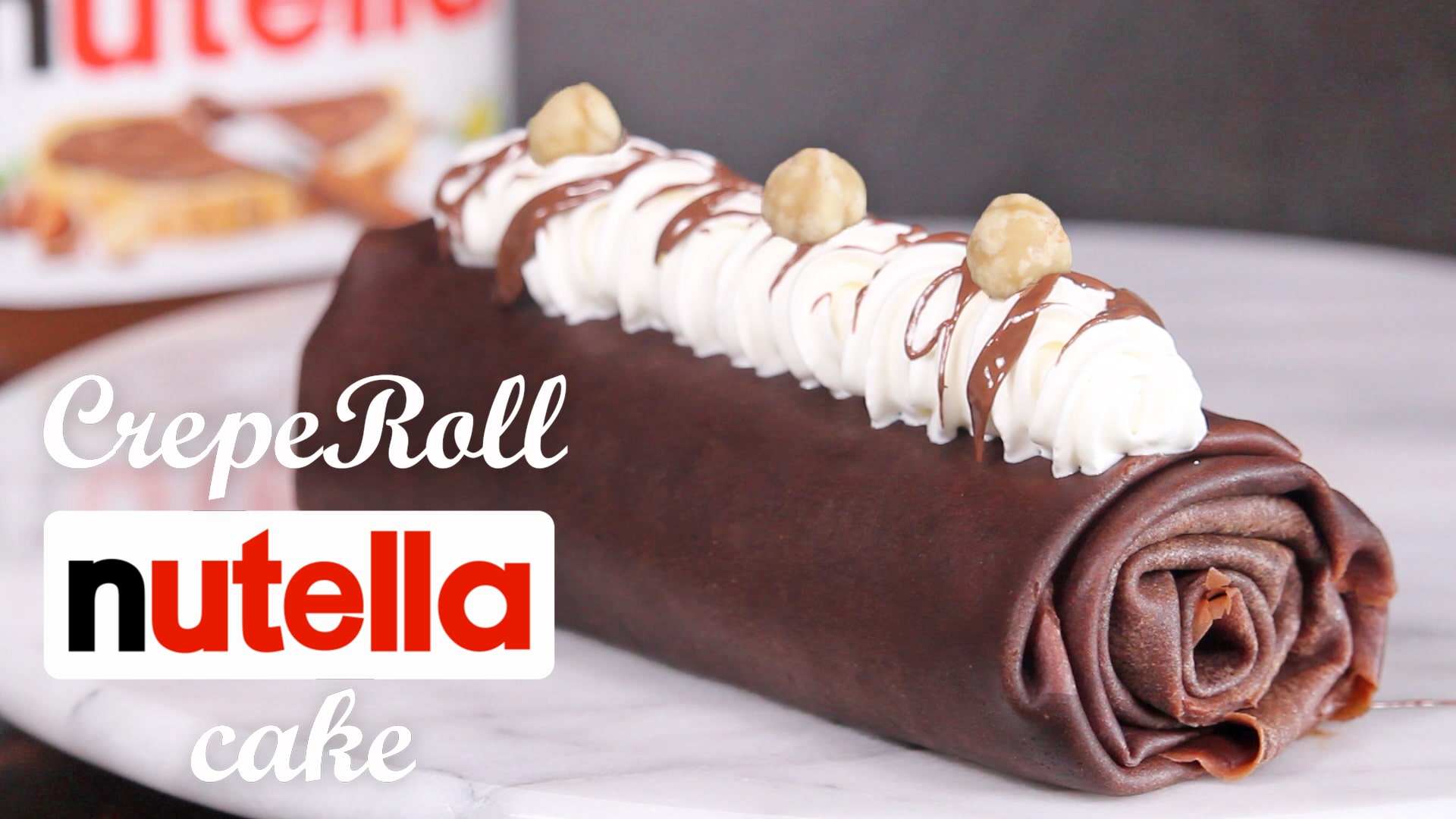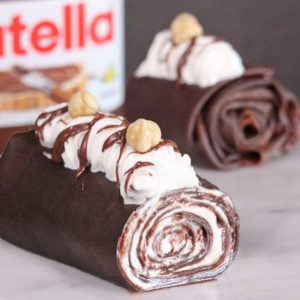 NUTELLA CREPE ROLL CAKE
If you love Nutella you surely should try my Nutella Crepe Roll Cake recipe!
Quick and easy no-bake recipe, it's a cute idea to serve crepes in a different way. Made with delicious Nutella chocolate crepes, spread with Nutella and loaded with whipped cream, you just need to roll the crepes together to get a beautiful impressive Crepe Roll Cake!
I used unsweetened whipped cream because I added Nutella both in the crepe batter and spread it onto the crepes, and since Nutella is pretty sweet, you don't need extra sugar in this recipe.
You can prepare this Crepe Roll in advance and store it in refrigerator for few days: everyone will fall in love with it!
Ingredients
Nutella Crepes
1

(55 g)

egg

room temperature

27 g

(1+1/2 tbsp)

Nutella

125 g

(1/2 cup)

milk

room temperature

1 tsp

vanilla extract

45 g

(1/3 cup+1/2 tbsp)

all purpose flour

7 g

(3 tsp)

unsweetened cocoa powder
Filling
120 g

(1/2 cup)

whipping cream

chilled

About 1 tbsp

Nutella

for spreading the crepes
Instructions
Nutella Crepes
In a medium size bowl sift and mix together flour and cocoa powder. Set aside.

In a small pitcher beat the egg and incorporate nutella: mix well until Nutella completely dissolves.

Gradually pour the egg mix into the flour mix while mixing: if you incorporate the egg mix into the flour mix little by little, you won't get any lumps in the crepe batter.

Preheat a 22cm-9inch non-stick pan, slighgtly grease it with butter and absorb the excess.

Pour 1/4 cup-60 ml of batter into the pan, quickly spin the pan to evenly spread the batter and cook over low heat for few minutes.

The crepes are ready to flip when the sides pull away from the pan: flip and cook the other side for about 1-2 minutes.

You get 4 crepes: let cool them down.
Filling and Assembly
Spread a thin Nutella layer on top of each crepe.

Place the crepe side by side and slightly overlap them.

Whip the cream until medium peaks.

Spread the whipped cream at the center of the crepes and reserve some for the decoration on top.

Fold the sides of the crepes and rolling them until get a log.

Wrap the roll crepe into plastic wrap and put in refrigerator for at least 90 minutes, better 4-6 hours.

Unwrap the roll cake, decorate the top with whipped cream, Nutella, hazelnuts...cut into slices with a chef knife and serve it!
Video
Notes
Store in refrigerator for 4 days.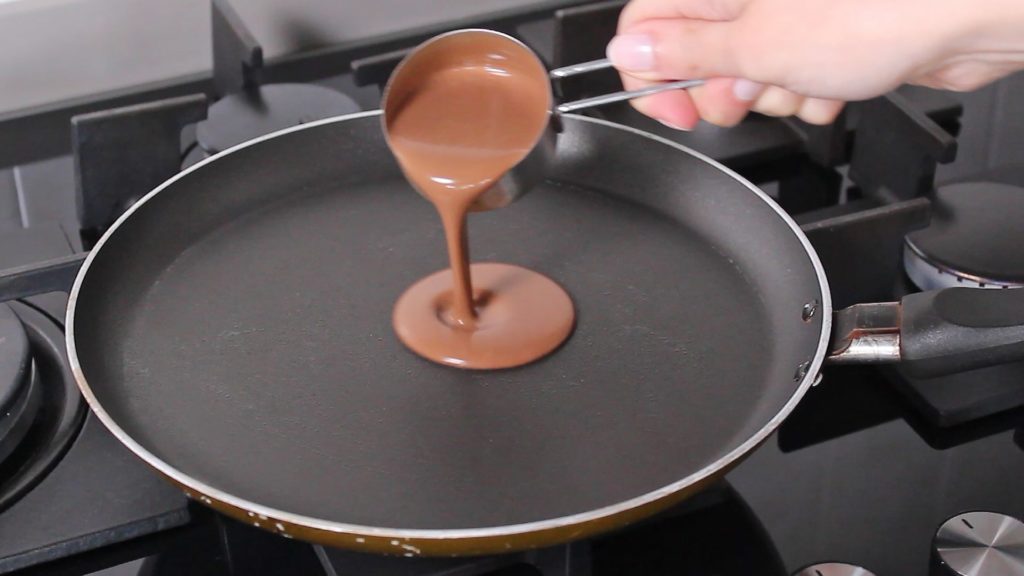 When pour the crepe batter into the hot pan, make sure that your pan is not too hot or the batter will cook immediately and you won't be able to spread it all over by swilrling the pan.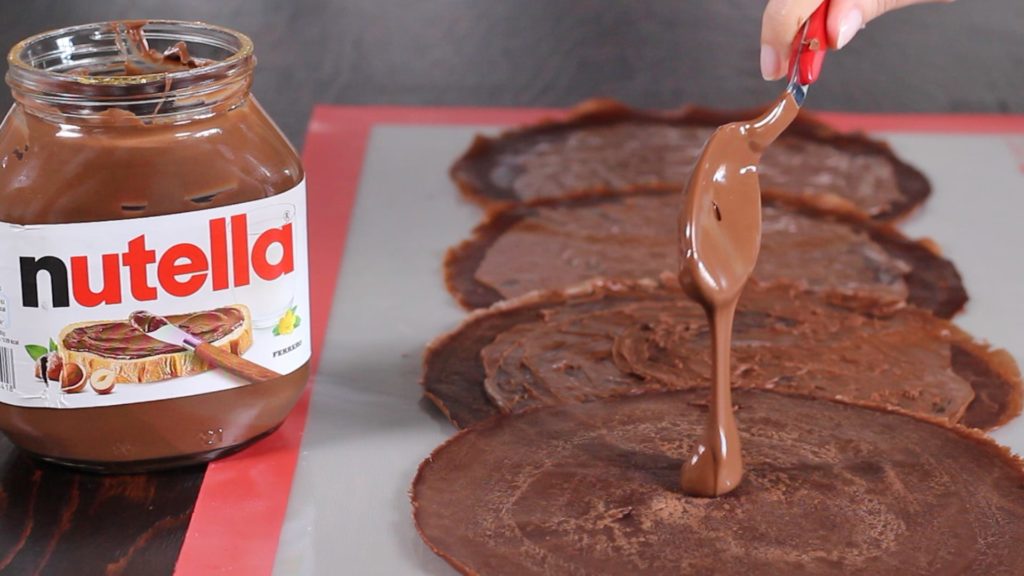 I've used unsweetened whipping cream because this recipe, thanks to Nutella in the crepe batter and spread onto the crepes, is already sweet enough! So I suggest to not add extra sugar into whipping cream, even if you're a sweet tooth 😛
Remember to not use too much whipped cream as filling or you won't be able to roll the crepes into a roll cake.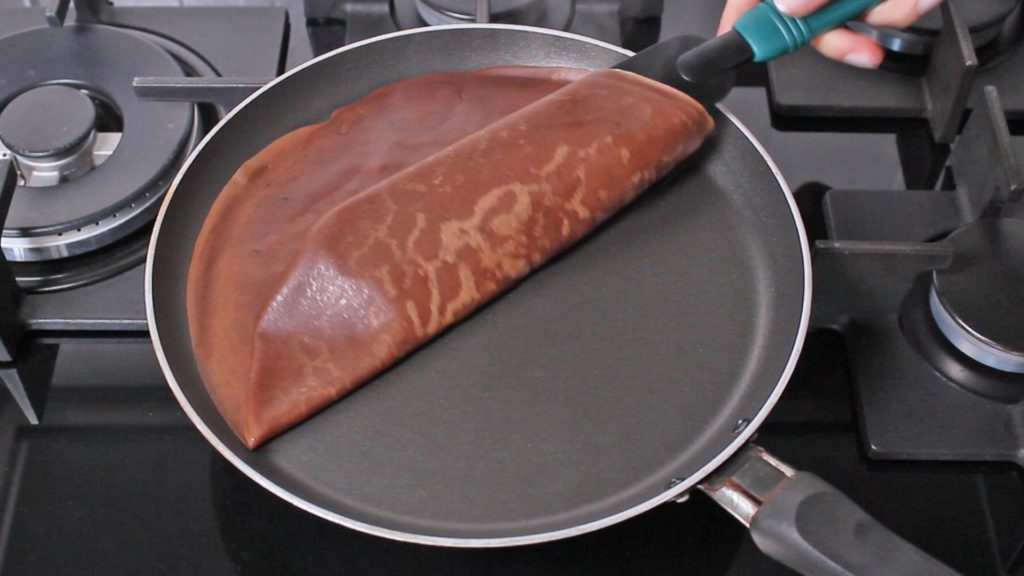 The secret to always get smooth crepe batter without lumps is to mix separately the dry ingredients (flour and cocoa) and the liquid ones (eggs, milk and Nutella in this case).
Once they're well combined in their own bowl, you can start addigin little by little the liquid ingredients into the dry ingredients start forming a smooth paste; then you can gradually pour all the liquid ingredients. You'll get a runny and smooth crepe batter without any lump!