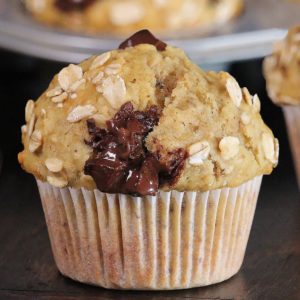 OATS BANANA MUFFINS
These Oatmeal Muffins are the perfect delicious treat for breakfast! Thanks to oats and bananas they keep you full for long time.
Enriched with dark chocolate chunks (that you can surely substitute it with nuts or rasisins), they are still decadent but pretty healthy at the same time.
Made without butter but with vegetable oil instead, they stay soft and moist for longer. Banana gives a full and slighlty heavy texture, but still incredibly moist, they feature just little less aered crumbs than classic muffins.
Read the tips below to learn how to get tall muffins with the classic "mushroom" shape: these bakery style Oatmeal Muffins will surely bring happyness to your breakfast tables!
Ingredients
120 g

(1 cup)

old fashioned rolled oats

240 g

(2 cups)

all purpose flour

100 g

(1/2 cup)

brown sugar

11 g

(2+1/2 tsp)

baking powder

pinch of salt

160 g

(2/3 cup)

milk

or buttermilk; in this case skip vinegar

5 g

(1 tsp)

white vinegar

or apple vinegar or lemon juice

60 ml

(1/4 cup)

vegetable oil

2

large eggs

room temperature

250 g

(9 oz)

ripe bananas

about 2 large bananas, finely mashed with a fork

1 tsp

vanilla paste

or vanilla extract

85 g

(3 oz)

dark chocolate

chopped
Instructions
In a medium size bowl, mix together milk and vinegar ant let aside for about 5 minutes.

Meanwhile in a large bowl, mix together flour, sugar, baking powder, salt and rolled oats.

In the milk mix add eggs, vegetable oil, mashed bananas and mix until well combined.

In the flour mix add the milk mix, vanilla and mix until almost combined.

Incorporate chocolate chunks.

Divide the batter into 11-12 lined muffin pan: full fill the molds to get "mushroom" style muffins with high dome top.

Place on top some rolled oats and chocolate chunks.

Bake in preheated no fan oven (upper and lower heat) at 220°C-430°F for 5 minutes, then low the heat and bake at 180°C-350°F for 13-14 minutes or until a toothpick comes out clean.

Cool down on a wire rack and serve it.
Video
Notes
You can store at room temperature for 2 days or in refrigerator for 1 week or in freezer for up to 3 months.
Serve warm or at room temperature.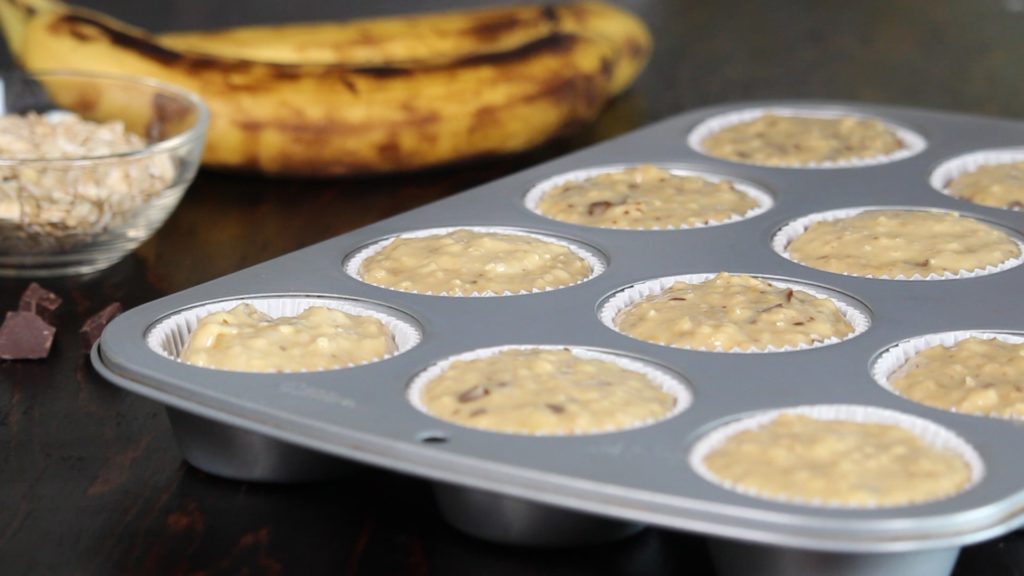 If you are looking for some tips to get tall muffins with the classic "mushroom" shape, you're in the right place!
Consider that these muffins features oats that is gluten free and bananas that are quite heavy in consistency. For these reasons, these muffins can't be super tall like a classic muffin, but I think the result is pretty good, don't you think so?!
Let's start with the tips!
The first hint is incredibly simple, but contradicts all I've always read in my cookbook. You have to full fill your muffin molds, not fill only to 3/4…you have to be generous! The more you fill it, the more your dome will be huge!
The recipe must feature a rising ingredient if you want to get the best result: baking powder, or the combo baking soda+acidic ingredient like lemon juice or vinegar…or buttermilk if you don't want to make your homemade buttermilk (milk+vinegar) as I did.
If you are making eggless muffins, remember to add a hint more of baking powder because eggs are natural leavening.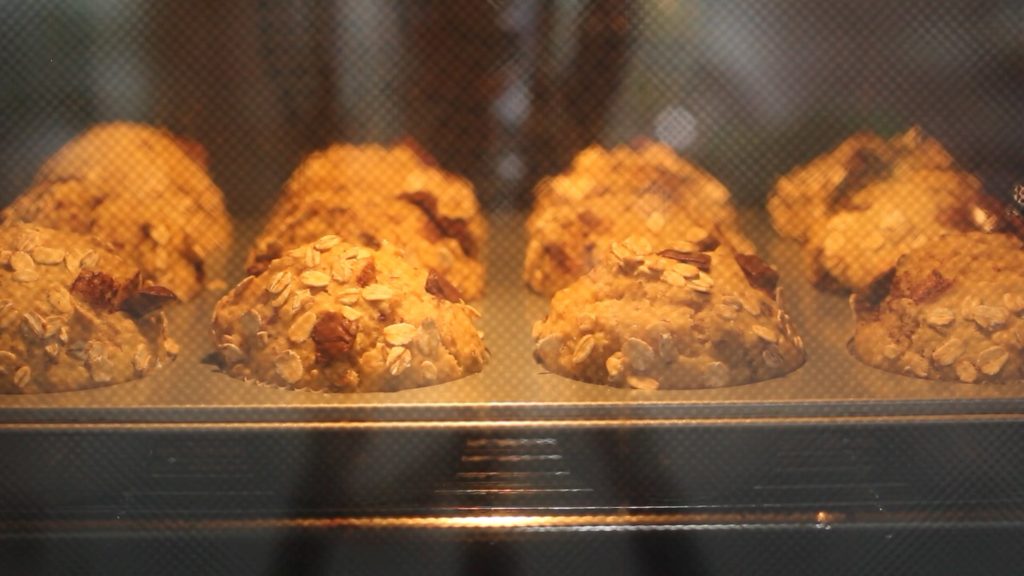 Another crucial point is how you bake your muffins. I use my preheated electric oven, always upper and lower heat and never turn the grill on. If you have fan option you can use it, but I don't turn it on when I bake cakes and muffins since it dries a bit the crust.
The temperature is so important: you have to bake your muffins at higher heat for the first 5 minutes: the termic shock will help them to rise a lot! For this reason I bake them at 210°C-410°F for the first 5 minutes, then I decrease the heat at 190°C-375°F for 15 minutes.
Remember that every oven is different, so it is possible that you have to change a bit temperature or time. They are done when a tootchpick comes out clean. If they become too brown on top, you have to decrease the heat of your oven.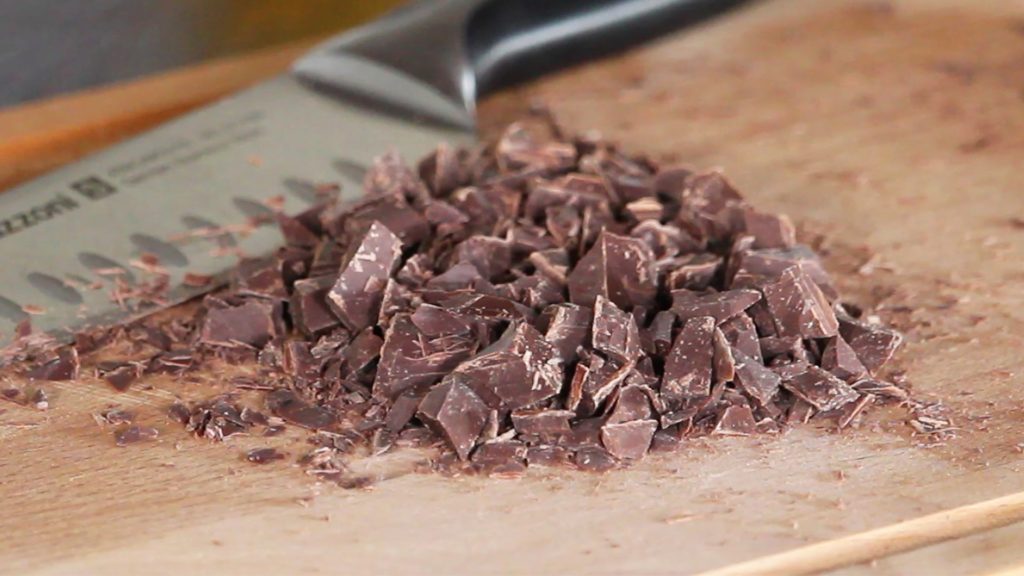 I added dark chocolate chunks to my Muffins. You can substitute with chocolate chips, but I always suggest to use high quality chocolate for your recipes: a good brand of dark chocolate bar would surely be better than any chocolate chips you can buy!
You can surely substitute chocolate with raisins, pecans or any other nuts, this totally up to you!