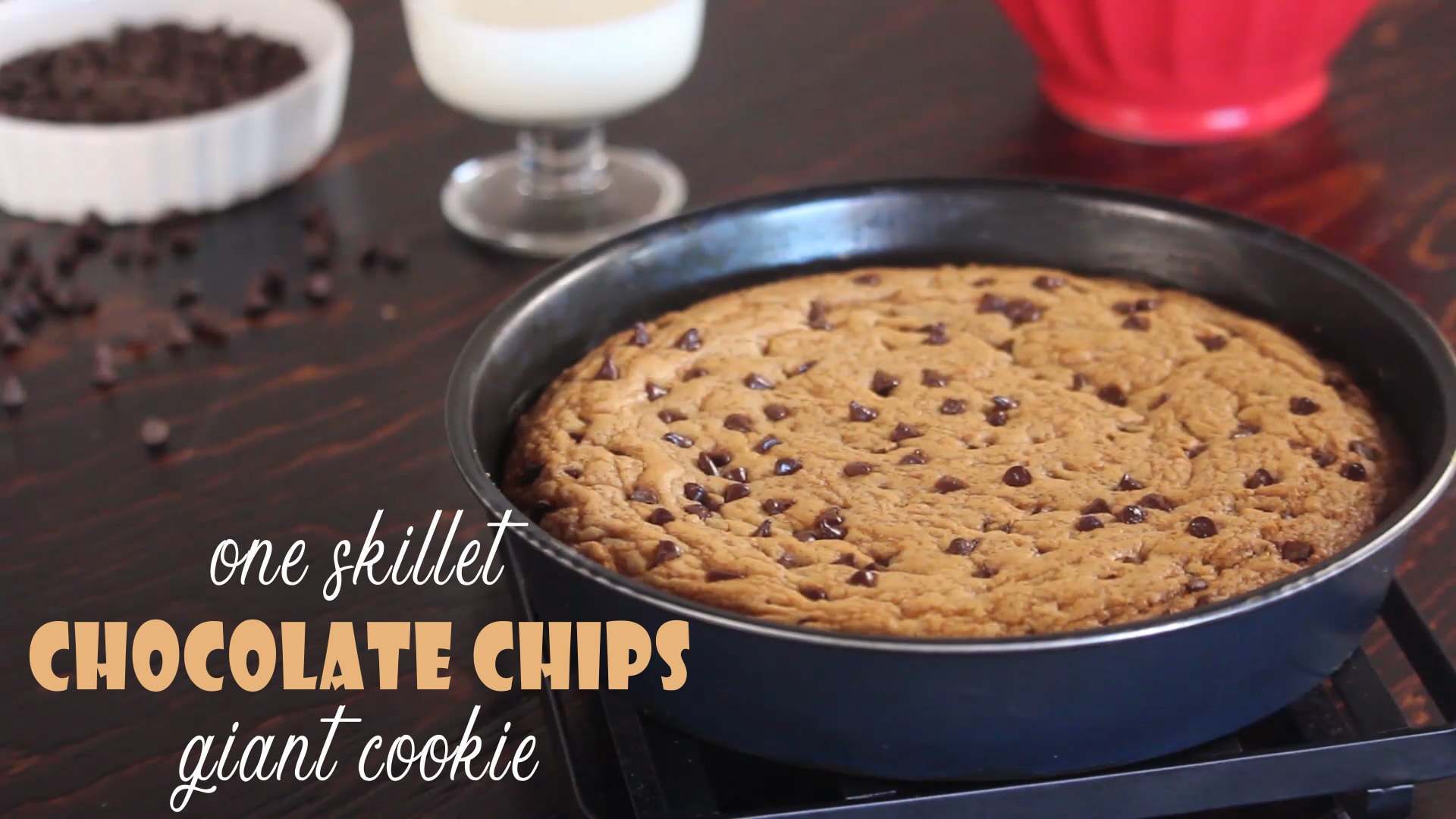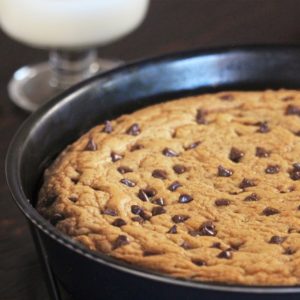 ONE SKILLET CHOCOLATE CHIP GIANT COOKIE
If you love chocolate chip cookies, you will fall in love with this giant chocolate chip cookie! It has an irresistible crispy crust, a soft chewy inside and you can make it in few minutes only using the baking pan, you don't need any mixing bowl!
Served warm with ice cream on top, it's the perfect last minute dessert that everyone will love!
Ingredients
110 g

(1/2 cup)

unsalted butter

70 g

(1/2 cup)

dark brown sugar

Muscovado

70 g

(1/3 cup)

caster sugar

or granulated white sugar

1

egg

room temperature

1 tsp

vanilla paste

or vanilla extract

180g

(1+1/3 cup)

all purpose flour

3 g

(1/2 tsp)

baking soda

Pinch of

salt

80 g

(1/2 cup)

chocolate chips
Instructions
Butter a 24 cm - 9,5 inch iron pan. You can also use every oven proof and stovetop safe skillet or cake pan.

Place unsalted butter in the iron pan/skillet and slightly melt over low heat for few seconds: you don't need to melt completely the butter, just warm up until become creamy.

Remove from the heat and mix butter with a spatula until smooth and creamy.

Add dark brown sugar, caster sugar and combine until creamy.

Add egg, vanilla paste and combine.

Incorporate the dry ingredients: flour, salt and baking soda.

Fold in the chocolate chips and spread evenly the cookie dough to fit the pan/skillet.

You can add some extra chocolate chips on top just before baking it (optional).

Bake in preheated oven at 180°C - 350°F for 20 minutes or until slightly golden. If you want a very soft cookie, bake it for less minutes.

Remove from the oven: you can serve it warm with vanilla ice cream on top, or you can cool it down, slice it and soak in milk.
Video
Notes
You can store it at room temperature covered with plastic wrap for about 4 days or cut in slices and store them in a cookie box for about 1 week.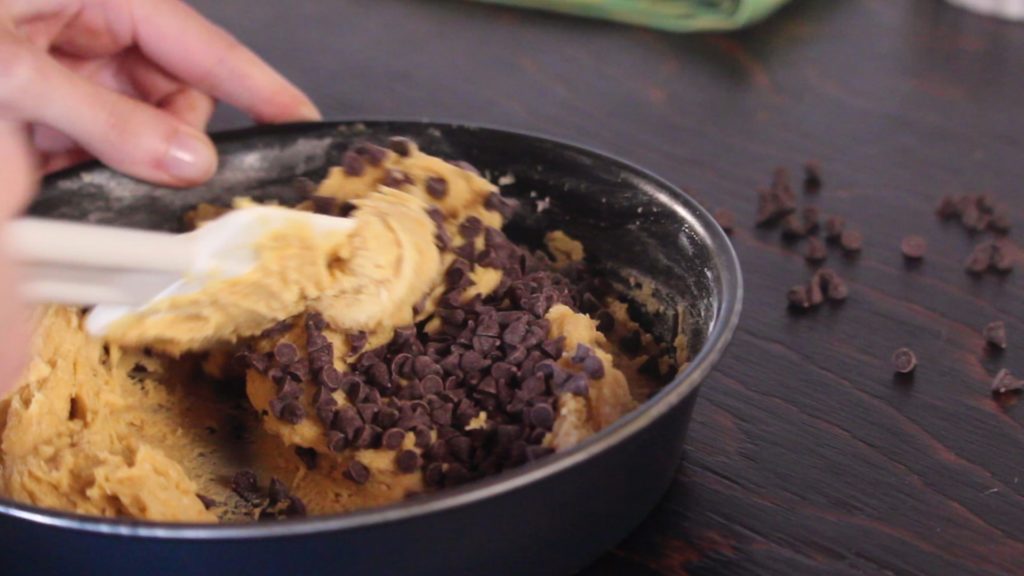 You can add chopped pecans or walnuts for extra crunch.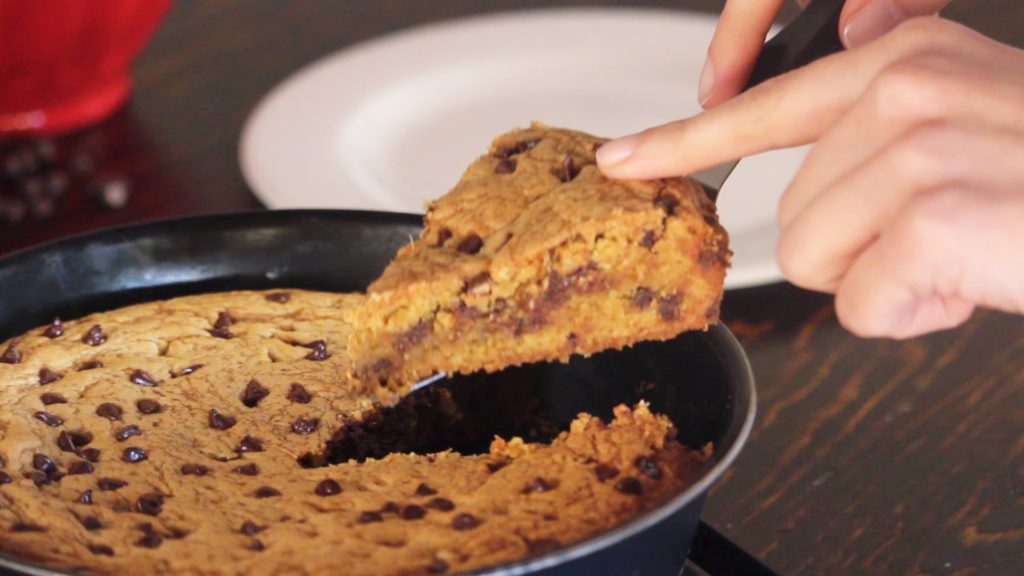 You can prepare this cookie dough directly in the skillet or you can use a bowl if you don't have a skillet or a cake pan that is stovetop safe, then transfer the dough in a classic cake pan and bake it.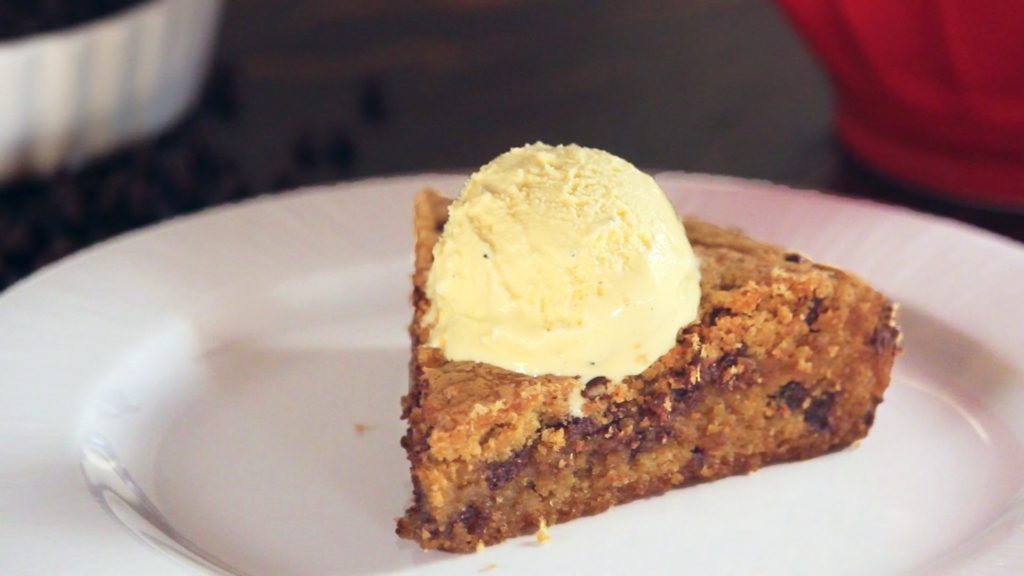 If your egg is too small, the cookie dough turns out too sticky and dry: to get a soft cookie dough (as you can see in the recipe video) you can add some little milk.