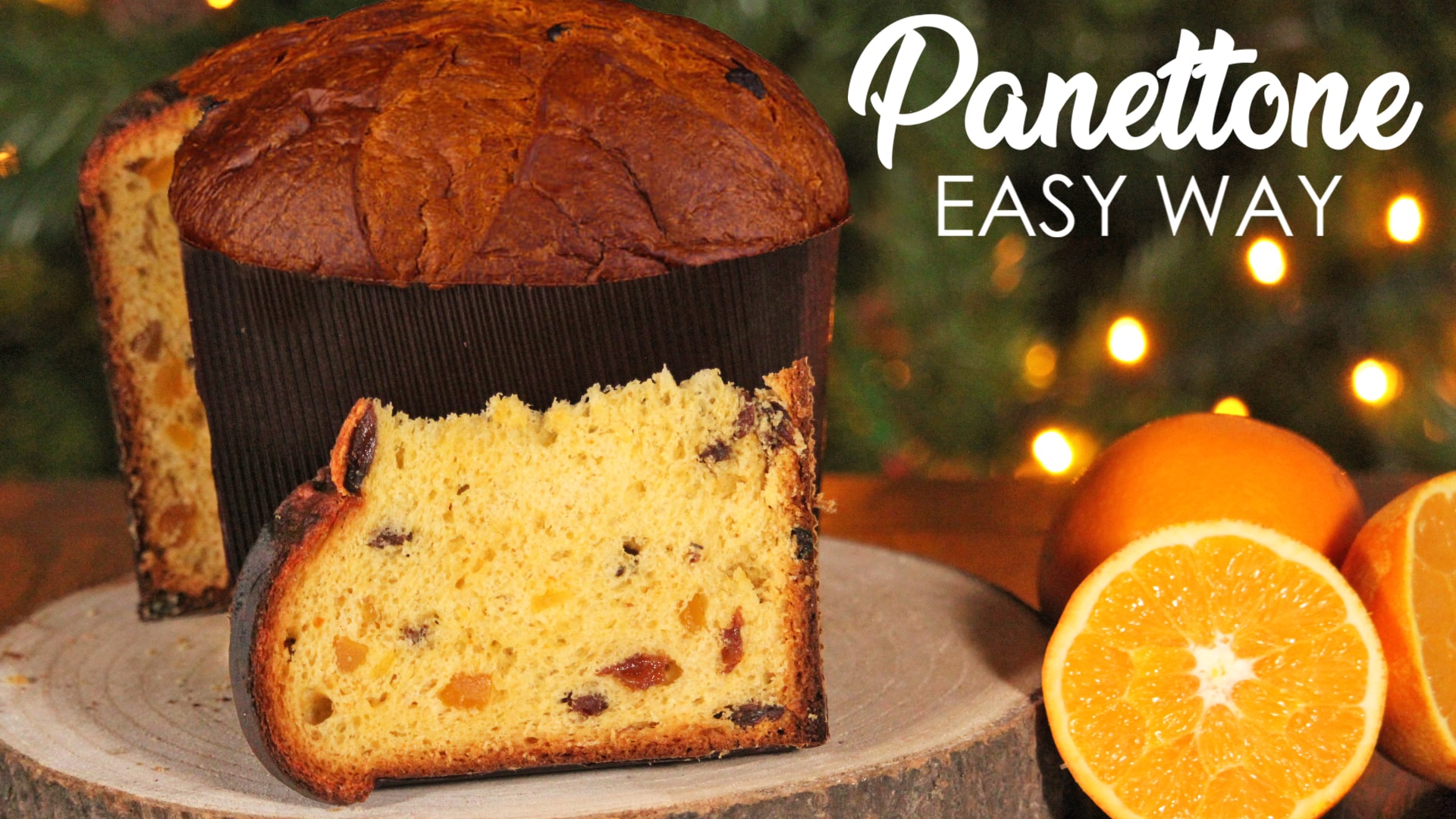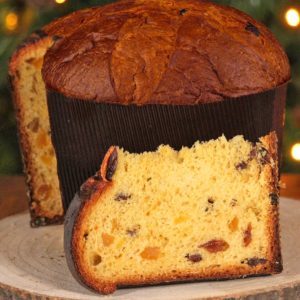 PANETTONE - EASY WAY
Panettone is the most iconic Italian Christmas recipe, a delicious buttery dough traditionally enriched with candied fruits and raisins, so rich in flavor!
With this recipe, everyone can make Panettone in a super easy way without a stand mixer and without kneading!
The traditional Italian Panettone is very difficult and long to prepare, you could need many days since it's made with sour dough and not with yeast and you usually need a professional stand mixer; but don't worry, because with this recipe you'll get a delicious real Panettone with the classic original flavor!
This recipe requires just few hours instead of the traditional Panettone which needs many days to prepare it, but the taste is perfectly amazing!
In Italy you could find so many variations for the filling: from the more traditional pistachios, to the chocolate chips, or the gourmand pear and chocolate....and the chocolate ganche fillings are common too!
Here I will show you the most traditional flavor: with raisins and candied orange. Of course you can use your favourite candied fruits, I'm sure it will turn out delicious!
Equipment
Panettone paper mold 1kg, OR:

Two 24x8cm/9,5x3 inch cake pans, OR

One 23cm-9inch cake pan + parchment paper to create high sides
Ingredients
340 g

(2+2/3 cups)

bread flour

Manitoba or high protein flour

5 g

(1+1/2 tsp)

instant dry yeast

110 g

(1/2 cup)

sugar

155 g

(2/3 cup)

water

lukewarm

18 g

(1 tbsp)

honey

110 g

(1/2 cup)

unsalted butter

room temperature

70 g

egg yolks

from about 4 eggs

1 tsp

vanilla paste

or vanilla extract

the zest from one orange

100 g

(3,5 oz)

candied orange

or other candied fruit, cubed

150 g

(5 oz)

raisins
Instructions
In a medium size bowl, soak raisins in lukewarm water for about 20 minutes. Then you can drain and dry it before use it.

In a medium size bowl, soften butter with vanilla and orange zest until creamy.

Add the egg yolks one at a time and mix well until incorporated. Set aside this butter-yolks mix.

In a large bowl, mix flour, sugar and yeast.

Add water, honey and mix: the liquid could seems little for the flour amount, but don't add more water or the dough will turn out too sticky after you will add the butter-yolks mix!

Incorporate the butter-yolks mix in three times: use a spatula or a spoon. If you have a stand mixer you can use it, but it isn't needful.

Mix well the dough: you'll get a very sticky dough.

Add drained raisins, candied orange and mix until well combined.

Mix the dough with your spatula for few minutes until get a slightly less sticky dough. If you have a stand mixer you can use it and mix for about 15 minutes, but it's not needful.

Transfer your dough into a large bowl greased with butter, cover with plastic wrap and let it rise in a warm place until double or triple in size, about 2 hours (I place it in my lukewarm oven).

Deflat the rised dough and place it onto a silicone mat, form into a ball (you can use a spatula to touch the dough because it's still a bit sticky) and fold the dough few times as you can see in the recipe video.

Form into a ball and place it into a 1kg Panettone paper mold (16,5x11cm - 6,5x4 inch).

If you don't have a panettone paper mold, you can equally split the dough in two pieces, form into two balls and place them in two greased and floured cake pans (24x6-8cm/9,5x2-3 inch).

Alternatively, you can also place a high parchment paper sheet inside a greased and floured 23cm-9inch cake pan to create a high sides pan and place the dough into the pan.

Cover the top with plastic wrap and let it rise in a warm place until the dough reaches the mold edges.

Remove the plastic wrap on top and let it rest at room temperature for about 30 minutes or until a dry film will form on top.

Score a cross on the top with a blade or a very sharp knife.

Place 1 tsp of unsalted butter in the center of the cross on top and place Panettone onto a baking sheet.

Bake in preheated no-fan oven (top and bottom heat) at 170°C-340°F for 50 minutes (40-60 minutes, depends to the oven type) or until a skewer comes out dry.

After about 25 minutes that it's baking, cover Panettone on top with a double aluminium foil to prevent burns.

Remove from the oven, skewer at 1cm-0,5 inch from the bottom with two long knitting needles and invert panettone upside down over two paper towel rolls.

If you've used cake pans instead of Panettone paper mold, you can't skewer it and don't put it upside down. You just cool it down for about 1-2 hours in the pan, then you can remove from the pan and invert onto a wire rack and cool down completely for about 2 hours.

Let it cool down upside down for at least 3-4 hours.

You can serve it with pastry cream or simply as it is.
Video
Notes
You can store it in plastic bag at room temperature for about 5 days or you can freeze it for up to 2 months.
You can also cave your fresh Panettone from the bottom, fill it with gelato, close the bottom with a panettone slice, frosting the top with chocolate ganache, place it freezer, remove from the freezer 10 minutes before serving and serve it as frozen dessert.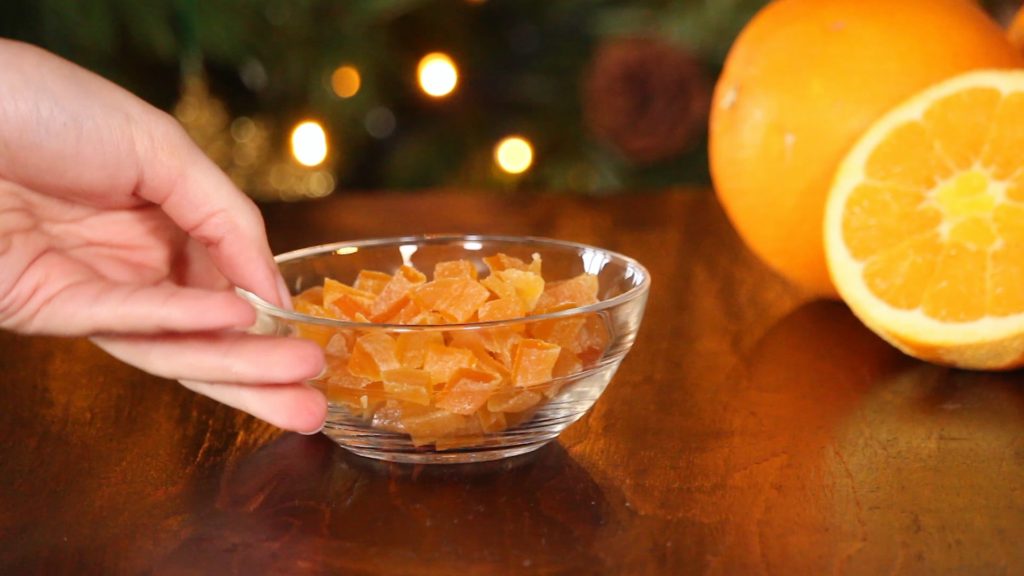 Let's talking about the fruit you can use for making your Panettone.
In Italy the more traditional Panettone is made with candied orange and candied citrus. As you can notice, in this recipe I've not used citrus because I couldn't find a good quality one. 
The quality of your candied fruit is very important to get a perfect Panettone, so if you can't find orange or citrus, use a good quality candied fruit you can easily find in your Country, it will turn out great!
Consider that the better candied fruit is the one you can find whole and then you can cubed at home. The one you can buy already cubes is usually more dry and poor in flavor.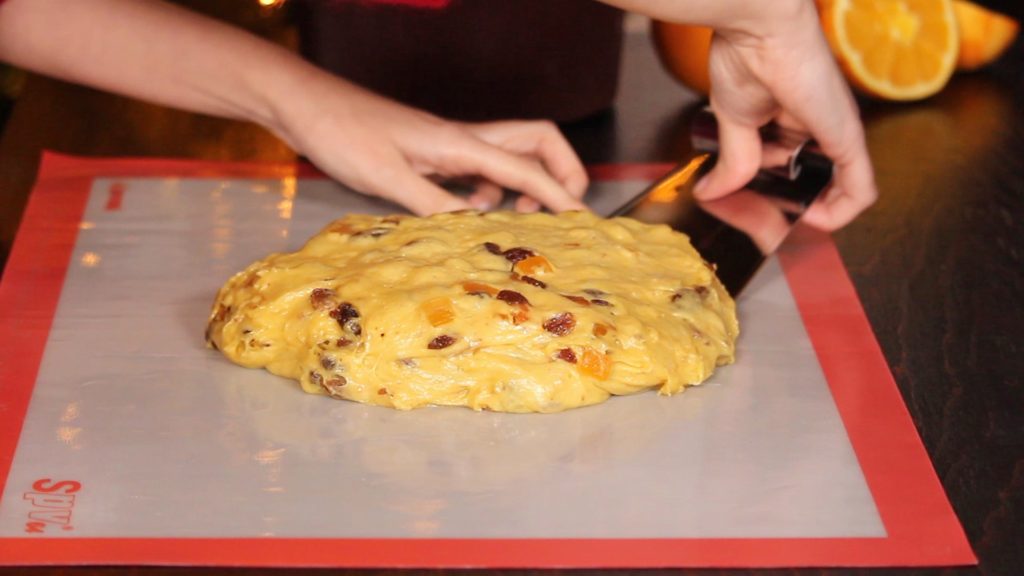 Panettone dough has to be little sticky and very moist. For this reason I decided to not knead it (of course you can if you have a stand mixer, but for rhis easy recipe it's not needful).
I suggest to use a silicone mat if you have it, so it won't stick to your work surface and you don't need to add extra flour that could dry your dough.
If you don't have a silicone mat, don't worry, sprinkle some flour onto your work surface, as little as you can to avoid sticking.
You can use a spatula to form the dough into a ball, mostly if you're not practice with soft dough like this one.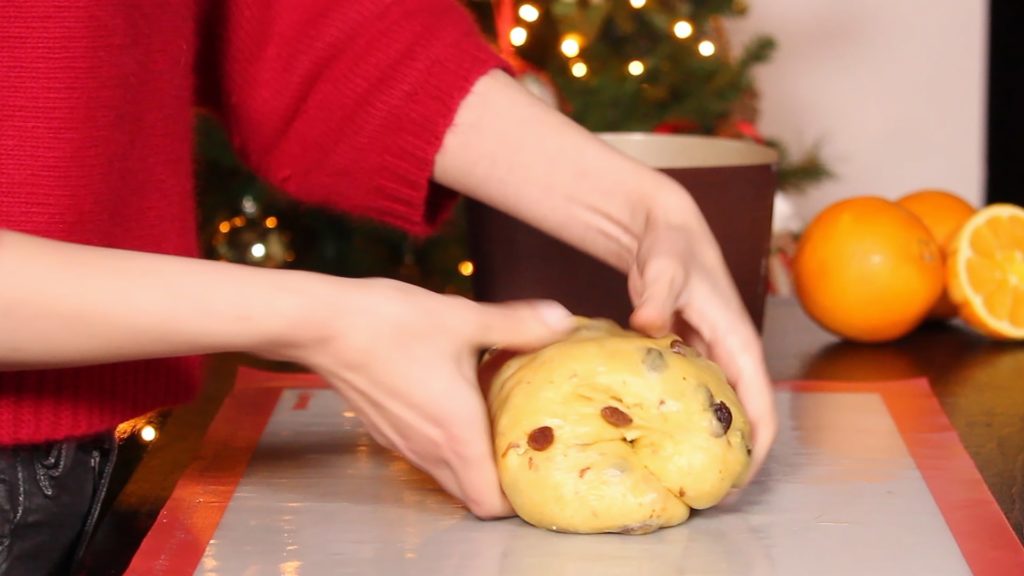 Making folds before let the dough rise in the mold, helps to get higher and well rised Panettone, so don't skip this step.
I think it's also pretty relaxing because the daugh is so soft and smooth!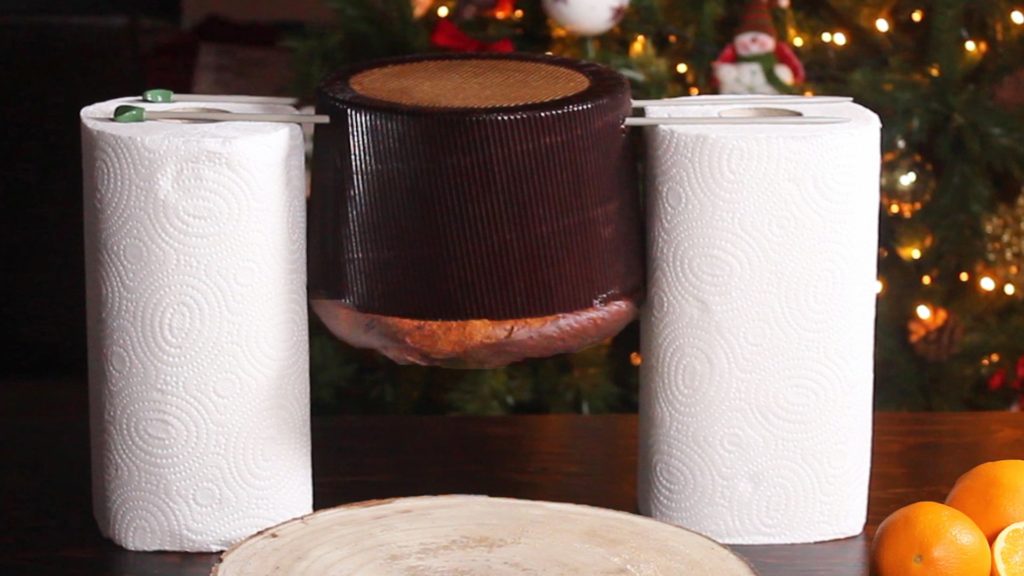 Every self-respecting Panettone needs to cool down upside down to keep its moist air bubbles texture and its domed top, so I used this crafty homemade method using two knitting needles.
Obviously you can use the professional tool, but I think you can't find easily out of Italy and this method works pretty well too!
Remember to put it upside down immediately or the top could deflate. Unfortunaly my top deflated a bit: because of the shooting timing, I've been forced to wait too much to put it upside-down! But when I don't shoot, I don't have this problem, so I'm sure your Panettone will turn out better than mine!
The upside-down cooling, is the main reason because Panettone is made in a paper mold, because you can easily hole it with the skewer.
If you use a cake pan and not the traditional paper mold, you can't place it upside down, but it will turn out delicious too, don't worry!