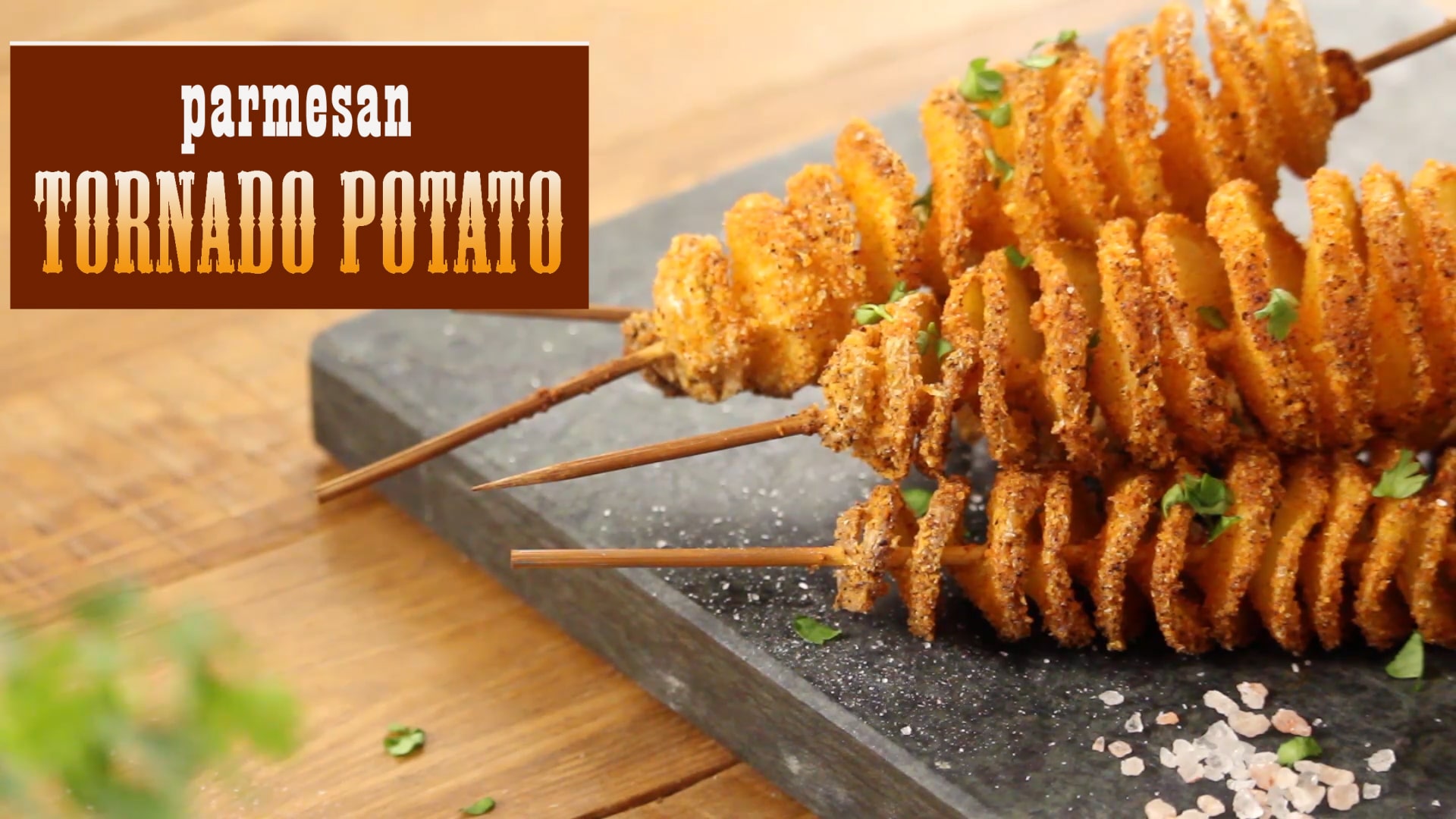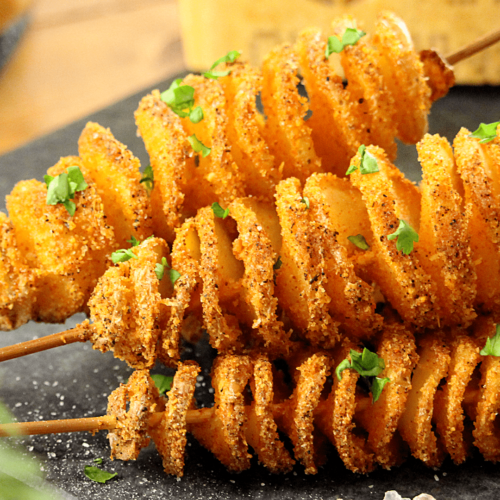 PARMESAN TORNADO POTATO
Everyone is going to be enchanted by the swirls of these amazing crispy baked Tornado Potatoes!
I've had many times these skewer potatoes all around Europe, but I know they are pretty popular all over the world. It's so amazing that you can easily make them at home!
You can cut them in spiral only using a knife, you don't need any slicer cutter machine, just follow the tutorial in my recipe video below!
Parmigiano Reggiano (Parmesan Cheese) and paprika match perfectly with potatoes and the breadcrumbs give them an incredibly crispness. You can also add your favourite seasoning like garlic or onion powder. Be creative!
Ingredients
6

yellow potatoes,

well washed

45 g

(3 tbsp)

Parmigiano Reggiano or Parmesan cheese,

grated

15 g

(2 tbsp)

beadcrumbs

10 g

(2 tsp)

paprika

black pepper,

freshly grounded

extra virgin olive oil

pink Himalayan salt,

or any type of salt

parsley,

freshly chopped

6

skewers
Instructions
In a medium size bowl combine Parmesan cheese, breadcrumbs, paprika and black pepper. Set aside.

Insert a skewer into one potato and push the skewer all the way through it.

Place the potato on a chopping board and, using a sharp knife, start cutting angled the potato: cut in the opposite direction youare turning the skewered potato and cut all the potato into thin spiral slices.

Gently separate the potato slices which form the spiral.

Brush all over the potato with extra virgin olive oil.

Place the skewed oiled potato over the parmesan mix bowl and spread the mixture with a spoon all over the potato until it's entirely coated. Gently shake off the mixture excess.

Place the potato on a baking sheet lined with parchment paper and repeat for the rest of the potatoes.

Bake in preheated oven at 350° F - 180° C for 25 minutes.

Remove the potatoes from the oven, turn them and bake for another 15-25 minutes or until they are evenly browned and the spiral slices are fork tender.

Serve them immediately and season with salt and some freshly chopped parsley.
Video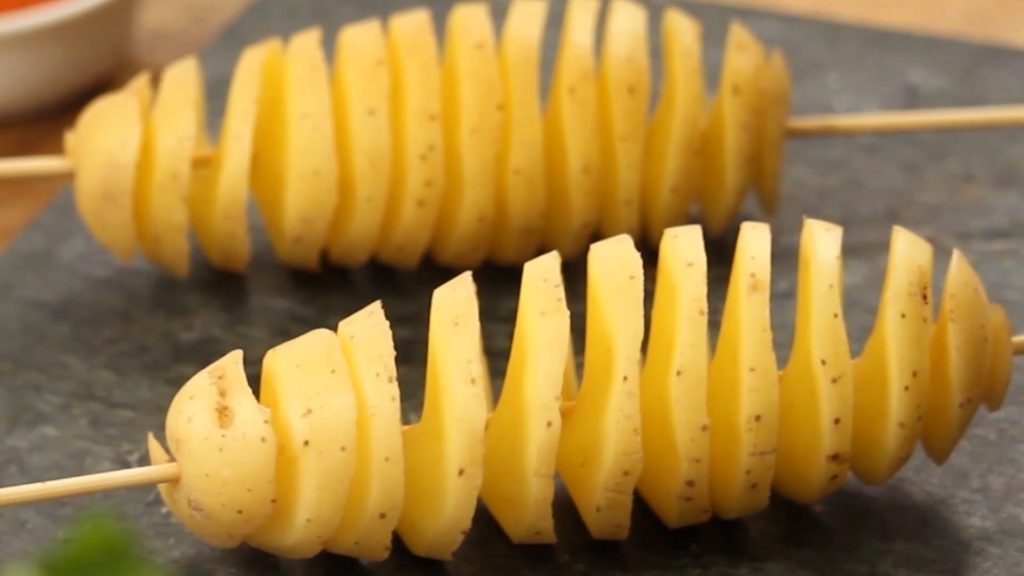 For a perfect cut, use a sharp knife and make thinner slice as you can for bake the potatoes evenly.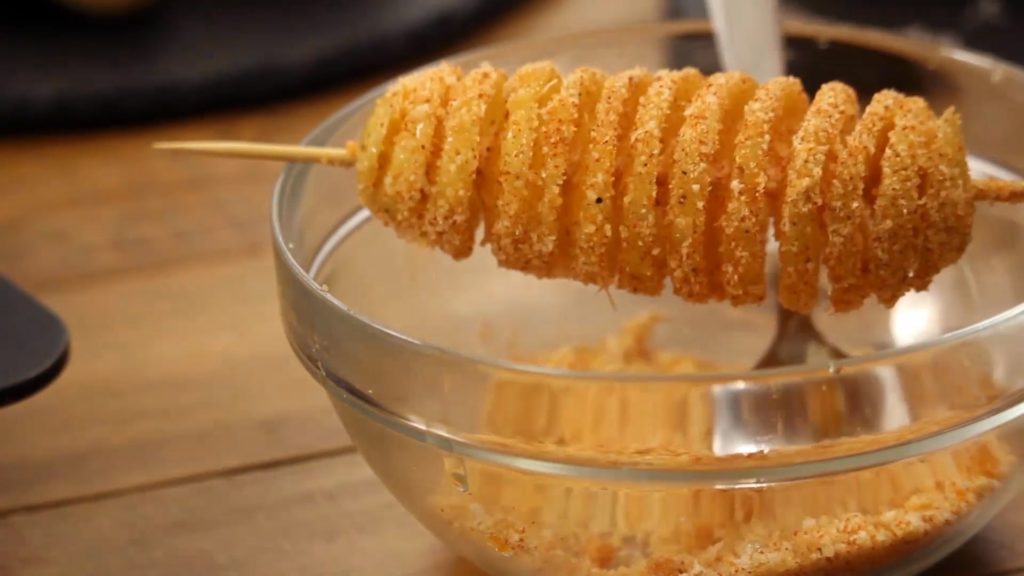 I've seasoned them with paprika, black pepper and pink himalayan salt, but you can add every seasoning do you prefer: garlic powder, rosemary…free your imagination!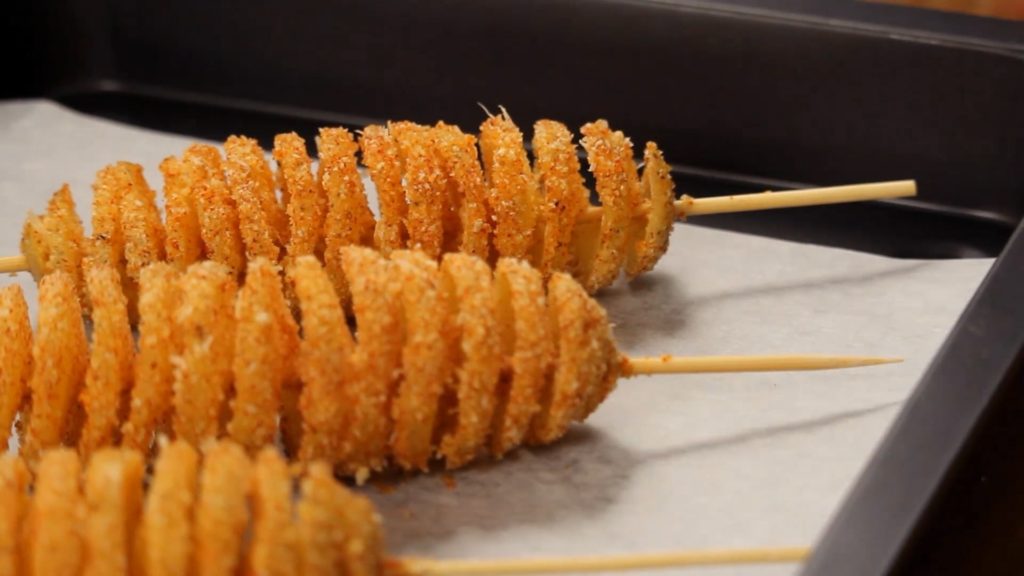 To check if your potatoes are done, use a fork! If the slices are fork tender, they are perfectly baked. Consider to bake them for more time if your slices are thick.