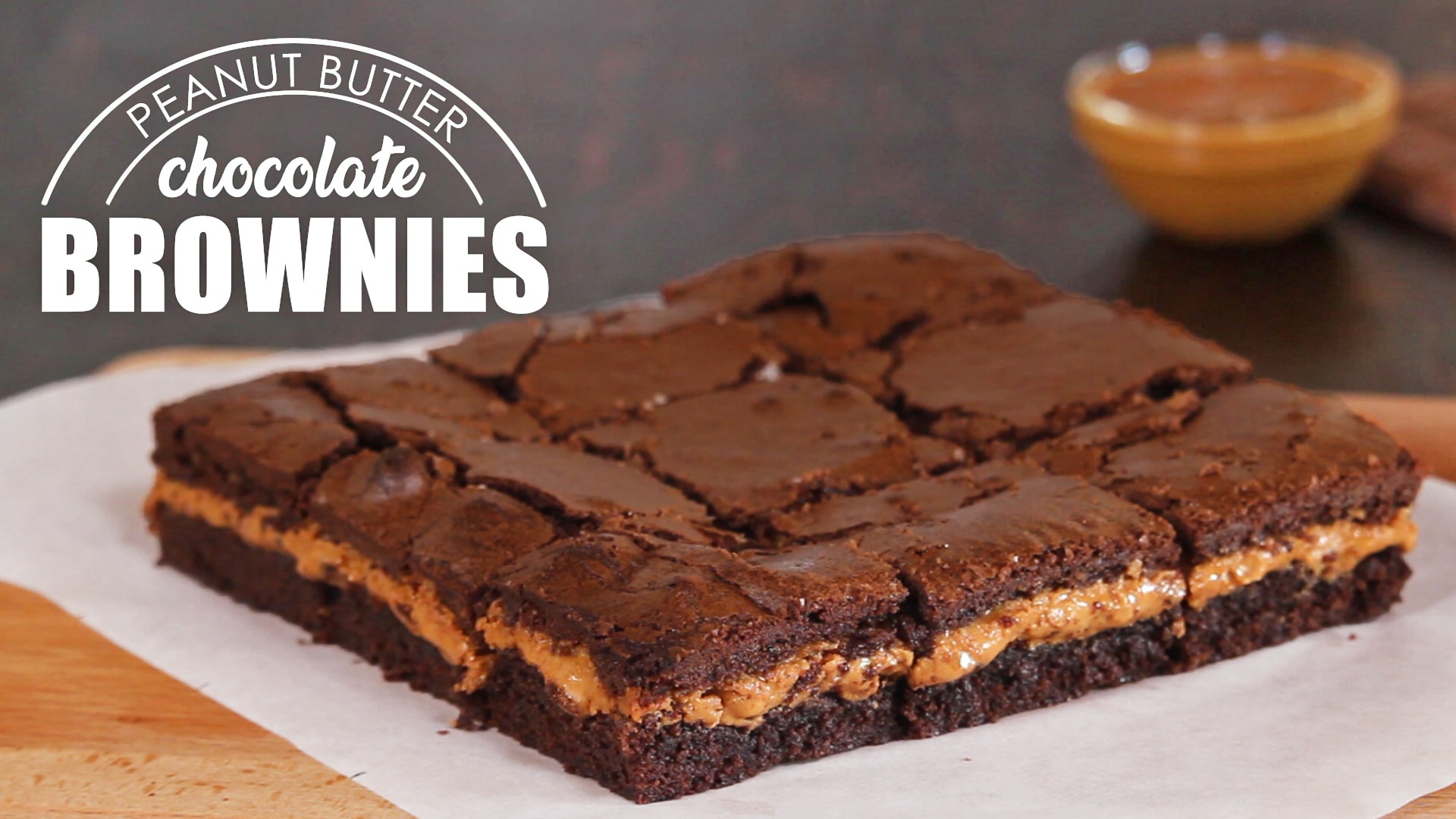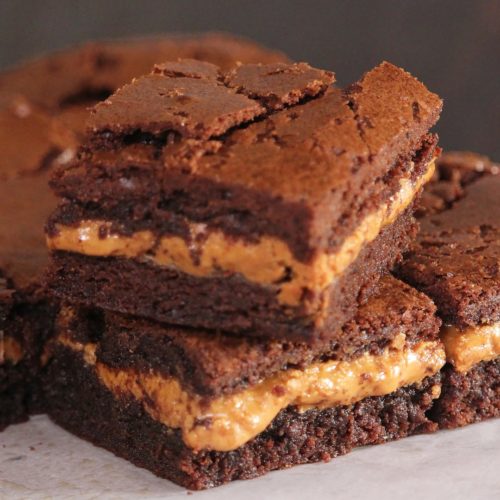 PEANUT BUTTER BROWNIES
Fudgy brownies stuffed with gooey peanut butter are the most indulgent treat ever!
Slightly crispy outside with a crinkle top crust, they are rich in chocolate with creamy peanut butter inside: they melt in your mouth!
I've used classic peanut butter with regular thick consistency and I've frozen it: in this way it's very seasy to place it in the middle of the two brownie layers and the oven heat doesn't thicken it too much, it turns out so creamy and decadent!
This recipe is for the people who love chocolate and peanut butter match, if you don't like peanut butter this recipe is not for your beacuse the peanut flavor is pretty intense. Absolutely irresistible!
Ingredients
335 g

(12 oz)

peanut butter

creamy classic, without sugar

140 g

(2/3 cup)

unsalted butter

140 g

(5 oz)

dark or bittersweet chocolate (55-70% cocoa)

chopped

170 g

(3/4 cup)

caster sugar

100 g

(1/2 cup)

brown sugar

90 g

(3/4 cup)

all puropse flour

30 g

(4 tbsp)

unsweetened cocoa powder

1/4 tsp

salt
Instructions
Line a 20x20cm-8x8inch cake pan with parchment paper

Slightly warm peanut butter in microwave for few seconds.

Spread evenly peanut butter into the lined pan and put in freezer for about 1 hour or until frozen.

In a large heat-proof bowl place butter, chocolate and melt in microwave or over bain marie.

When still warm, add caster sugar, brown sugar and mix until combined.

Incorporate vanilla and the eggs one at a time: if your chocolate mix is hot, wait some minutes to cool down until slightly warm before adding the eggs.

Sift in flour, cocoa, salt and gently mix with a spatula just until well combined: don't overmix the flour.

Remove the frozen peanut butter sheet from the freezer, put again in the freezer until you'll need it, and line the 20x20cm-8x8inch baking pan with parchment paper.

Pour half of the brownie batter in the lined pan.

Place carefuly the frozen peanut butter sheet on top, then pour the rest of the brownie batter on top of peanut butter.

Spread evenly the brownie batter to well cover all the peanut butter.

Bake in preheated fan oven, upper and lower heat, at 170°C-340°F for about 35-40 minutes. A toothpick comes out slightly wet but the sides will be dry.

Remove from the oven and cool down for at least 30 minutes in the pan.

Remove from the pan and cool down completely at room temperature.

Trim the edges (optional) and cut in squares.
Video
Notes
You can store at room temperature for about 3 days or in freezer for up to 3 months.
You can warm few seconds in microwave before serve it.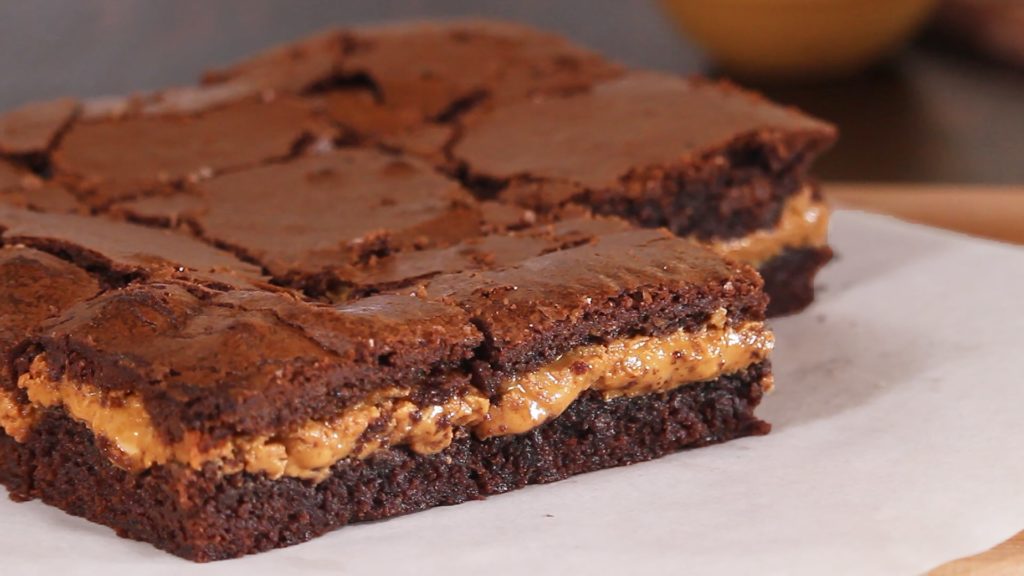 I always bake brownies using my electric oven with fan option. Fan helps the crust and sides to become slighlty crispy, but the center will stay so soft and luscious! If you like this type of consistency contrast and you also a the fan option on your oven, this is the perfect recipe to use it!
I've baked them for 35 minutes. Your brownies are ready when the sides and top are firm and a bit dry, but the center is still moist. Don't overbake them, even if the center looks a bit wet if you make the toothpick test!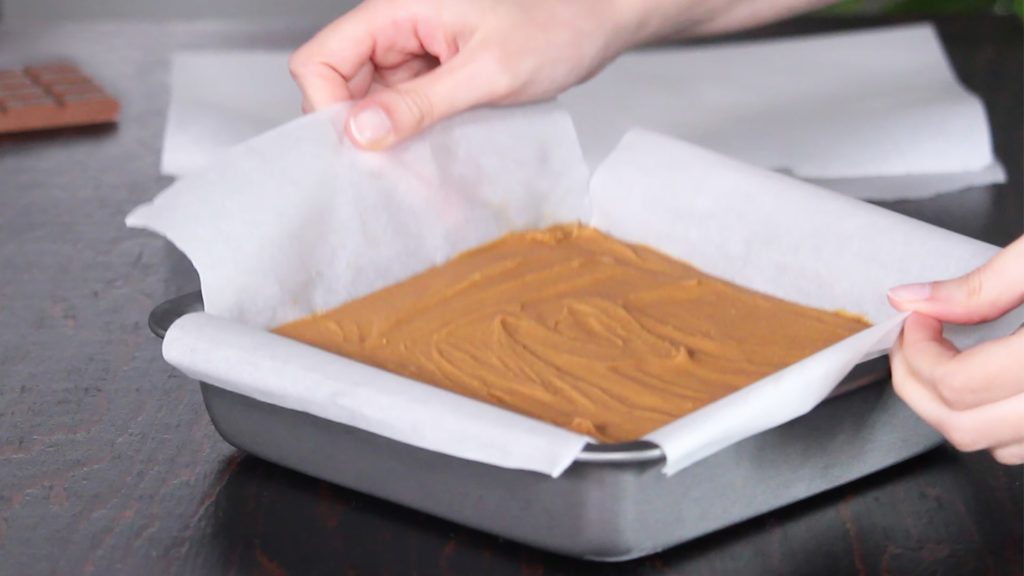 I used an unsweetened classic peanut butter, this gives pure peanut flavor to your brownies!  Even after baking you can smell and taste just peanut butter  and chocolate in this recipe!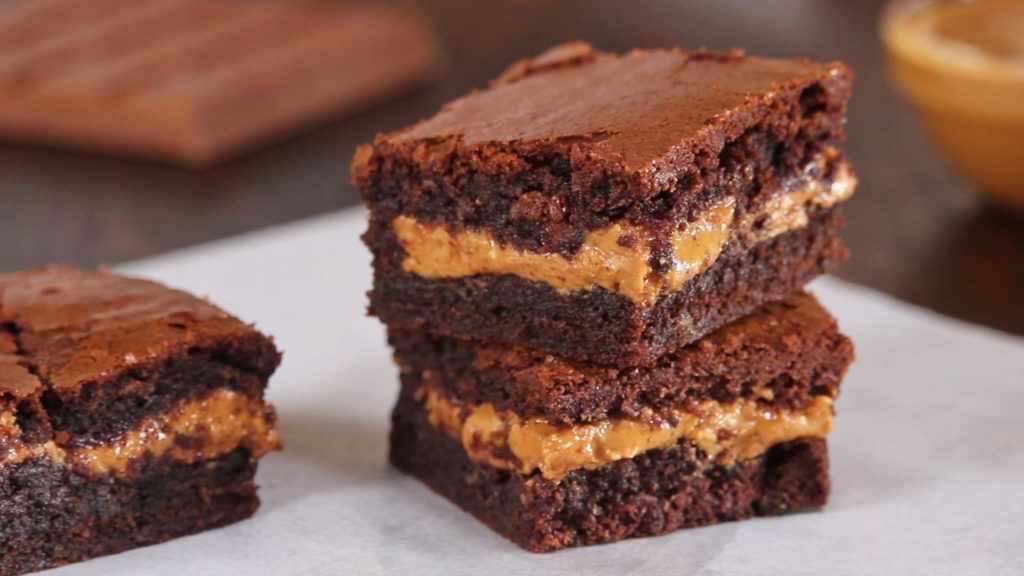 I've trimmed the edges of the brownie and sliced into 9 squares. The servings are pretty generous, so feel free to slice your brownies in smaller cubes.
I often slice a 20x20cm-8x8inch sheet brownie into 12 squares. A guilt-free way to treat yourself with a small decadent delight!