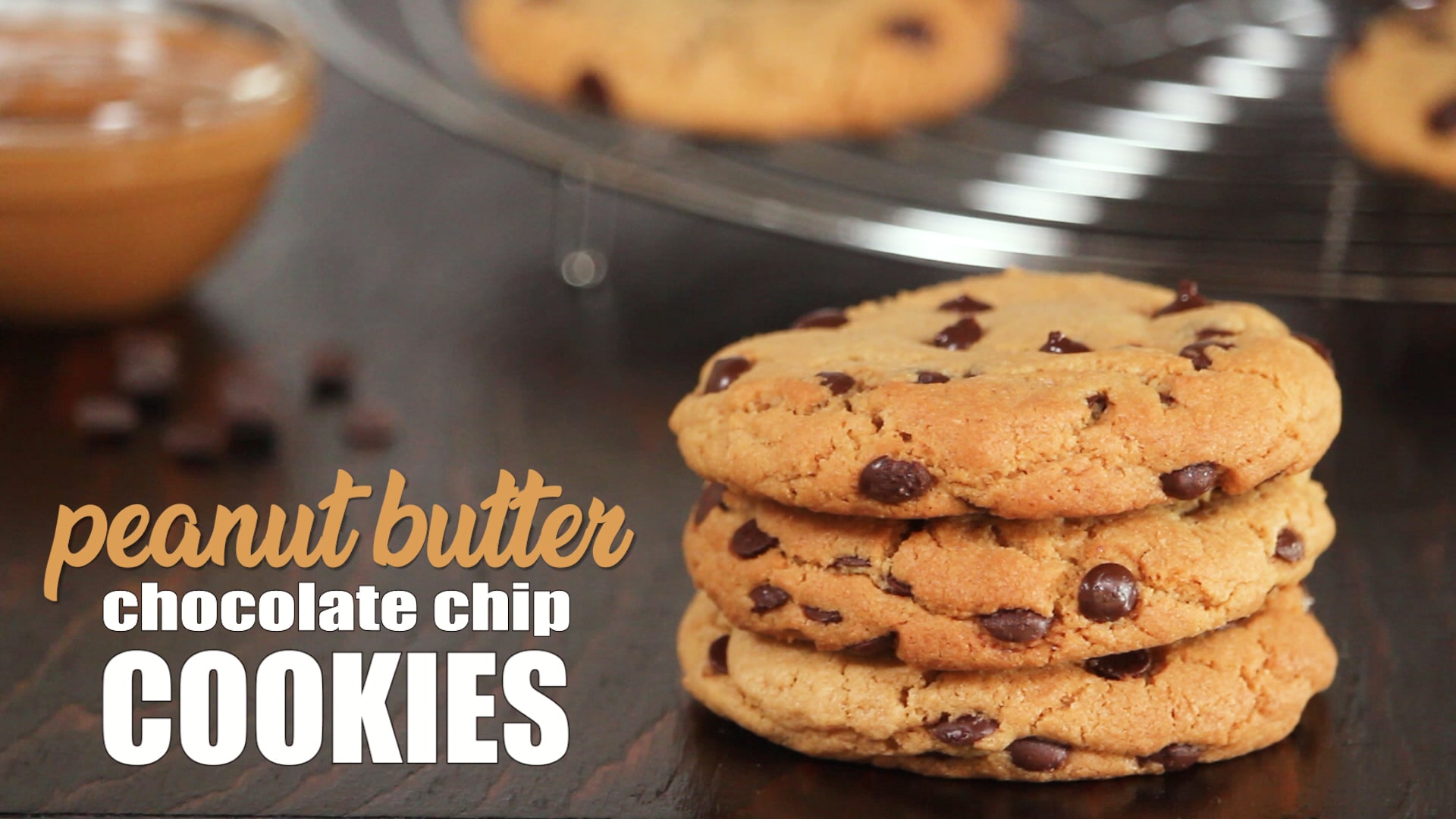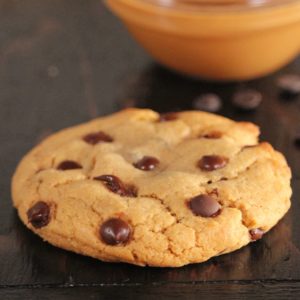 PEANUT BUTTER CHOCOLATE CHIP COOKIES
My Peanut Butter Chocolate Chip Cookies recipe is beyond quick, easy and amazing! Loaded with peanut butter (natural or not, they always turn out perfect!) and chocolate chips, you can make it in one bowl and it's ready in few minutes without refrgierating time!
With this recipe you'll get 12 large cookies chewy and soft inside with a slightly crispy edges: simply irresistible!
They don't spread too much in the oven, so you can get perfeclty thick cookies that will melt in your mouth.
Ingredients
55 g

(4 tbsp)

unsalted butter

room temperature

100 g

(1/3 cup+1 tbsp)

peanut butter

room temperature. You can use Natural Peanut Butter or classic Peanut Butter like "Skippy" brand. If you use the Natural one, mix it very well to emuslify the oil that is separated on top.

85 g

(1/3 cup+1 tbsp)

brown sugar

70 g

(1/3 cup)

caster sugar

1/4 tsp

salt

1

(56 g)

whole egg

room temperature

1

(12 g)

egg yolk

room temperature

1 tsp

vanilla paste

or vanilla extract

160 g

(1+1/3 cup)

all purpose flour

1/2 tsp

baking soda

90 g

(1/2 cup)

chocolate chips
Instructions
In a large bowl mix butter and peanut butter with a whisk until get a smooth mix.

Incorporate brown sugar, caster sugar and salt.

Add the whole egg, the egg yolk, vanilla and mix until well combined and creamy.

Sift and mix in flour and baking soda. Gently incorporate with a spatula until almost combined: do not overmix.

Gently incorporate chocolate chips. You get a non stick and very soft cookie dough.

Use a 5cm-2inch. ice cream scooper and scoop cookie balls onto a lined baking sheet 4cm-1,5inch apart.

Slightly flatten the top of cookie balls and get thick discs.

Place extra chocolate chips on top.

Bake immedietaly in preheated oven (fan on, upper+lower heat) at 180°C-350°F for 9 minutes. They are ready when the sides are slightly golden and the top still very soft. If you have a no-fan oven, you should bake for some minutes more. Be careful to NOT overbake: cookies should be soft and they finish baking when you remove it from the oven.

Slightly cool down into the pan, then completely cool down onto a wire rack.
Video
Notes
Store at room temperature in a tin cookie box for about 5 days.
You can store raw cookie balls in freezer for up to 2-3 months and bake them still frozen directly from the freezer for some minutes more.
You can store raw cookie dough in refrigerator for 48 hours before form and bake your cookies: bring cookie dough at room temperature before baking.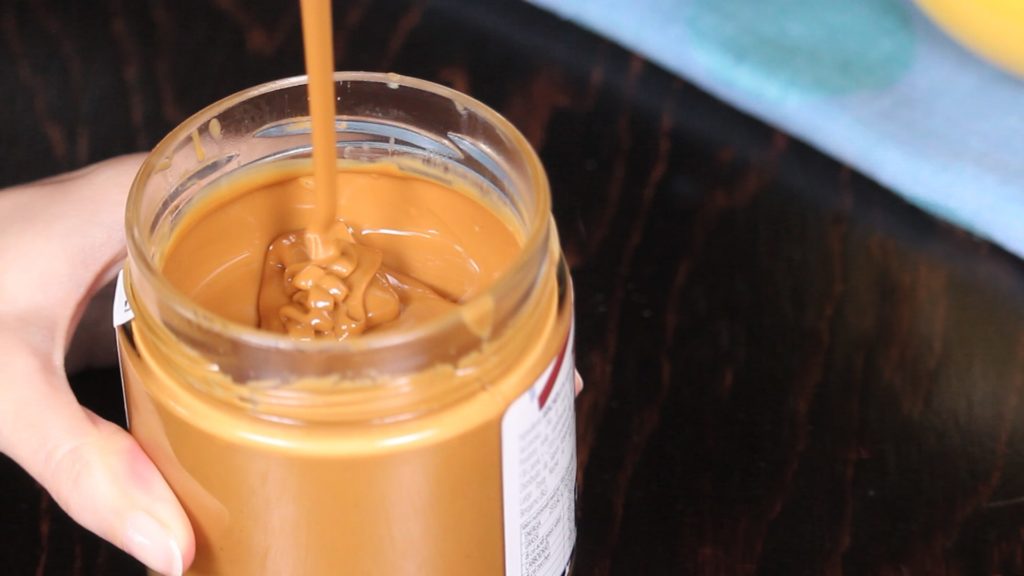 In this recipe I've used Natural Peanut Butter made with peanuts and a small part of coconut oil. Natural Peanut Butter has usually an oily part that is separated on top: remember to mix it very well in the jar before use it to get a evenly smooth and creamy peanut butter.
You can also use classic Peanut Butter (like Skippy brand), it will work fine too. Don't worry if your peanut butter is runny or more thick than mine, any peanut butter consistency works fine in this recipe: just mix it well before use it, mostly if there are oily separated part.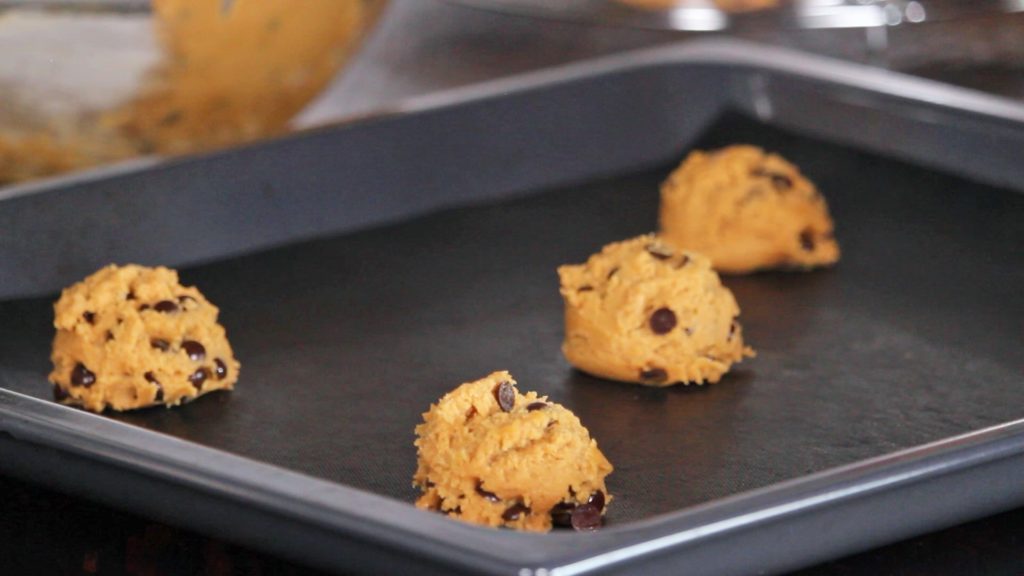 In this recipe I gave you the weight of the eggs, so you can't go wrong with the dough and get the perfect consistency that should be very soft but not sticky or wet.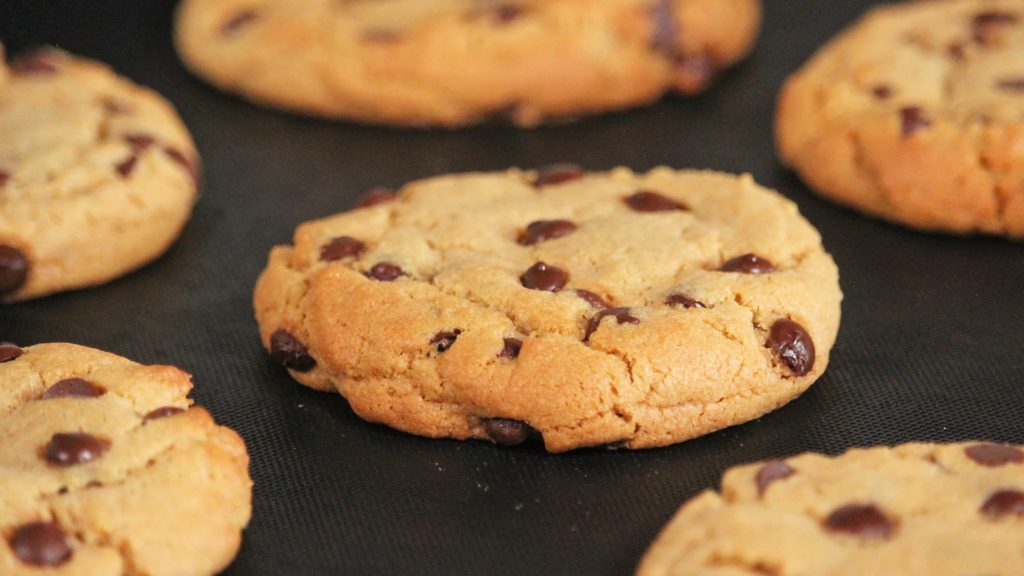 You don't need to put the dough in refrigerator before form into balls and baking: these cookies turn out perfect even if you bake them immediately as I did in the recipe video above!
If you prefer, you can also put the cookie dough in refrigerator for up to 48 hours before form into balls and bake your cookies, just remember to bring it to room temperature before use it.