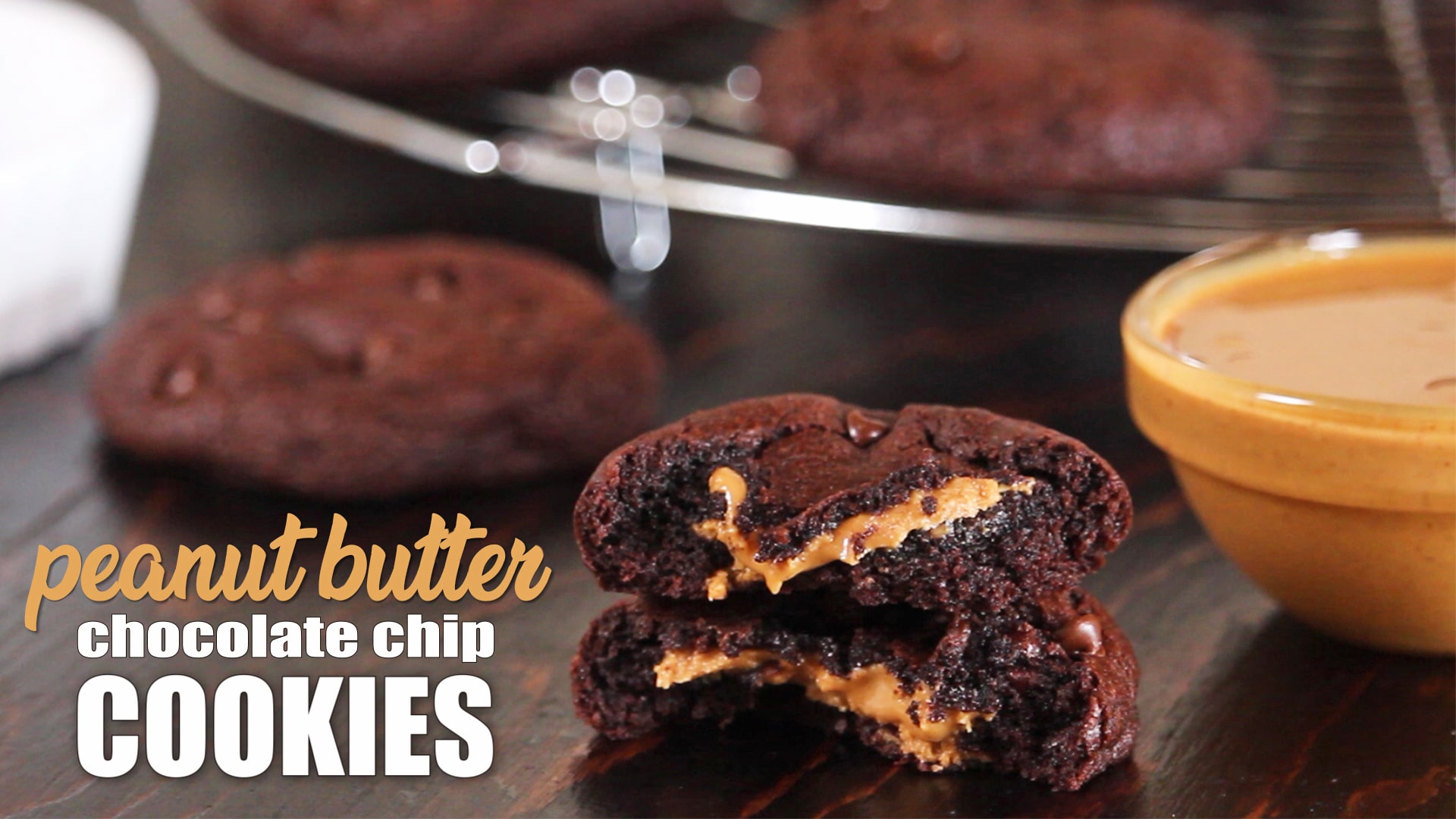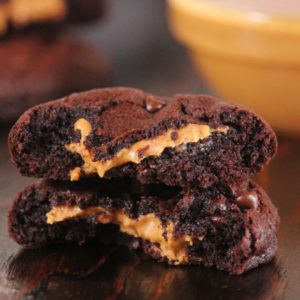 PEANUT BUTTER CHOCOLATE STUFFED COOKIES
How to make fudgy and chewy chocolate chip cookies stuffed with gooey Peanut Butter!
Double chocolate cookie dough with a rich and brownie texture, slightly crispy to the edges but very soft in the center. Peanut butter stays creamy for days after baking, these cookies literally melt in your mouth!
Don't skip to refrigerate your cookie dough before rolling your cookies into balls, or it will be too sticky to easily roll them. You can chill it for at least 30 minutes but you can also leave it in referigerator for 24 hours!
Freezing your peanut butter is also a very important step, in this way your peanut butter will turn out creamy after baking and rolling your cookies will also be more easy without making a mess!
Remember to use classic peanut butter for this recipe, the one that has a more thick consistency, not too runny.
Ingredients
17 tsp

peanut butter

creamy classic, without sugar

110 g

(1/2 cup)

unsalted butter

room temperature

1 tsp

vanilla paste

or vanilla extract

100 g

(1/2 cup)

brown sugar

60 g

(1/4 cup)

caster sugar

1

(50 g)

egg

small size, room temperature

40 g

(1/3 cup)

unsweetened cocoa powder

180 g

(1+1/2 cup)

all purpose flour

1/4 tsp

salt

1/2 tsp

baking soda

60 g

(1/3 cup)

chocolate chips
Instructions
Spoon 17 large teaspoons of peanut butter onto a lined tray and put in freezer for 30 minutes or until frozen. Meanwhile make cookie dough.

In a large bowl place butter, vanilla brown sugar, caster sugar and mix with a spatula until creamy.

In a medium size bowl, sift together: flour, cocoa, salt, baking soda and mix until well combined.

Incorporate flour mix in two times into butter mix: don't over mix the batter if you want to get soft cookies!

Add chocolate chips and combine.

Put cookie dough in refrigerator for about 30 minutes (you can leave in the fridge for 24 hours).

Use a 5cm ice cream scoop to scoop cookie dough into ball, flatten the ball, place in the center one frozen peanut butter scoop, fold the cookie dough edges to seal well and roll into a ball.

Repeat until finish all cookie dough. You'll get about 16-17 cookies.

Place 6 cookie balls onto a lined baking sheet and bake in preheated fan oven (upper and lower heat) at 180°-350°F for 9 minutes.

Remove from the oven and immediatley, when still hot, place some chocolate chips on top.

Wait about 10 minutes to remove cookies from the baking sheet and cool them down completely on a wire rack.
Video
Notes
You can store at room temperature in a tin cookie box for about 7 days.
You can store raw cookie balls in freezer for 1 month. Remember to flat a bit the balls before put in freezer, so your cookies won't turn out too thick when you bake them and you can place them in the oven directly from the freezer.
You can store the baked cookies for 3 months in freezer.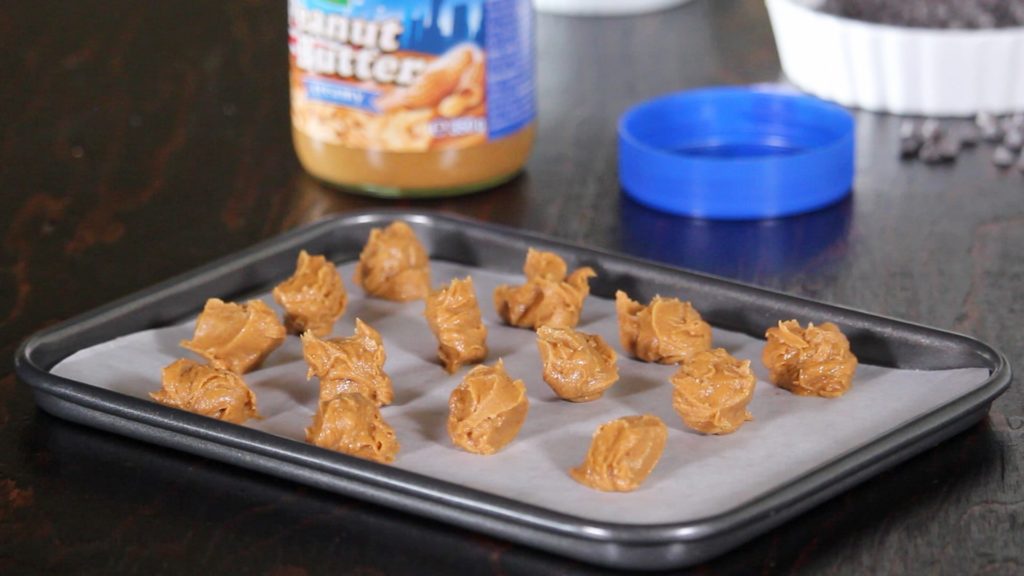 For this recipe I've used traditional creamy Peanut Butter without sugar, with its classic creamy and thick consistency. Pay attention with the organic peanut butter versions, they often are very runny and won't work in this recipe.
I didn't add sugar in my peanut butter filling because I prefer the original peanut flavor that matches perfectly with the dark chocolate cookie dough; but if you prefer a more sweet taste, you can consider to add some powdered sugar according to your taste.
Remember to roll quickly your cookie balls because peanut butter defrost quickly at room temperature!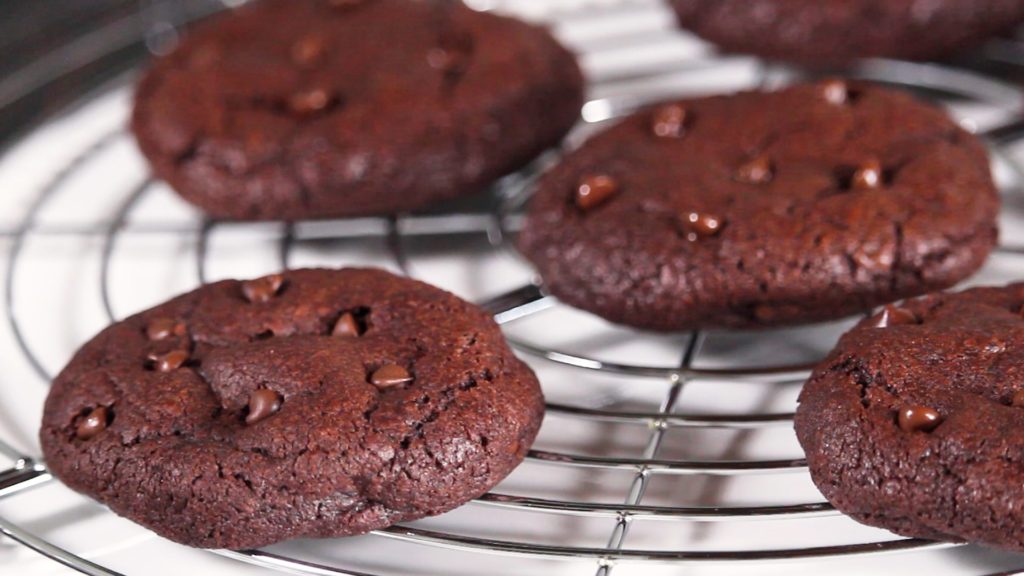 For shooting this recipe I've refrigerate the cookie dough for about 30 minutes, but when I made these cookies before, I've often refrigerated the dough for even 24 hours and always turned out amazing….the more your refrgierate your dough, the better your cookies will turn out! Well, don't refrigerate it more than 36 hours.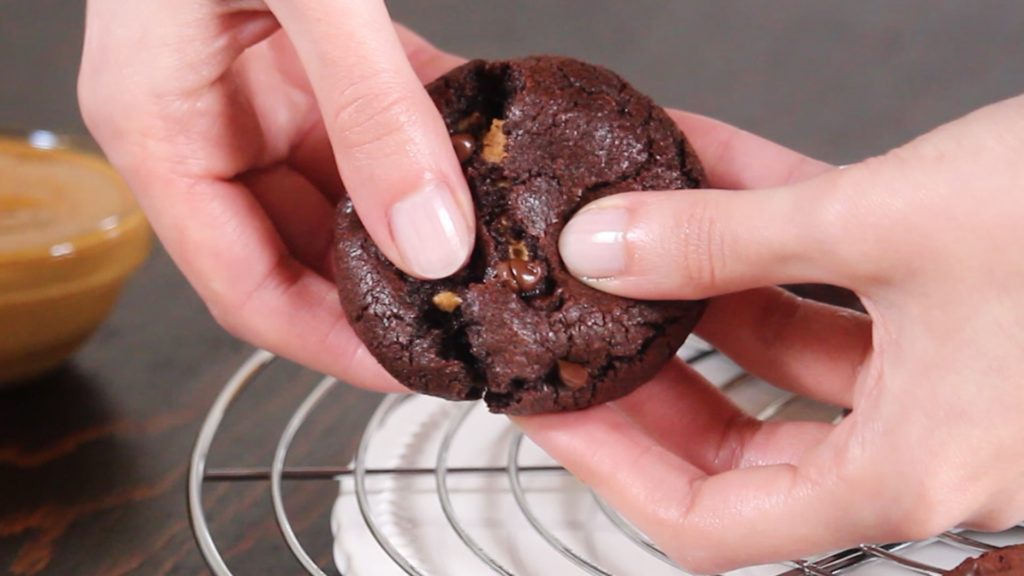 These cookies are the perfect treat for chocoholic people because the chocolate flavor is pretty intense (don't worry, it's not too much!) and it matches perfectly with the peanut flavor!