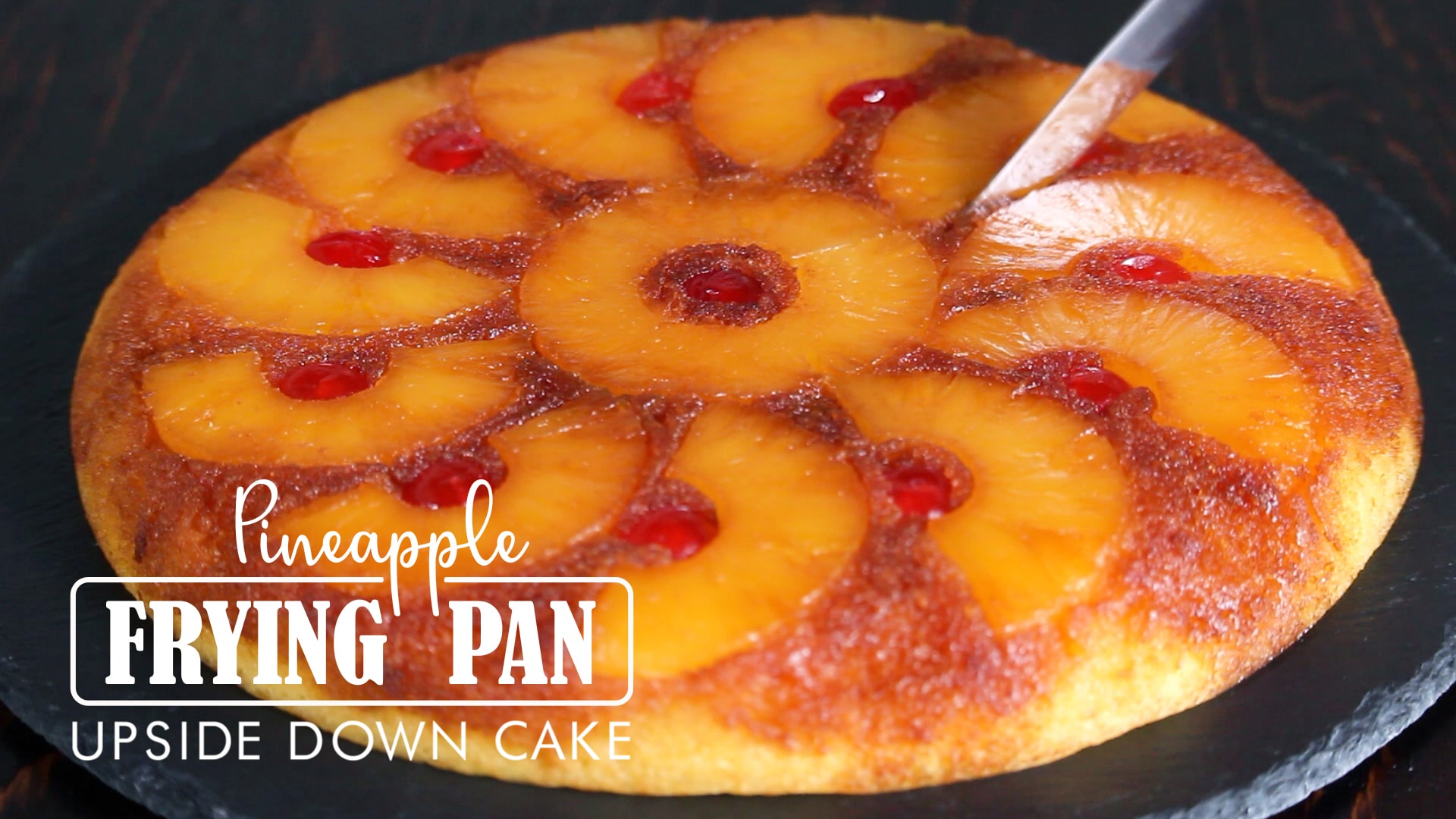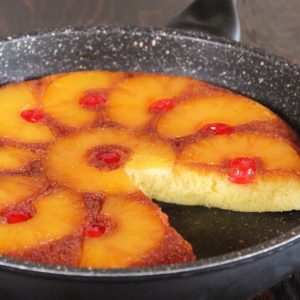 PINEAPPLE UPSIDE DOWN CAKE - NO OVEN!
This Pineapple Upside Down Cake is one of my favourite quick and easy cake! Made in a frying pan without oven, it's ready only in 15 minutes on the stovetop!
This is a perfect dessert when you have last minute guests or during Summer/hot season and you don't want to turn your oven on because too hot.
It's made with canned pineapple, but you can also use fresh pineapple if you prefer. I used the pineapple water as sweetener for the cake, so it's also low in refined sugar! For this reason, be carefuly to buy a sugar-free pure and natural canned pineapple.
I suggest to use a non-stick frying pan, so you can easily unmold it. I used a 26cm-10inch non stick pan: do not use a too small frying pan or the cake will be too thick, you'll need more minutes to cook it and you risk to burn it!
Cook it with a lid, so the cake will cook through and be careful to cook over low-heat, so you won't burning the pineapple side!
This cake is incredibly moist and tender, full of pineapple juice and fruit: you can taste the pure pineapple flavor in every bite!
Ingredients
30 g

(2 tbsp)

unsalted butter

45 g

(3+1/2 tbsp)

caster sugar

3

eggs

room temperature

50 g

(1/4 cup)

caster sugar

100 ml

(1/2+1 tbsp)

pineapple juice

unsweetened, from the canned pineapple

60 g

(1/4 cup)

vegetable oil

140 g

(1 cup+2 tbsp)

all purpose flour

1 tsp

baking powder

1/4 tsp

baking soda

6+1/2

canned pineapple slices

6

candied cherries

halved
Instructions
Place 30 g (2 tbsp) of butter in a 26cm-10inch non stick frying pan and melt over low heat; grease with the melted butter all over the pan and the sides too.

Add 45 g (3+1/2 tbso) of sugar and cook over low heat until completely dissolves and turn into caramel color. Then remove from heat.

Cut in half 6 slices of canned pineapple: place a whole slice in the center of the bottom of the pan (over the caramel) and adjust all the half slices all around.

Place the halved candied cherries in the holes of the pineapple slices. Set aside.

In a large size bowl, mix eggs and sugar with a whisk until well combined and just slightly foamy on top.

Add vegetable oil, pineapple juice (from the canned pineapple) and mix just to combine.

Add sifted flour, baking powder, baking soda and mix just until combined: don't overmix!

Pour the cake batter over the pineapple slices in the frying pan and cook over medium-low heat for about 15 minutes covered with a lid.

The cake is done when the top is pretty dry but very soft and toothpick insert in the center, comes out slithly wet but not with too much crumbles.

Remove the pan from heat and let it set for 5 minutes covered with the lid: so the cake will perfectly cook through keeping its moisture.

Remove the lid and cool down for at least 15 minutes.

Pour 2 tbsp of pineapple juice over the cake and brush it all over.

Pass a spatula between the cake sides and the pan sides, then flip over the serving plate to unmold it.

You can serve it immediately with ice cream on top (optional).
Video
Notes
Store at room temperature covered with plastic wrap for about 1 day or in refrigerator for about 5 days.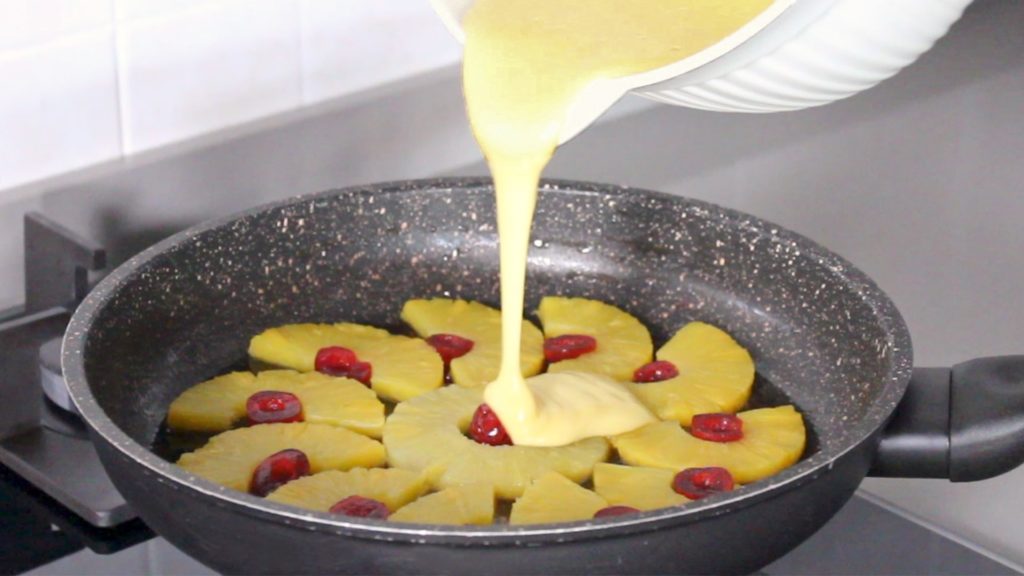 The trick to make a perfect frying pan Upside Down Pineapple Cake is to adjust the heat flame of your stovetop: be careful to not use a too high heat or the pineapple side could burn. I usually use medium size heat with medium-low flame. 
Thanks to the lid the cake will cook through and you won't burn it. Also remember to use a 24-26 cm size frying pan, not smaller, or the cake will be too thick and you'll need more minutes to cook through.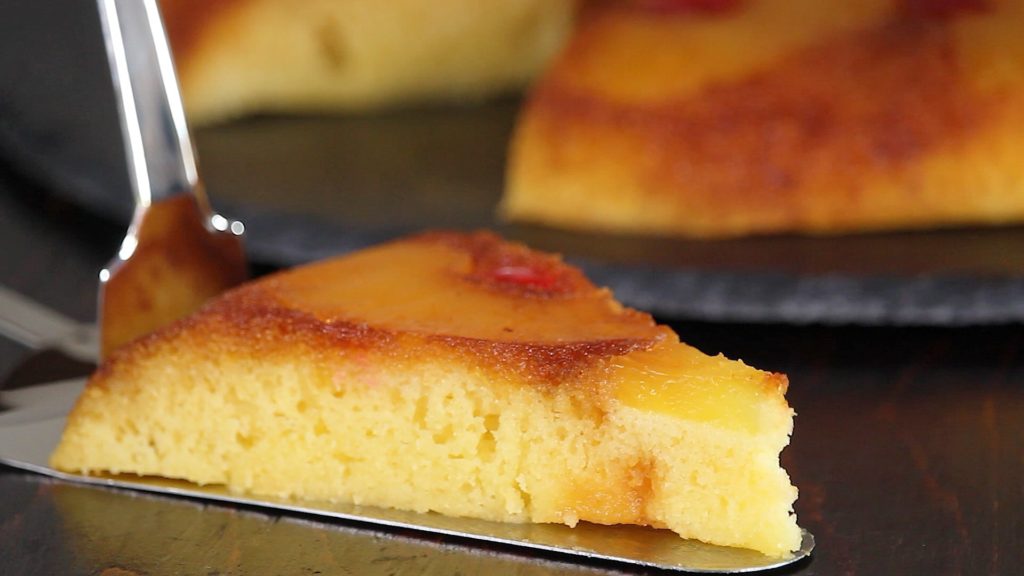 You can also make this Upside Down cake with apple slices and cinnamon instead of pineapple: in this case, you can substitute the pineapple juice with some unsweetened apple juice.