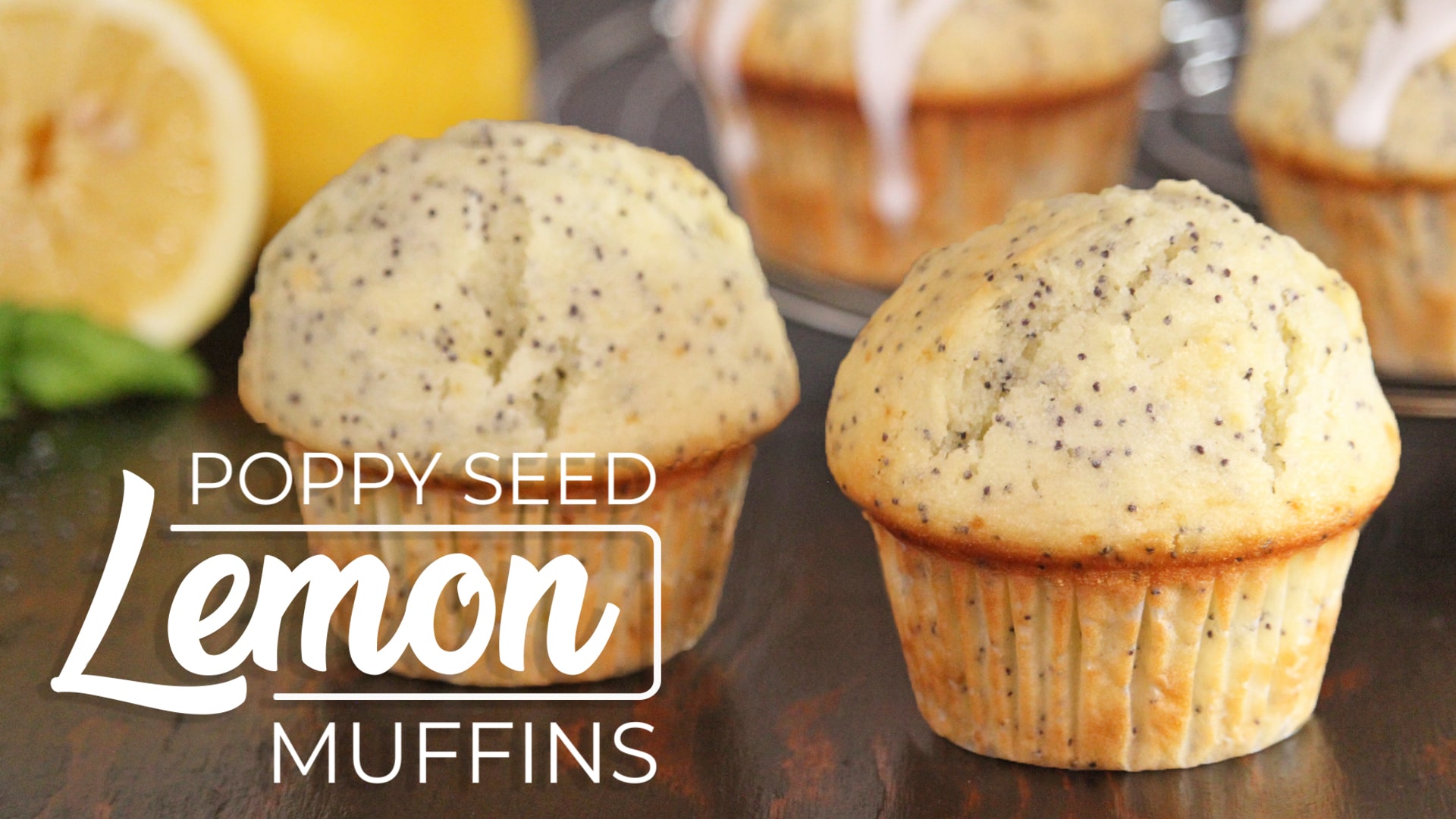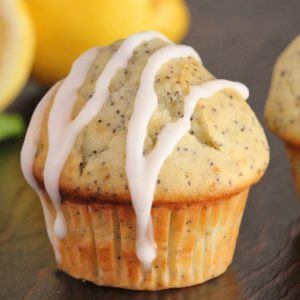 POPPY SEED LEMON MUFFINS - BAKERY STYLE
The most refreshing and fluffy Poppy Seed Lemon Muffins that last soft for many days! Made with high domed top. they look exactly like perfect Bakery Style muffins!
If you always crave for bakery-style muffins, this recipe is just for you! Here you can find all the tips to get bakery-style muffins with a professional high dome top.
You don't need any stand mixer or hand mixer, just a simple whisk and spatula, that's it!
Ingredients
Poppy Seed Lemon Muffins
200 g

(1/2 cup)

caster sugar

360 g

(2+3/4 cups)

all purpose flour

the zest from 2 lemons

pinch of salt

10 g

(2+1/4 tsp)

baking powder

1/2 tsp

baking soda

25 g

(2+1/2 tbsp)

poppy seeds

optional

240 g

(1 cup)

greek yogurt

unsweetened

120 g

(1/2 cup)

milk

3

eggs

regular size

55 g

(1/4 cup)

vegetable oil

75 g

(1/3 cup)

unsalted butter

melted

1 tsp

vanilla paste

or extract

30 g

(2 tbsp)

fresh lemon juice
Lemon Glaze
120 g

(1 cup)

powdered sugar

about 4 tsp

lemon juice
Instructions
Poppy Seed Lemon Muffins
In a large bowl place sugar and lemon zest. Rub zest into sugar for about 2 minutes using your fingers until well combined: the sugar becomes slightly yellow because lemon zest released its oil.

Sift in flour, salt, baking powder, baking soda.

Add poppy seed, mix until well combined and set aside.

In a large pitcher place yogurt, milk, vanilla, lemon juice, eggs, melted butter, vegetable oil and mix with a whisk until well combined.

Gradually incorporate yogurt mix into flour mix and fold gently until all the ingredients are well combined: do not overmix to get fluffy muffins.

Divide the batter into 12 lined muffin molds: full fill every mold so you'll get perfect high domed bakery style muffins.

Bake in preheated oven (no fan, upper+lower heat) at 210°C-410°F for 5 minutes: this helps to get higher muffins.

Then turn down the heat and bake at 185°C-365°F for about 13 minutes or until a toothpick comes out clean and the top is slightly golden.

Cool down completely on a wire rack.
Lemon Glaze
In a medium size bowl mix together powdered sugar and lemon juice until get a very thick glaze. Add lemon juice little by little to avoid getting a runny glaze.

Drizzle over cooled muffins, let dry for about 30 minutes and serve it.
Video
Notes
You can store at room temperature for about 3 days.
You can store in freezer for up to 2-3 months.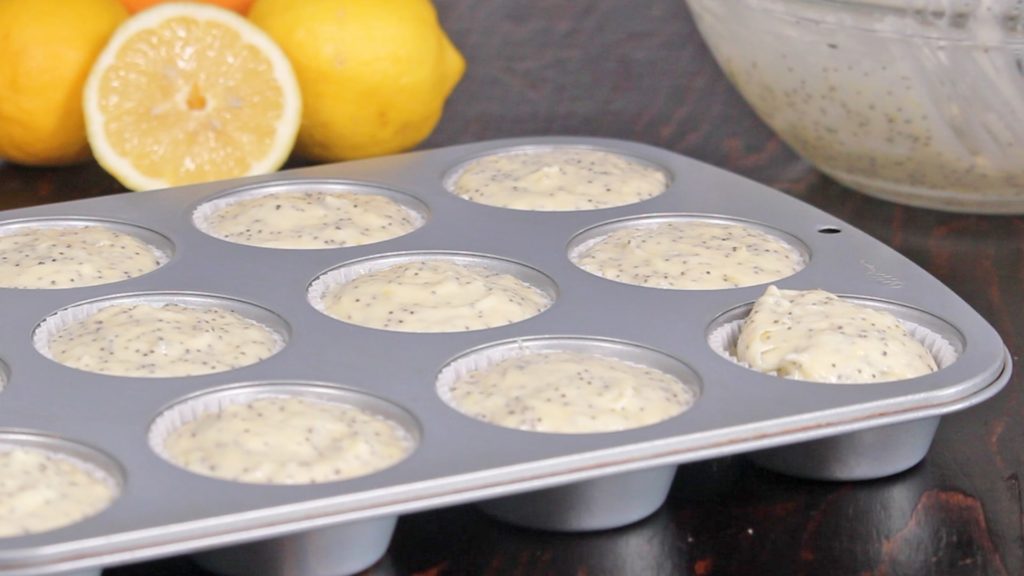 Here you can find all my tips to get Bakery-Style muffins with high domed top:
You have to full fill your muffin molds, not fill only to 3/4…you have to be generous! The more you fill it, the more your dome will be huge!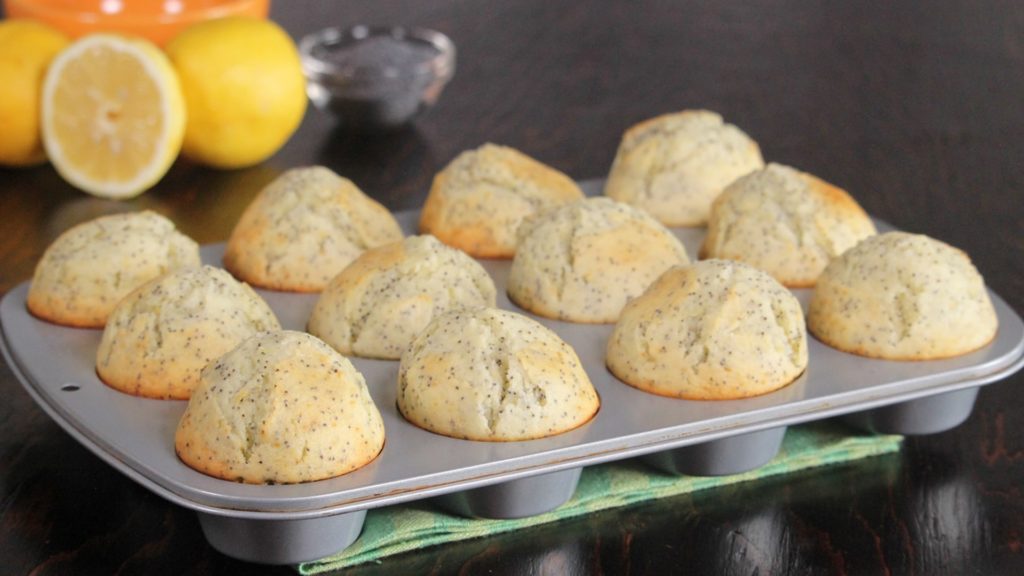 The recipe must feature a rising ingredient if you want to get the best result. I used baking powder and also the combo baking soda+acidic ingredient (greek yogurt and lemon juice featured in the batter).
If you are making eggless muffins, remember to add a hint more of baking powder because eggs are natural leavening.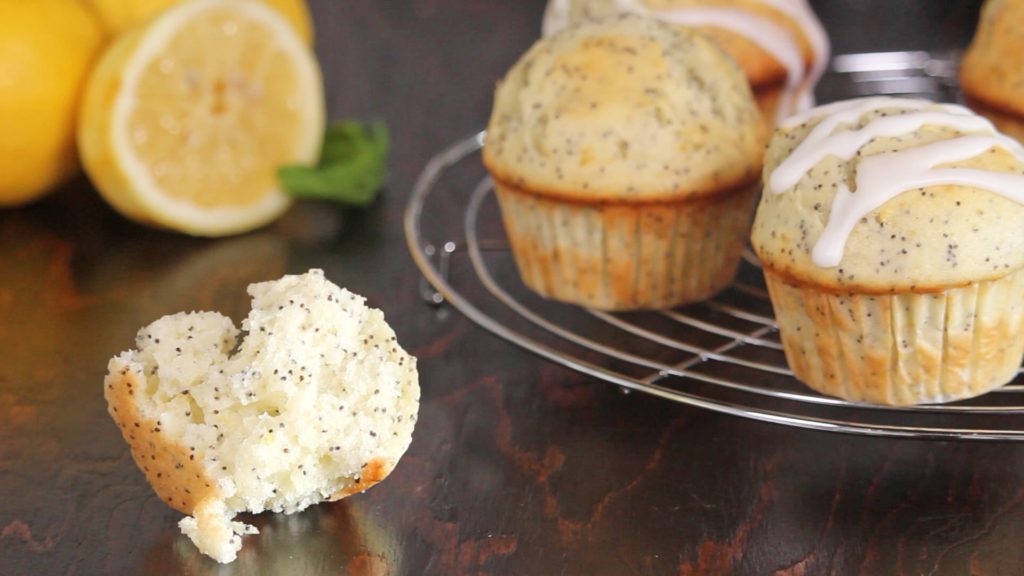 A crucial point is how you bake your muffins. I use my preheated electric oven, always upper and lower heat and never turn the grill on. If you have fan option you can use it, but I don't turn it on when I bake cakes and muffins since it dry a bit the crust.
The temperature is important too: you have to bake your muffins at higher heat for the first 5 minutes: the termic shock will help them to rise a lot! For this reason I bake them at 210°C-410°F for the first 5 minutes, then I decrease the heat at 190°C-375°F for 13 minutes.
Remember that every oven is different, so it is possible that you should change a bit temperature or time. They are done when a tootchpick comes out clean. If they become too brown on top, you have to decrease the heat of your oven.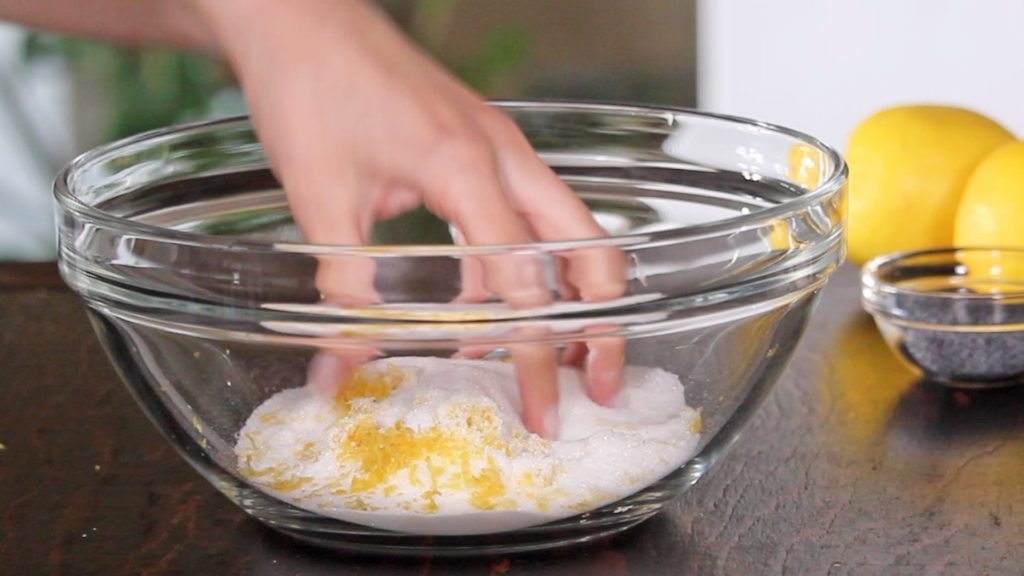 To perfectly release all the lemon flavor, only use the yellow lemon peel and not the white pith that is bitter.
Rubbing the lemon zest with the sugar using your fingers, helps lemon to release all its essential oil: this is the part that contains all the lemon flavor, not the juice!