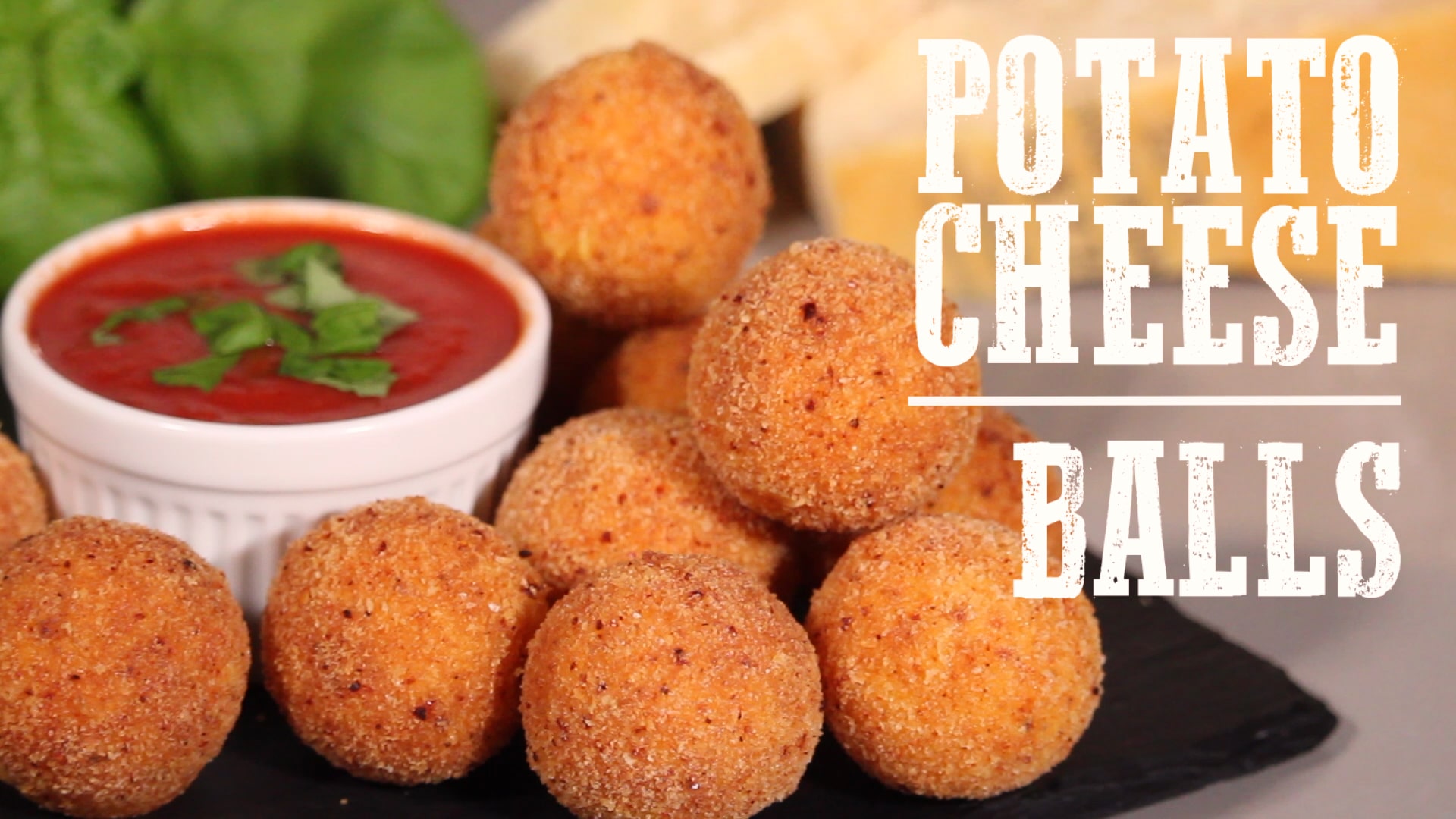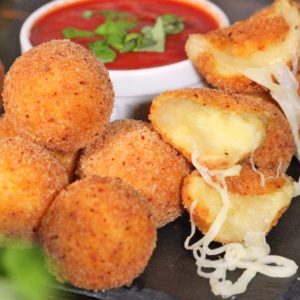 POTATO CHEESE BALLS
Potato and cheese is a match made in heaven and this recipe is the perfect combo of these two delicious ingredients! These Potato Balls are absolutely irresistible, so crispy outside thanks to the paprika breading and the inside potato mix is incredibly soft with the gooey and stretchy Mozzarella filling.
You can substitute Mozzarella with your favourite stretchy cheese like Cheddar, Swiss cheese or any other type and add some vegetables to your mashed potatoes.
You can also make it in eggless version: make a fluid mix of water and all purpose flour and dip your balls into this batter instead of egg wash.
You can't resist to these amazing balls!
Ingredients
Potato Balls
450 g

(1 pound)

raw and unpeeled red potatoes

or other type of potatoes

100 g

(3,5 oz)

Mozzarella cheese

or other type of cheese like Cheddar...

50 g

(1/2 cup)

Parmigiano Reggiano or Parmesan cheese

grated

black pepper

salt
Breading
3

eggs

50 g

(1/2 cup)

all purpose flour

200 g

(2 cups)

homemade breadcrumbs

5 g

(1 tsp)

paprika
Instructions
Peel potatoes and soak in cold water to remove starch excess.

Cut potatoes in big chunks.

Boil potato chunks in salted water until fork tender.

Meanwhile slice Mozzarella cheese and cut it in small cubes (about 0,5 cm – 0,2 inch).

Place mozzarella cubes over a kitchen paper and press one kitchen paper over to absorb water excess. Set aside.

Prepare the breading: in three separate medium size bowls palce flour, beaten eggs and bread crumbs.

Combine the bread crumbs with salt, black pepper and paprika. Set aside.

Prepare potato balls: drain boiled potatoes and place them in heat proof bowl.

While still hot, place them in a potato ricer and push them (or you can use a potato masher).

Grate Parmesan in the warm mashed potatoes, season with pepper and mix until well combine.

Use a tablespoon to take equal portions of potato mixture and form into balls (every ball will be about 16 g – 0.5 oz).

Make a hole in the center of every ball and fill it with cubed Mozzarella cheese. You'll get about 25 balls.

Coat each ball in Flour first, then dip into beaten Eggs, then roll into Bread Crumbs mix, then deep into Eggs again and one last time into Bread Crumbs mix.

Place all the breaded balls in a baking tray lined with parchment paper and place them in refrigerator until heat the oil.

Fill a large pot with vegetable oil (I've used peanut oil) and heat over medium heat until it reaches 350° F - 175° C.

Deep fry potato balls until golden brown, for about 4 minutes. Be careful not to over-fry them because the Mozzarella may ooze out completely.

Drain the balls on a paper towel.

Season with salt and serve immediately with your favourite sauce.
Video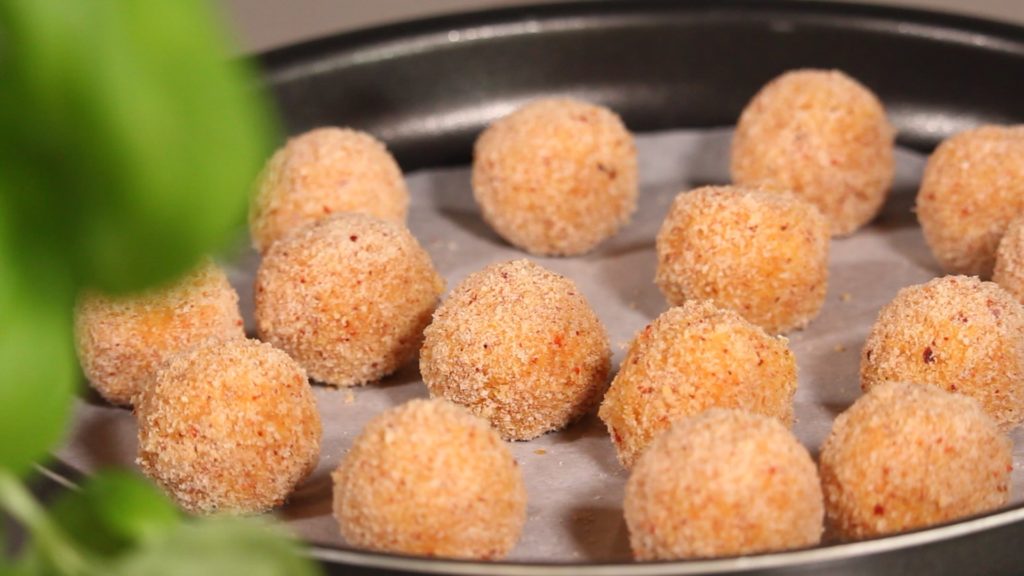 You can avoid eggs for breading and substitute them with a fluid mix made with flour and water.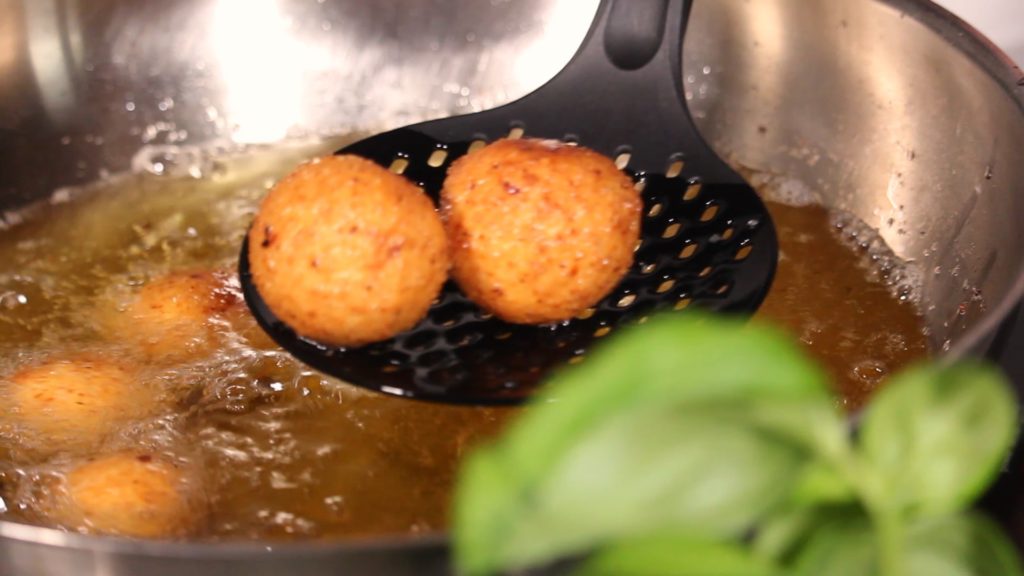 You can use your favourite vegetable oil for frying these balls. I prefer deep frying with Peanut Oil because of its high smoke point. Olive Oil is the best, but it gives a very strong flavor to the fried food and it's much more expensive.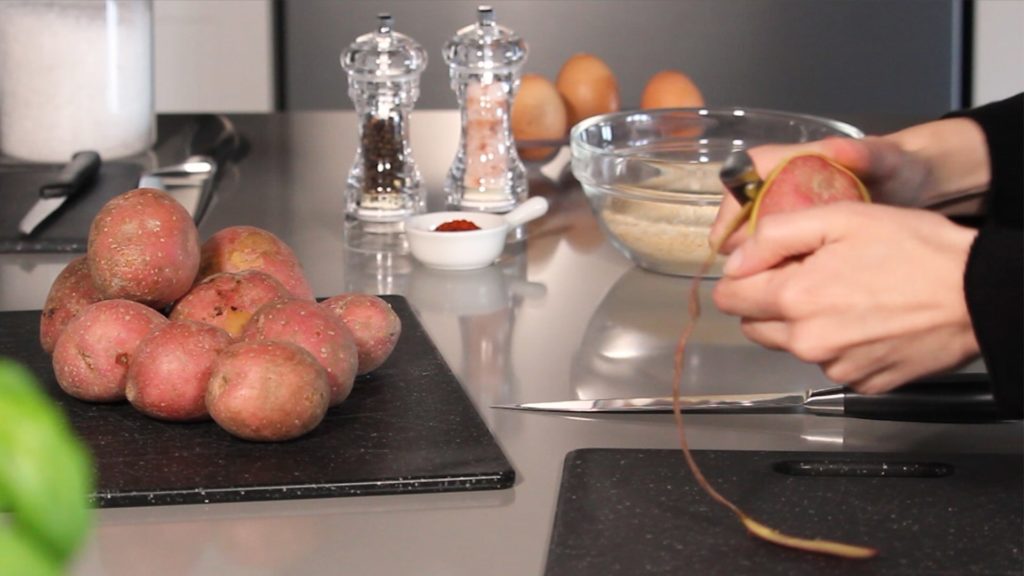 I've used Red Potatoes in this recipe, but you can use your favourite potato type!  Yellow Potatoes, Yukon Gold are perfect for this recipe!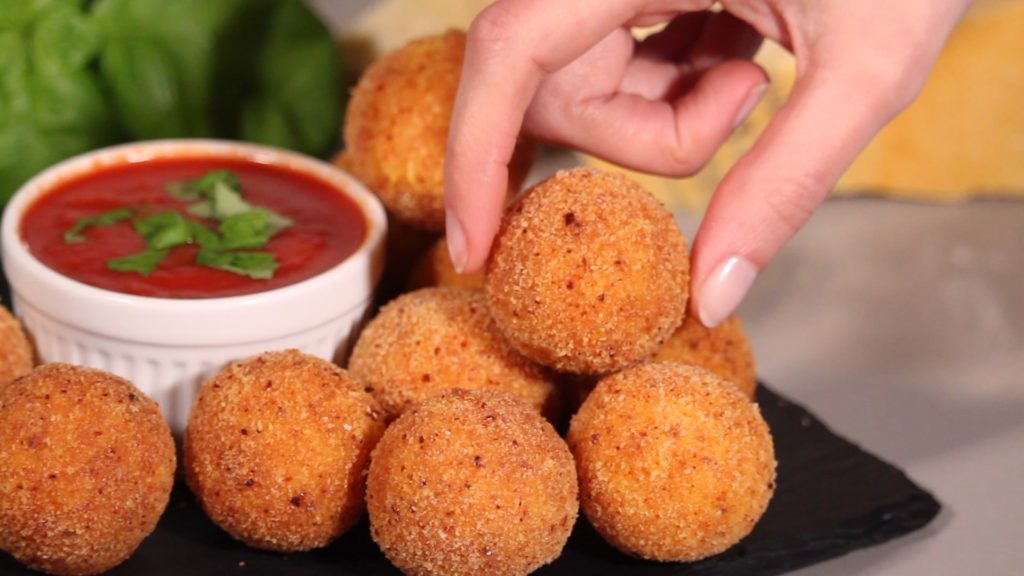 If you can't find Mozzarella in your Country, you can use other type of cheese, like Cheddar or Swiss cheese.