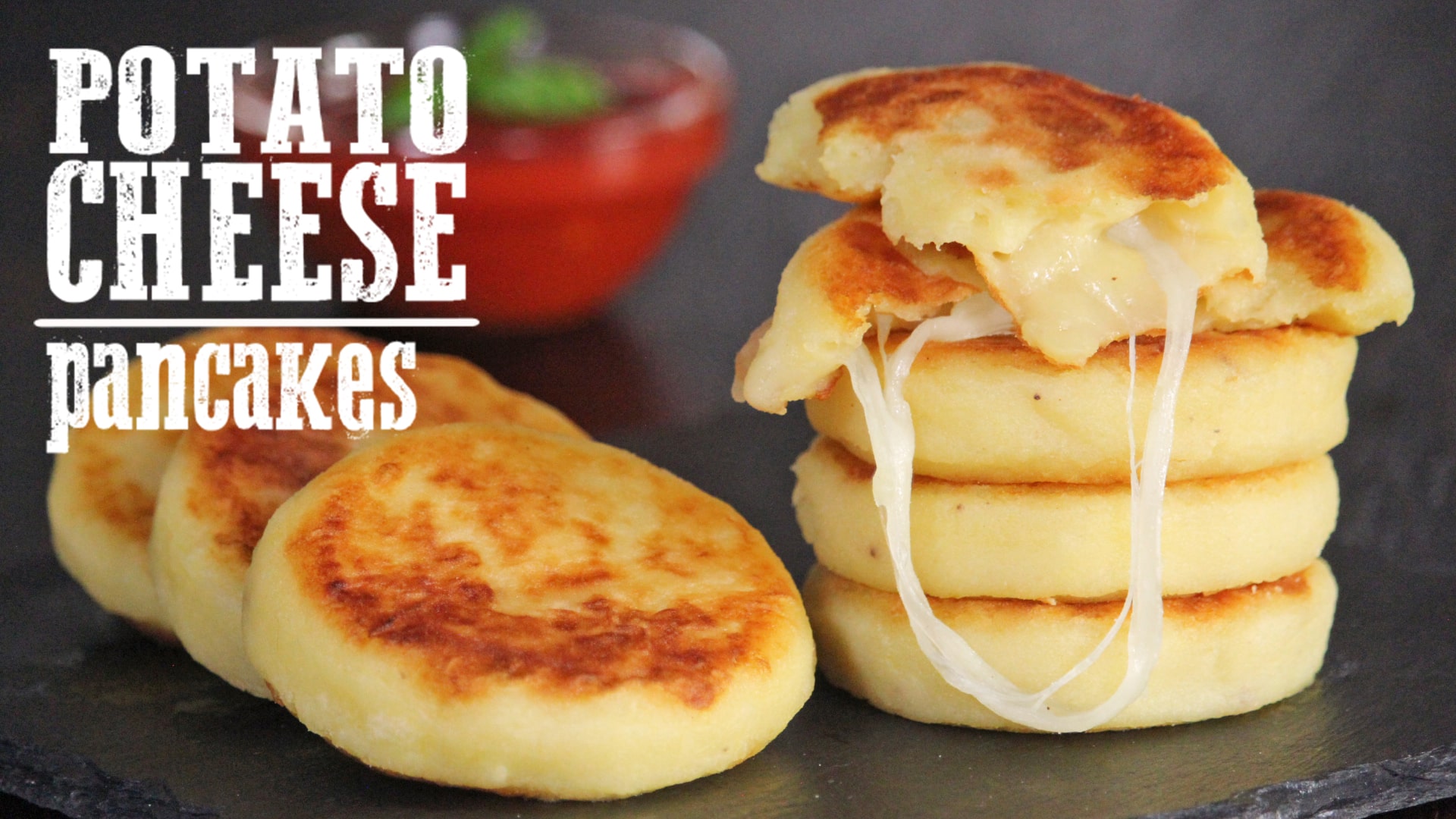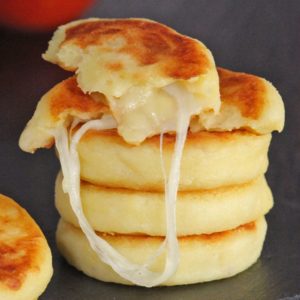 POTATO CHEESE PANCAKES
Potato Pancakes are a popular irresistible potato treat in many Countries all over the world and everyone make them in different ways.
They are basically made with a mashed potato mix formed into patties and cooked in a pan. I make them how we like in Italy: filled with Mozzarella cheese!
We usually add some Parmigiano Reggiano cheese in the potato mix, but I didn't use it this time and made it in a very simple way using the ingrerdients you can find in your pantry.
Of course you can add different kind of cheese for the filling or skip it, but I suggest to use it because stretchy cheese is always so irresistible!
This is a savoury dish but I added a hint of sugar in the mix as I've seen in Korea: it gives a nice taste and the pancakes are still savoury.
Serve it as side dish, for brunch, or for a savoury breakfast or meal: everyone will love them!
Ingredients
500 g

(1 pound)

potatoes

peeled and cubed

about 90 g

(3/4 cup)

all purpose flour

+ more for coating

4 g

(1 tsp)

sugar

optional

salt to taste

black pepper

Mozzarella cheese

or other stretchy cheese like Cheddar, Swiss cheese...

Oil for cooking

I used Peanut oil
Instructions
Peel the potatoes and chop in medium size chunks.

Boil potato chunks in salted water until fork tender. You can also steam them.

Mash potatoes immediately when still hot with a fork (or a potato ricer or a potato masher) until smooth and creamy.

Add flour, sugar, salt, pepper to the mashed potatoes and mix until get a not-sticky and slightly dry - but soft - mix. If too wet, add a bit more flour.

Use a 4cm-1,5inch ice cream scooper to take 2 scoops of mashed potato mix.

Well flour your hands to avoid sticking and form a disc.

Place about 1 tsp of chopped Mozzarella cheese in the center of the disc and roll to form a ball.

Slightly flat the ball, coat every side with some flour and place on a dish lined with parchment paper or well floured to avoid sticking.

Repeat and use all the mashed potato mix: you'll get about 9 potato pancakes.

Heat a large non-stick pan with about 2 tbsp of vegetable oil (I've used Peanut oil) and cook every side at medium heat for about 5 minutes or until evenly browned.

Drain over paper towel and serve immediately.
Video
Notes
You can store cooked leftovers in refrigerator for 2 days or in freezer for up to 3 months.
Don't store raw pancakes in refrigerator or they will become wet and sticky.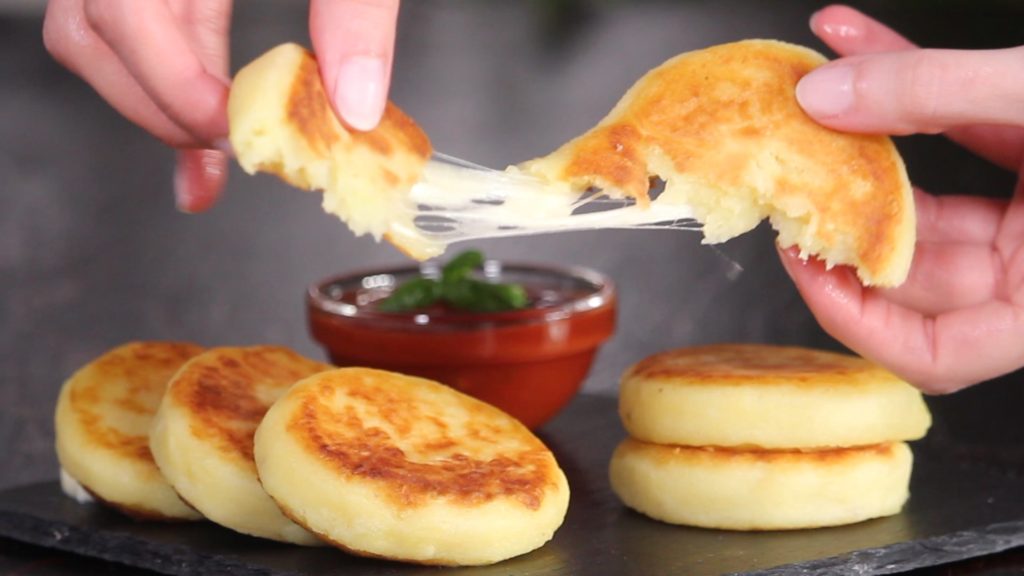 For filling my pancakes I've used Mozzarella cheese. Its delicate milky taste is perfect with potatoes and the strertchy is absolutely irresistible!
Feel free to use any other strertchy cheese you like: Cheddar, Swiss cheese…it's up to you!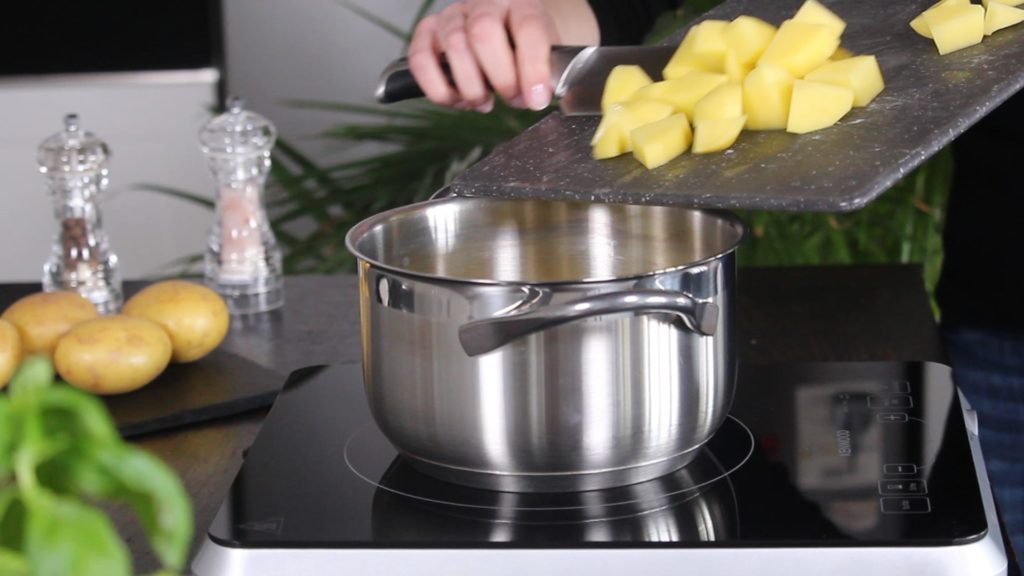 I've used Yellow Potatoes with low-starch amount for this recipe; I suggest to use any kind of potatoes with low starch to avoid the mix becoming wet or sticky. If you don't know which kind of potatoes using, I always suggest Red Skin potatoes (not sweet potatoes! I mean normal potatoes with red skin and yellow flesh), they are usually with low starch.
You can boil your potatoes or steam them. When I steam my potatoes, I always use a microwave steamer, so my potatoes are ready in few minutes!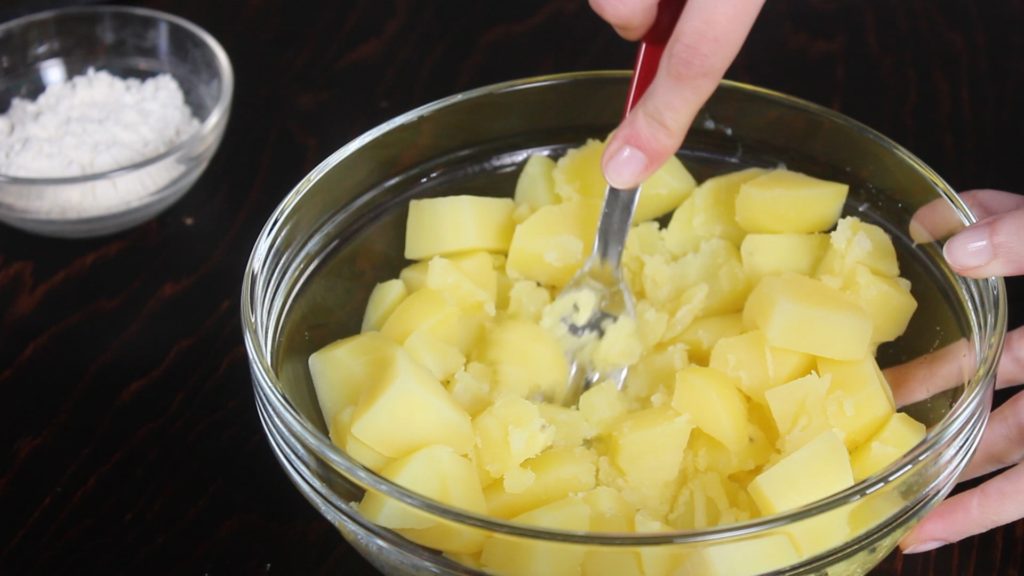 Mash finely your potatoes when still hot, so it's very easy to get a smooth mix. You can use a potato masher, a potato ricer (usually my favourite tool for potatoes) or just a fork, as I did in my recipe video.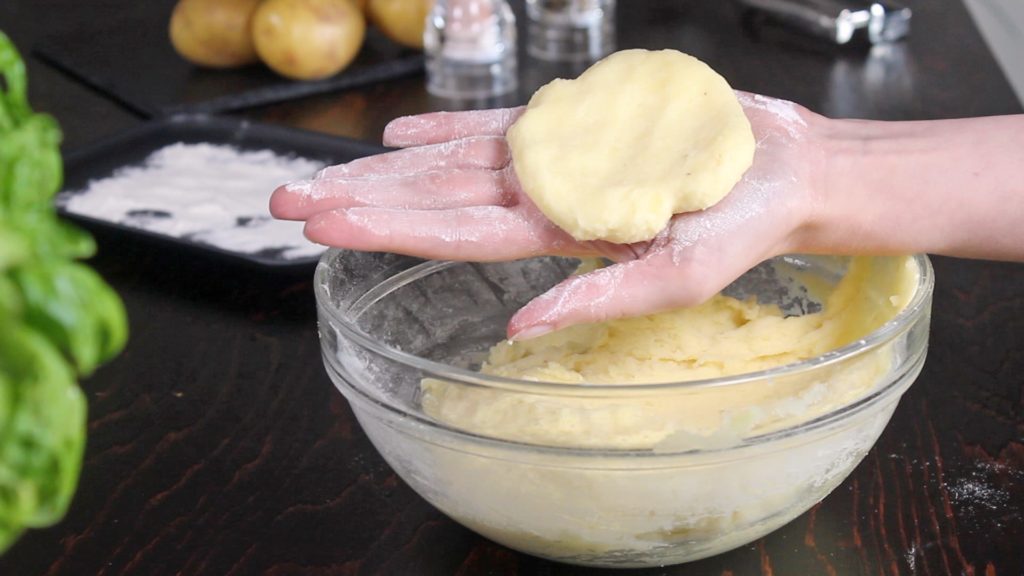 The amountof flour used in the potato mix could vary depends on the type of potatoes you used: feel free to add a bit more flour if your mix is too sticky.
It's very important to well flour your hands when you form the patties: potato mix could be sticky (mostly if you use a starchy potato type), so the flour will help a lot to avoid sticking the mix to your hands.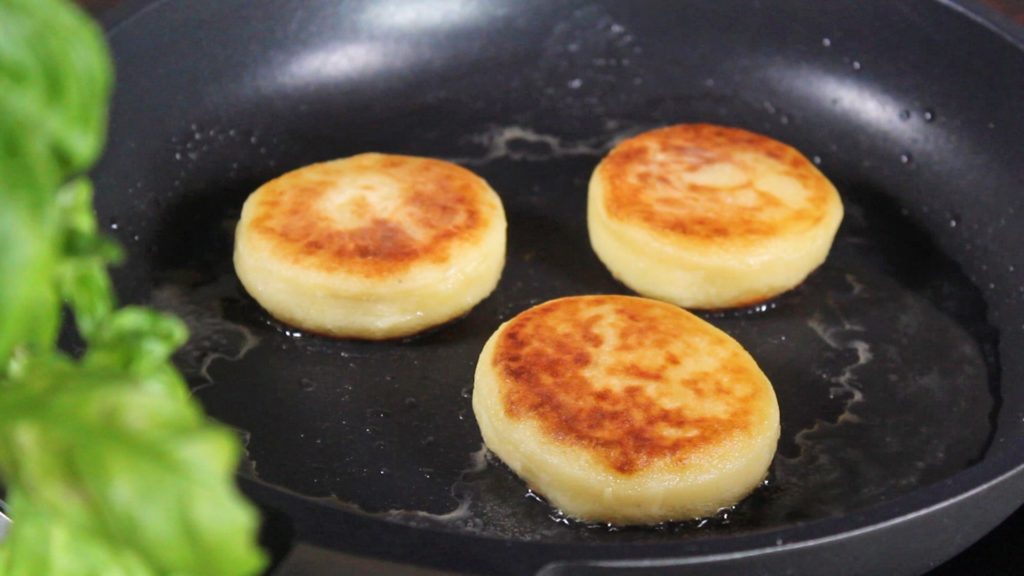 I've used Peanut oil for frying my potato pancakes because it has a neutral taste and, with Olive oil, it has a great ability to reach high temperature without smoking.