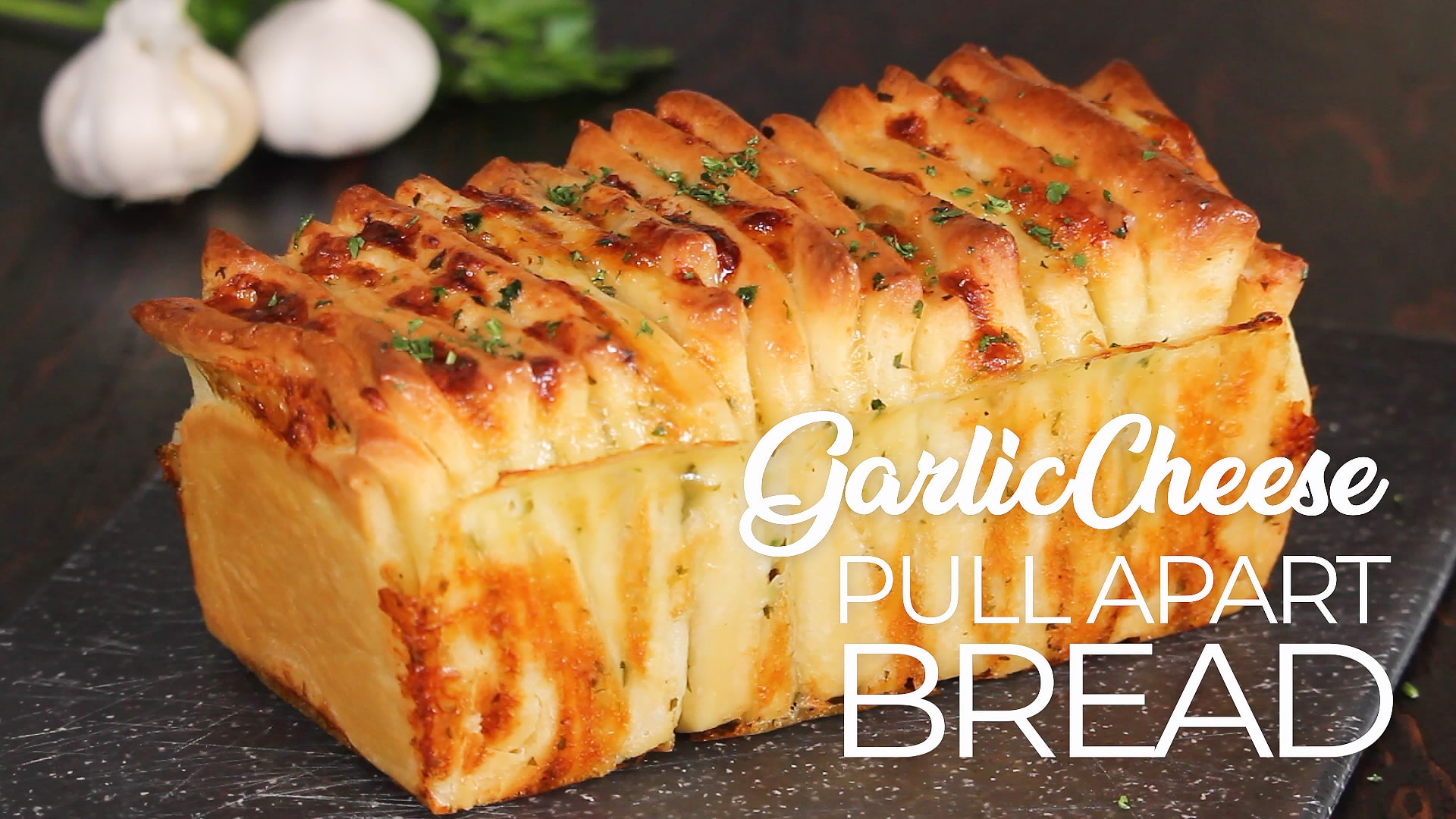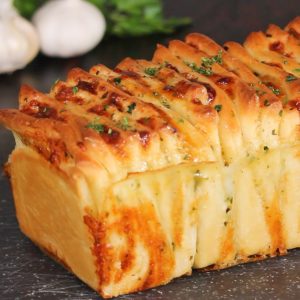 PULL APART GARLIC CHEESE BREAD
A new style for soft and fluffy savoury Pull Apart Bread! Filled with aromatic garlic butter, Mozzarella and Parmesan cheese, this bread is perfect for party with friends or as main/side dish.
The dough is incresibly quick and easy to make, you don't need any machine or stand mixer for prepare it, neighter a long hand mixing: you just need to mix the ingredients together, form into a ball and knead directly into the bowl for about 1 minute, just until the dough pulls away from the bowl sides: easy peasy!
I've used a little garlic amount, so the garlic taste is just a hint, but surely you can increase it according to your taste. Mozzarella and Parmigiano Reggiano cheese (or Parmesan) give a salty taste absolutely irresistible and if you have it warm just from the oven, Mozzarella is stretchy st the center but slighlty crispy at the bread sides, it's absolutely mouthwatering!
Ingredients
Dough
450 g

(3+3/4 cups)

all purpose flour

7 g

(1 tsp)

salt

20 g

(1+1/2 tbsp)

sugar

6 g

(2 tsp)

active dry yeast or instant yeast

activate it if your yeast requires it

About 200-210 g

(3/4 cup+2 tbsp)

milk

room temperature

60 g

(1/4 cup)

unsalted butter

melted

1

(52 g)

egg

beaten, room temperature
Filling
70 g

(1/3 cup)

unsalted butter

room temperature

1/2

garlic clove

the amount of garlic is up to your taste, you can increase it

15 g

(2 tbsp)

Parmigiano Reggiano cheese

or Parmesan cheese, grated

2 tbsp

parsely

or coriander or chives, finely chopped

black pepper

200 g

(7 oz)

Mozzarella cheese

or other cheese like Cheddar, Swisse cheese..., finely chopped or shredded
Instructions
Dough
In a large bowl, place flour, sald and mix until combined.

Add sugar, yeast and mix. If you need to activate your yeast, make it in a separate bowl.

In a medium size bowl, mix together milk, egg and melted butter until well combined.

Add slowly in few times milk mix to flour mix: combine until well combined and you get a slightly sticky dough. If the dough is too wet, you can add some extra flour (be careful to not use too much flour); if it's too dry you can add some extra lukewarm milk.

Knead it in the bowl just until the dough pulls away from the edges of the bowl and it's no more sticky, but just soft.

Cover the bowl with plastic wrap and let it rise in a warm place until at least double in size (about 1-2 hours).
Filling
In a medium size bowl, place soft butter, Parmigiano cheese, black pepper, chopped coriander, the mashed garlic clove and mix until creamy and well combined.
Assemble the Bread
Roll your dough onto a silicone mat or a well floured work surface, until get about a 50x34cm-20x13inch rectangle.

Spread the Filling on top.

Place chopped Mozzarella on top.

Cut the rectangle into five long equal strips parallel the short side.

Stack three strips and two strips on top of each other.

Cut each stack into 4 squares.

Transfer every square stack into a loaf pan 11,5x22,5cm-4,5x9in lined with parchment paper.

Spread apart the top of every layer with your hands.

Cover with plastic wrap and a tea towel and let it rise at room temperature for about 30 minutes (you can also place it in the refrigerator and bake it the day after).

Brush the top of the bread with beaten egg and bake in preheated oven (no fan, upper and lower heat) at 180°C-350°F for about 30-35 minutes. After about 15 minutes of baking, if needful, you can cover the top with aluminium foil to prevent burnt.

Cool down completely before serve it.
Video
Notes
Store at room temperature for 1-2 day or in refrigerator for 5 days.
Serve it slightly warm or at room temperature.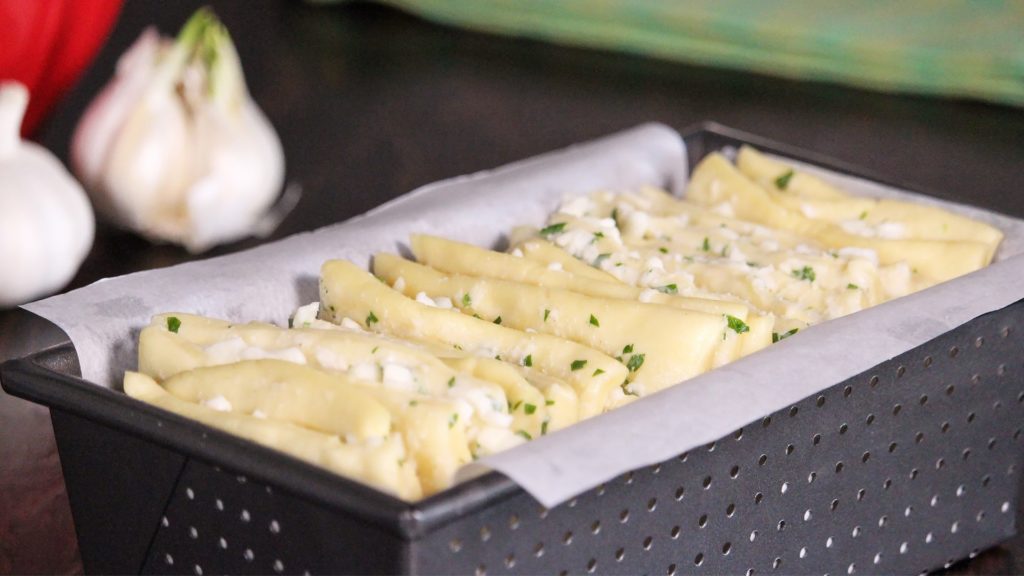 You can prepare the dough the day before, let it rise for 1 or 2 hours at room temperature, then put in refrigerator overnight and assemble and baking the bread the day after. You can also assemble the bread in the pan, place in refrigerator oevernight well covered with plastic wrap and bake the day after.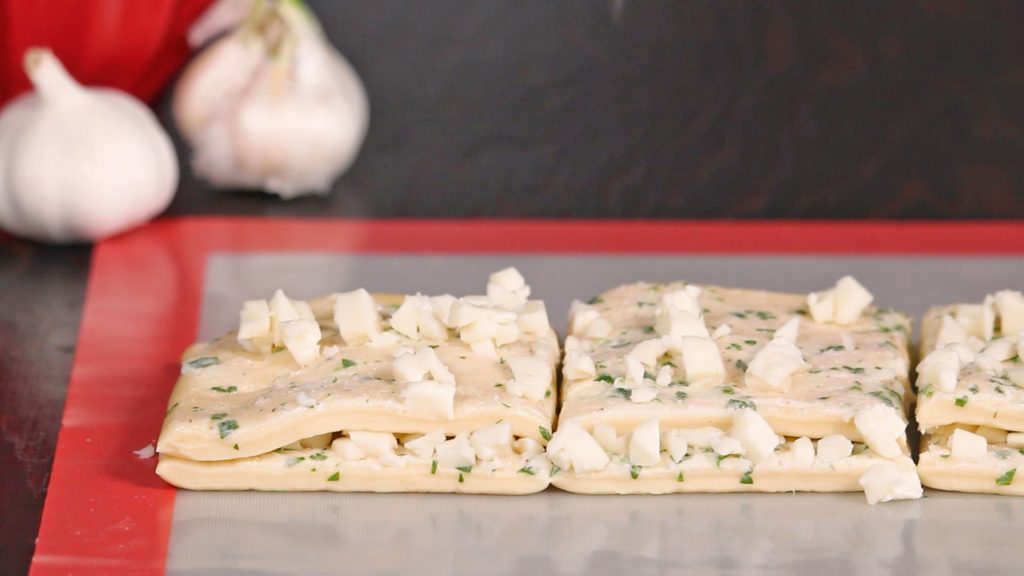 Be creative and create different filling for this Pull Apart Bread! You can make a Pizza Pull Apart Bread filling with tomato sauce, mozzarella and basil or add your favourite ingredients. Unleash your immagination!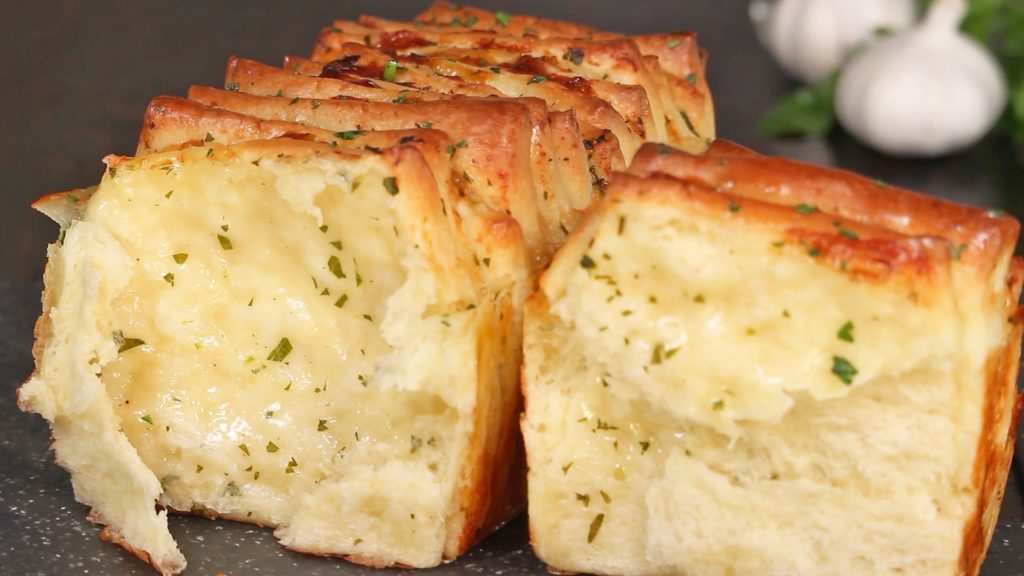 I let my dough rise in a warm place: if you live in a hot climate, you can let it rise at room temperature; if you live in a cold climate you can turn on the oven for 10 minute at 50° C – 125° F, then turn it off and let rise the dough in the warm oven. The rising time depends on the heat, it's important you wait until your dough at least double or triple in size.