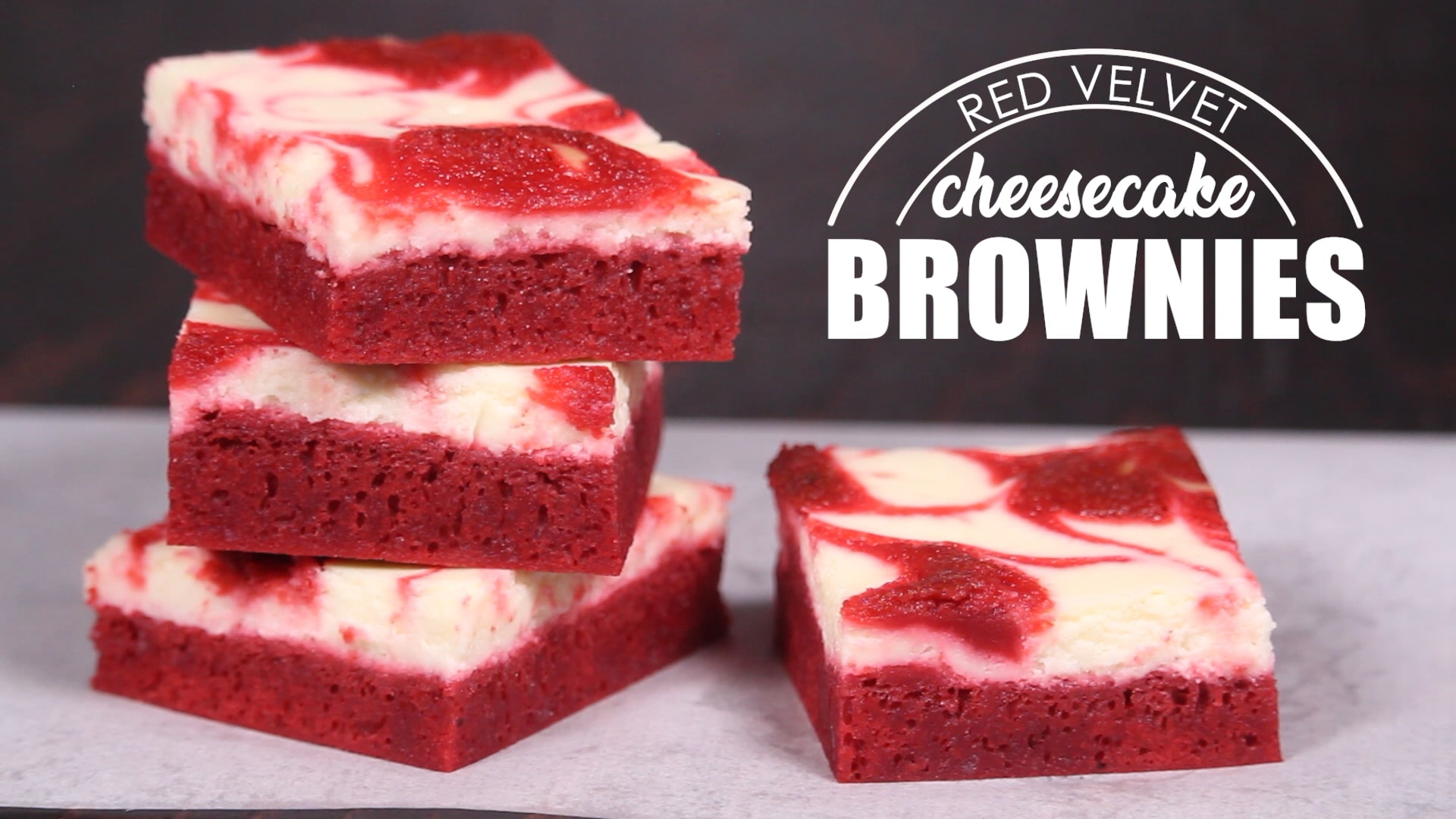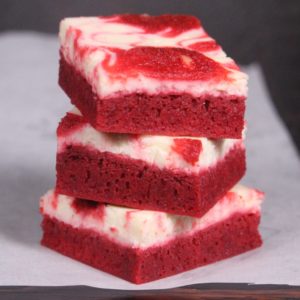 RED VELVET CHEESECAKE BROWNIES
Fudgy Red Velvet Cheesecake Brownie recipe perfect for Valentine's Day or any special occasion!
Made with an irresistible red velvet brownie layer full of white chocolate a hint of cocoa and a splash of vinegar (like all Red Velvet recipes required!), these rich brownies are topped with a creamy and luscious cheesecake batter scented with vanilla and eggless too!
The marble pattern on top is very easy to make and gives just the perfect final lovely touch to this delicious treat!
Ingredients
Red Velvet Brownie batter
100 g

(3,5 oz)

white chocolate

finely chopped

110 g

(1/2 cup)

unsalted butter

cubed

75 g

(1/3 cup)

caster sugar

2

eggs

3/4 tsp

white vinegar

60 g

(1/2 cup)

all purpose flour

8 g

(1 tbsp)

unsweetened cocoa powder

pinch of salt

red food coloring in paste or gel
Cheesecake batter
300 g

(10,5 oz)

cream cheese

chilled

60 g

(1/4 cup)

caster sugar

1 tsp

vanilla extract

40 g

(3 tbsp)

milk

12 g

(1+1/2 tbsp)

cornstarch
Instructions
Red Velvet Brownie batter
Place white chocolate and butter in a heat proof bowl and place over bain-marie until almost melted.

Remove from heat and keep on mixing until completely melted and just slightly cool down.

Incorporate sugar, then egg one at a time and vinegar. Mix with a whisk, you don't need a hand mixer.

Sift in flour, cocoa, salt and reed food coloring. Mix until smooth but do not overmix!

Pour the batter into a prepared (lined with parchment paper) 20x20cm-8x8inch cake pan but remember to set aside about 3 tbsp of the red velvet batter for the marble effect on top.
Cheesecake batter
In a medium size bowl place cream cheese, sugar, vanilla and mix until creamy (do not overmix!).

In a small bowl place cornstarsh, gradually pour in milk while keep on mixing. Mix until cornstarch dissolves.

Gradually incorporate it into the cheesecake mix.
Assemble
Place, spoon by spoon, cheesecake batter on top of red velvet brownie batter to create an evenly cheesecake layer.

Spoon the reserved 2 tbsp of brownie batter mix on top of the cheesecake batter in small spots and use a skewer to create swirls like a marble pattern.

Bake in preheated oven at 160°C-320°F for about 30 minutes.

Cool down completely in the baking pan.

Place in refrigerator for about 1 hour before unmold and slice it.

Trim the edges (optional) and cut in 9 big squares (or 16 small squares).
Video
Notes
Store in refrigerator for about 1 week.
Remove from the fridge at least 15 minutes before serve it.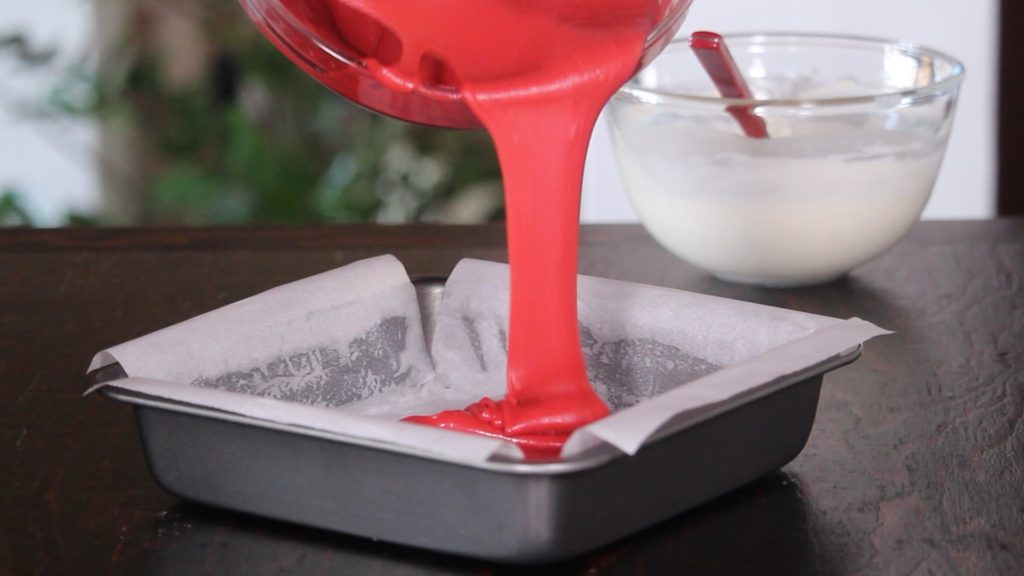 To get a bright red color that rest vibrant after baking like my Red Velvet Brownies, you should use a professional food coloring in paste or gel. My favourite brand is Sugar Flair and you need less than 1/2 tsp of food coloring to get that amazing red!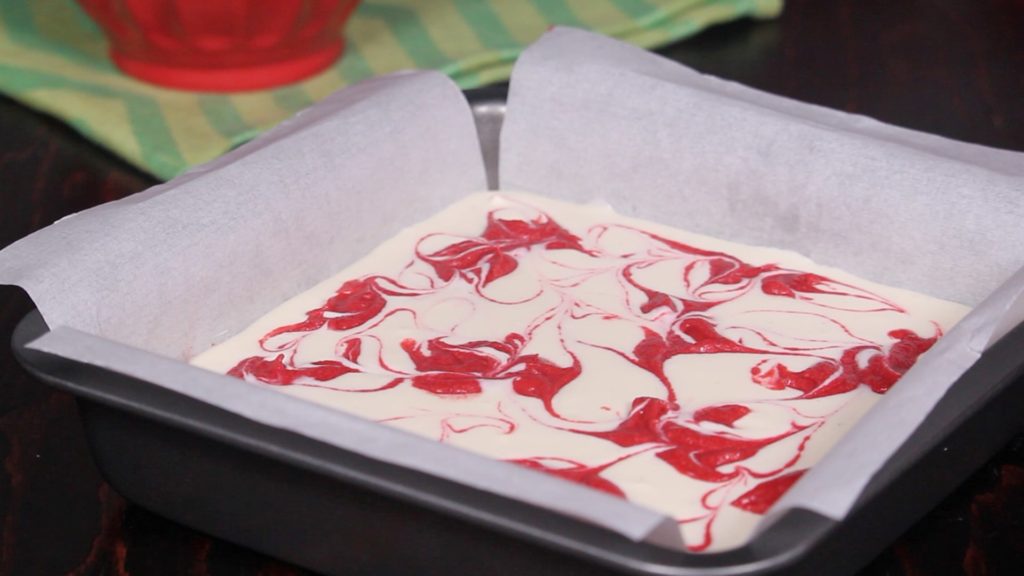 I made an easy marble pattern for my Red Velvet Cheesecake Brownies to decorate them. You just need to remember keeping apart about 3 tbsp of Red Velvet brownie batter you will use to spot on top of cheesecake layer. Then you can use a toothpick to create this easy cute effect!
Instead of use dark chocolate like a classic Brownies recipe, I decided to use white chocolate instead. So I got a more vanilla scented brownie batter and the red color turned out more vibrant! But the fudgy texture was the same of a traditional brownie recipe: so rich and fudgy!