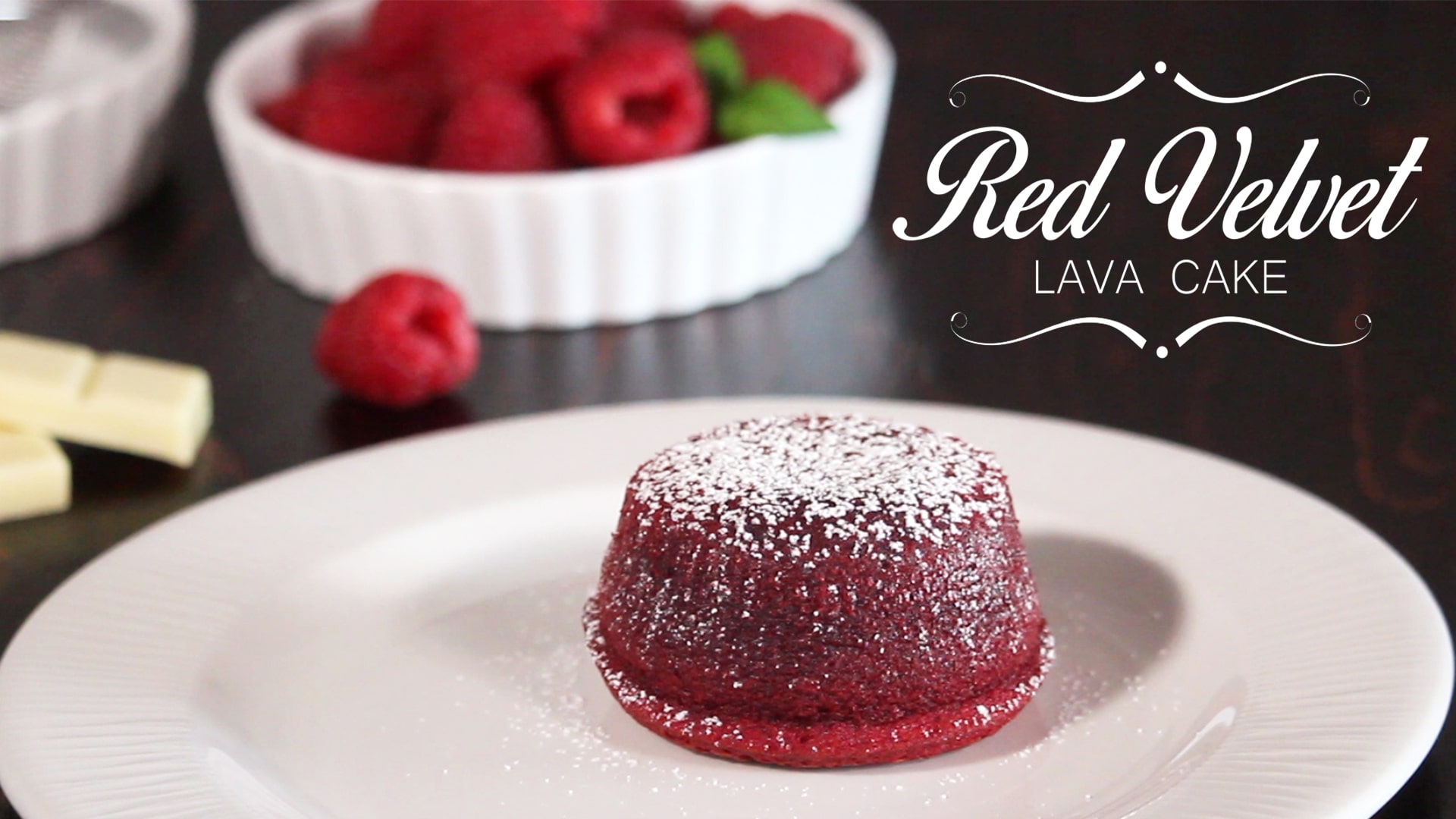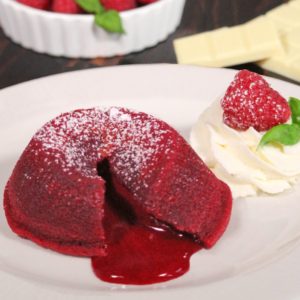 RED VELVET MOLTEN LAVA CAKE
The Red Velvet version of the famous Lava Cake, is incredibly quick and easy to make and so impressive! Made with white chocolate and matched with Cream Cheese frosting, is perfect for any occasion, particularly for Valentine's Day.
The original Molten Lava Cake is made with dark chocolate, but white chocolate is needful for this Red Velvet version to get the classic red color. It's also enriched with the classic Red Velvet flavors like cocoa, vanilla and cream cheese.
To get the perfect gooey center you don't have to overbake the cakes so you have to be precise with baking time. Also consider that every oven is different, so your molten lava cakes may need 1 or 2 min more/less in the oven: bake one as a test and adjust the timing according to your oven. Don't use microwave for this recipe but traditional oven and remember to serve it immediately, right out from the oven to get the impressive lava effect!
Ingredients
Lava Cakes
100 g

(1/2 cup)

unsalted butter

cubed

100 g

(3,5 oz)

white chocolate

chopped

40 g

(3 tbsp)

caster sugar

or granulated white sugar

Pinch of salt

2

eggs

room temperature

5 g

(1/2 tbsp)

unsweetened cocoa powder

23 g

(2 tbsp)

all purpose flour

Red food coloring in paste
Cream Cheese Frosting
125 g

(4,5 oz)

cream cheese

chilled

125 ml

(1/2 cup)

whipping cream

or heavy cream, chilled

30 g

(1/4 cup)

powdered sugar

1 tsp

vanilla paste

or vanilla extract
Instructions
Cream Cheese Frosting
Mix cream cheese with vanilla and powdered sugar until creamy. Set aside.

Whip whipping cream until medium peaks formed.

Add whipped cream to cream cheese mix and mix until well combined. Don't overmix.
Lava Cakes
Well butter 4 aluminium muffins molds or ramekins. Make a double coat to well grease them.

Melt butter, white chocolate, sugar and a pinch of salt over a bain-marie until almost completely melt. You can also use microwave but be careful to not cook too much.

Remove from the bain-marie and mix until slightly cool down.

Add vanilla and the eggs one at a time to the melted chocolate mix: mix hard using a whisk until smooth and well combined.

Add sifted flour, cocoa powder and combine just until combined, don't overmix.

Incorporate the red food coloring.

Pour the batter into the prepared molds and fill them for about 2/3.

Bake in preheated oven at 200°C-400° F for exactly 9 1/2 minutes: be careful to not overbake or the center won't be creamy! Every oven is different, so the baking time could vary according to your oven. If the center will turn out completely cooked, bake for some minutes less.

Remove from the oven and invert immediately the molds onto the serving plates (use a tong so you're not going to burn your fingers). You have to serve them immediately, don't wait or the center won't be runny. You can't store them in refrigerator and heat them in microwave to serve after.

Sprinkle powdered sugar on top and serve immediately with Cream Cheese Frosting.
Video
Notes
You have to serve them immediately, righ out from the oven.
If you want to prepare them in advence,  you can freeze the filled molds up to a month. In this case, you have to bake the frozen dessert (not defrosted) in preheated oven at 200° C-400°F for more minutes, about 14 minutes and serve immediately.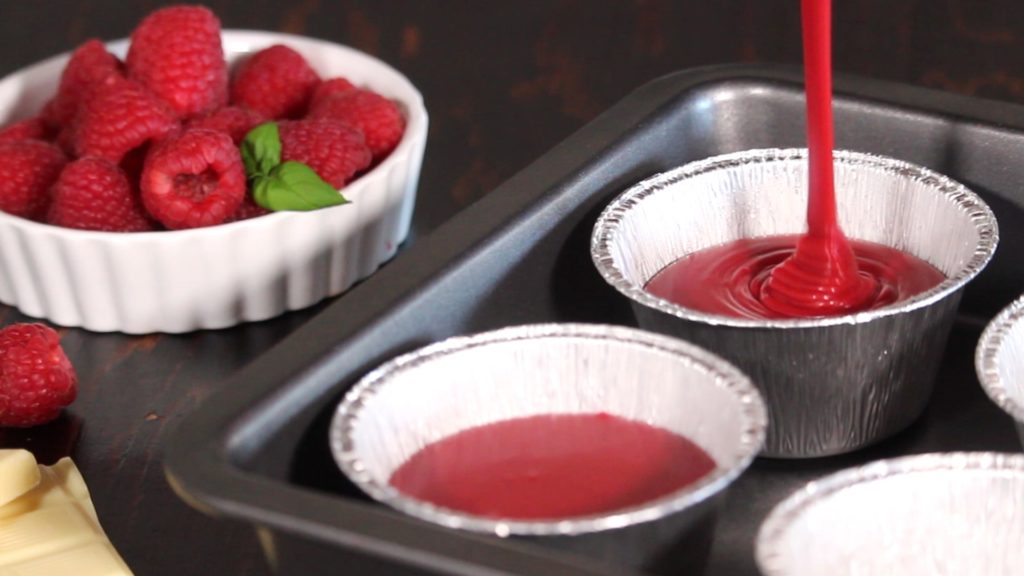 For this recipe I've used my favourite red food coloring in paste from the brand SugarFlair (no sponsor!), color "Christmas Red". To get a bright color use professional food coloring and not the liquid ones that change the texture of your mix and give pale color.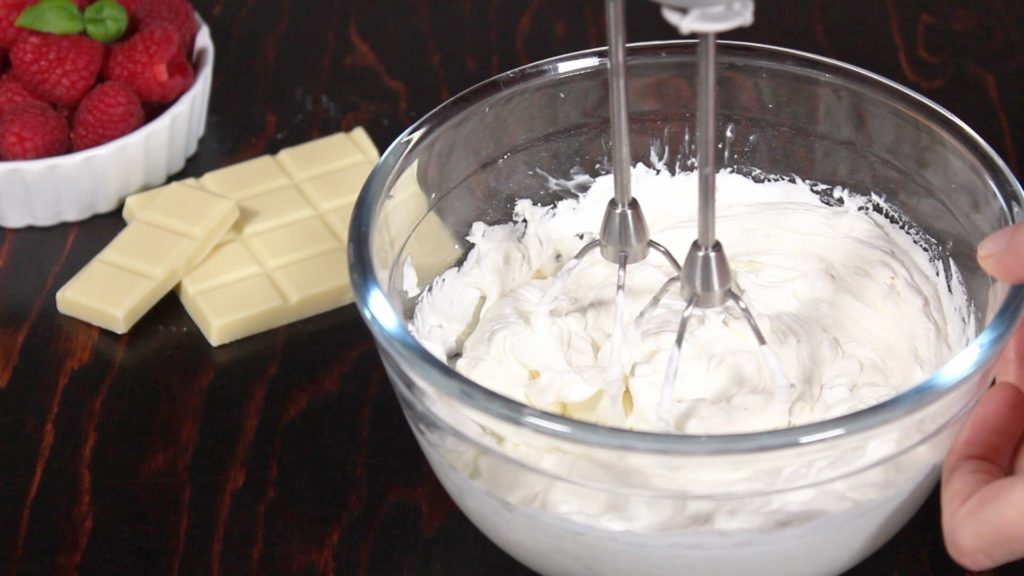 You can also prepare the Cream Cheese Frosting in one easy method: put all your chilled ingredients in a bowl and mix with a hand mixer for few minutes until become smooth and fluffy; you just have to pay attention to not over beat it.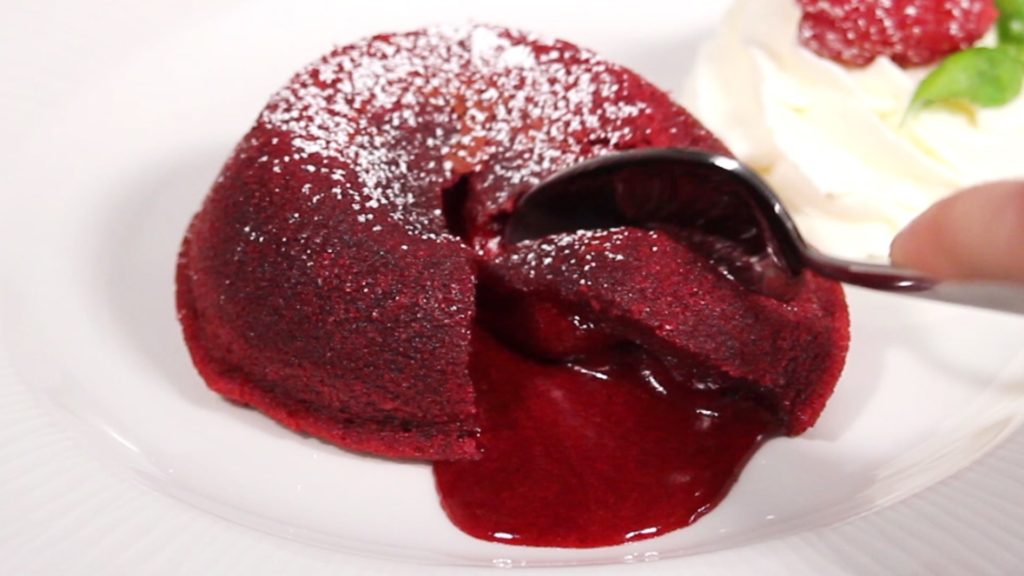 With Lava Cake is very important to pay attention at the baking time: if you'll bake too much your cakes, they will turn out completely cooked inside and you won't get the lava effect. This doesn't mean that Lava Cakes are raw inside, it's better say they are undercooked, but completely safe to eat because the center, even if still runny, reaches a safe temperature.