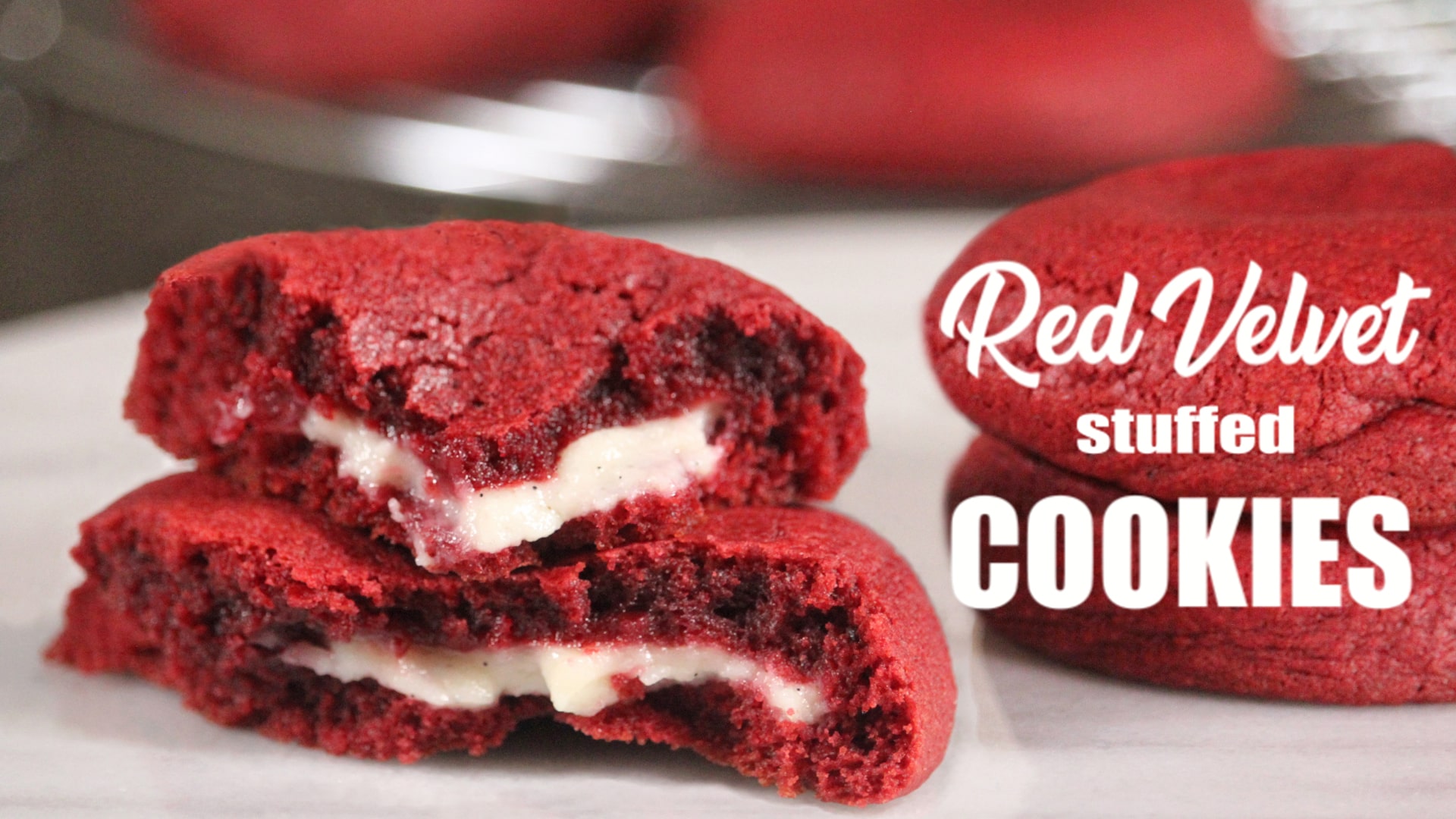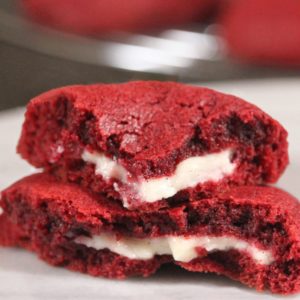 RED VELVET STUFFED COOKIES
If you love Red Velvet cake you have to try these amazing cookies!
Made with all the classic Red Velvet ingredients - like a hint of cocoa powder and butter - these cookies are stuffed with cream cheese filling to substitute the traditional frosting used for the Red Velvet cake.
They are incredibly soft, chewy and melt-in-your-mouth; the perfect treat for Christmas, Valentine's Day, Mother's Day....or everyday!
Ingredients
Cream Cheese Filling
45 g

(3tbsp+1tsp)

cream cheese

Philadelphia

10 g

(1+1/2 tbsp)

powdered sugar

25 g

(1+1/2 tbsp)

unselted butter

softened at room temperature

1/4 tsp

vanilla paste

or vanilla extract
Cookie Dough
220 g

(1+3/4 cups)

all purpose flour

10 g

(1 tbsp+1 tsp)

unsweetened cocoa powder

pinch of salt

3 g

(1/2 tsp)

baking soda

110 g

(1/2 cup)

unsalted butter

softened at room temperature

1 tsp

vanilla paste

or vanilla extract

50 g

(4 tbsp)

light brown sugar

75 g

(1/3 cup)

caster sugar

1

egg

room temperature (or 55-60 g of room temperature milk for an eggless version)

red food coloring in paste
Instructions
Cream Cheese Filling
In a medium size bowl, softened butter until creamy.

Add powdered sugar, vanilla, cream cheese and mix until smooth and well combined.

Spoon 10-11 teaspoon of the mix onto a baking sheet lined with parchment paper and freeze for 1 hour. Meanwhile prepare cookie dough.
Cookie Dough
In a medium size bowl, sift together flour, cocoa, baking soda and mix until well combined. Set aside.

In a large bowl, mix with a spatula butter, vanilla, caster sugar, brown sugar and salt until creamy and well combined.

Add room temperature egg (or milk if you make the eggless version), red food coloring and well combine with a spatula (don't worry if it lumps).

Incorporate with a spatula the flour mix into the butter mix in two times: don't overmix the dough. Check the final color and decide if you want to add more food coloring.

You'll get a non-sticky dough. Cover and refrigerate for 30-60 minutes.

Use an ice cream scoop (5 cm - 2 inch) and scoop out the cookie dough.

Flatten the cookie dough ball into a circle and place in the center a frozen scoop of cream cheese filling.

Fold the edges of the cookie dough circle around the cream cheese stuffing and roll into a ball: mostly if you live in a hot climate, roll quickly the cookies because cream cheese filling tends to melt quickly; you can return to freezer for minutes more if it melts.

Repeat for the rest of the dough: you'll get 10-11 stuffed cookie balls.

Place 5 cookie balls on a lined baking sheet (at least 5 cm-2 inch apart) and bake in preheated fan oven at 180°C-350°F for 8-10 minutes (the cookies are still soft in the center).

Remove from the oven and allow the cookies to cool on the baking sheet for about 10 minutes before transferring them to a wire rack to cool completely and serve.
Video
Notes
You can store the cookies in an air tigh container or a tin cookie box at room temperature for up to 1 week.
You can freeze raw stuffed cookies balls for up to 3 months (in this case, you need to bake them for some minutes more).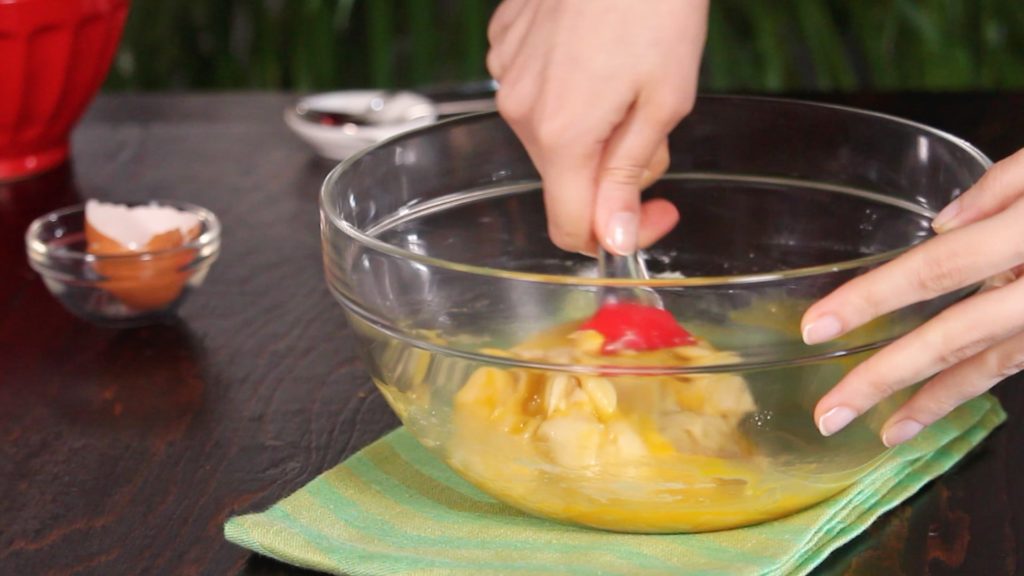 I made these cookies as I make all my cookie doughs: using 1 egg. But you can easily make them eggless: you just need to substitute the egg with about 55-60 g of milk at room temperature.
Depending on the flour you're using, you may need a bit more or less of milk, just reach the dough consistency you can see in my recipe video.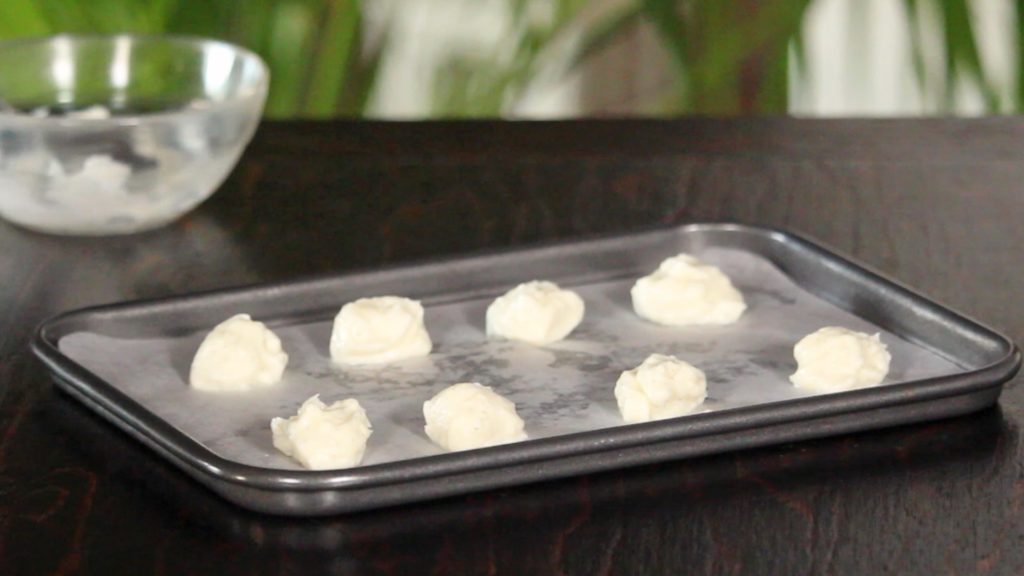 When you spoon the cream cheese mix before freeze it, be careful to not make huge teaspoons: if you use too much filling, it will ooze out when you'll bake the cookies!
Cream cheese spoons filling have to be well frozen when you roll the cookies; mostly if you live in a hot climate, it will melt quickly, so be fast when roll your cookies or return cream cheese filling into the freezer for some minutes more.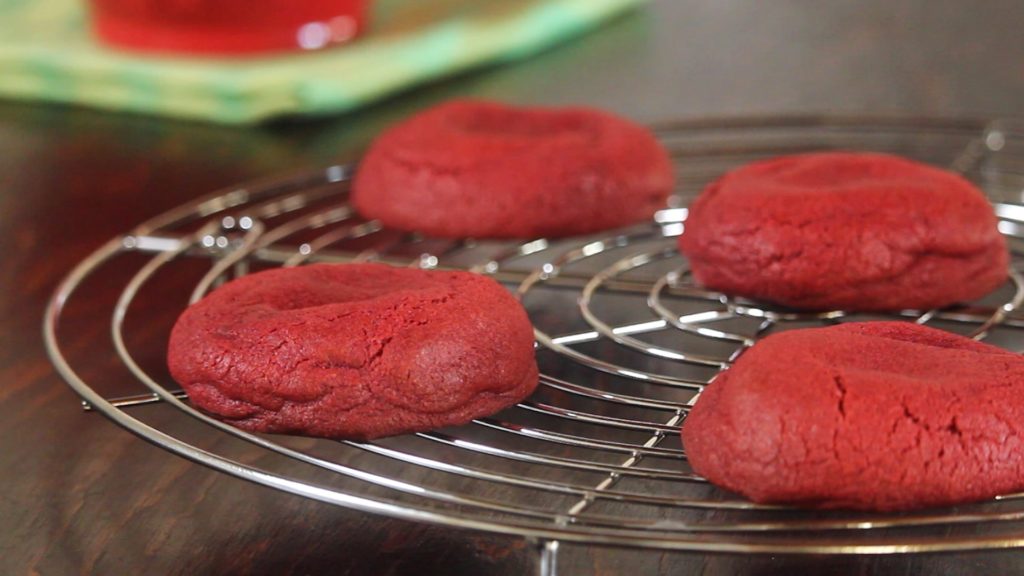 Remember that cookies bake fast! I usually bake them in my preheated electric oven, fan option on, upper and lower heat.
I bake them for 8-10 minutes, not more, or the cream cheese filling could ooze out, so remember to not bake them too much. Even if they are very soft in the center when you remove from the oven, they will set when cool down and rest soft and chewy!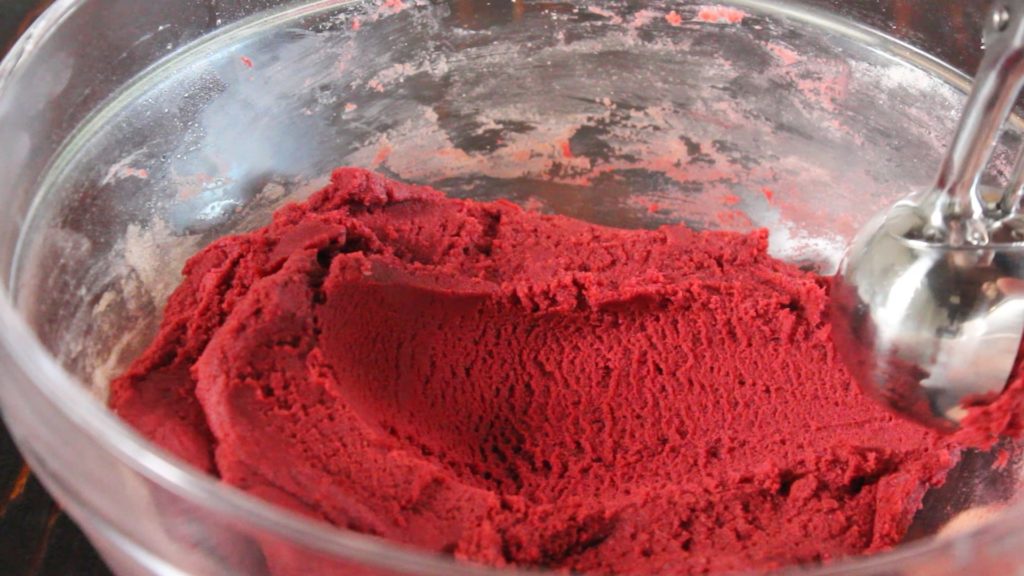 I receive many questions about how getting a brilliant red color as you can see in my video. The answer is always the same: choose a good quality red food coloring in paste!
Don't use liquid food coloring, it makes your dough runny, sticky and gives you a pale color.
For these cookies I've used SugarFlair food coloring paste in the shade "Christmas Red", you can find the direct link in my Amazon shopping.