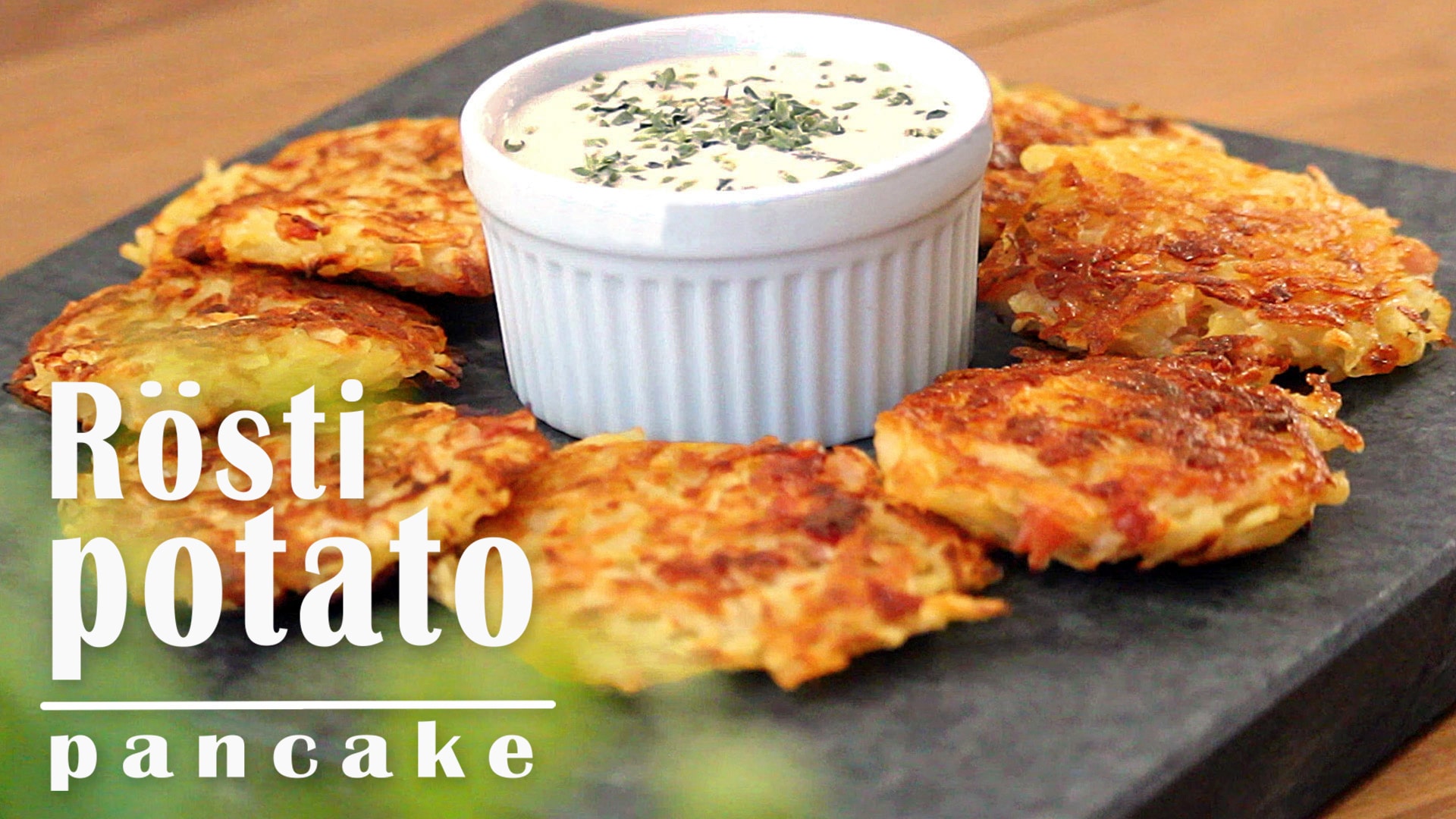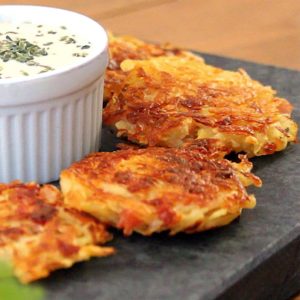 ROSTI POTATO PANCAKES
Rosti are incredibly delicious potato flat patties made without eggs just with shredded potatoes and onion or cured meat that can be optional.
It's a Swiss dish commonly eaten as breakfast from the farmers and originally made just with coarsely grated potatoes cooked in a fry-pan. It became very popular and the more common adding are onion and cured meat, like bacon or pancetta.
Rosti became very popular in the northern Italy too, where it's often made with onion and Speck, a smoked cured meat from Alto Adige region. I made this version that is absolutely amazing! Potato and onion is a match made in heaven and Speck gives a great smoked hint. Of course if you live out of Italy and can't find Speck, you can use bacon, pancetta or just skip it,
These patties are cooked in a frying pan but you can also make them in the oven. I shaped them like a 7 cm-2,5 inch patties, but you can also make one huge rosti using a 25 cm-10 inich frying pan.
You don't need to boil your potatoes before, using just raw potatoes, since they are shredded and they cook faster, but be careful to not use a too high heat or you could burn the sides and potatoes will turn out raw.
The sides will turn out amanzingly crispy and the inside will be soft. Served them like breakfast, brunch, side dish or main dish: no one can resist to Rosti!
Ingredients
750 g

(1,6 pound)

yellow potatoes,

peeled

1/4

onion

70 g

(2,5 oz)

Speck or bacon or pancetta,

optional

About 1 tsp

salt

black pepper

About 1 tbsp

extra virgin olive oil

or butter
Instructions
Chop the Speck (or pancetta or bacon).

Use the large holes of a grater to grate onion and potatoes.

Transfer the shredded potatoes into a kitchen/tea towel and squeeze out as much liquid as you can.

Place the sqeezed potatoes into a large bowl: add grated onion, chopped speck, salt and black pepper to taste. Stir to combine.

Grease a non-stick pan with olive oil, absorb the excess with kitchen paper.

Heat the greased pan over medium heat.

Use an ice cream scooper to take equal amount (about 2 tablespoons) of potato mixture and spoon it on the greased heated pan.

Use the back of a spoon to flatten the patties.

Cook over medium-low heat until browned, about 7 minutes. You can cover the pan with a lid to well cook the potato inside (optional).

Flip your patties and cook the other sides about 7 minutes. Regulate the heat under the pan: your potato need to cook well and you don't have to burn the bottom of your rosti, so be careful to not use too high heat.

Repeat with remaining potato mixture.
Video
Notes
You can store in refrigerator for 2 days or in freezer for up to 3 months.
Serve warm, heated in a non-stick pan or in a toaster.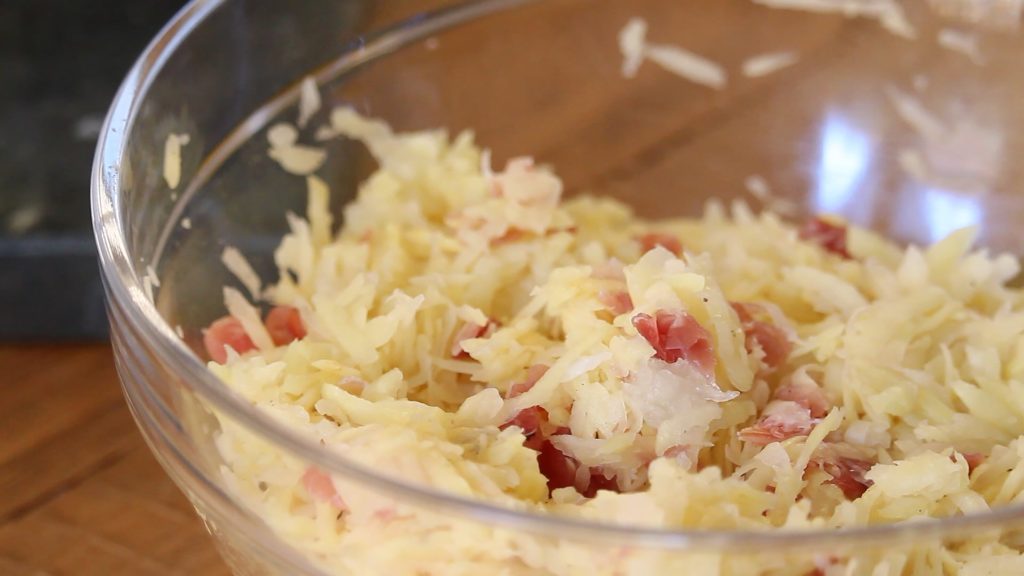 Since Rosti is a traditional farmer dish, it's made with simple ingredients, that's why it's so delicious…who can resist to these amazing potato pancakes with their crispy and crunchy sides?!
The traditional recipes started using raw potatoes, it's my favourite method because it's easier and works perfectly!
It's very important to squeeze out from your potatoes the more starch and water as you can, so don't skip the squeezing step; if you have some doubt, watche my recipe video above to see how I made it.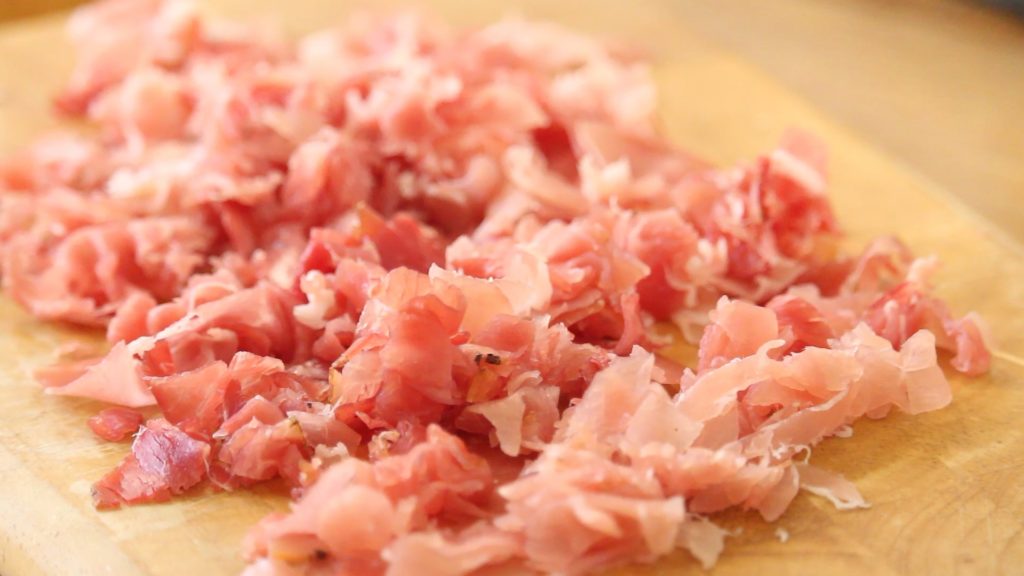 This dish is from Switzerland but it's very common in northern Italy too, for this reason I've used Speck that is a cured ham, slightly smoked, made in Alto Adige (South Tirol), an Italian region with a strong German-Austrian influence. It's similar to a smoked Prosciutto Crudo, but with a stronger spicy flavor and less salt.
If you can't find it, just skip it or substitute it with pancetta, bacon or a smoked cured meat.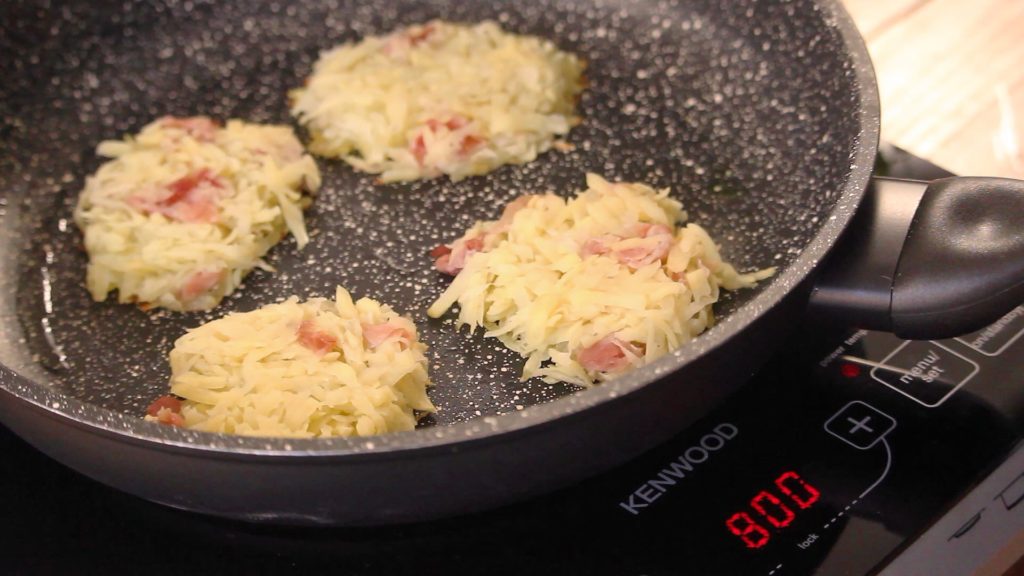 The traditional shape of Rosti is about 7 cm-2,5 inch flattened round patties (like fritters or pancakes). But you can also make a big Rosti using a 25 cm-9 inch non-stick pan. If you decide to make one big Rosti, you need to cook it for more minutes. Remember to not use a too high heat and use a lid to cover your pan to help your  Rosti cooking through.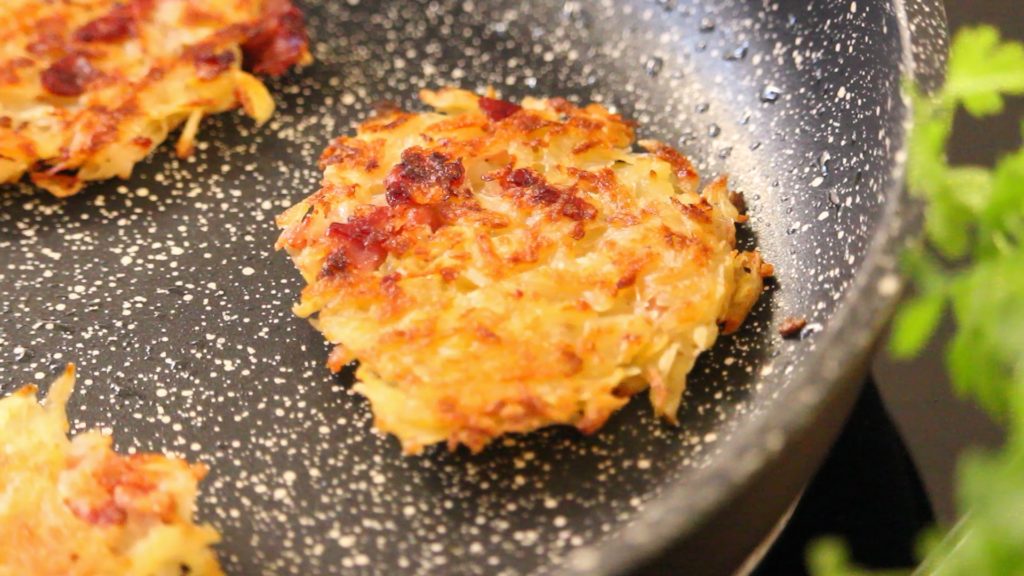 Even if they are made without eggs, they stay together thatnks to the potato starch and are very crispy outside!
Try them for breakfast or brunch. They are also perfect as main dish or side dish with eggs and meat.