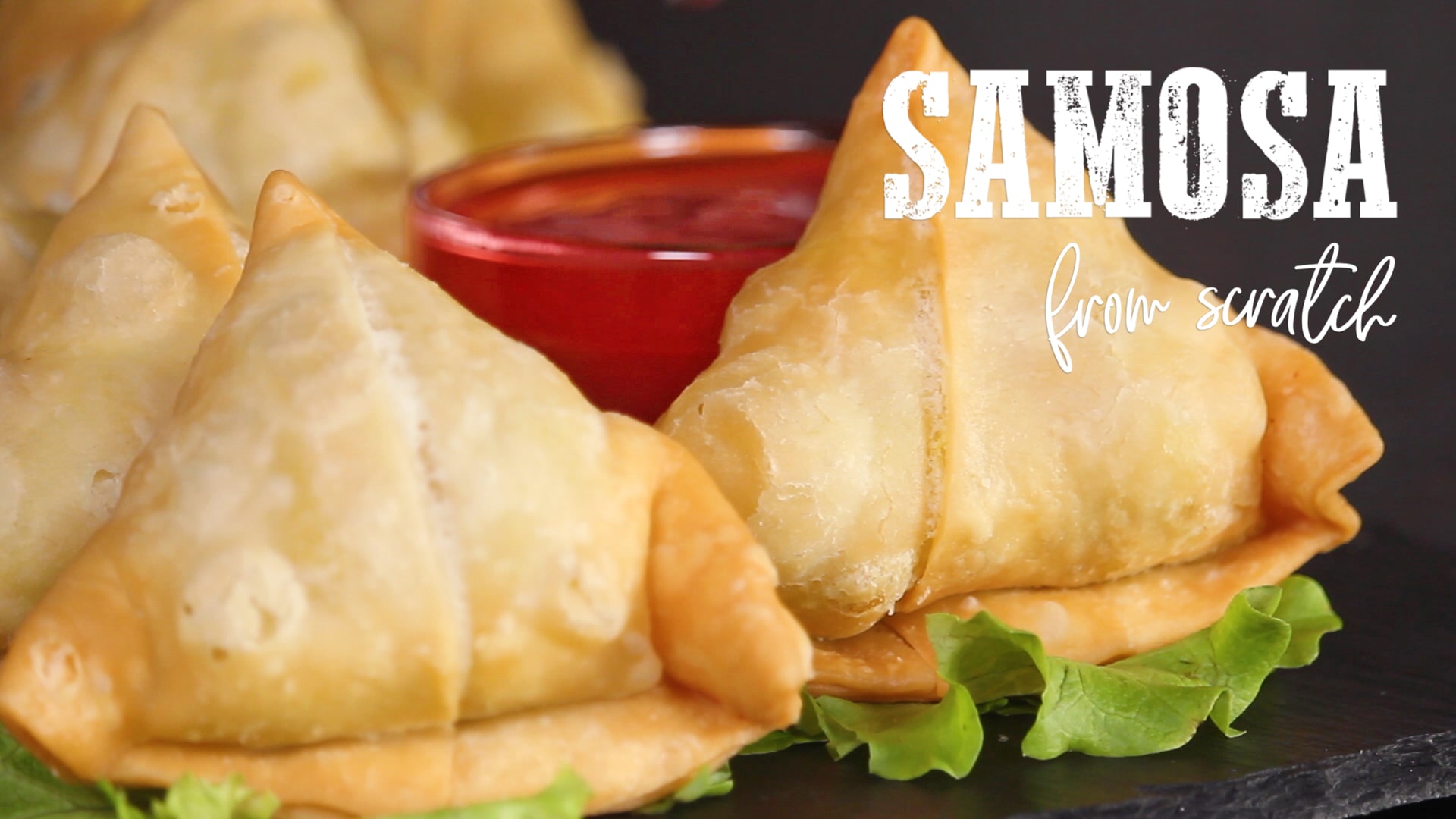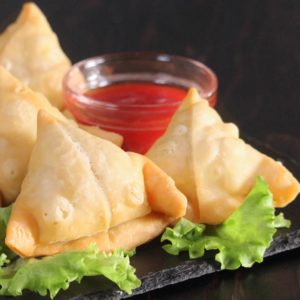 SAMOSA FROM SCRATCH
How to make the best perfect vegetarian Samosa with super crispy and flaky homemade crust and creamy spiced soft potato filling!
Samosa is a traditional Indian snack very popular in all South Asia, Western Asia, Southeast Asia, the Mediterranean, Middle East and also Africa. They are also known as: Sambosa, Samoosa, Sambusak, Samsa, Sambuus.
I'm not Indian but I was helped by some of my Indian friends to make the more truly and authenthic Samosa recipe. Consider that every family has its own recipe, so this is only one of the most popular version but surely you can find many other variations!
Some of my friends add ajwain seeds to the dough, but I couldn't easily find these seeds in Italy so I couldn't add them: if you find them, use it!
You can also use more spices, but for my taste they are perfect and not too hot! Feel free to add more chili flakes if you like very hot food.
Scroll down to my TIPS to find all my hints to always get perfect crispy Samosa!
Ingredients
Dough
250 g

(2 cups)

all purpose flour

2 g

(1/4 tsp)

salt

45 g

(4 tbsp)

vegetable oil

about 80 g

(5+1/2 tbsp)

water
Filling
450 g

(1 pound)

potatoes

peeled and cubed

2 tbsp

vegetable oil

1

clove garlic

1

green chili

finely chopped

10 g

(1 tbsp)

fresh ginger

finely chopped

1/2 tsp

red chili flakes

1/2 tsp

coriander powder

1/2 tps

garam masala

65 g

(1/2 cup)

peas

frozen or fresh

1

lime

the juice and grated zest

salt to taste

fresh chilantro

chopped

penut oil or vegetable oil

for deep frying
Instructions
Dough
In a large bowl, sift together flour and salt.

Add vegetable oil and mix with a fork for about 3 minutes until evenly combined and fine crumbs form.

Rub using your fingers until flour mix clump if pressed.

Add gradually water until form a firm dough: knead as little as possible. The dough will be a bit dry.

Roll the dough into a ball, cover with plastic wrap and let it rest until prepare the filling (or at least 30 minutes).
Filling
Boil potatoes in salted water until fork tender.

Drain potatoes and mash roughly when still hot. Set aside.

In a non stick pan, sautè over medium heat for 2-3 minutes oil, garlic, green chili, ginger, red chili flakes, coriander and garam masala.

Add peas and cook for about 2-3 minutes.

Low the heat and add mashed potatoes, lime juice, lime zest and salt to taste. You can add 1-2 tbsp of water if your lime has not enough juice.

Cook just for 1-2 minutes, then remove from heat and cool it down. Meanwhile form your samosa.
Assemble Samosa
Split your dough into 6 equal pieces.

Roll every piece into a ball: you'll get 6 small balls and you'll get 2 samosa from every ball.

Cover your balls with plastic wrap to prevent dryness.

Roll a ball into about 19cm-7,5inch vrey thin circle.

Divide your circle in the middle into 2 eaqual parts.

Brush the straight side with some water, then bring the edges to the center to make a cone shape: stick well the edges and pinch them to secure.

Open your cone and stuff it for about 2/3 with the filling.

Brush the edges with water and pinch them to well close and secure it: make sure your samosa is well sealed. You can fold the excess of the round edges, this fold will help your samosa to stay up.

Repeat and form all your samosa.

Heat your deep frying oil over medium heat until a wooden spoon handle will bubble a bit if dept into hot oil.

Fry samosa over medium-low heat for about 10 minutes: be careful to not use too hot oil, or samosa shell won't turn out crispy, will form many bubbles and will become brown quickly. If you use a large pan, you can deep fry 5-6 samosa at a time.

Drain your samosa over paper towel and serve immediately.
Video
Notes
You can store leftover samosa in refrigerator for 1 day and heat in hot oven.
You can store in freezer for up to 3 months deep fried or raw samosa. If you store in freezer raw samosa, fry them directly from the freezer when still frozen and don't defrost them.
You can serve samosa with red chutney or mint chutney.
I stuffed Samosa with a vegetarian filling with potatoes, peases and spices. In some recipes potatoes are not mashed but chopped in small cubes: this is totally up to you! I prefer more creamy filling and I think it's also more easy to fill Samosa with a creamy filling. You can also add cashew to the filling, it's a popular ingredient too for Samosa!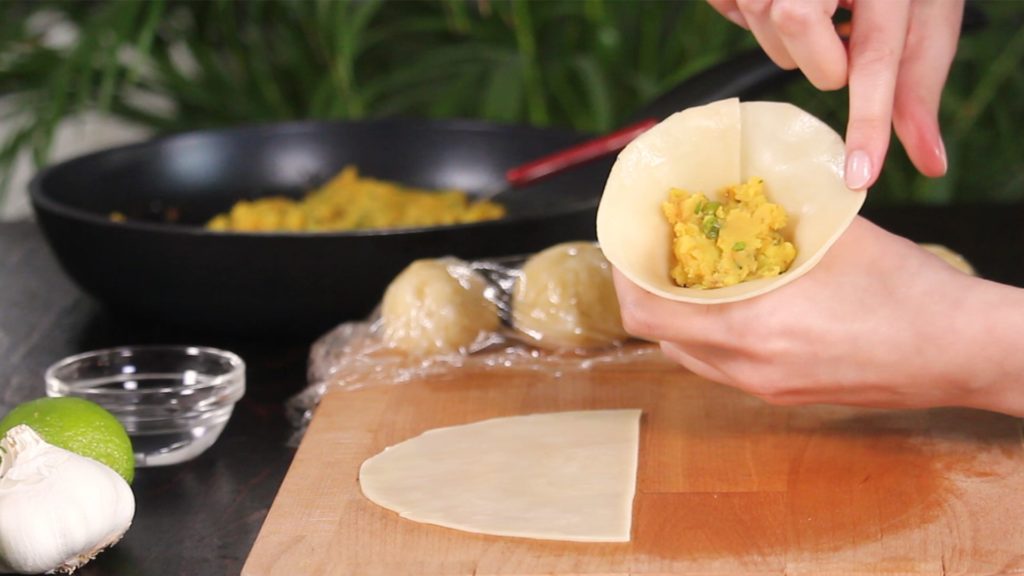 It's very important to not knead too much the dough and let it rest at least 30 minutes before use it. Also remember to roll it thinly on a wooden cutting board or silicone mat so you don't need to add flour to avoid sticking. If you follow this steps, your shells will turn out incredibly flaky and crispy after frying them!
When you form Samosa, pay attention to well seal them so they won't open while you're frying them. Wet with water the edges of the dough and well press the edges to seal them.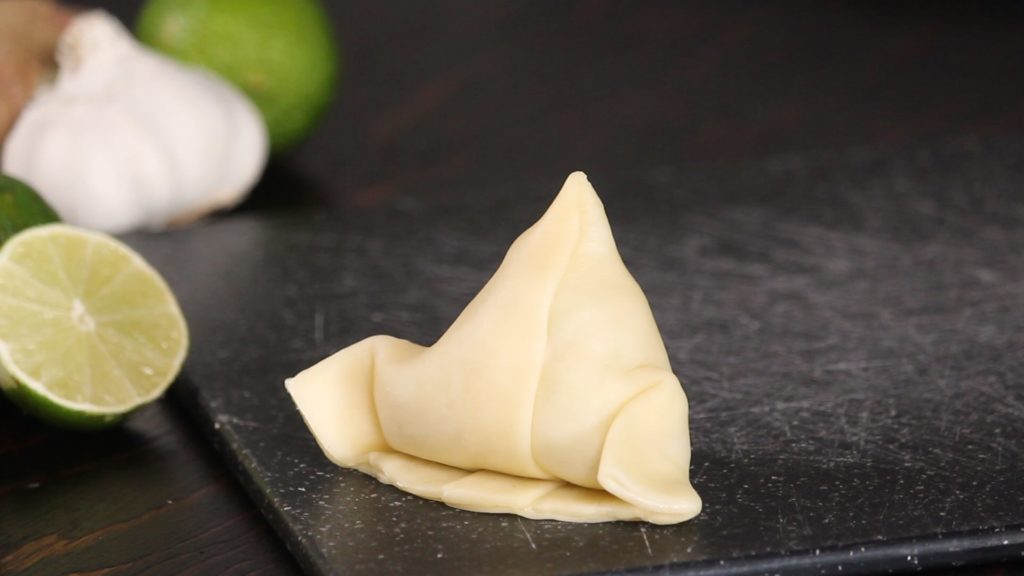 Ajwain seeds are often used in Samosa dough. I didn't use them because I couldn't find them, but if you find them, you can add about 1 tsp to your dough.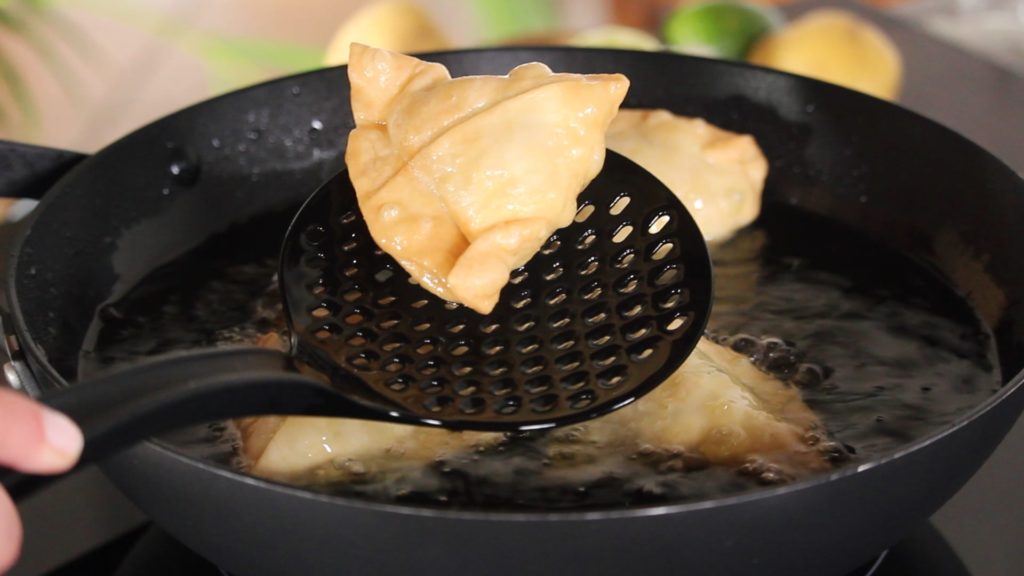 Heat your oil very well over medium heat before frying Samosa: if you deep a wooden spoon handle in the oil, it's ready when it bubbles. 
When you frying Samosa, low the heat! It's important to fry them slowly over low heat, so they will turn out crispy without too many bubbles and not too dark.