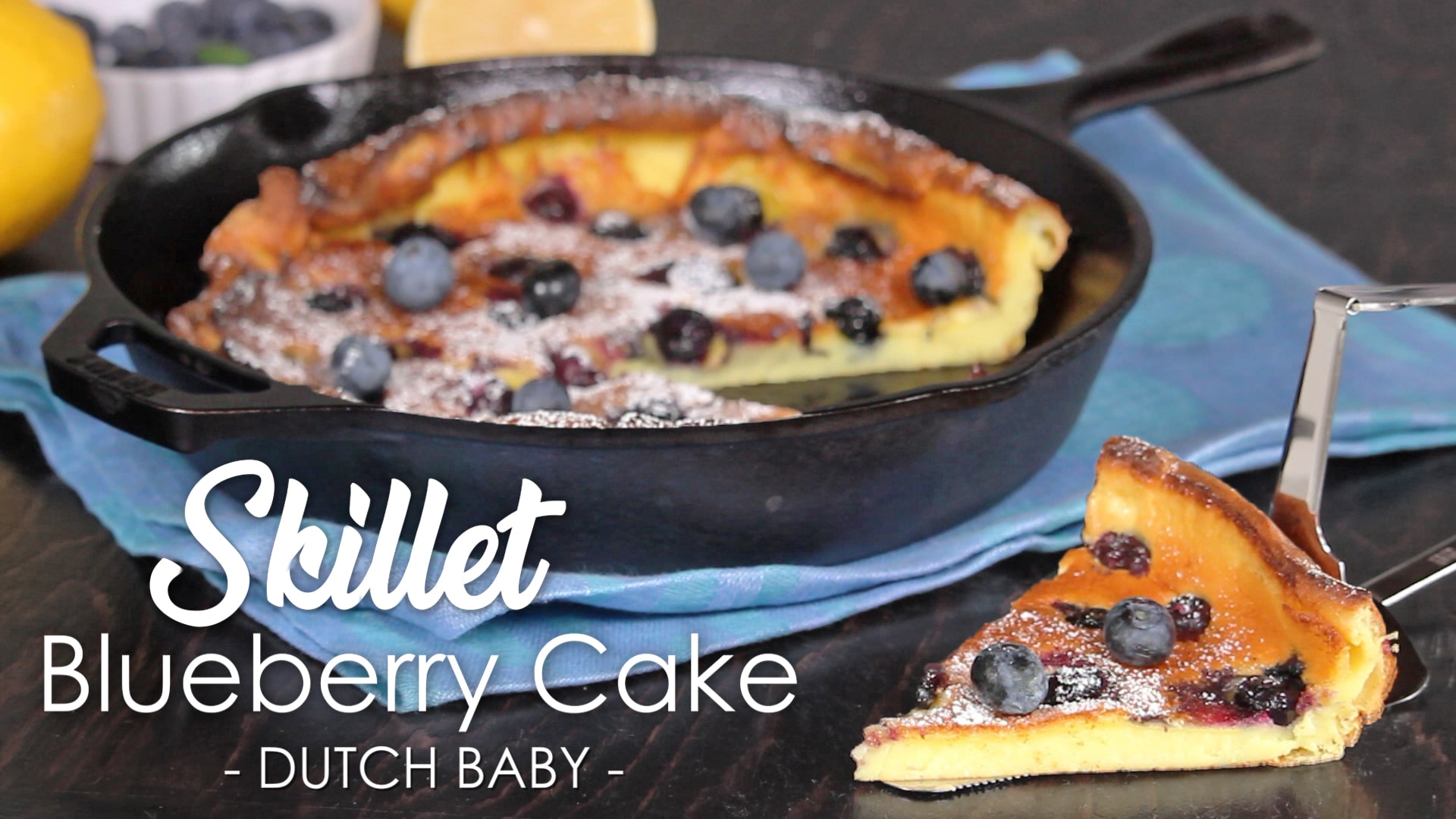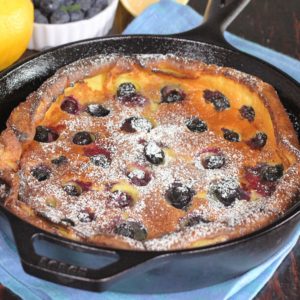 SKILLET BLUEBERRY BREAKFAST CAKE - DUTCH BABY
Incredibly quick and easy, this Blueberry Breakfast Cake is made in few minutes in a blender, it features low sugar and it's simply irresistible!
Perfect for breakfast and brunch, in the US it's also called Dutch Baby Pancake and it's pretty much a big puffed pancake.
I've used a cast iron skillet so I can use it both on stove top, to easily preheat it and melt the butter in, than on the oven to bake the cake. If you don't have a pan both stove top than oven proof, you can use a normal cake pan and preheate it in the oven; then you can remove it from the oven, melt in the butter when still hot, then pour in the batter and bake the cake.
I've used bluberry fruit, feel free to use your favourite fruit instead.
Ingredients
3

eggs

medium size, room temperature

15 g

(1 tbsp)

sugar

1 tsp

vanilla paste

or vanilla extract

200 g

(3/4 cup+1 tbsp)

milk

room temperature

80 g

(2/3 cup)

all purpose flour

42 g

(3 tbsp)

unsalted butter

120 g

(1 cup)

blueberries

fresh or frozen; you can substitute with your favourite fruit
Instructions
Preheat a 23cm-9inch skillet on low heat for few minutes. If you don't have a cast iron skillet (a frying pan that it's stove top and oven proof), you can use a normal cake pan and place it in hot oven to preheat it.

Place in a blender or a food processor the eggs, sugar, vanilla, milk, all purpose flour and process. You get a smooth runny batter in few seconds, but keep on mixing for few minutes to incorporate air bubbles. If you don't have a blender, place all the ingredinets into a large bowl and use a whisk to combine.

Melt butter in the hot pan and don't turn off the heat.

Slowly pour the batter at the center of the pan: be careful, since the pan and butter are hot, it will fry a lot and could splatter, so pour it slowly and if needful low the heat.

Place blueberries on top.

Transfer into a preheated 220°C-425°F oven and cook for about 15 minutes until puff and golden brown. When you remove it from the oven it will deflat.

Serve hot or warm sparkled with powdered sugar on top.
Video
Notes
Store leftovers in refrigerator for about 3 days.
It's delicious too served with maple syrup, honey or ice cream on top.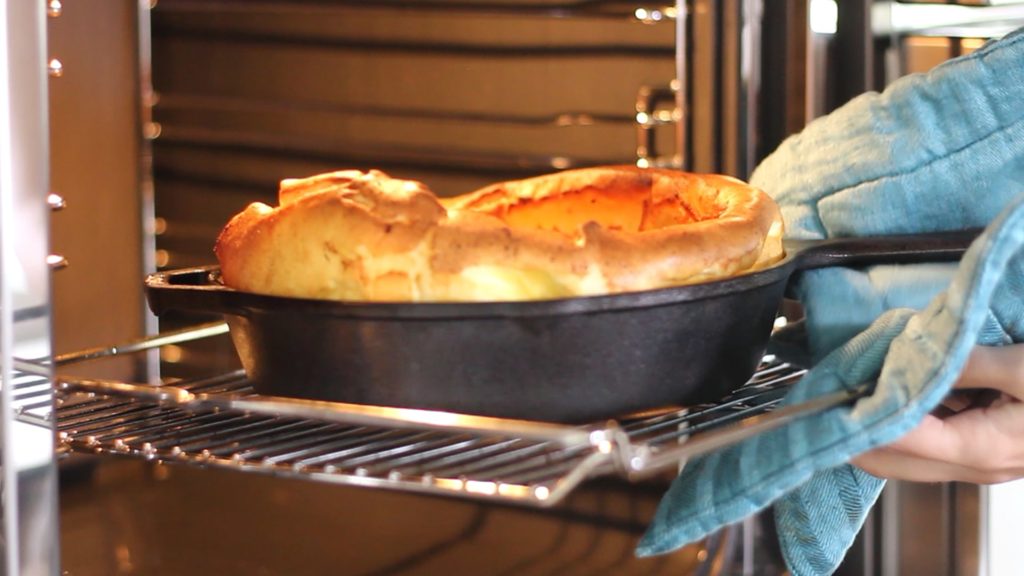 This cake puffs up in the oven thanks to the air bubbles you incorporate processing the batter with a blender, so process it for few minutes even if the batter becames smooth in few seconds.
The cake deflats quickly when you remove it from the oven, so serve it quickly!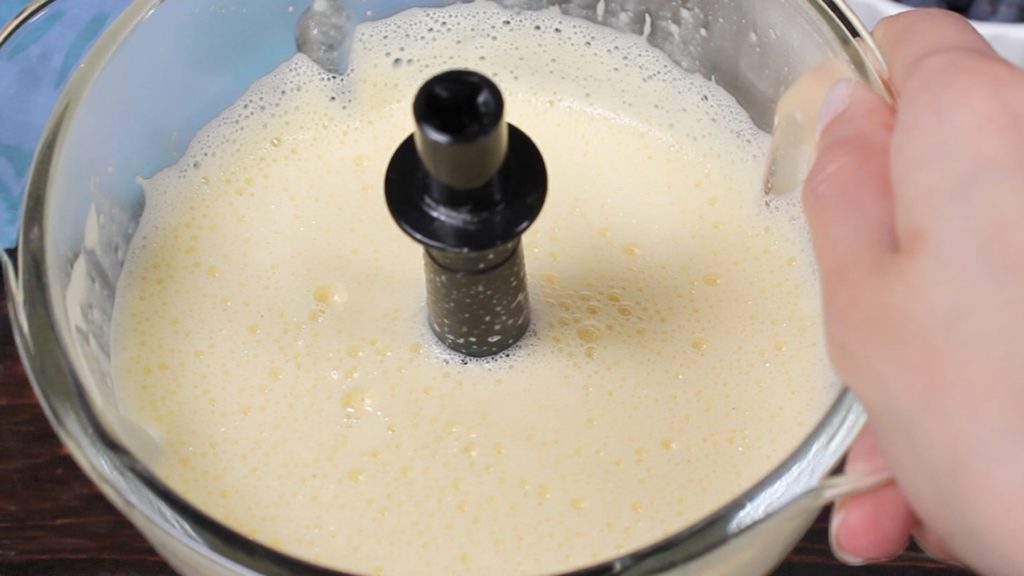 The sugar in the batter is very low, so topping the cake with powdered sugar, honey or maple syrup is very suggested but not mandatory!
You can also skip the sugar in the batter and only use a sweetener on top, it's totally up to you!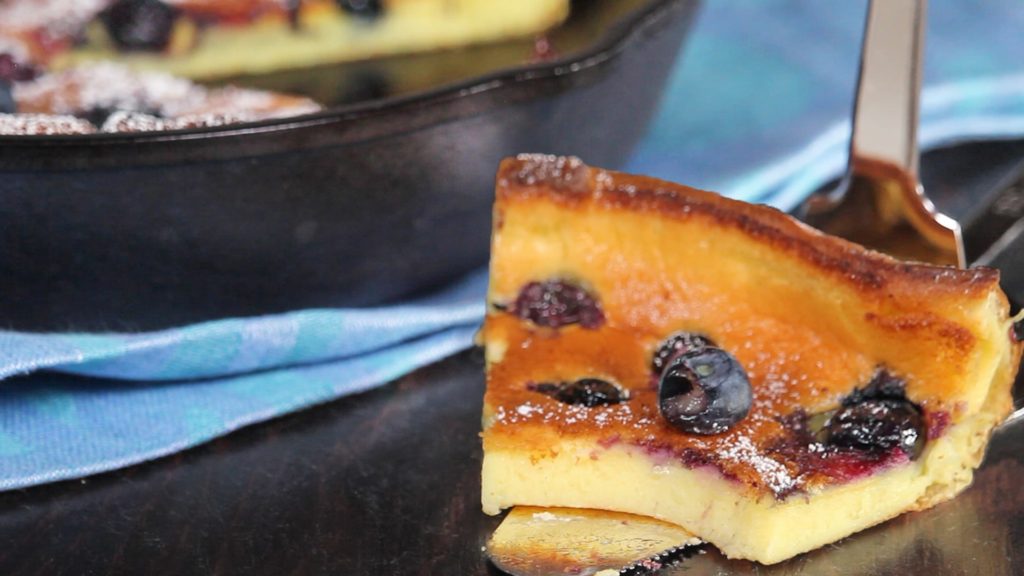 I used blueberries for this recipe, but you can use your favoury fruit too. It's delicious with strawberries, peaches, apples, raspberries…and chocolate chips too 😛