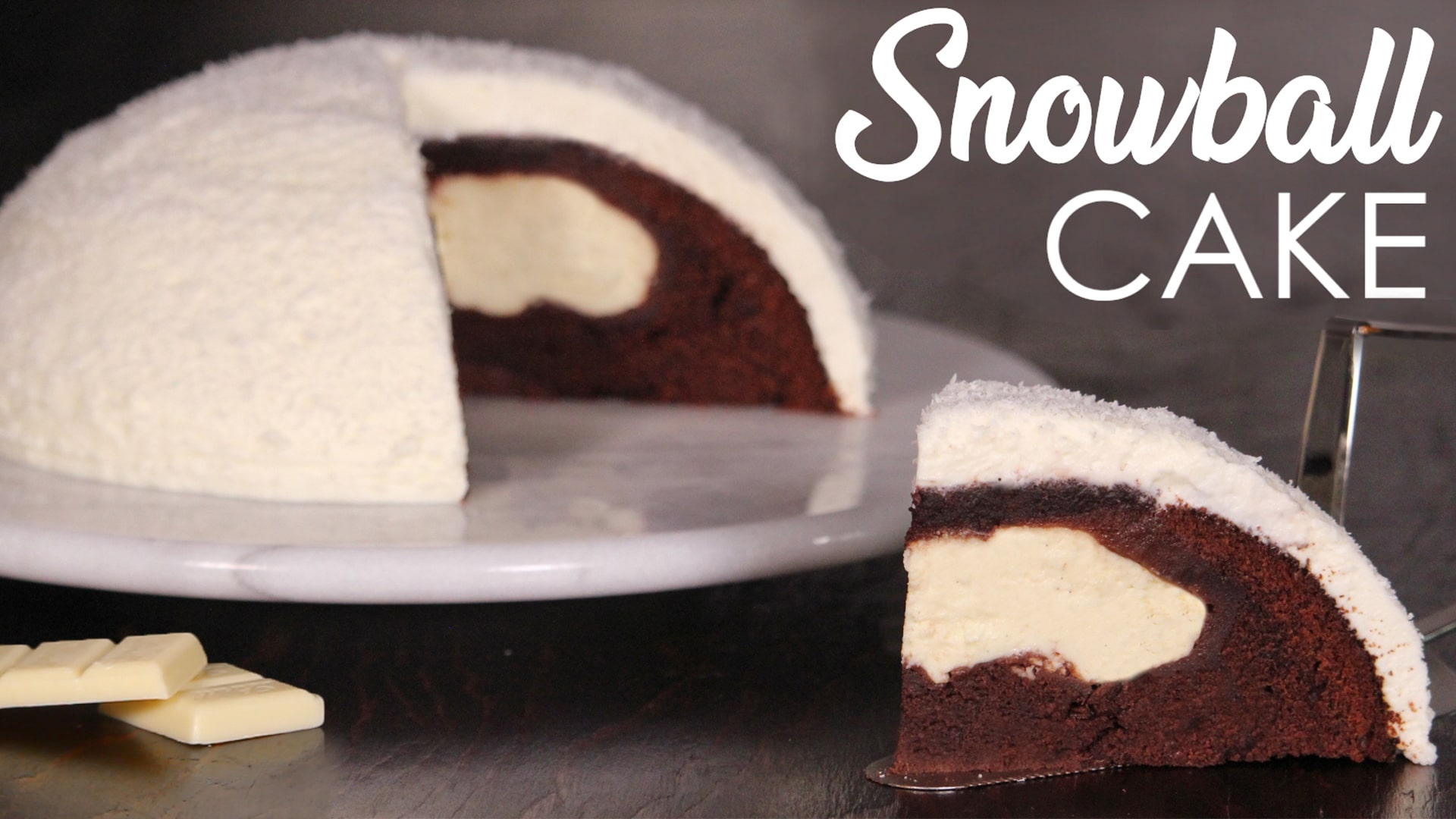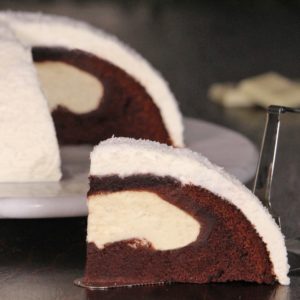 SNOWBALL CAKE
Snowball Cake is the perfect "WOW" cake to impress your guests! Made with a rich chocolate cake, it's filled with a vanilla cheesecake cream and decorated with a white chocolate coconut frosting.
Its look is inspired to the small Snowball cakes by Hostess (a U.S. popular store-bought treats), but the taste is incredibly more delicious and genuine!
Someone call this cake "magic", because everyone wonders how the filling ended up in there. The explanation is as simple as the method: cheesecake filling is heavier than the chocolate cake batter, so it sinks at the bottom while the cake is baking. Yes, the magic happens in the oven without any effort!
The cake mold is pretty funny too, because this cake is baked in a simple bowl (a Pyrex bowl, pay attention to not put in the oven a normal glass bowl!), so the cake turns out like a lovely dome...or, more precisely, a snowball!
Perfect as Christmas or Holiday Season dessert, this cake will bring joy and surprise to your table, both children than grown-up will be enchanted to its look and its delicious irresistible taste!
Ingredients
Cheesecake Filling
250 g

(9 oz)

cream cheese

chilled

45 g

(3 tbsp)

sugar

1

small egg

room temperature and beaten

1 tsp

vanilla paste

or vanilla extract
Chocolate Cake
75 g

(1/3 cup)

unsalted butter

room temperature

75 g

(1/3 cup)

vegetable flavorless oil

220 g

(1 cup)

sugar

3

eggs

room temperature

260 g

(2 cups+2 tbsp)

all purpose flour

65 g

(2/3 cup)

unsweetened cocoa powder

7 g

(1+1/2 tsp)

baking powder

255 g

(1 cup+1 tbsp)

milk

lukewarm
White Chocolate Coconut Frosting
90 g

(3 oz)

white chocolate

chopped

30 g

(2 tbsp)

whipping cream

200 g

(7 oz)

cream cheese

chilled

240 g

(1 cup)

whipping cream

chilled

30 g

(2 tbsp)

powdered sugar

shredded unsweetened coconut
Instructions
Cheesecake Filling
In a medium size bowl, place cream cheese, sugar, vanilla, a small egg and mix until smooth and well combined. Set aside.
Chocolate Cake
Prepare a large pyrex bowl (23x13 cm) for baking the cake: grease it with butter and dust it with sweetened cocoa powder. Set aside.

In a large bowl, place butter, oil, sugar and mix with a hand mixer until creamy.

Add the eggs one at a time and mix until well combined.

Sift in flour, cocoa, baking powder and start mixing at low speed.

Gradually add the milk while mixing. Don't overmix!

Pour the cake batter into the prepared bowl.

Place the Cheesecake Filling on top at the center of the cake batter: don't cover it with the chocolate batter, leave it on top: it will sink at the bottom in the oven while the cake is baking.

Bake in preheated oven at 180°C-350°F for about 75 minutes or until a tootphick comes out clean (the baking time depends on the dimension of your pyrex bowl). Place an alluminium foil on top of the cake after about 40 minutes baking to prevent burn.

Cool down completely before unmold it.
White Chocolate Coconut Frosting
In a small heat proof bowl, place chopped white chocolate and 30g of whipping cream.

Melt in microwave or over bain-marie and set aside at room temperature to slighlty cool down.

In a large bowl place cream cheese, whipping cream, powdered sugar and mix with a hand mixer until creamy and shiny.

Add the white chocolate mix and mix until well combined: don't overmix, you'll get a fluffy frosting, slightly thicker than whipping cream.

Unmold the cake (trim the top if it has a huge dome) and place it upsidedown.

Frost the cake, smooth the frosting with a spatula and sprinkle with shredded coconut.
Video
Notes
You can store the cake in refrigerator for about 5 days: leave it at room temperature for about 30 minutes before serve it.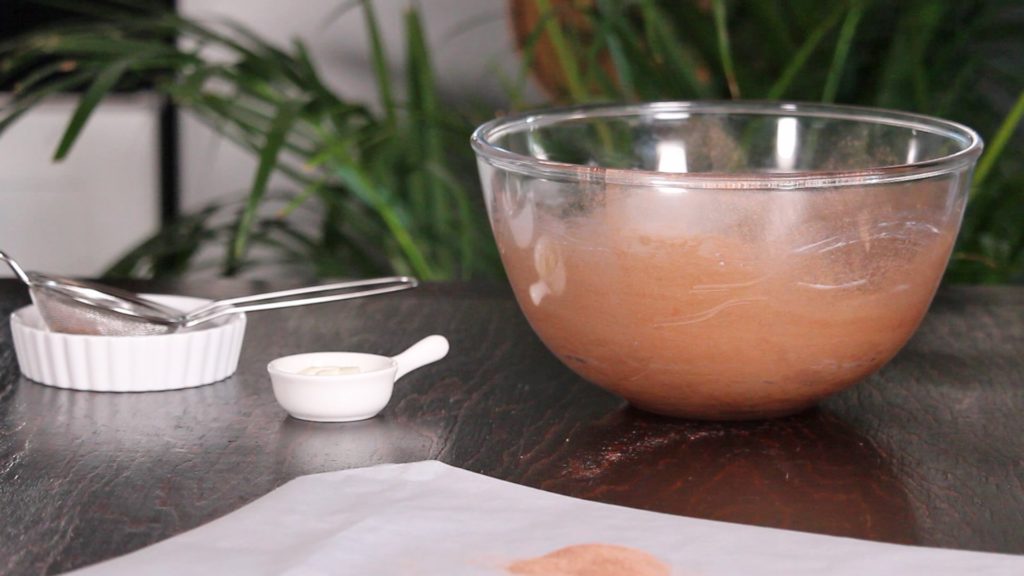 I used a Pyrex bowl (23×13 cm) for baking this cake, feel free to use any kind of oven-proof bowl.
Consider that the baking time could vary depending on the size of your bowl: the more it's small and high, the more your cake will be high so it will need more time for baking.
It's pretty important to prepare your mold to avoid the cake from sticking, so you can unmold it very easily! I greased it with butter then dusted with sweetened cocoa powder: don't use unsweetened cocoa powder for dusting the mold where you bake chocolate cakes, or it could burn during baking time and get a bitter taste!
I prefer dusting the bowl with sweetneed cocoa powder than flour so the sides of my chocolate cake won't turn out a bit white because of flour.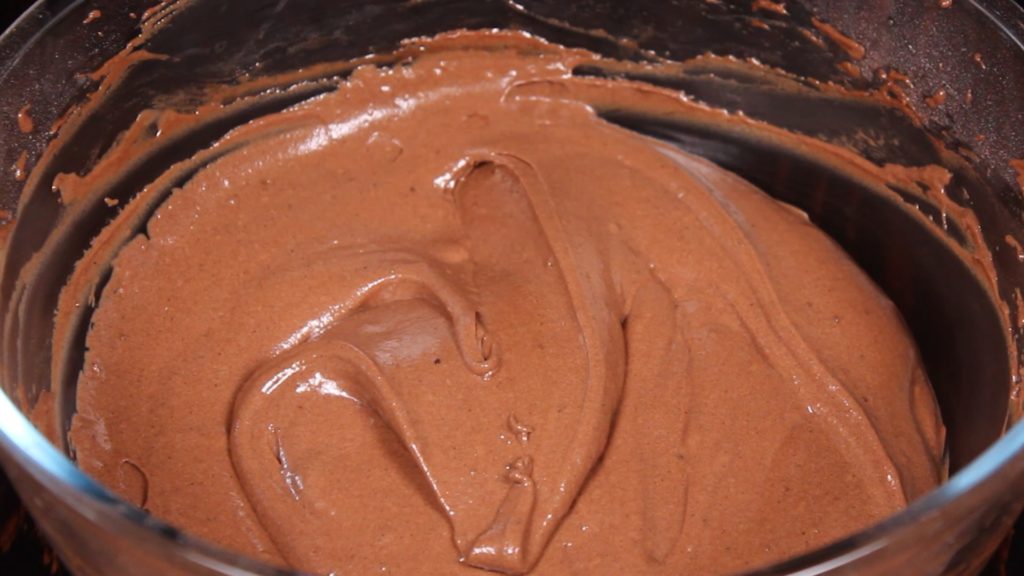 The consistency of the cake batter is very important to let the cheesecake filling sinking at the bottom, but not too much to touch your bowl.  
For this reason I've made a medium thick batter: if you'll get a too runny chocolate cake batter, your cheesecake filling should sink too much at the bottom and, probably, it would touch the bowl bottom; if it's too thick, it won't sink too much but your cake will turn out dry and not moist.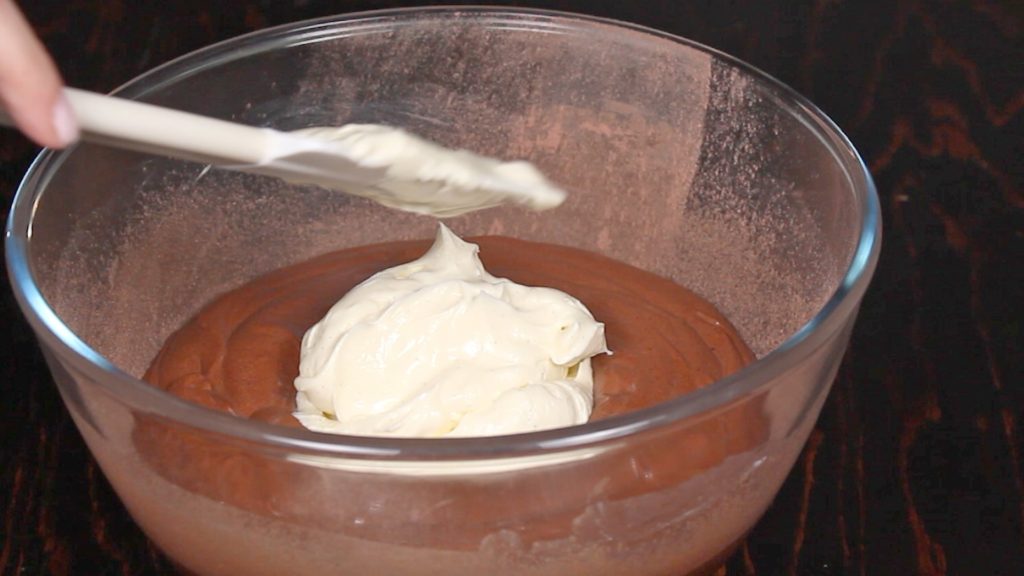 When you place the Cheesecake Filling on top of the cake batter, you don't need to cover it with the chocolate batter, it will naturally sink while the cake will bake. So leave it on top, at the center, let the magic happen in the oven!
The White Chocolate Coconut Frosting is very easy to make. You don't need to place cream cheese at room temperature, just mix it with whipping cream chilled from the fridge and that's it!
When I also make plain cream cheese frosting (I prefer to match it with whipping cream than with butter), I always use chilled ingredients and it comes out so smooth and creamy! When you start mixing you may get scared because you could see some lumps, but when you keep on mixing, you'll see your frosting becoming incredibly smooth. 
Just one hint: don't overmix your frosting, stop when it thicken a bit or it will taste a bit like butter!