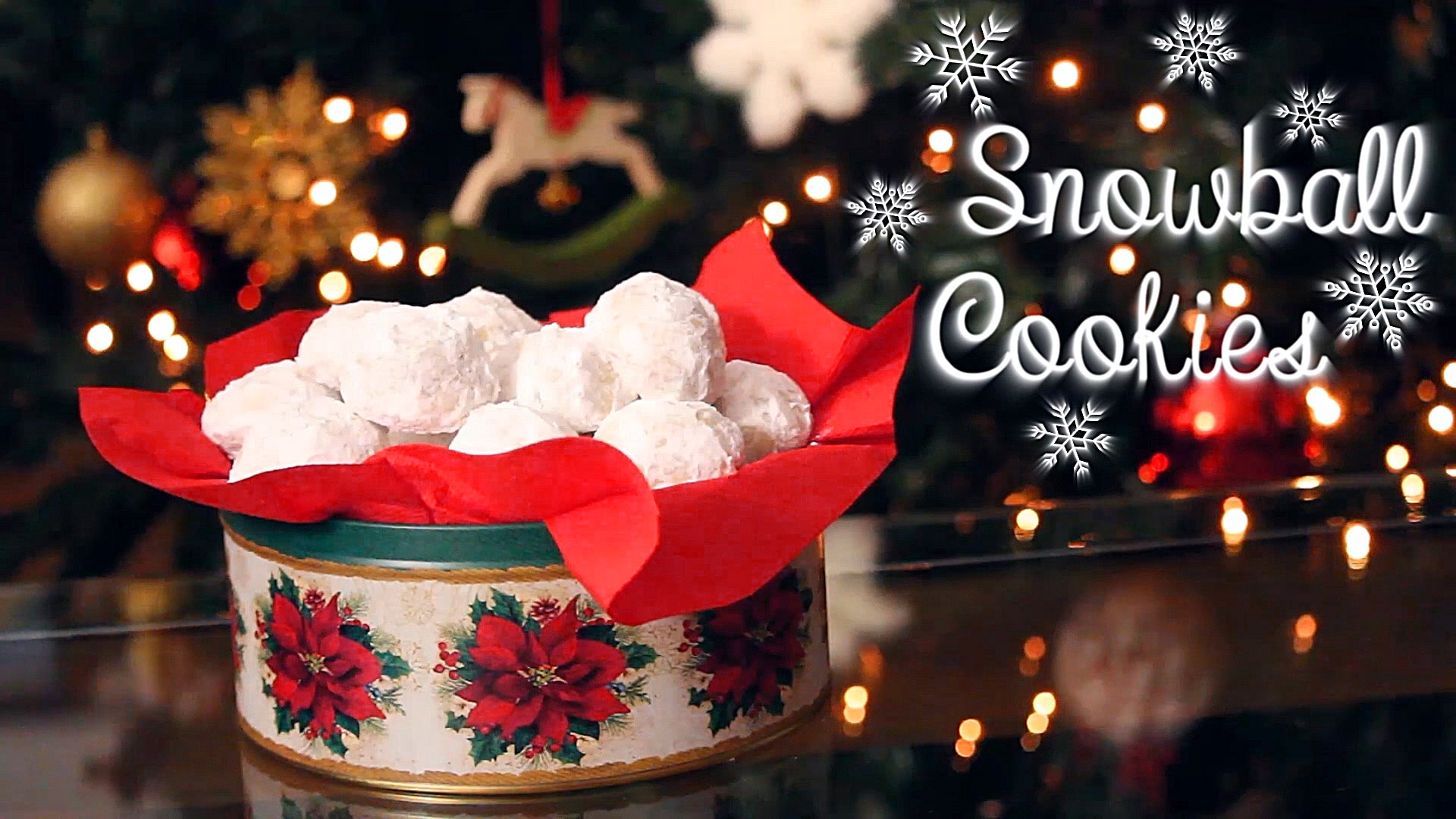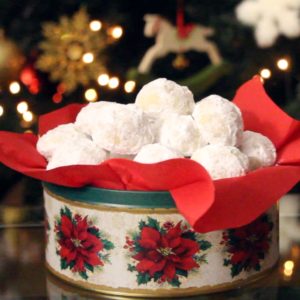 SNOWBALL CHRISTMAS COOKIES
Snowball Cookies are delicious Christmas cookies that literally melt in your mouth!
They taste like butter and vanilla, but they are also enriched with finely grinded nuts: I've used toasted hazelnuts, but you can use your favourite nuts like almonds, walnuts or pecans.
Coated in vanilla icing sugar, I think no one could resist to them! They are also eggless so you can make them in advance and store in a tin cookie box for many days.
Perfect for a Christmas gift or for a winter break with a hot beverage, they are cute and incredibly easy to make!
Ingredients
Snowball Cookies
150 g

(1+1/4 cup)

all purpose flour

60 g

(about 1/2 cup)

hazelnuts

or other nuts like wallnuts, almonds, pecans...

112 g

(1/2 cup)

unsalted butter

room temperature

40 g

(1/3 cup)

icing sugar

also known as powdered sugar

1 tsp

vanilla paste

or vanilla extract

pinch of salt
For Coating
About 150 g

(1+1/4 cups)

icing sugar

if you can find vanilla powdered sugar, go for it. You can make vanilla icing sugar placing some vanilla pots into a jar with icing sugar.
Instructions
Toast the hazelnuts in a nonstick pan over medium-high heat for about 5 minutes (or until the dark skin are cracked): often tossing to evenly toast them and avoid burning.

Place the toasted hazelnuts in a small-medium size bowl and scratch them to peel the most of the dark skin.

Put the hazelnuts into a food processor and grind (use the pulse function) until very finely chopped: you should get a coarsely powder.

In a medium size bowl, sift the flour, add salt, the finely chopped hazelnuts and combine.

In a big bowl, softened the butter using a spatula, incorporate vanilla and the powdered sugar.

Add the flour mix and combine until crumbs are formed. To check the dough consistency, press the crumbs together: you should get a dough.

Chill the dough into freezer for about 5 minutes or into refrigerator for about 20-30 minutes.

Remove the dough from the freezer, form about 17 balls and place them onto a baking sheet lined with parchment paper.

Put in freeze the balls for about 5 minutes or into refrigerator for about 20-30 minutes..

Bake in preheated oven at 180°C-350°F for about 10-12 minutes; meanwhile sift the dusting icing sugar for coating.

Cool down the cookies for about 3-5 minutes (they are still warm but cool enough to touch them) and roll them into the sifted powdered sugar.

Place them on a wire rack and let them cool completely (at least 30 minutes).

Roll the cookies for the second time into the sifted icing sugar.
Video
Notes
Store them into a tin cookie box for up to 2 weeks.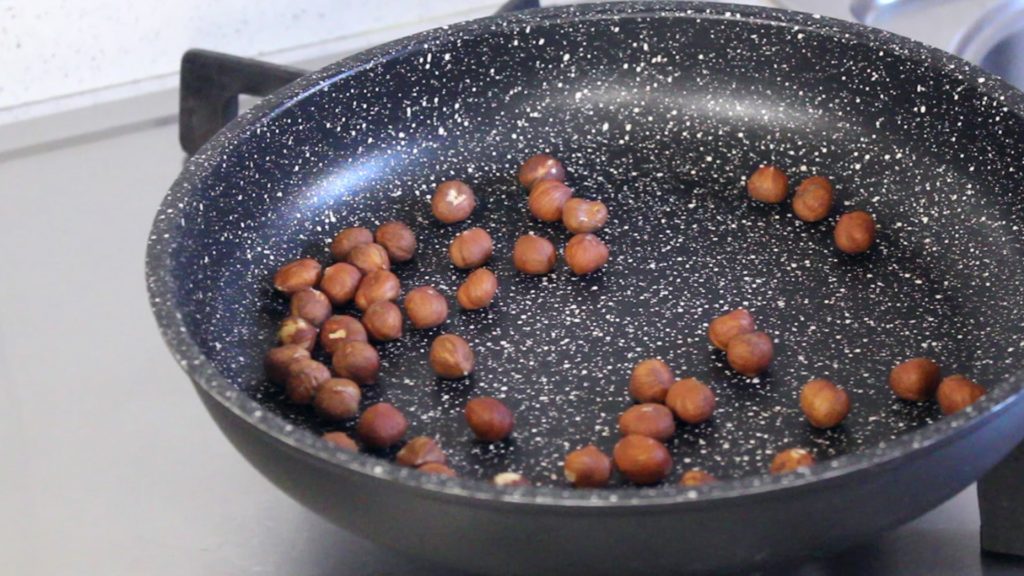 You can use any kind of nuts for making these cookies, but I suggest to not skip the toasting step. Toasting nuts, helps to enhance their flavor and, in case of hazelnuts, you can also peel them pretty easily after toasting.
I toasted hazelnuts in a nonstick pan over the stovetop, but you can also toast your nuts into a preheated oven: just pay attention to not burn it!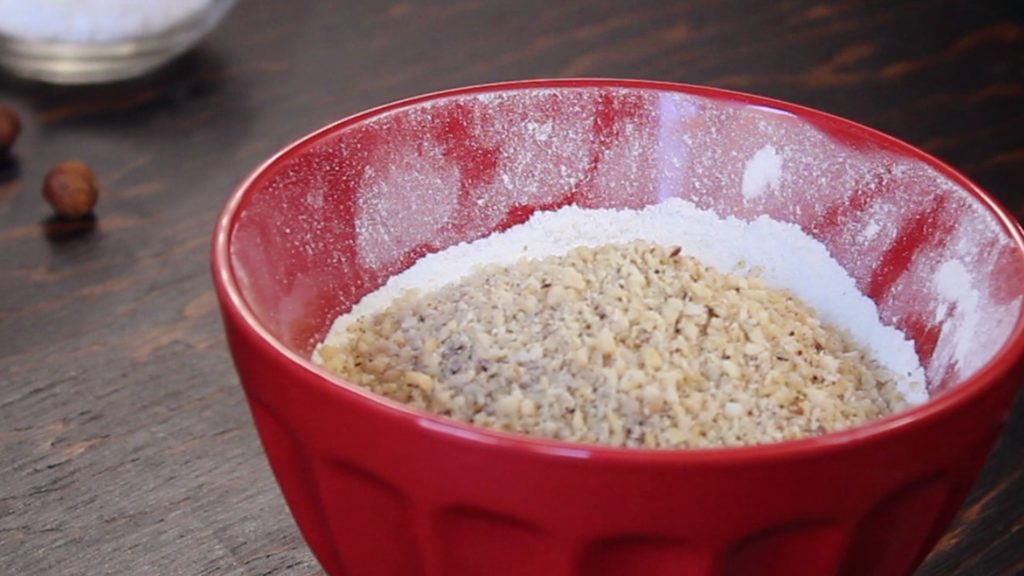 Grind your nuts using a food processor into a fine powder: not super fine like flour or icing sugar, it should be fine but slightly coarsely as you can see in the picture above.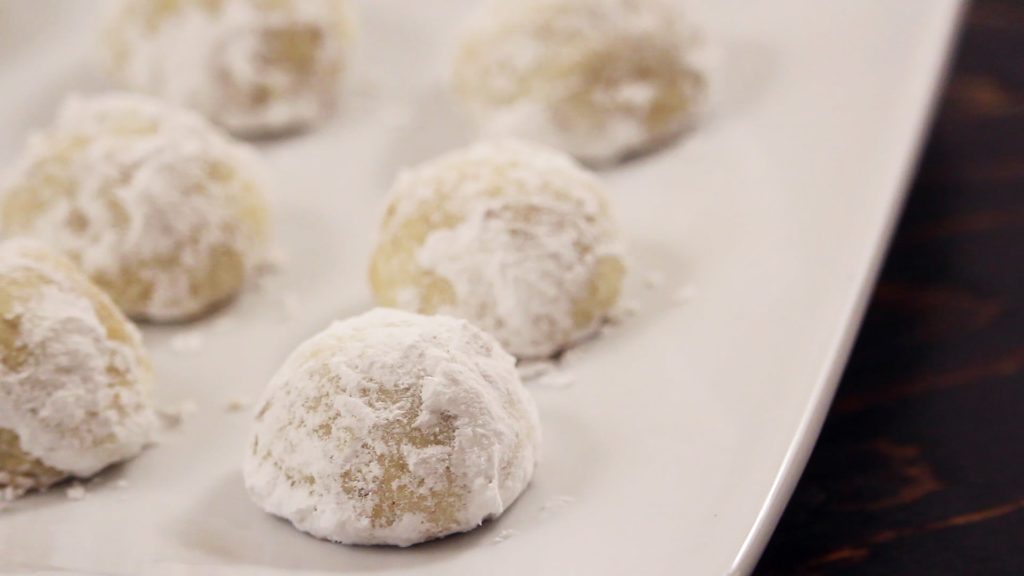 If you wanto to get white cookies well coated in icing sugar, you should make a double coat into icing sugar as I explained into the instructions above.
Make the first coat when the cookies are still slightly warm: the heat slightly melts the sugar and lets to stick it to the cookies. Then cool the cookies down completely and, just before serve them or store into your cookie box, make a generous second coating.