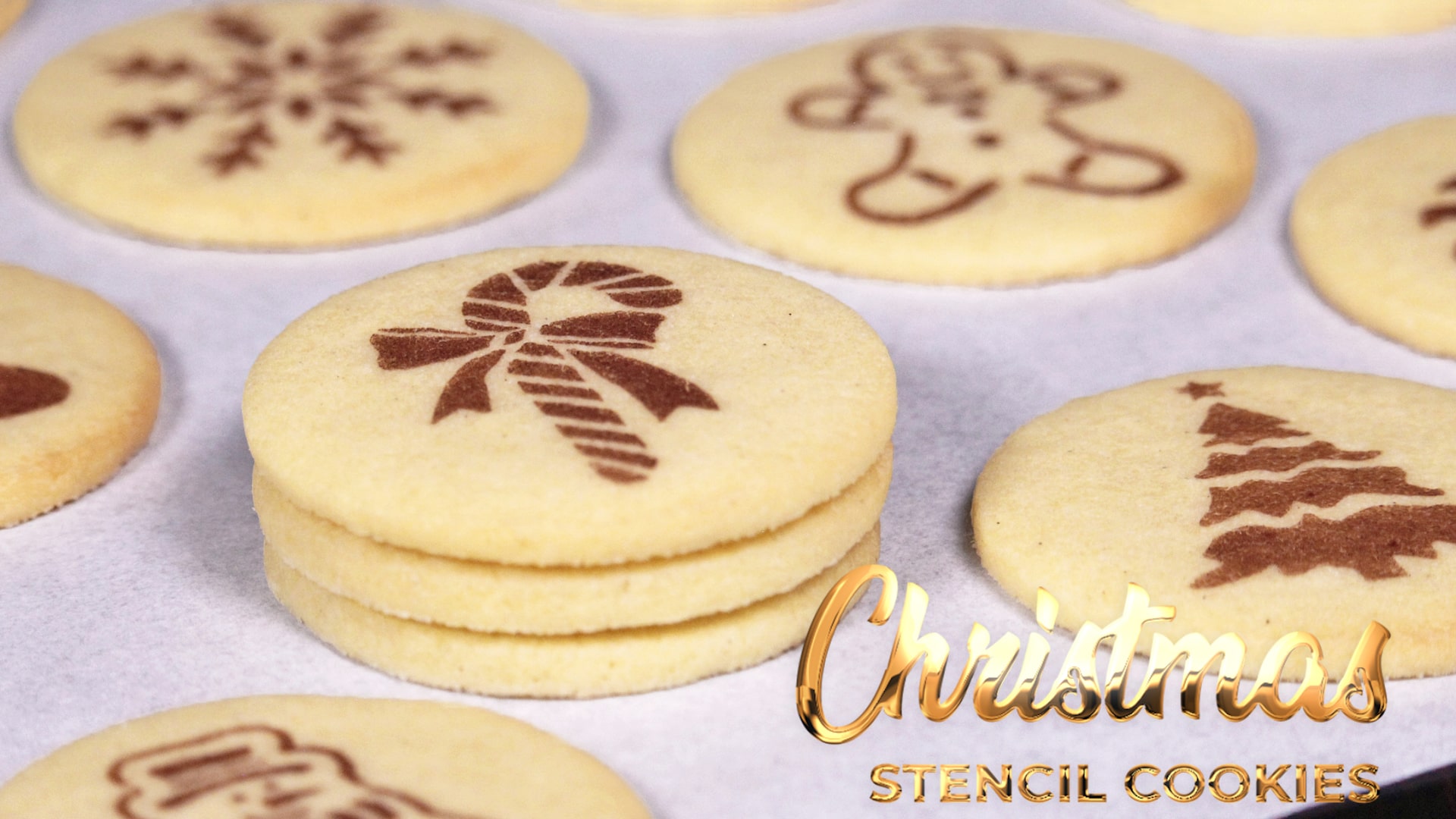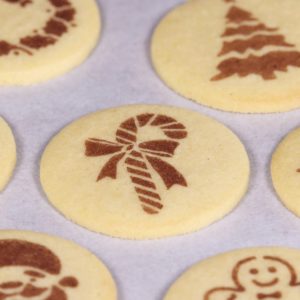 STENCIL SUGAR COOKIES
Easy and delicious cut out Vanilla Sugar Cookies that hold their shape and don't spread in the oven, decorated with Christmas stencil on top!
Slightly crispy on the edges and soft inside, these Christmas Cookies will melt in your mount and if you change the stencil decor, they are perfect for any occasion!
Click here to get the stencil I've used for these cookies!
Ingredients
110 g

(1/2 cup)

unsalted butter

room temperature

140 g

(2/3 cup)

caster sugar

1/4 tsp

salt

1 tsp

vanilla extract

1

(54 g)

egg

medium-small size, room temperature

240 g

(2 cups)

all purpose flour

sifted

1 tsp

unsweetened cocoa powder

sifted, for the decoration on top
Instructions
In a large bowl place butter, caster sugar, salt, vanilla and mix with a hand mixer or a whisk for few minutes until smooth, creamy and combined.

Add the egg and mix just until well combined.

Gently yncorporate the the flour in 2 times using a spatula. Pay attention that the flour amount could vary a bit, mostly if you use an egg larger or smaller than mine. You should get a soft dough but not sticky at all. Do not overmix flour and touch with your hand as little as possible.

Sprinkle a small amount of flour onto a parchment paper sheet, place the cookie dough on top, cover with plastic wrap and roll the dough until 0,6cm-1/4 inch thick.

Place the dough in refrigerator to chill for at least 30 minutes. Do not skip this step to get perfect shaped cookies.

Bring your dough out of the fridge and quickly cut out cookies: I've used a 6,5cm-2,5inch diameter round shape cookie cutter.

Using a thin spatula, transfer your cookies 2cm-3/4inch apart onto a lined baking sheet.

You can transfer your cut out cookies into refrigerator while you knead leftover cookie dough, roll it using the same method, and cut out all your cookies. If you work quickly and if you live in a cold climate, you don't need to chill the cut out cookies in refrigerator while you cut out all your cookies.

Place the stencil on top of your cookies and using a small brush (I've used a cleaned eye-shadow make up brush), brush a small amount of cocoa powder on top. Do not use too much cocoa to get neat decor.

Gently remove the stencil. Procede to decorate all the cookies.

Bake in preheated fan oven (upper+lower heat) at 170°C-340°F for 8 to 10 minutes. The cookies are ready when the sides start to bring a very pale brown color.

Cool down completely onto the baking sheet. Do not remove the cookies from the baking sheet for at least 10-15 minutes, so they keep on baking in the center without bringing too much color.
Video
Notes
Store cookies into a tin cookie box at room temperature for about 1 week.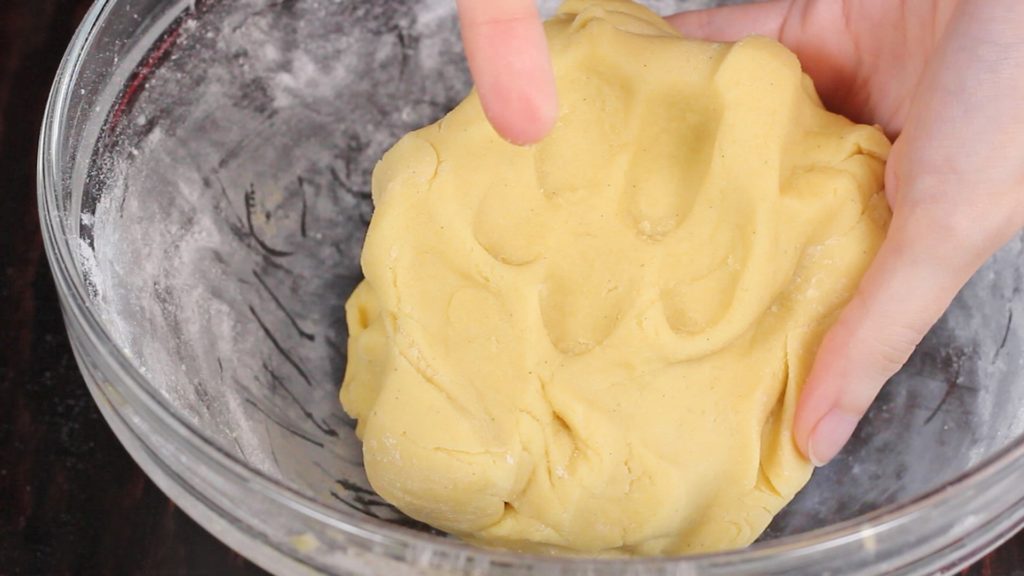 In this recipe I gave you the weight of the egg I've used because depending on your type flour or on the egg size, you may need a bit of more/less flour to get a perfect dough.
For this reason – mostly if you don't have a kitchen scale to weigh your egg – I suggest to incorporate flour in few times into the butter mix and stop when you get a soft but not sticky dough.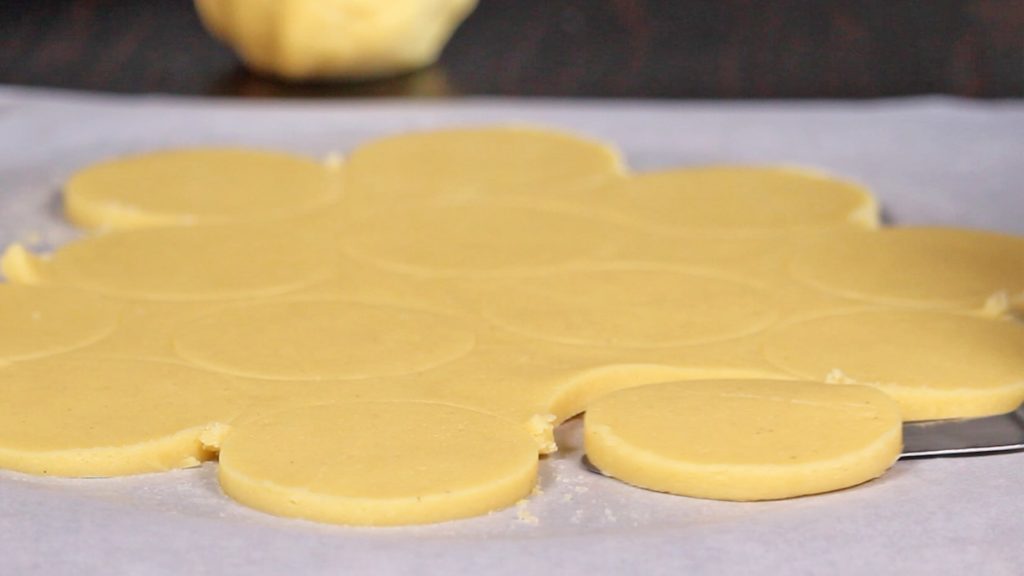 Even if I roll my dough onto a parchment paper sheet, I suggest to sprinkle some flour at the bottom to avoid the soft dough sticks to the paper.
In this way you can easily transfer your cookies onto a lined baking sheet.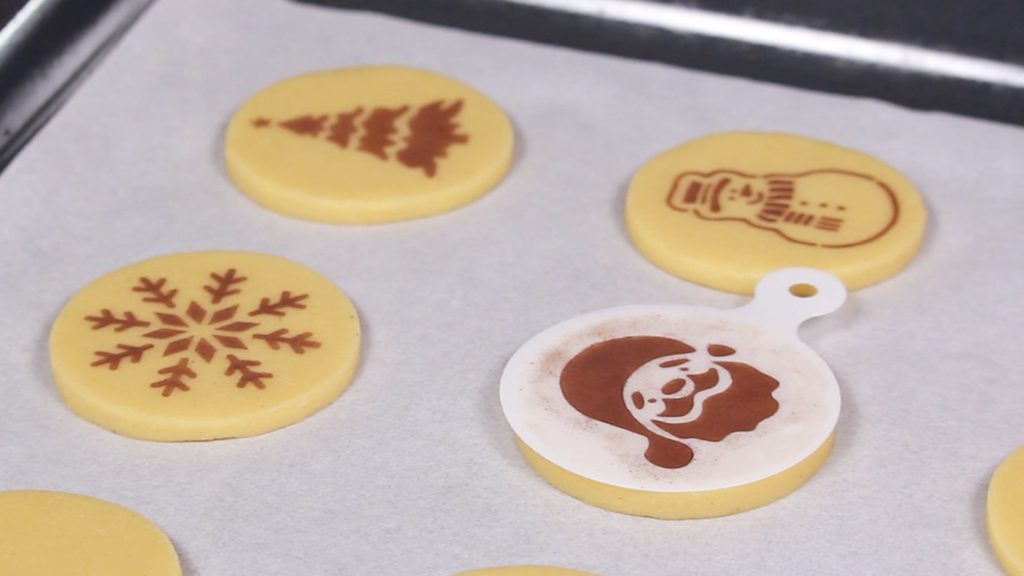 The secret to always get neat decor with this stencil and cocoa powder technique, is to use a small brush (I've used an eye-shadow brush) and use a very small amount of cocoa, tapping the brush to remove the excess of cocoa powder before using it.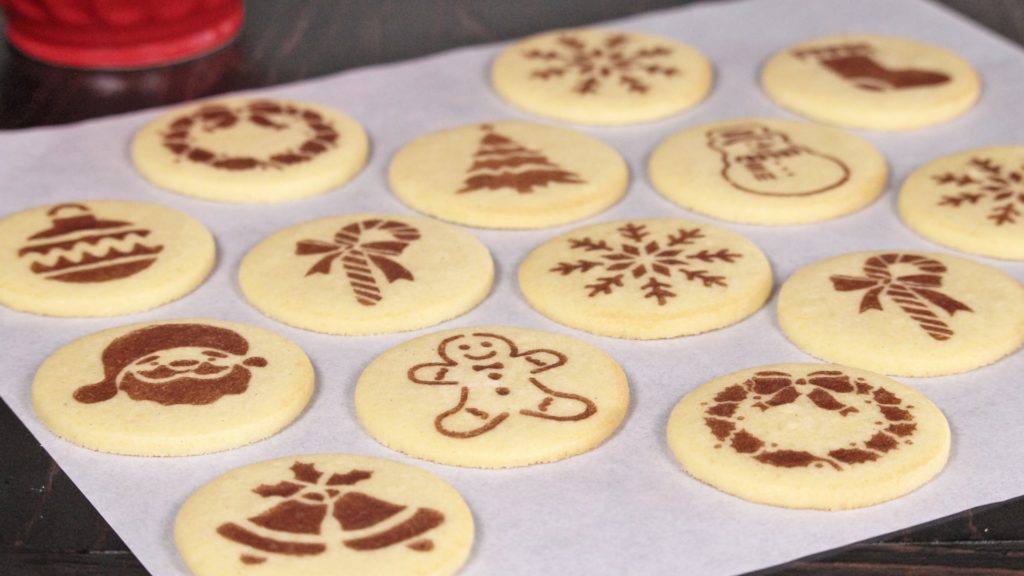 I baked these cookies in my preheated electric oven, with fan option and upper+lower heat, at 170°C-340°F for 8 minutes. If you have a different type of oven or you make larger cookies or simply if you prefer more golden and crunchy cookies, you may need to bake them for 2-4 minutes more.