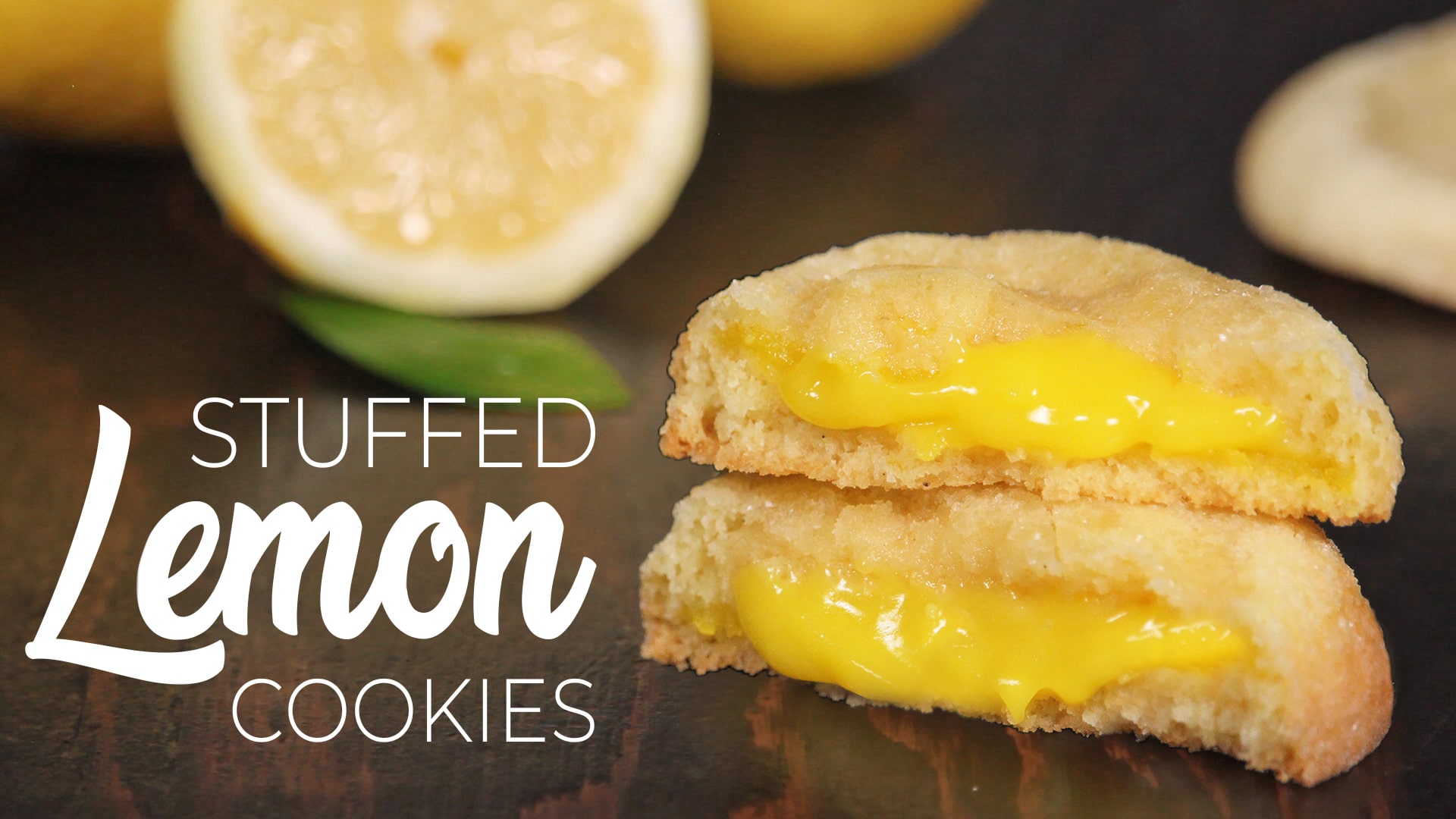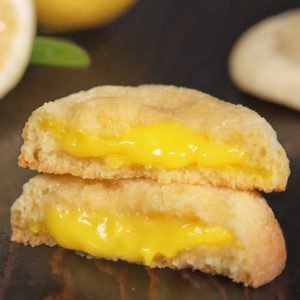 STUFFED LEMON COOKIES
This Stuffed Lemon Cookies recipe gives the best Lemon Cookies ever!
Made with a slightly crispy outisde lemon cookie dough flavored with fresh lemon zest and vanilla and an irresistible luscious and cremy homemade Lemon Curd filling inside, these Lemon Cookies are pure heaven!
Made only with fresh lemons, this recipe is made WITHOUT artificial flavors and food coloring: just pure and natural, buttery sweet lemon flavor that melts in your mouth!
Ingredients
Lemon Curd Filling
55 g

(1/4 cup)

caster sugar

4 g

(1 tsp)

cornstarch

1

(53 g)

egg

45 g

(3 tbsp)

fresh lemon juice

the lemon peel from about 1/4 lemon

only the yellow peel, not the white pith!

22 g

(1+1/2 tbsp)

unsalted butter
Lemon Cookie Dough
110 g

(1/2 cup)

unsalted butter

room temperature

110 g

(1/2 cup)

caster sugar

the zest from 3/4 lemon

1 tsp

vanilla paste

or vanilla extract

1

(52 g ))

egg

200 g

(1+2/3 cup)

all purpose flour

pinch of salt

1/2 tsp

baking soda

granulated white sugar

for coating cookies
Instructions
Lemon Curd Filling
In a heatproof medium size bowl, mix sugar and cornstarch.

Mix in the egg then the lemon juice and add the lemon peel.

Cook over bain marie, mixing often, for about 8 minutes or until starts thickening: then cook, mixing constantly, for another 2 minutes until thick.

Remove from heat, incorporate butter and mix to cool down quickly.

Cover with plastic wrap on the curd and put in refrigerator to chill for at least 30 minutes.

Spoon lemon curd onto a lined small tray diving equally into 10 spoons.

Put in freezer for at least 1 hour or until completely hard and frozen. You can prepare Lemon Curd Filling the day before.
Lemon Cookie Dough
In a large bowl mix butter, sugar, lemon zest and vanilla until smooth, creamy and well combined.

Mix in the egg using a whisk.

Sift in flour, salt, baking soda and gently mix with a spatula until well combined. You'll get a soft but not sticky dough.

Place the dough in refrigerator for at least 20 minutes or until easily handle, mostly if you live in a hot climate.

Scoop the dough using a large 5cm-2inch ice cream scooper, flatten and place one frozen Lemon Curd Filling scoop at the center. Then fold the cookie dough sides around the Lemon Curd Filling and roll to get a cookie ball.

Coat the cookie ball into granulated white sugar and place onto a lined baking tray at least at 5cm-2inch apart.

Repeat until finish all the cookie dough. You'll get 9-10 cookies. Work fast to avoid melting the Lemon Curd Filling.

Bake in preheated fan oven at 180°C-350°F for 8-9 minutes. Do not overbake, the center has to be very soft adn the sides just slightly golden.

Remove from the oven and cool down onto the baking tray.
Video
Notes
Store in a tin cookie box at room temperature for about 4-5 days.
You can freeze raw stuffed cookies balls for up to 3 months (in this case, you need to bake them still frozen for some minutes more).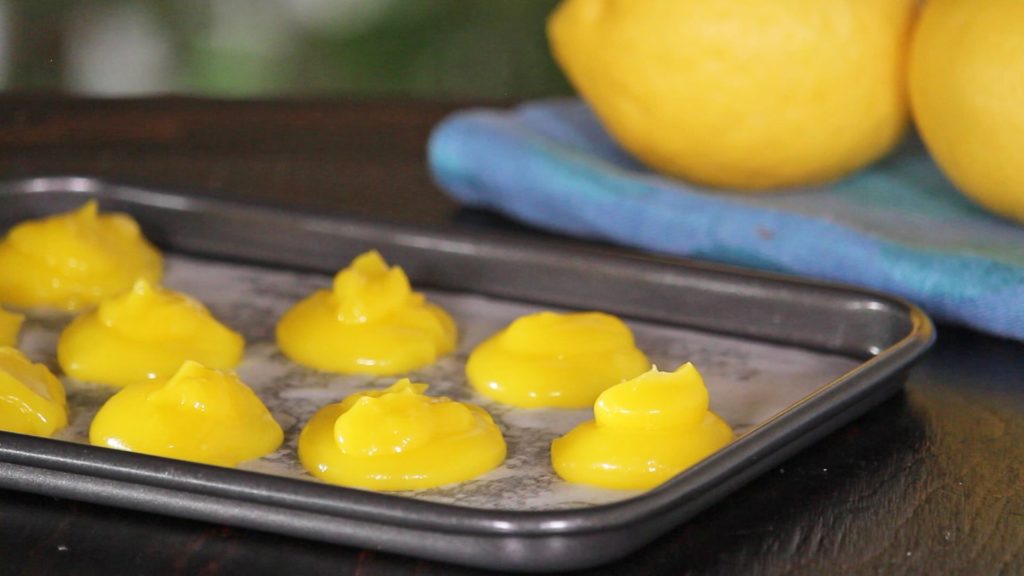 If you live in a hot climate, I suggest to put Lemon Curd Filling in freezer for more than 1 hour, better at least 2 hours, and work pretty fast when you roll the cookie balls to avoid the frozen filling from melting.
You can also prepare the Lemon Curd Filling the day before.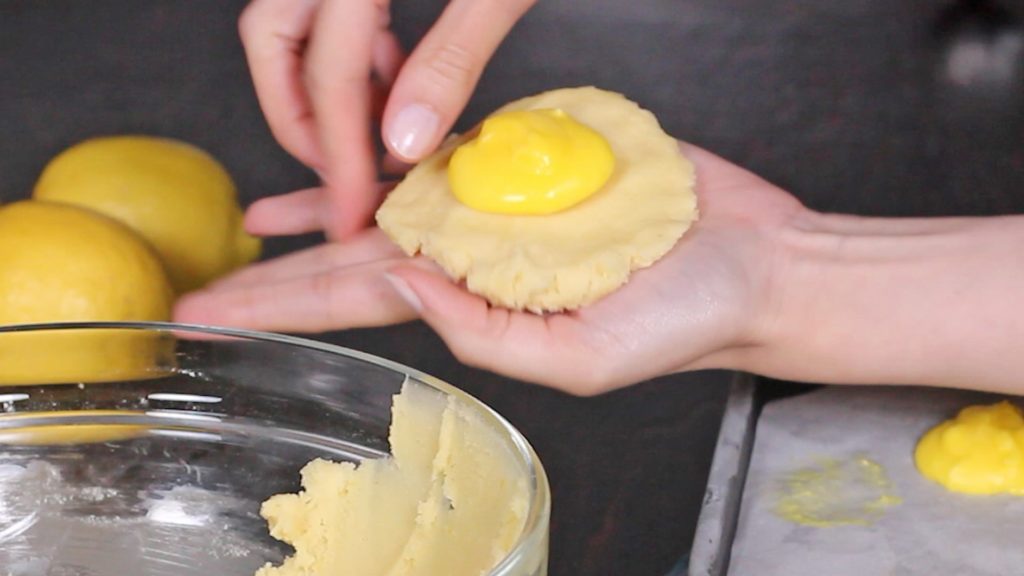 In this recipe there is only pure fresh Lemon natural flavor that comes from the lemon peel: pay attention to use only the yellow part of the peel and not the withe pith that is bitter!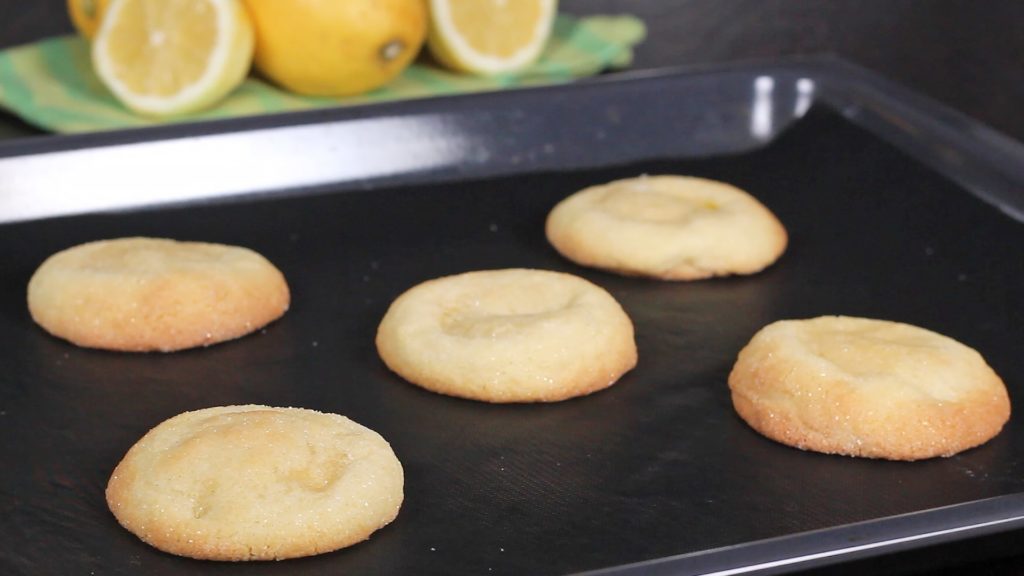 The cookie dough consistency could vary depending on the egg size or the flour type you're using. For this reason you may need to use a bit more/less flour.
You should get a soft but not sticky dough (or very very little sticky, becuae you should easily handle it after the refrigerating time to form your cookie balls). So stop adding flour if your dough is a bit dry, and add a bit more if your dough is too sticky.