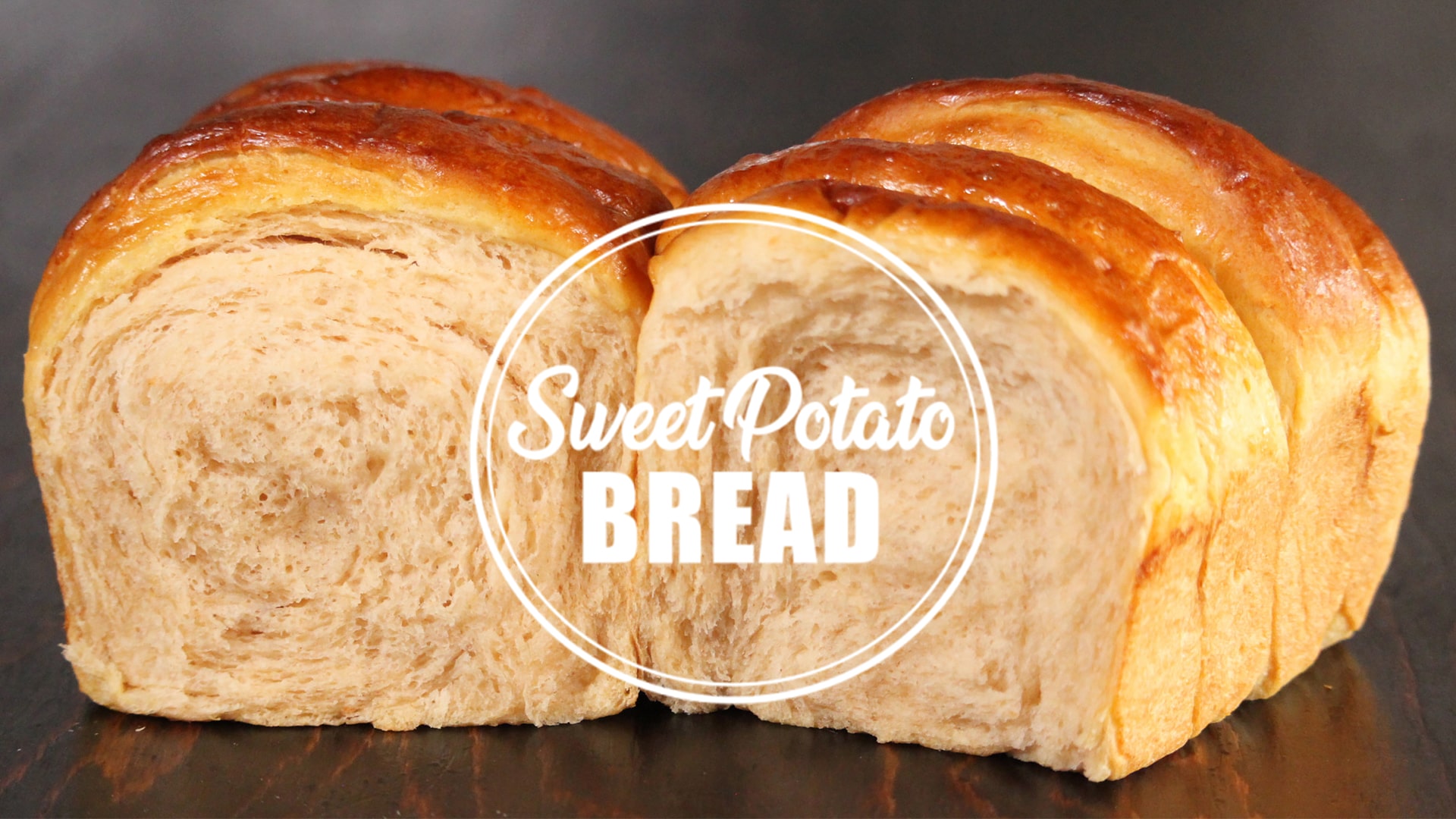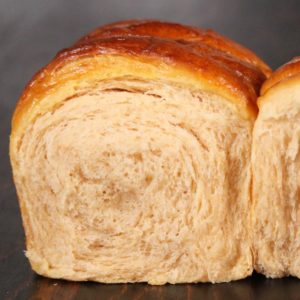 SWEET POTATO BREAD
Sweet Potato bread is an incredibly soft and chewy fluffy milk bread made without eggs using sweet potatoes. You can make it without a stand mixer, just kneading by hand as I show in the recipe video, anybody can easily make it at home!
The flavor is very delicate, salty and slightly sweet, so it matches perfectly both with savoury than sweet stuff.
I've used the classic orange American sweet potatoes, but you can also use other potato type: poatoes give extra moisture and fluffiness to the bread that turns out soft like a pillow!
The flour or milk amount could vary a bit depending on the type of flour you're using, so check out your dough consistency and feel free to add a bit more flour or milk if your dough turns out too dry or not enough moist. Consider that is always better a sticky dough than a dry one: liquids is what keep your bread moist and soft.
Perfect as side dish, to make sandwiches, for Brunch or for Breakfast too, this bread will be also perfect on your Holiday table!
Ingredients
Sweet Potato Puree
About 140 g

(5 oz)

sweet potatoes
Sweet Potato Bread
About 340 g

(2+2/3 cup)

bread flour

85 g

(3 oz)

sweet potato puree

7 g

(1 tsp)

salt

6 g

(1+1/2 tsp)

active dry yeast

or instant yeast

30 g

(2 tbsp)

sugar

195 g

(3/4 cup + 1 tbsp)

milk

lukewarm

40 g

(2 tbsp)

unsalted butter

room temperature
Instructions
Sweet Potato Puree
Peel and cut into chunks about 140 g (5 oz) of sweet potato.

Steam or boil the potato chunks in hot water until fork tender (if you boil them, they absorb more water, so you maybe need less milk in the dough).

Mash the potato chunks using a potato ricer or potato masher or fork until get a smooth puree. Set aside.
Sweet Potato Bread
In a very large bowl, add flour, salt and mix until well combined.

Add sugar, yeast and mix until well combined. If you use an Active Dry Yeast that need to be activated, make it following the directions on your yeast packaging. For this recipe I'm using an Active Dry Yeast that doesn't need to be activated.

Add lukewarm milk (you can add just 3/4 of milk amount and decide later if your dough will need all the milk amount), sweet potato puree and mix well with a spatula until very well combined and won't be any potato lumps. You'll get a soft dough.

Add softened butter and mix well with a spatula until well combined and get a sticky dough.

Sprinkle a generous amount of flour onto your work surface and knead your dough for about 15 minutes or until get a smooth, elastic and not sticky dough. When you knead it, you may add some more flour or milk depending on your flour type. If you have a stand mixer, you can use it.

Form the smooth and soft dough into a ball and place it in a greased large bowl.

Cover with plastic wrack, a kitchen towel and let it rise in a warm place for about 1 or 2 hours or until triple in size.

Place your dough onto the work surface and form into a ball.

Invert the ball, make 1 fold, invert, make the second fold, invert and make the third fold. If you have some doubt, follow the recipe video to see how I make the folds.

Invert and form into a ball.

Roll the ball with a rolling pin in a 20x32cm-8x13inch rectangle.

Roll the rectangle along the short side and form a log.

Cut the log into 8 equal slices and put them into a greased loaf pan (11,5x22,5 cm - 4,5x9 inch).

Cover with plastic wrap and let it rise for about 20-30 minutes in a warm place.

Brush the top with egg wash (or milk) and bake in preheated no-fan oven at 175°C-340°F for about 25 minutes.

Cool down slightly before remove it from the pan.

Cool down completely before serve it.
Video
Notes
You can store it for about 4-5 days (7 days in the fridge) in paper bag, then place it into a plastic bag.
You can freeze it for about 5 weeks.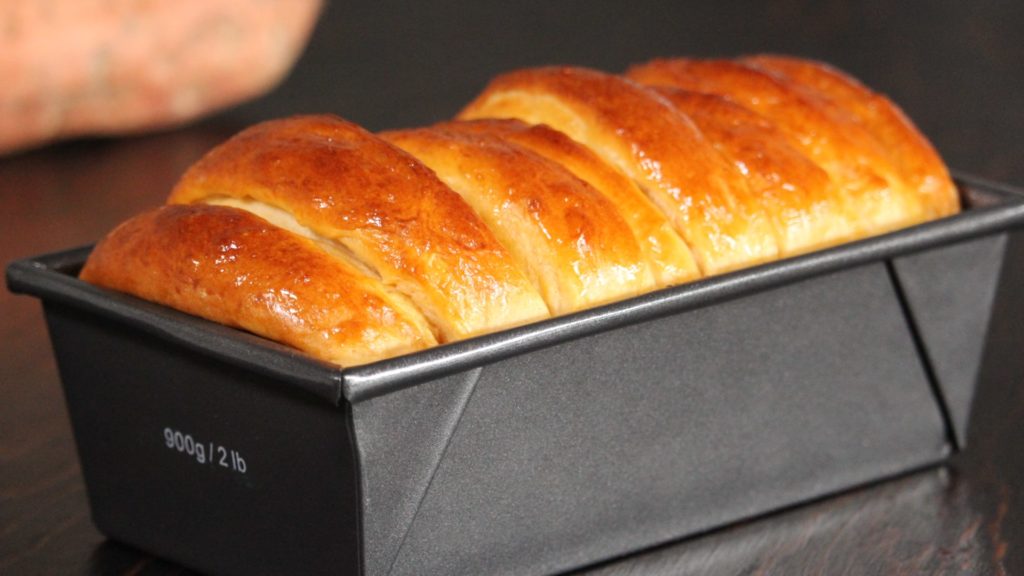 If you want a luscious shiny top don't forget to brush your bread with egg wash before bake it. You can also mix egg wash with milk, but consider that if you are using just milk, you don't get shiny top.
The rising time depends to your yeast but also to the temperature. If your dough is proofing in a warm place, it will rise faster. If you place it just at room temperature or in refrigerator, it will rise slower. I usually place the dough into my slightly warm oven: I preheat it at the lower temperature, then I turn it off and place the dough inside the warm oven to proof it.
You can let it rise in refrigerator overnight or for 24 hours then use it the day after.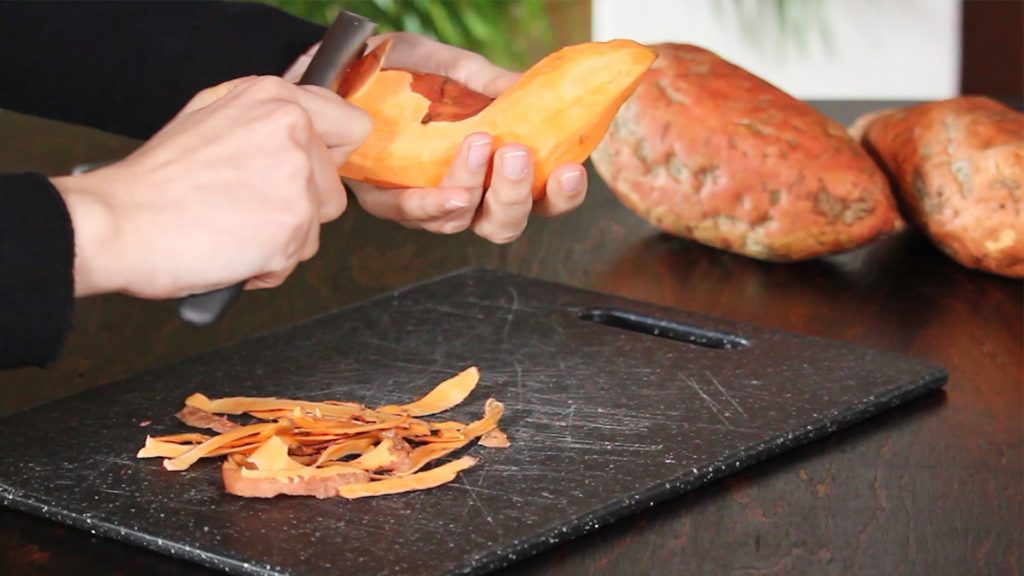 In this recipe I've used American orange sweet potatoes. I chopped them and steam using a microwave steamer. I love microwave steamer because it's increadibly faster than the boiling method, in few minutes you can have steamed perfectly cooked vegetables!
I used a potato ricer to mash Sweet Potatoes (remember to mash them when still hot), but you can also use a classic potato masher or just a fork.
If you can't find sweet potatoes, you can also use normal potatoes (cooked and mashed). In this case you may need more flour because they usually absorb more water than Sweet Potatoes.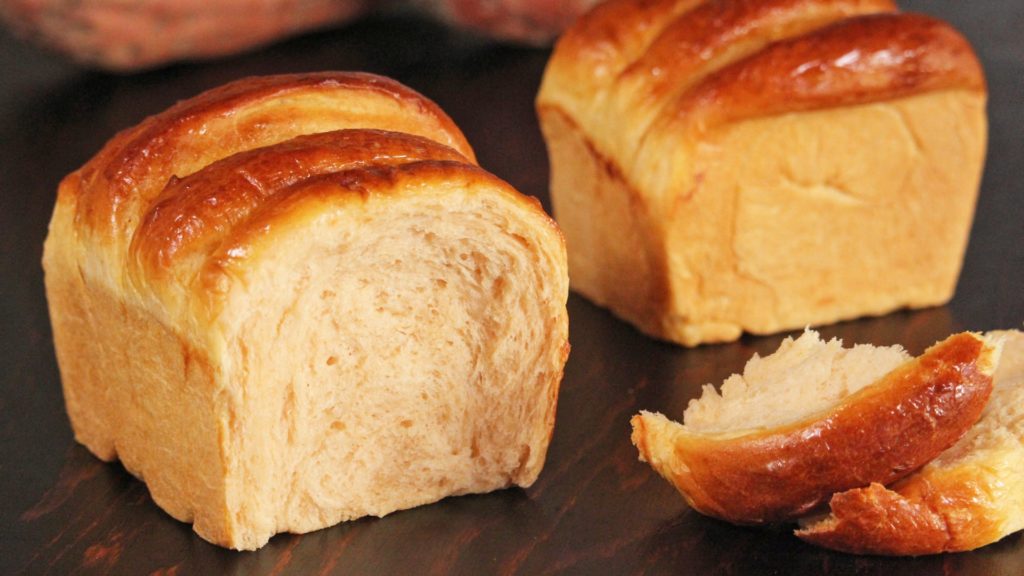 To get a soft and fluffy bread your dough should be a bit sticky, not too dry, or you'll get a thick bread. Feel free to add a bit more flour or milk to get the perfect consistency you can see in my video.
Don't skip the folding step: folds help your bread to become high and well rised!