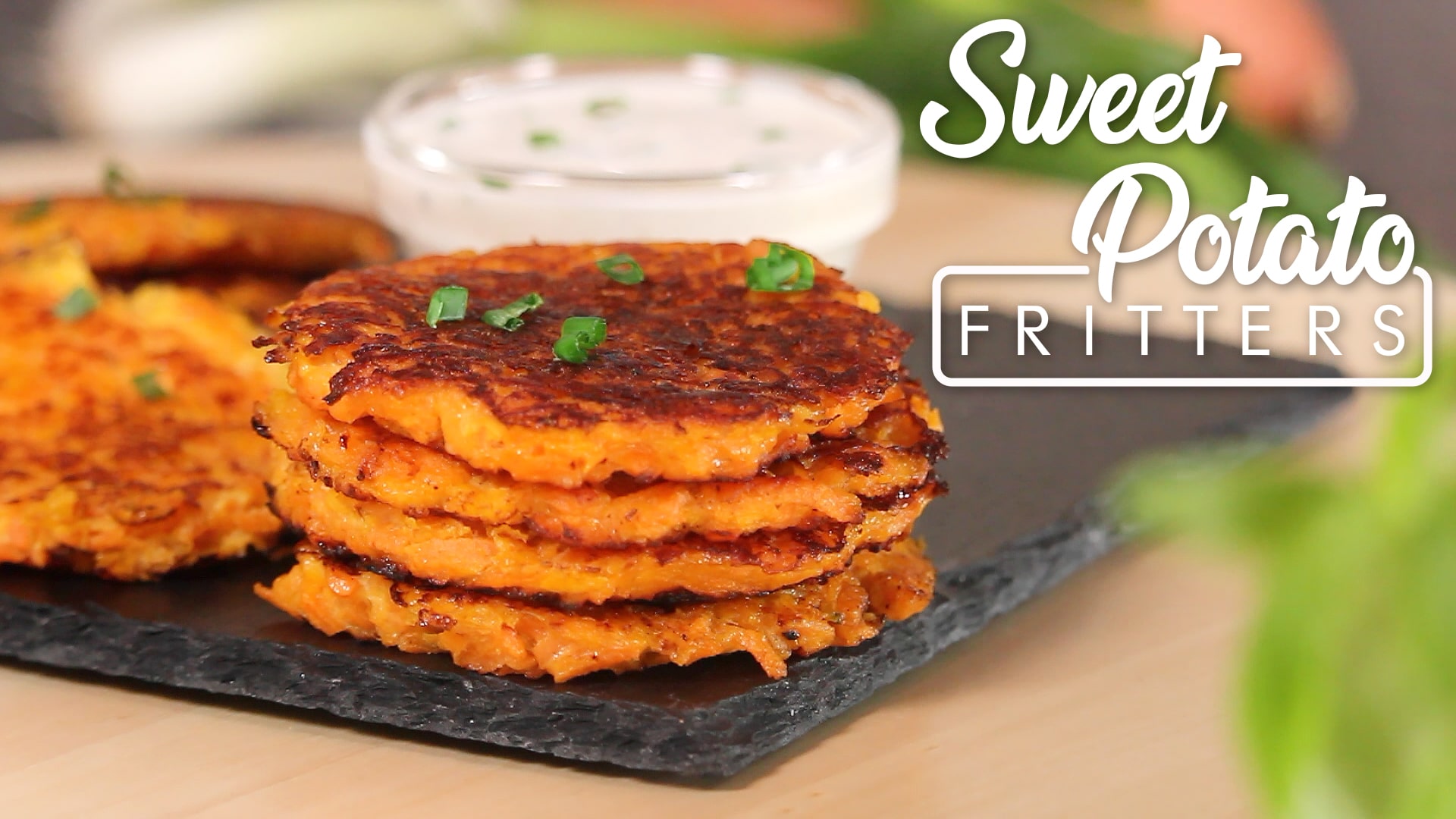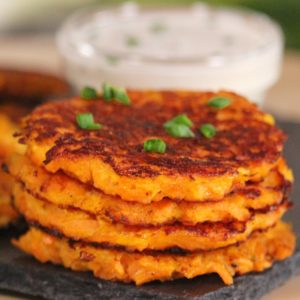 SWEET POTATO FRITTERS
Delicious Sweet Potatoes fritters made with Parmigiano cheese! Soft inside and slightly crispy outside, you can use your favourite cheese if you don't have Parmigiano, they are delicious with Cheddar cheese too.
Quick and easy to make, you don't need to pre-cook sweet potatoes and you can season them with your favourite ingredients.
Perfect as side dish, main dish or international breakfast too, they will perfectly fit your Holiday and Thanksgiving tables!
Ingredients
450 g

(1 pound)

sweet potatoes

peeled; about 1 large or 2 medium-small size sweet potatoes

90 g

(1 cup)

Parmigiano Reggiano cheese

grated; or Parmesan or Cheeddar cheese

salt

black pepper

3

eggs

medium-small size, room temperature; or 2 large eggs

Fresh spring onion

chopped (optional)

Yogurt sauce

for serving; or your favourite sauce
Instructions
Peel sweet potatoes and grate them using the large hole of a grater.

Place grated sweet potatoes into a kitchen towel and squeeze out as much liquid as you can.

Place them into a large bowl, add grated Parmigiano Reggiano, salt, black pepper and set aside.

Preheat a non-stick pan at medium-low heat for few minutes.

Add about 2 tbsp of olive oil into the pan and heat for few mintues.

In a small bowl whisk the eggs with a pinch of salt and add into the grated potato mix: mix well and coat all the grated potatoes with the seasoning. Adding the eggs in the end, will prevent grated sweet potoates to become soggy.

Using a 5cm-2inch ice cream scooper, scoop potato mix into the preheated pan.

Using a scoop flatten and shape the fritters.

Place a lid on top and cook over medium-low heat for about 4-5 minutes or until the bottom becomes golden.

Flip the fritters and cook for about 4 minutes or until becomes golden.

Drain fritters onto frying paper or kitchen paper.

Serve immediately with fresh chopped spring onion on top and your favourite sauce.
Video
Notes
Store in refrigerator for 1 day or store in freezer for 1 month.
You can heat them in preheated oven, air-fryer or a hot pan.
Do not skip to squeeze grated sweet potatoes! You just need to place them into a kitchen towel, wrap them into the towel and squeeze out all the liquid you can.
This step prevents sweet potatoes mix to become too soggy.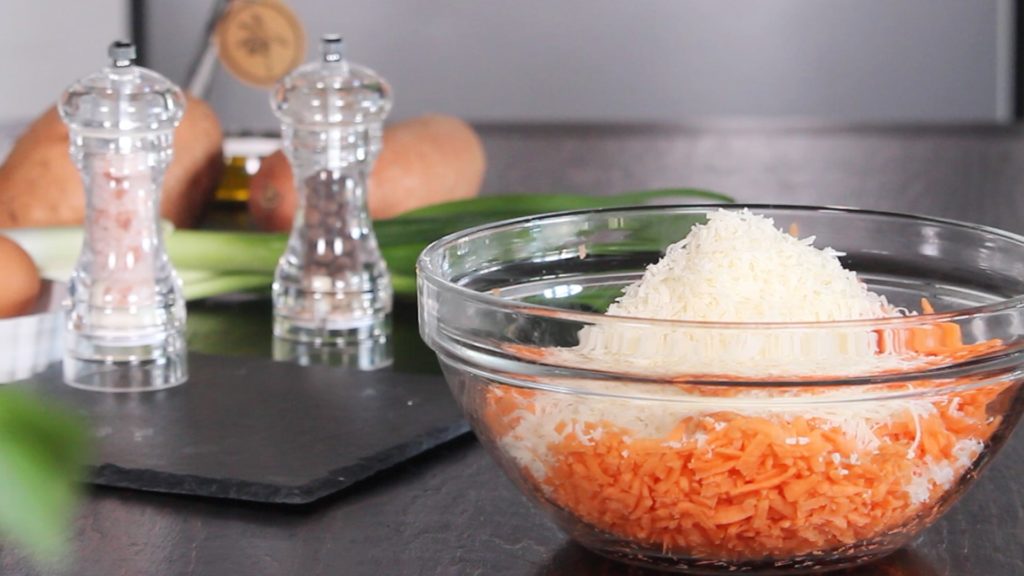 I'm Italian and since I love Parmigiano Reggiano and Grana Padano cheeses, I always use them in my recipes, mostly in potato recipes, because I think they are both amazing with potaotes!
But if you live abroad and you can't find Parmigiano cheese or you think it's too expensive, you can surely substitute it with Parmesan or Cheddar!
I've made them with Cheedar too and they taste absolutely delicious!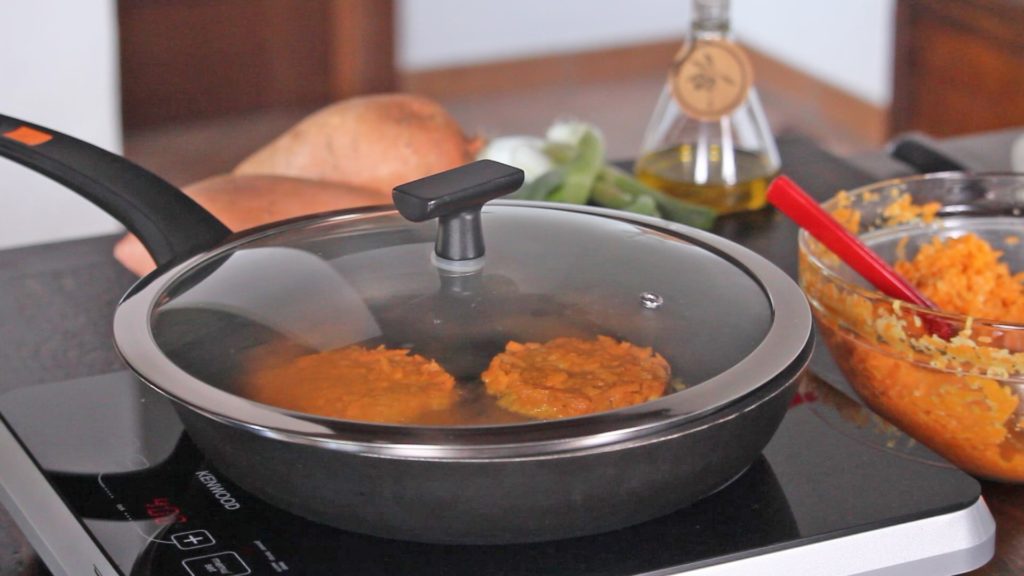 When you cook your fritters before flipping, I suggest to put a lid on top of your pan: they will turn out a bit less crispy, but the steam will help to quickly cook them through!