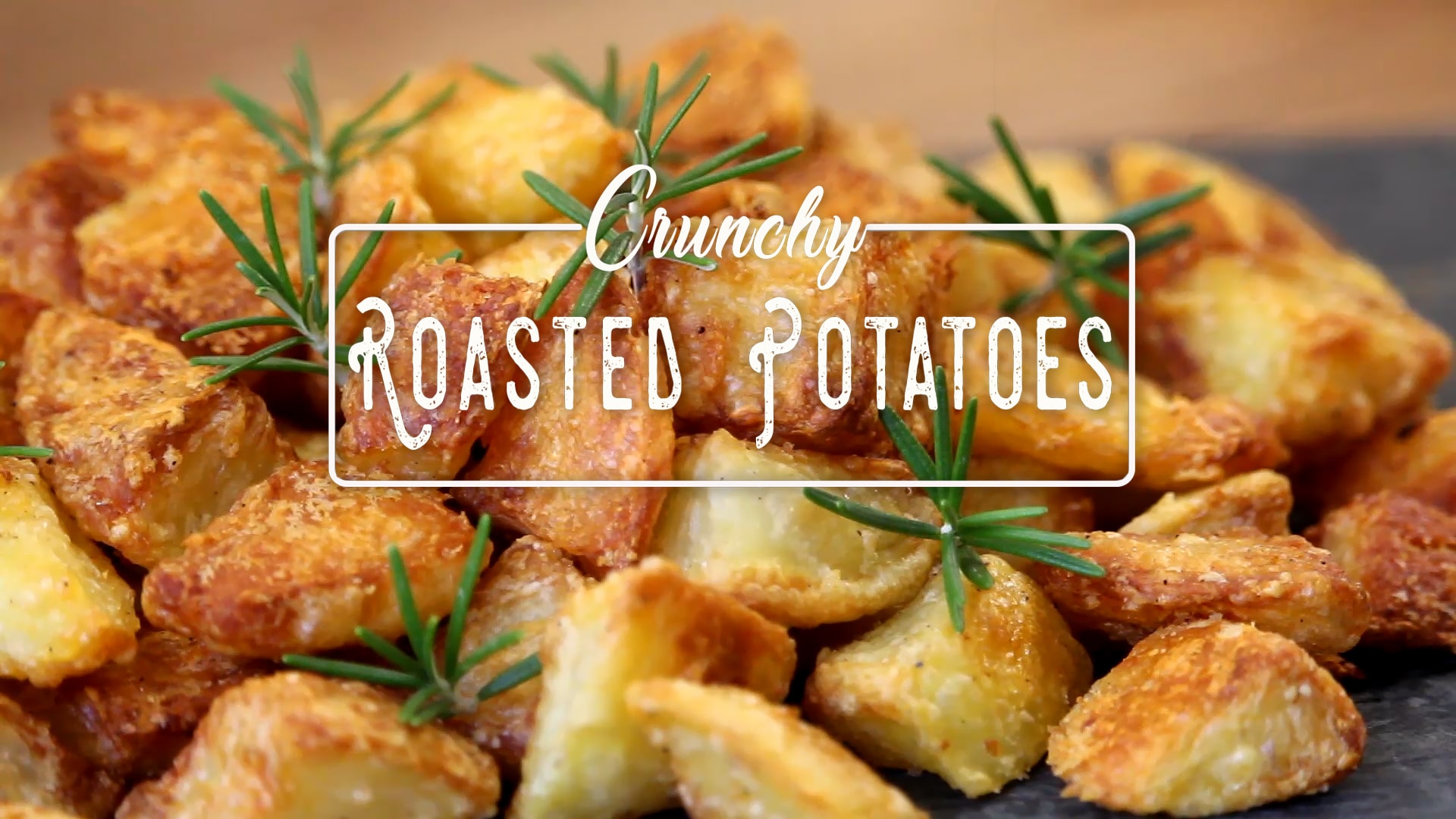 THE BEST CRUNCHY ROASTED POTATOES
These roasted potatoes are extremely crunchy outside but still mantain a delicious soft potato's heart inside.
They will keep their crispness also when cooled thanks to a special ingredient you'll find in this amazing recipe!
The seasoning is simple but so much tasteful: Hymalaian pink salt, black pepper, rosemary, Parmigiano Reggiano cheese and extravirgin olive oil of the best quality available! Of course you can add whatever additional seasoning you prefer, as garlic, paprika, thyme etc...I'm sure you're going to love it!
Ingredients
1 Kg

(2 pound)

about 6 big Yellow potatoes

coarse sea salt

for boiling water

1 tsp

baking soda

Himalayan pink salt

or any other sea salt

fresh rosemary

freshly ground black pepper

2 tbsp

Parmigiano Reggiano cheese, grated

or Parmesan cheese

about

4-5 tbsp

extra virgin olive oil
Instructions
Preheat oven (fan option, upper and lower heat) at 230° C - 450° F.

In a large pot, bring water to a boil.

Meanwhile peel the potatoes, cut in big chunks and soak them in cold water to remove some of the starch.

When the water in the large pot is boiling, add coarse sea salt, 1 teaspoon of baking soda (this is the secret ingredient: it will make alkaline the boiling water so you'll get more crispy potatoes) and the drained potato chunks.

Cook in the boiling water over high heat for about 8 minutes (or until a knife meets a little resistance when inserted into a potato chunk).

Drain the potato chunks and transfer them to a large baking sheet lined with baking paper. Let them rest for few minutes to cool.

Meanwhile prepare the seasoning: place the Himalayan pink salt and fresh rosmery leaves in a mortar and, using a pestle, pound until the salt will be powdered and the rosemary releases its essential oil.

Add over the potato chunks a generous amount of extra virgin olive oil (about 5 tablespoons), the powdered himalayan pink salt (not the rosmery leaves that will burn in the oven!), freshly ground black pepper and grated parmesan. Mix well using your hands.

Bake at 392° F (200° C) for about 25-35 minutes until they are golden.

Remove from the oven, turn potatoes using a spatula and bake for about 10 minutes more or until they are brown and crisp all over their surface.

Guarnish with fresh rosemary and serve it.
Video
Notes
These potatoes will stay crunchy on the outside even after they cool down.
You can store them in the fridge for 1 day, then heat them in a hot non-stick pan and serve it. If you heat them in the microwave, they will turn out soggy and won't be crispy outside.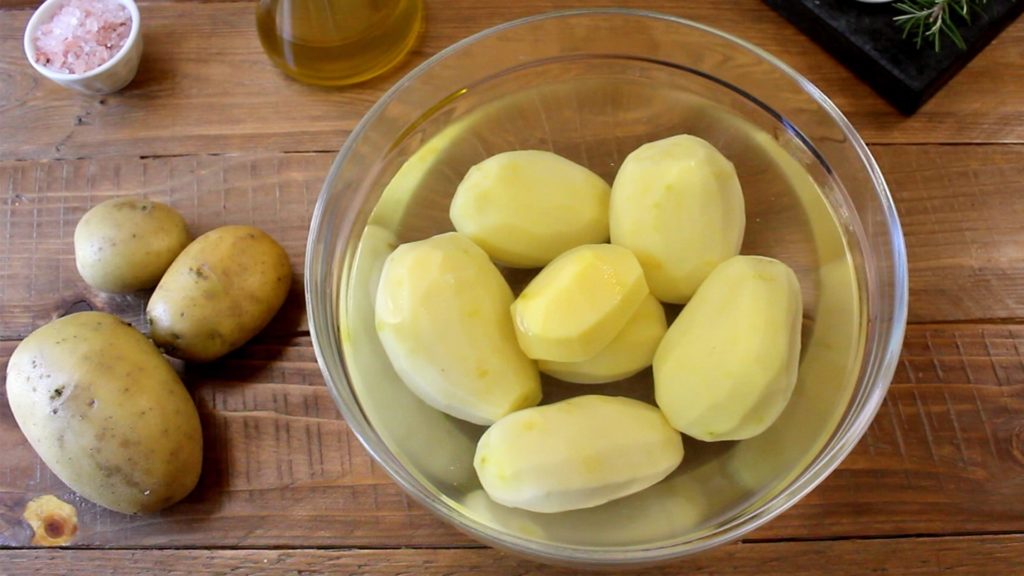 Which kind of potatoes are the best for roasting?
I'm often asked this question and the answer is pretty easy: the ones with very low starch content! Usually the best potatoes for roasting are the best for making mashed potatoes too.
My favourite potato types are Russet and Yukon Gold. 
Maybe not every type of the potatoes I've written above are available in your Country, but don't worry. You can use the ones you can easily find (except sweet potatoes), I'm sure you'll be very satisfied!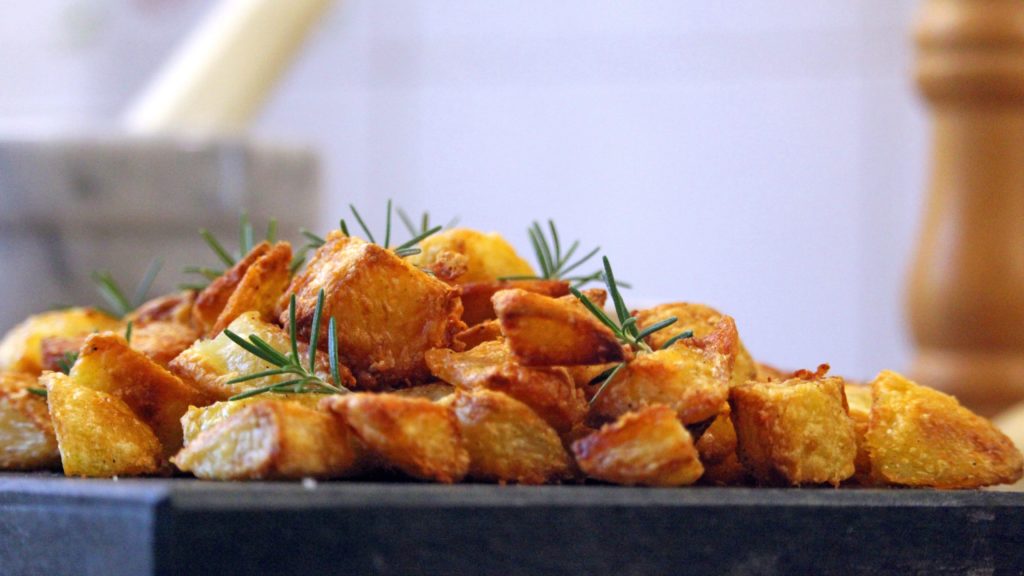 Baking soda is the secret ingredient to get very crispy roasted potatoes, so don't skip the boiling time in alkaline water. Baking soda raises the PH level of potato skin, breaks down the peptide bonds and starts quickly the brown process giving extra crispiness to your potatoes!
Remember to use a generous amount of extra virgin olive oil for seasoning your potatoes. The more you use it, the more delicious your potatoes will turn out and won't stick to your baking tray!
As you can see, I've used Pink Himalayan Salt, but feel free to use any kind of sea salt because every type of salt is the same when it dissolves during the baking time.
I don't add roasmery leaves when my potatoes are baking because they burn easily, so I use a pestle to release its essential oil. You can also add some oil in the pestle to make an aromatic oil for seasoning your potatoes.