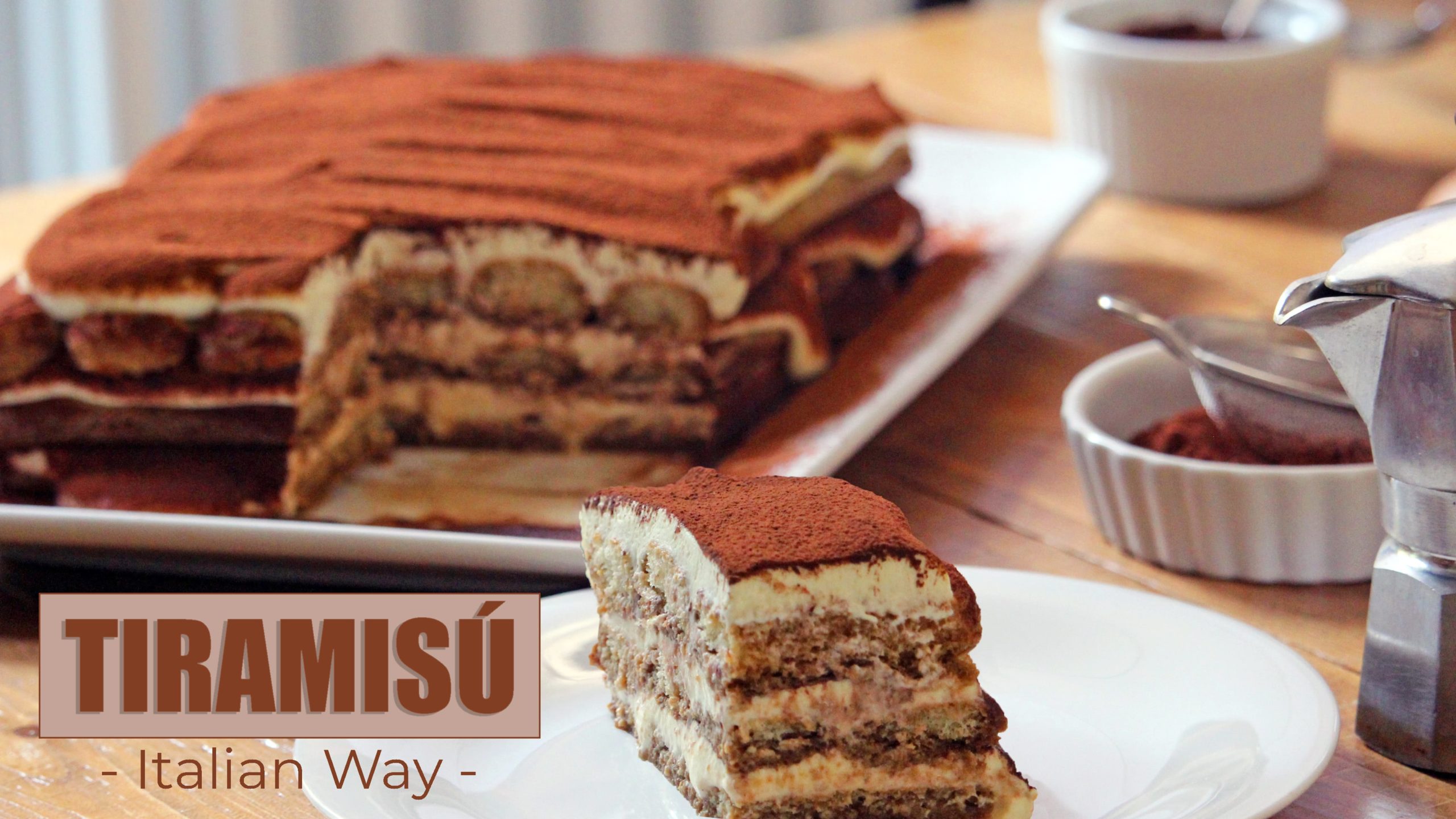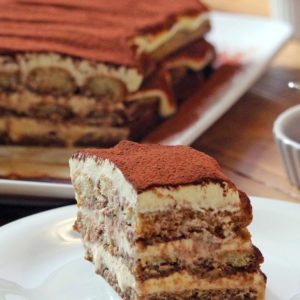 TIRAMISÙ - PROFESSIONAL ITALIAN RECIPE
In Italy we take Tiramisù seriously! With this recipe you'll get the Best Creamy Italian Tiramisù without using raw eggs and you'll learn all the Italian tips to get the best thick Mascarpone frosting!
Eggs, sugar, Mascarpone cheese, coffee, Savoiardi biscuits (aka Ladyfingers) and unsweetened cocoa are the main ingredients to make Tiramisù. In Italy we usually flavor the Mascarpone frosting with Marsala (an Italian fortified wine that doesn't taste like wine but more like a sweet liqueur), if you can't find it you can skip it: of course you can use your favourite liqueur, but unfortunately, nothing taste like Marsala!
Egg whites are optional: some people add whipped egg whites, but the most decadent and professional recipes, substitute the egg whites with whipping cream: believe me, the taste is sooo much better and rich!
In this recipe I'm making the professional recipe, so I show you how to easily pasteurize your egg yolks: you won't eat raw eggs and anybody can safely enjoy Tiramisù!
Ingredients
4

egg yolks

room temperature

150 g

(2/3 cup)

caster sugar

or granulated white sugar

50 ml

(4 tbsp)

water

500 g

(1 pound)

Mascarpone cheese

chilled or room temperature, I prefer it chilled

250 ml

(1 cup)

whipping cream

35% fat, chilled

2-3 tbs

Marsala Italian liqueur

300 g

(11 oz)

Savoiardi biscuits

aka Ladyfingers

500 ml

(2 cups)

Espresso coffee unsweetened

unsweetened cocoa powder

for dusting
Instructions
Make italian Espresso coffee with a moka pot. If you are not familiar with this kind of preparation, you can use another type of unsweetened espresso. Making coffee is the first step because we should cooling it down at room temperature. Meanwhile we prepare the Mascarpone cream.

Place the egg yolks in a large heatproof bowl and mix with a hand mixer at high speed for about 4 minutes, then let aside.

Place the sugar in a small saucepan and add the water: cook over medium heat and bring to a boil without mixing.

When sugar syrup starts simmering, let it boil for 6-7 minutes over medium-low heat, or until a thermometer reaches 121° C-250° F. The syrup should be pretty transparent, not amber or too yellow in color.

Start mixing the egg yolk mix with the hand mixer and add immediately, little by little, the hot and thick sugar syrup. If you have a stand mixer instead of a hand mixer, you can use it, it will be very helpful.

Mix the yollk mix at medium-high speed for at least 5-6 minutes, or until the eggs mix will be pale, thick and cooled down almost at room temperature.

Thanks to the hot sugar syrup temperature, the egg yolks will be pastourized (technically this process is called "pate a bombe").

Place Mascarpone cheese in a large bowl and soften it using a spatula.

Add gradually the cooled down yolks mix into the softened mascarpone and incorporate gently using a spatula. Don't use an electric mixer or you'll get a runny mascarpone mix.

In a big bowl, whip the whipping cream until medium-stiff peaks form.

Add gradually the mascarpone-egg mix into the whipping cream: let's start incorporating 2 tablespoons of mascarpone-egg mix and fold gently using a spatula.
Assemble Tiramisù
Dip the ladyfingers (Italian Savoiardi) into the unsweetened coffee (the biscuits should be very well soaked, until they keep their solidity) and lay out onto the serving plate in a single layer forming a large rectangle.

Add 1/3 of the mascarpone cream on top and dust unsweetened cocoa powder on top.

Lay another layer of soaked ladyfingers. I place the second biscuit layer with an alterante pattern to increase the Tiramisù steadiness.

Top with 1/3 of the mascarpone cream and dust on top with unsweetened cocoa powder.

Repeat and make the last layer of soaked biscuits, cream and cocoa powder.

Cover and refrigerate for at least 4 hours, better overnight, before serve it. Tiramisù taste better the day after.
Video
Notes
Store in refrigerator for about 4-5 days.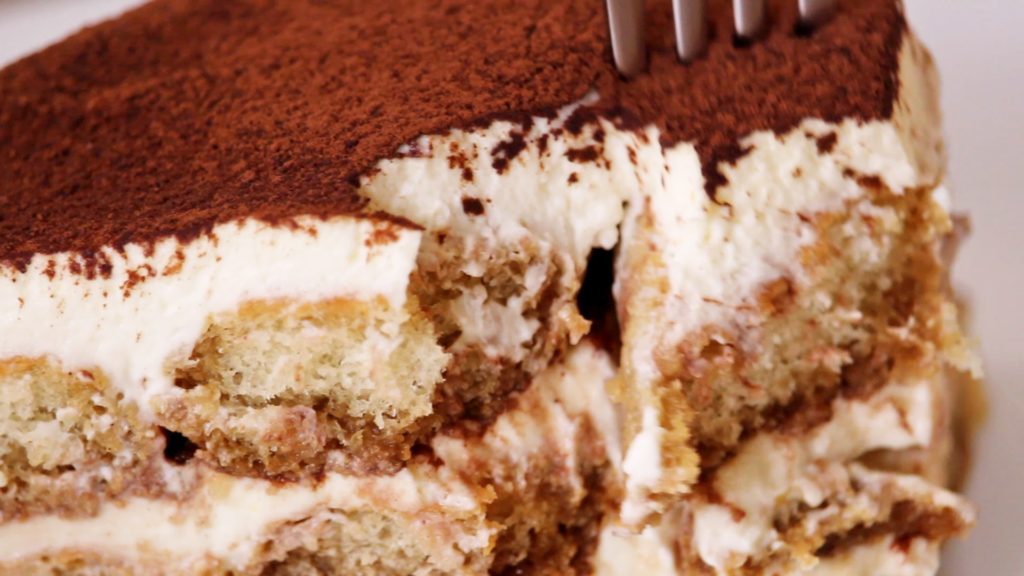 In Italy we use unsweetened coffee and unsweetened cocoa powder in Tiramisù because Savoiardi biscuits are very sweet and the Mascarpone frosting is pretty sweet too! So Coffee and cocoa balance the sweetness. If your Ladyfingers are low in sugar, consider to add a bit of sugar in your coffee.
We use Espresso coffee, not American coffee for dipping biscuits. Every coffee has a different taste, you can add some extra water if your coffee taste too bitter and thick.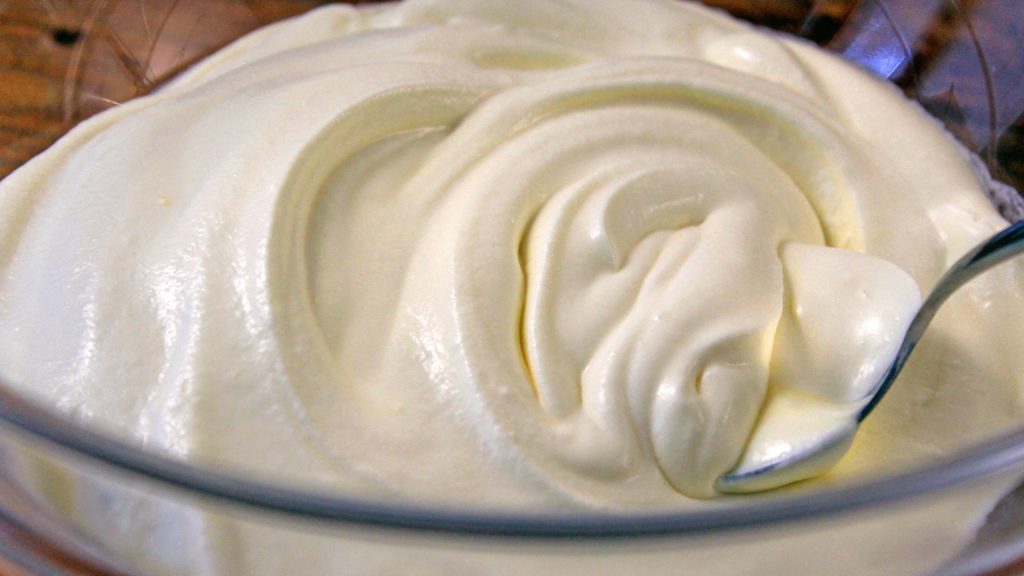 The steps for making Mascarpone frosting are very important if you want to get a thick frosting not too runny, so I suggest to follow exatcly the step written in the recipe above. 
Tiramisù taste better if you refrigerate it overnight before serve it, so I suggest to prepare it the day before: it worth it!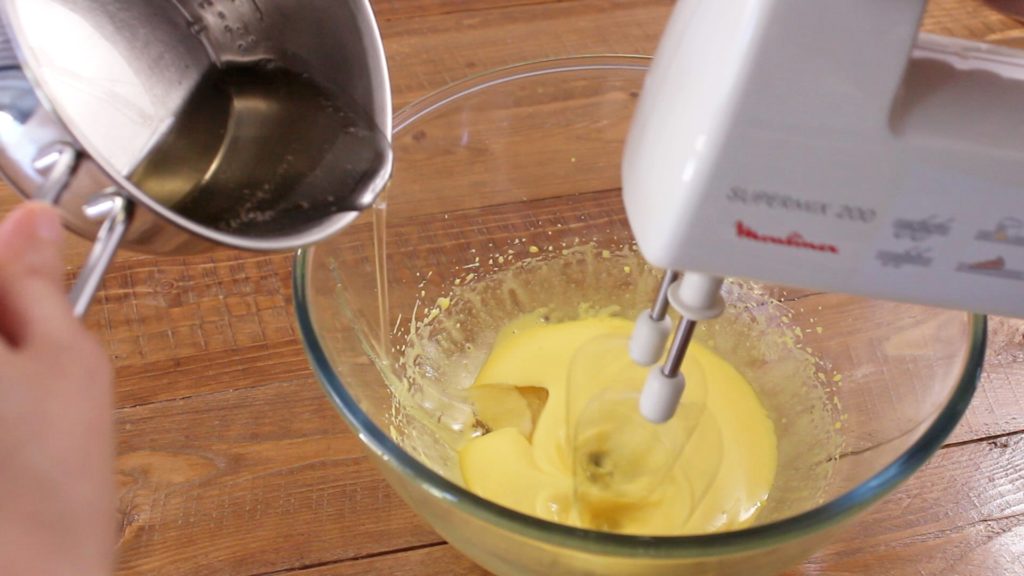 I know many people who don't like Tiramisù because it's made with raw eggs. I've made it with Pate a Bombe, the professional method to pasteurize the eggs, so anyone can safely have this delicious dessert! This method is used in Restaurants and Pastry Shops: try it out, you won't regret it!