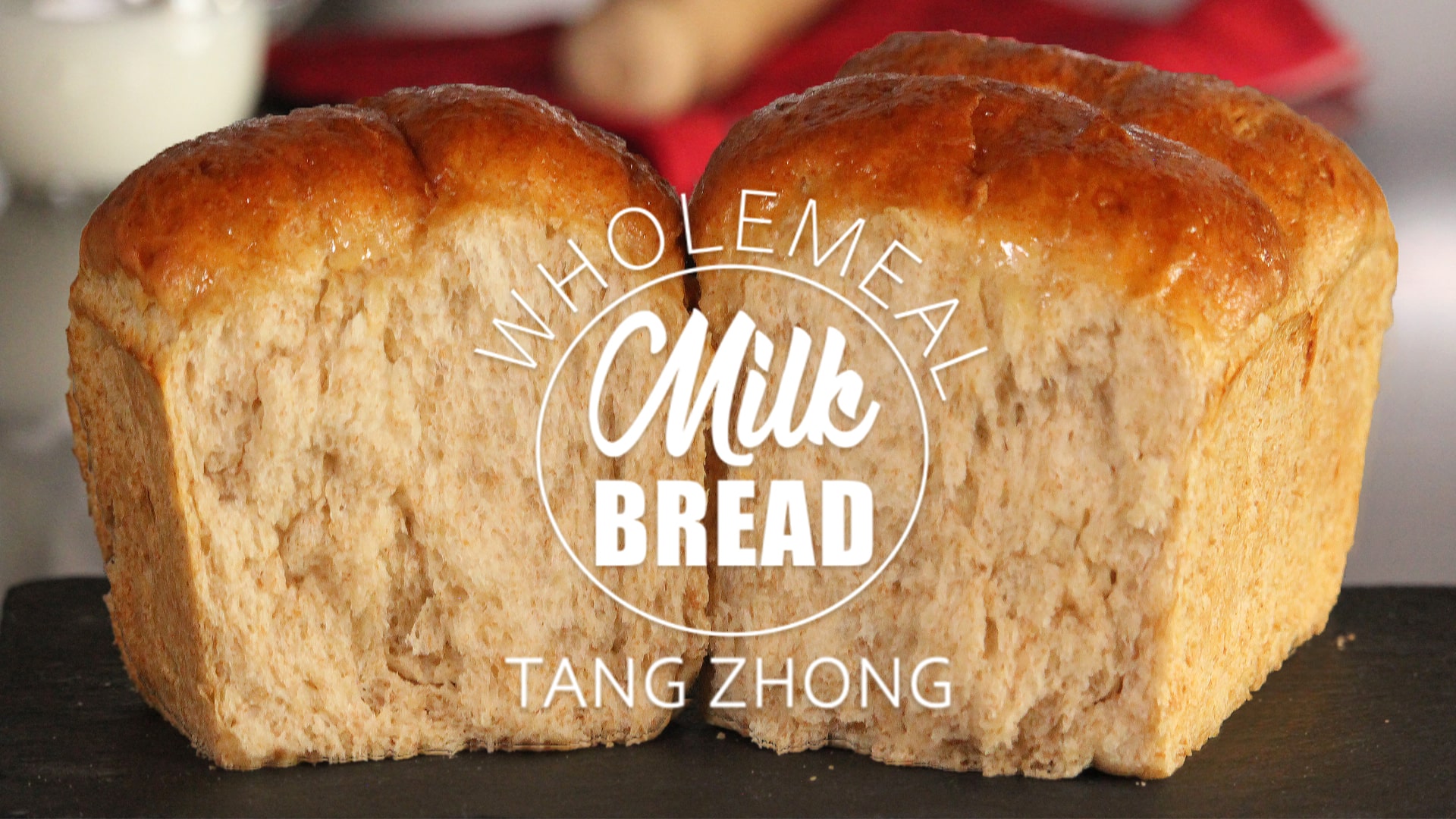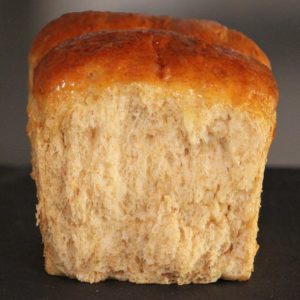 WHOLEMEAL HOKKAIDO MILK BREAD - TANGZHONG METHOD
How to make a super fluffy and soft like a pillow Wholemeal Hokkaido Milk Bread that stay soft for 1 week thanks to the Tangzhong method!
When you think to wholemeal (aka whole wheat) bread, you often think to a slightly dry and thick bread. But with this recipe, you can forget it!
Tangzhong gives extra moisture to this bread and it turns out tall and fluffy.
I also made it without using stand mixer or any machine, so you can see it's pretty easy to make a fluffy wholemeal bread like this bread only using your hands!
It's perfect served both with savoury than sweet stuffs. I use it for sandwiches, french toast and my breakfast too.
Ingredients
Tangzhong
35 g

(1/4 cup)

bread flour

175 g

(3/4 cup)

water
Wholemeal Hokkaido Milk Bread
160 g

(1+1/4 cup)

wholemeal flour

170 g

(1+1/3 cup)

bread flour

3 g

(1/2 tsp)

salt

30 g

(2 tbsp)

brown sugar

or white sugar

6 g

(1+3/4 tsp)

instant yeast

or active dry yeast: activate your yeast if required

40 g

less than 1 egg

beaten, room temperature. Keep aside the leftover egg for brushing the top of bread.

about 120 g

(1/2 cup)

milk

lukewarm

155 g

Tangzong

room temperature

40 g

(3 tbsp)

unsalted butter

room temperature
Instructions
Tangzhong
In a non-stick pan, combine flour and water.

Cook, stirring constantly, over medium heat until the mixture thickens into a pudding-like consistency, or reach 65°C-150°F.

Tranfer into a small bowl, cover with plastic wrap and cool down at room temperature.

You can use it when it cools down or, better, refrigerate it overnight: use it at room temperature.
Wholemeal Hokkaido Milk Bread
In a large bowl mix bread flour, wholemeal flour and salt.

Add sugar, dry yeast and combine.

Add the beaten egg, lukewarm milk and start to combine with a spatula.

Add the Tangzhong and combine with a spatula until reach a sticky dough.

Add the butter (room temperature) and spread it all over the dough trying to combine it the best you can.

Transfer onto a silicone mat or a floured work surface: start streatching the dough with your hands until the butter is completely incorportaed. If you have a stand mixer you can use it, since the dough is pretty sticky.

Alternte kneading and beating the dough onto the work surface: don't add too much extra flour: the dough has to remain very soft and slightly sticky.

Knead for about 15 minutes or until the dough will be smooth, almost not sticky at all, and elastic (windowpane test).

Form into a ball, place it in a greased bowl and cover with plastic wrap.

Let it rise in a warm place for about 60-90 minutes or until triple in size.

Transfer the dough over a silicon pastry mat or a floured surface and split it into 3 equal pieces (about 219 g each piece).

Roll each piece into a ball and cover every ball with plastic wrap to avoid drying out.

Roll one piece using your hands into a long oval shape.

Fold the oval in 3: one third of the oval over the middle, then fold the left third of the oval over the middle.

Turn the folded oval and roll it, pressing with your hands, into a rectangular shape.

Roll the rectangle from the bottom to get a fat roll.

Cover the roll with plastic wrap and repeat with the other 2 pieces of dough: you'll get 3 fat rolls.

Arrange the 3 rolls into a greased 11,5x22,5cm–4,5x9 inch greased loaf pan.

Cover with plastic wrap and let it rise in a warm place for about 30 minutes, or until the dough reaches at least the rim of the pan.

Brush the top with beaten egg+milk mix.

Bake in preheated oven (no fan, upper+lower heat) at 175°C-350°F for about 25 minutes.

Cool down for 15 minutes, then remove from the pan and cool down on a wire rack.
Video
Notes
You can store the bread wrapped in plastic wrap, place into a plasic bag then into a paper bag for about 1 week at room temperature.
You can slice and store in freezer for up to 2 months.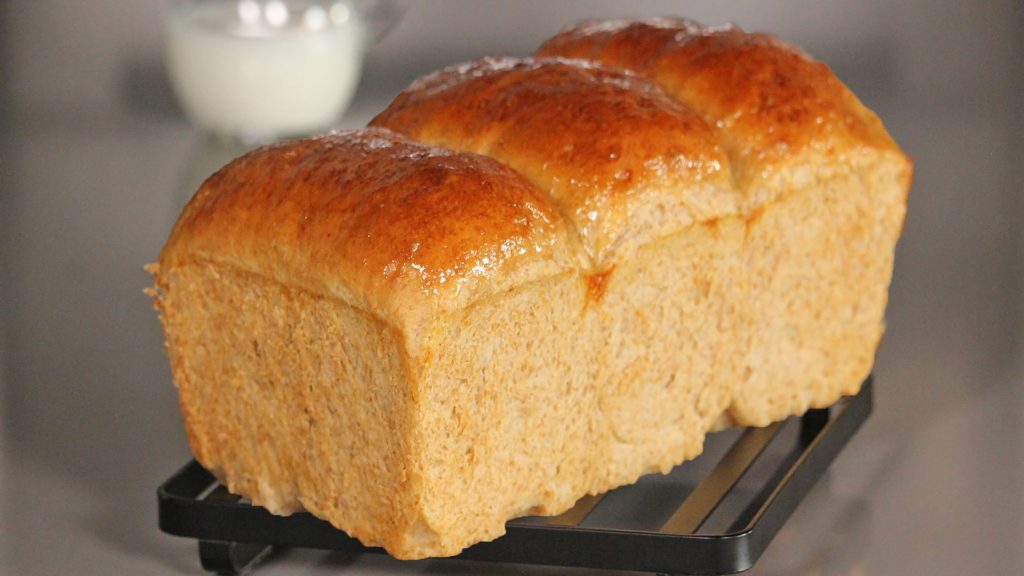 It's not easy to make a very soft and tall wholemeal bread, that's why I love to use the Tangzhong method that gives extra moisture and chewiness to this bread! You can't believe that it rests soft and fluffy for 1 week!
When you make Wholemeal bread I suggest to use not more than 40-50% of wholemeal flour and not the 100%, or your bread turns out flat, dry and it doesn't rise. So always remember to mix wholemeal flour with bread flour or all purpose flour.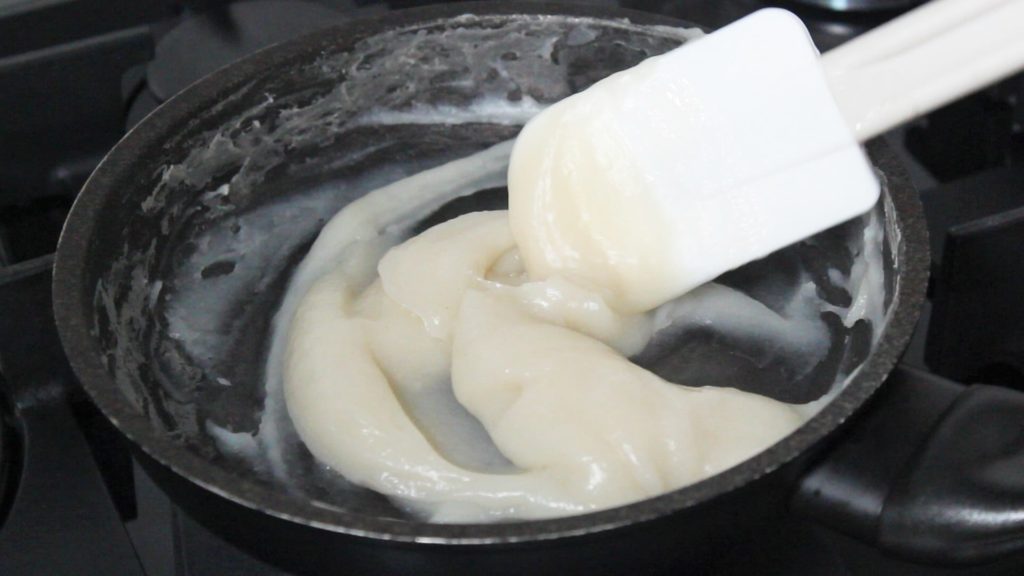 Tangzhong is a water roux made with flour and water cooked until becomes jelly and very thick. 
Thanks to Tangzhong, your bread will stay very soft and humid for days, it won't dry out and you'll keep for you bread fresh for 1 week!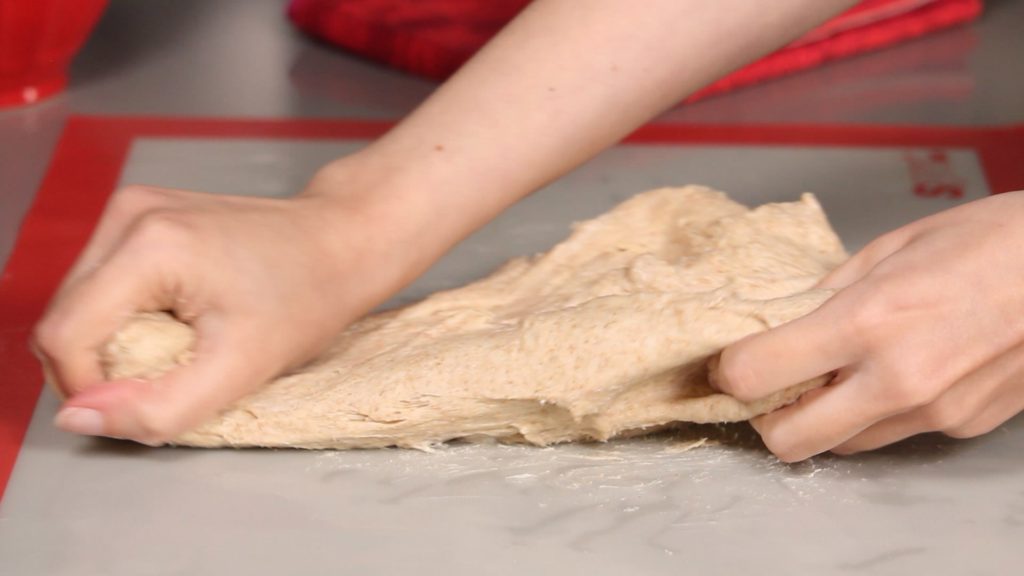 The secret to make a soft and fluffy bread like this one is to get a humid and pretty sticky dough, so don't add too much flour or your bread will turn out dry.
As you can see, I knead it by hands, without using a stand mixer, even if the dough is a bit sticky.
In the recipe video above I show you all the tips to knead a humid dough and, believe me, it's very funny!
If you have a stand mixer and you want to knead it faster, you can use it. It will be ready in about 15 minutes of kneading.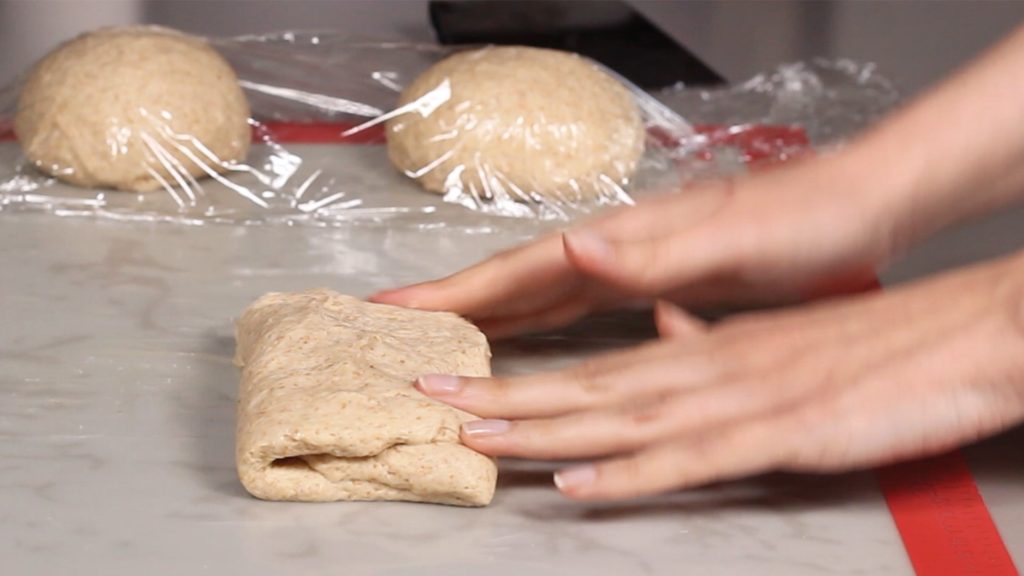 To form the bread loaf, I divided the dough into 3 balls and make some folds to any ball.
Folding the dough (aka lamination method) is very important to get a tall bread and make it rising a lot, so don't skip it and follow all the instructions in my recipe video!