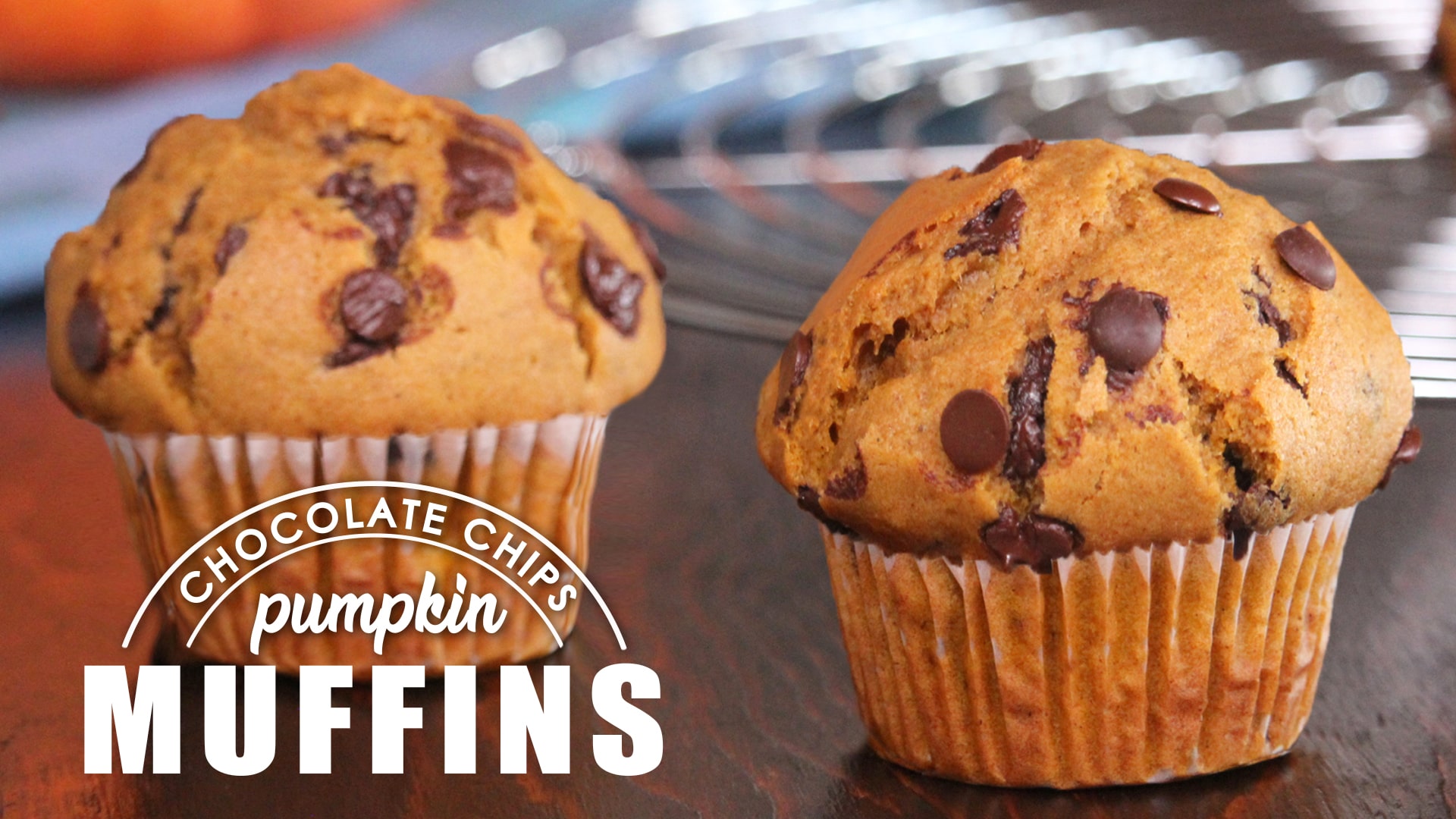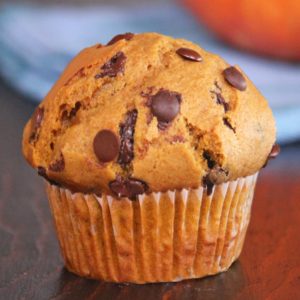 CHOCOLATE CHIP PUMPKIN MUFFINS - BAKERY STYLE
Incredibly moist and soft Pumpkin Muffins made with homemade pumpkin puree, scented with pumpkin spice and loaded with chocolate chips!
With this recipe you get Bakery-Style muffins with tall domed top: forget flat and small muffins! Follow all my steps and the tips to always get tall muffins with their beautiful mushroom shape!
Thanks to pumpkin puree and vegetable oil, this muffins stay moist and soft for many days.
The perfect Autumn treat that even people who don't like pumpkin, will fall in love with!
Ingredients
60 g

(1/4 cup)

milk

room temperature; you can use buttermilk instead and skip vinegar

1 tsp

vinegar

or lemon juice

360 g

(3 cups)

all purpose flour

1/2 tsp

baking soda

12 g

(2+1/2 tsp)

baking powder

pinch of salt

150 g

(3/4 cups)

brown sugar

2 tsp

cinnamon powder

1/4 tsp

ginger powder

1/4 tsp

cloves powder

1/8 tsp

nutmeg

120 g

(3/4 cup)

chocolate chips

bittersweet

240 g

(1 cup)

pumpkin puree

I used my homemade pumpkin puree: you can use the canned one but if too thick, add a bit of water in it. If it's too watery, cook over low heat until thickened.

2

eggs

room temperature

80 g

(1/3 cup)

vegeatble oil

40 g

(3 tbsp)

unsalted butter

melted

1+1/2 tsp

vanilla paste

or vanilla extract
Instructions
In a large pitcher mix milk+vinegar and let it rest for about 5 minutes. Skip vinegar and this step if you use buttermilk.

In a large bowl mix flour, baking powder, baking soda, brown sugar, salt, all the spices (cinnamon, ginger, cloves, nutmeg), chocolate chips and mix until well combined.

In the milk+vinegar (or buttermilk) pitcher, add pumpkin puree, eggs, vegetable oil, butter and mix until well combined.

Gradually pour the pumpkin puree mix into the flour mix: gently fold the mix with a spatula and incorporate vanilla extract too. Do NOT overmix, mix just until combined. You don't need to use a hand mixer for making muffins!

Equally divide the batter into 12 lined muffin molds: full fill the molds to get high top Bakery-Style muffins.

Place some extra chocolate chips on top.

Bake in preheated oven (no fan, upper+lower heat) at 210°C-410°F for 5 minutes, then low the heat at 185°C-365°F and bake for 12 minutes or until a toothpick comes out clean. This double temperature baking helps your muffins top to well rise and get high dome top like Bakery Style muffins.

Cool down completely in the pan to keep the moisture inside.
Video
Notes
Store at room temperature for about 3-4 days. Store in freezer for about 3 months.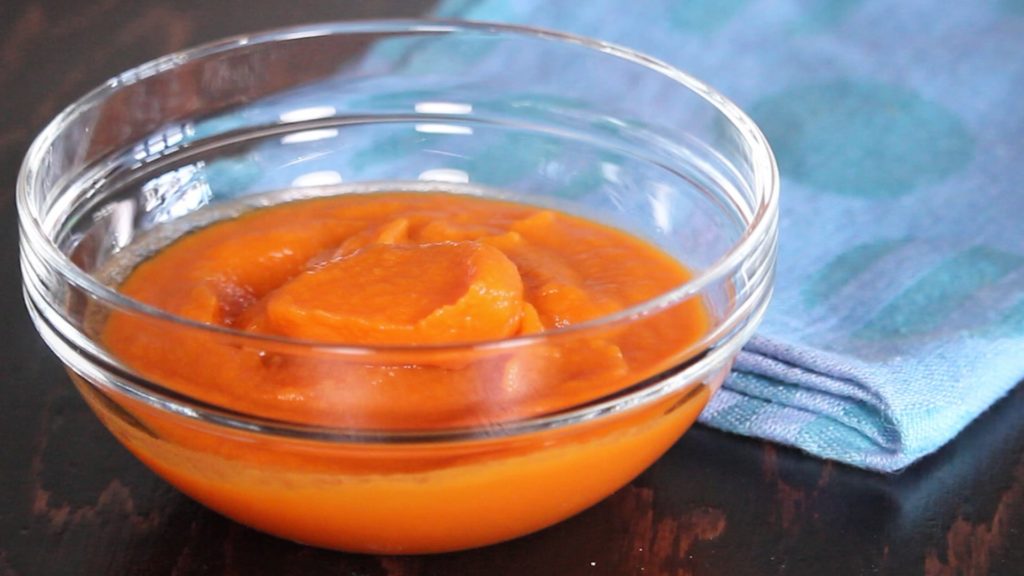 For my Pumpkin treats I always use my homemade Pumpkin Puree recipe: it's very easy, you can make it in few minutes and you don't need to turn the oven on!
In my recipe video you can see the consistency of my homemade pumpkin puree: it is usually more soft than the store-bought canned pumpkin puree. You can surely use the canned one for this recipe, but if the consistency is too thick I suggest to add a bit of water to get the consistency you can see in my video: so you'll get very moist muffins!
If your pumpkin puree has the wrong consistency, the muffins batter could turn out too dense: in this case, add a bit of extra milk/buttermilk into the batter.
If your pumpkin puree is too watery, I suggest to bring it to a boil and simmer it over low heat to thicken it until get the perfect consistency.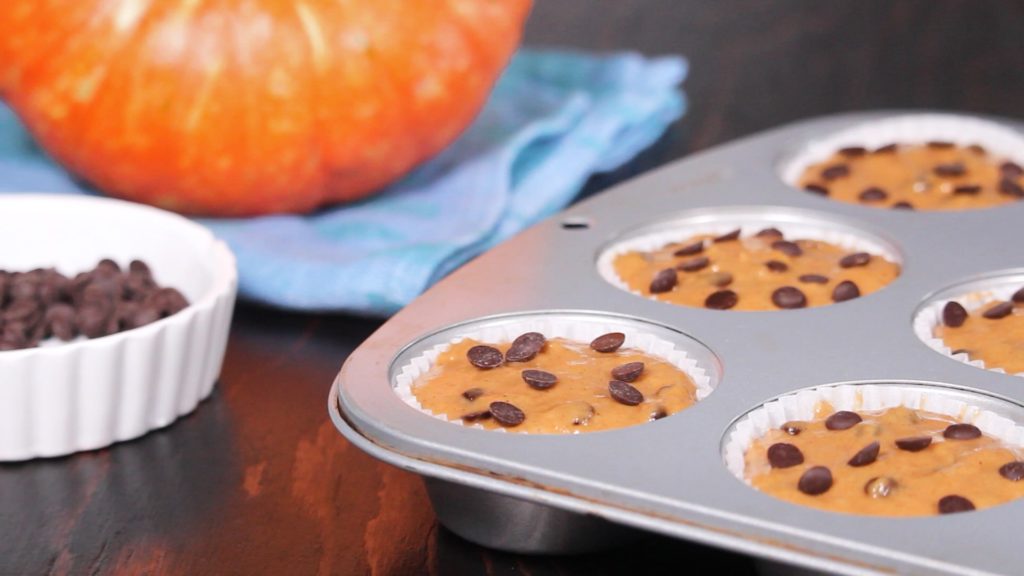 As you can see, I've got tall Bakery-Style muffins with domed top. Here my favourite tips to always get Bakery-Style muffins:
You have to full fill your muffin molds, not fill only to 3/4 or 2/3…you have to be generous! The more you fill it, the more your dome will be huge!
The recipe must feature a rising ingredient if you want to get the best result. I used baking powder and also the combo baking soda+acidic ingredient (vinegar or buttermilk in the batter).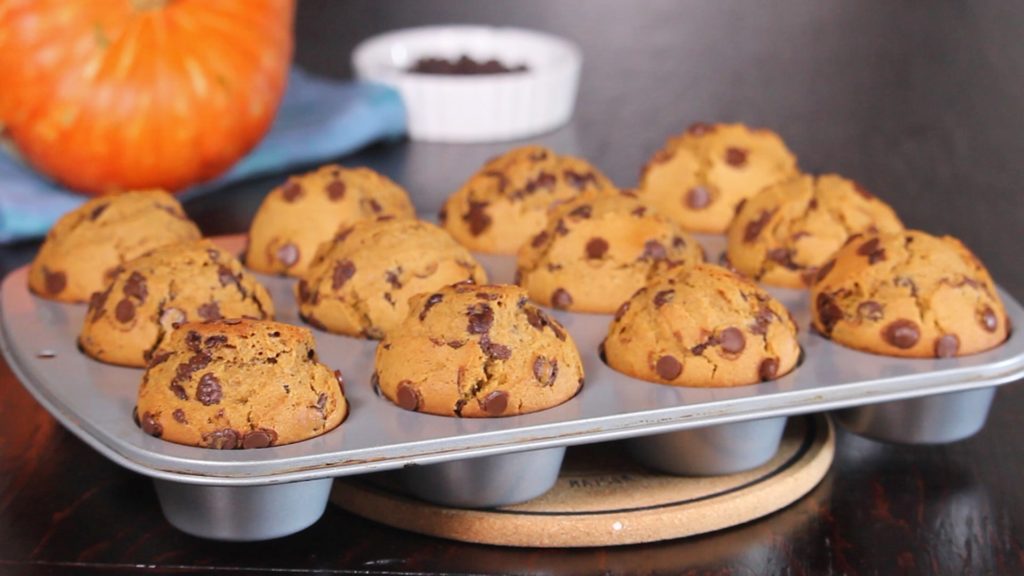 A crucial point is how you bake your muffins. I use my preheated electric oven, always upper and lower heat and never turn the grill on. If you have fan option you can use it, but I don't turn it on when I bake cakes and muffins since it dry a bit the crust.
The temperature is important too: you have to bake your muffins at higher heat for the first 5 minutes: the termic shock will help them to rise a lot! For this reason I bake them at 210°C-410°F for the first 5 minutes, then I decrease the heat at 185°C-365°F for about 12 minutes.
Remember that every oven is different, so it is possible that you should change a bit temperature or time. They are done when a tootchpick comes out clean. If they become too brown on top, you have to decrease the heat of your oven.