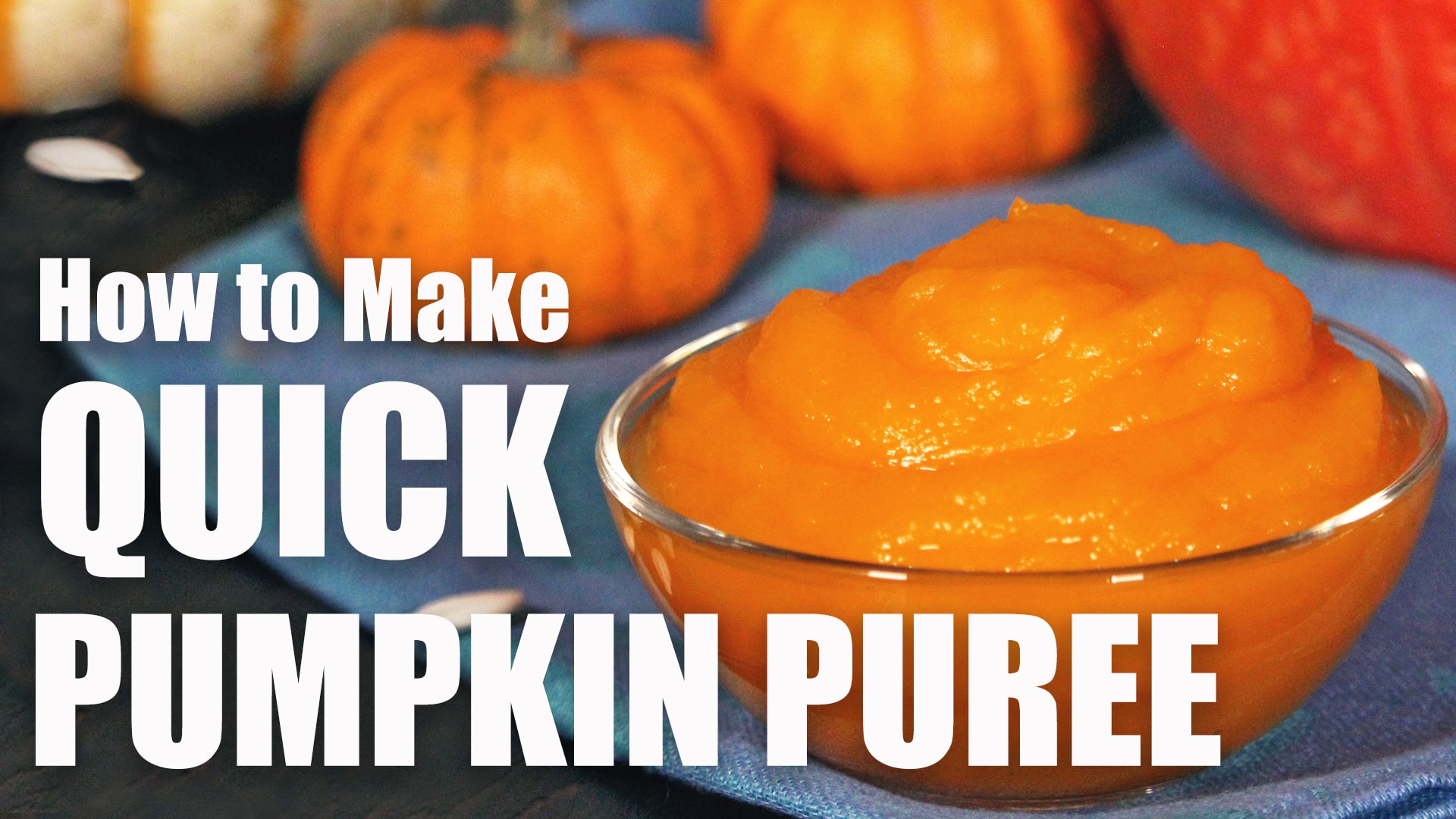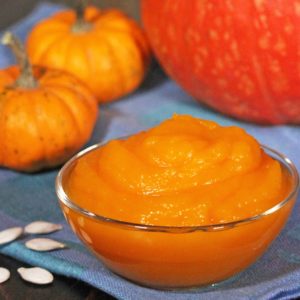 PUMPKIN PUREE - NO OVEN!
When you start using this recipe, you won't buy anymore canned pumpkin puree! Making pumpkin puree at home is incredibly quick, easy and you can store it in freezer for up to 3 months!
With my recipe you don't need a oven and it's ready in only 10 minutes. I always use a microwave steamer that is incredibly quick, but if you don't have it, you can use a classic steamer pot.
This pumpkin puree is healthy because made only with fresh pumpkin and you can use it for making all your favourite desserts like, pumpkin pies, cakes, cookies, breads or treat like Pumpkin Spice Latte.
If you add some stock and salt, it's delicious served hot like a soup that will warm you up during Autumn and Winter season.
I used this method to prepare my homemade pumpkin puree for making all the pumpkin recipes you can find here in my web-site or in my YouTube channel like my Pumpkin Spice Caramel Cake, Pumpkin shaped Buns, Pumpkin Spice Latte Cake, My Best Pumpkin Pie and much more!
Ingredients
350 g

(12 oz)

pumpkin

you'll get about 250 g (9 oz) pumpkin puree
Instructions
Wash and peel your pumpkin.

Cut pumpkin in medium size chunks.

Place some water into the bottom part of a Microwave steramer and place the pumpkin chunks into the top part. Microwave for about 10 minutes or until fork tender. If you don't have a microwave steamer, you can use a classic steamer pot: it will be ready in about 15-20 minutes. If you haven't a steamer pot, you can rost the pumpkin chunks in the oven at 180°C-350°F for about 40-45 minutes.

When still hot, process the pumpkin chunks with a hand blender until smooth puree.
Video
Notes
You can store it in freezer for up to 3-4 months and defrost it when you need it.
You can refrigerate it for up to 2 days.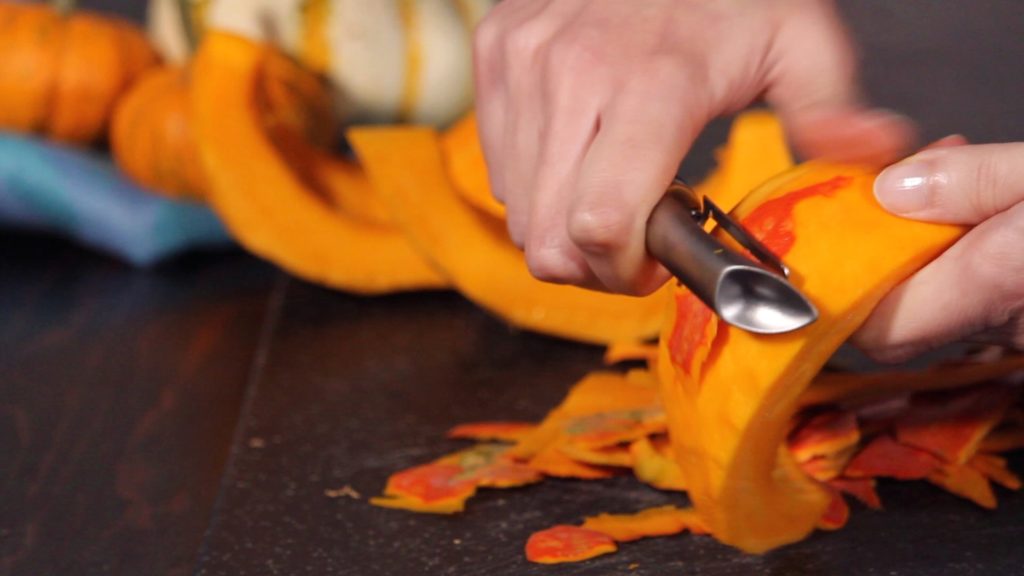 There are many type of delicious Pumpkins on the market, but this recipe works well for any type of Pumpkin!
Depends on the type, you should use a knife or a potato peeler to peel the skin of your Pumpkin.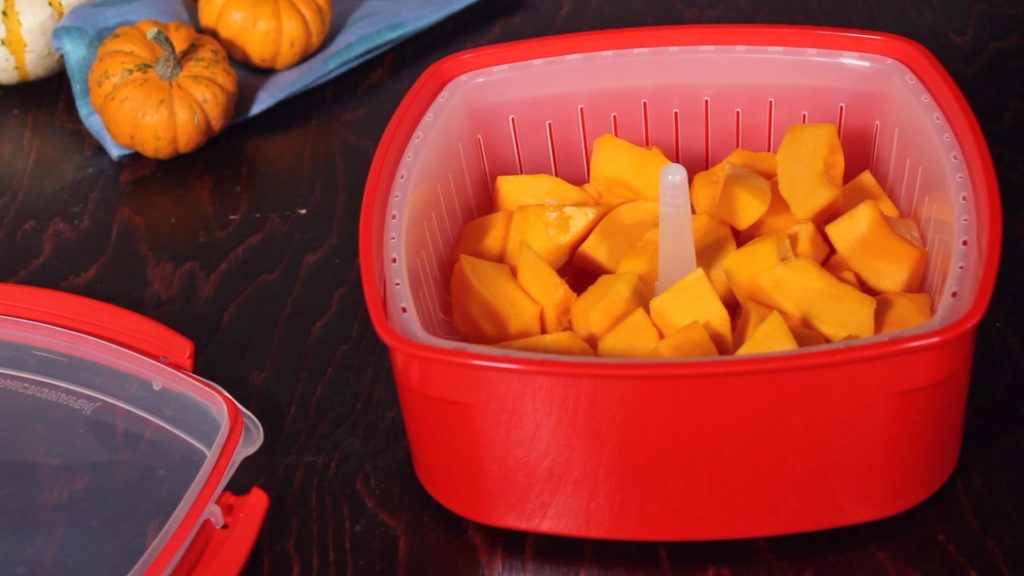 Microwave steamer is one of my favourite time-saver kitchen tools. I can cook food in a healthy way in very few minutes starting from raw vegetable, fruit, meat or fish! 
This is a large 1kg-2pounds microwave steamer, but you can easily find it in different size, even smaller.
Anyway, for this recipe you can use any kind of steamer you already have in your kitchen.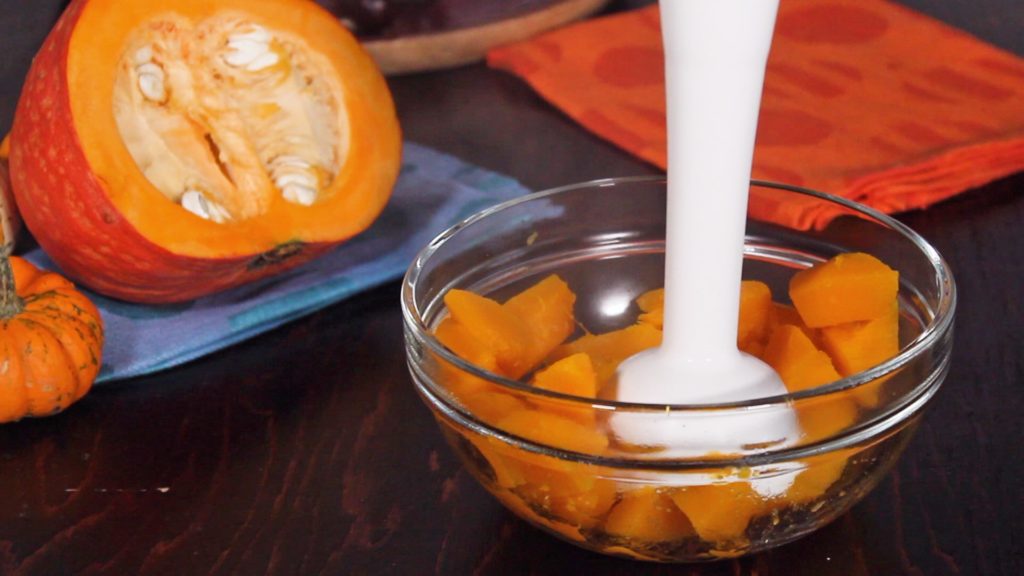 I suggest to puree your steamed pumpkin when still hot: in this way it will turn out very smooth!
I've used a hand blender, but you can also use a food processor. I only suggest to process it using the pulse method, in this way your blad will keep intact the pumpkin nutritive.