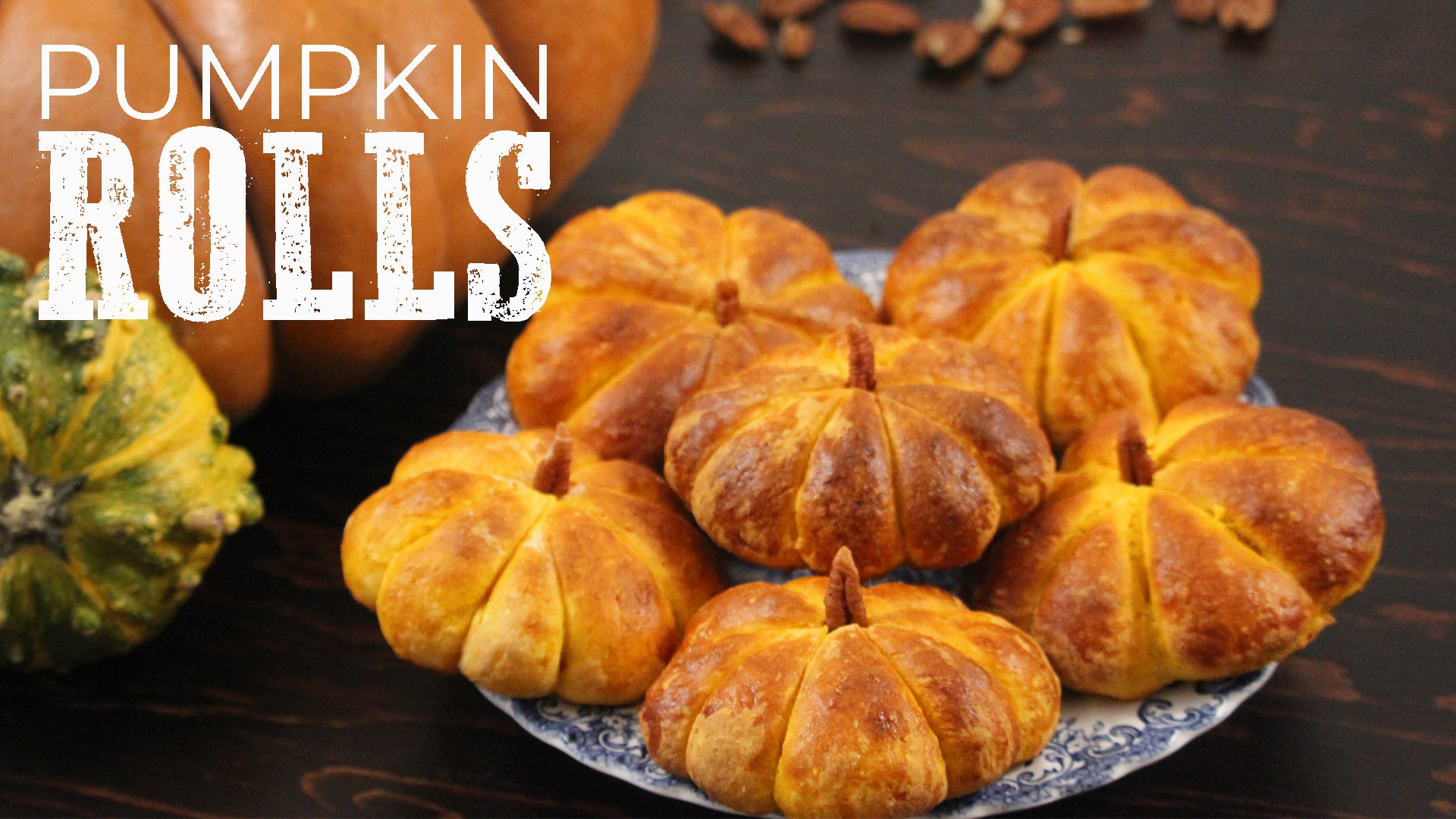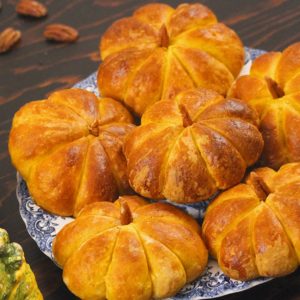 PUMPKIN BUNS
How to make easy soft Pumpkin buns without a stand mixer - or kneading! - from scratch!
Starting to prepare your homemade pumpkin puree (but you can also use canned pumpkin puree if you prefer), I'll show you how to shape these cute buns like pumpkin shaped rolls thanks to kitchen cooking twine.
The dough is incredibly quick and easy to make, it comes out in very few minutes using a spoon or a spatula. I've used an active dry yeast that doesn't need to be activated: feel free to activate your yeast if required.
Rememebr that if you want to get soft and fluffy bread, with a hint of chewyness, you shouldn't add too much flour but your dough should be very soft and a bit sticky.
Perfect as Halloween or Autumn treat, it matches perfectly both with sweet than savoury stuffs!
Equipment
6 pieces (20 inch-50 cm) kitchen cooking twines
Ingredients
400 g

(3+1/3 cup)

bread flour

about 8 g

(1 tsp)

salt

6 g

(2 tsp)

active dry yeast

or instant yeast

250 g

(9 oz)

pumpkin puree

homemade from 350 g of raw peeled pumpkin

about 80-90 ml

(1/3 cpu)

milk

3

pecans

for garnish
Instructions
In a big bowl place flour, salt and mix.

Add sugar, active dry yeast and mix. Activate your yeast if required: my yeast doesn't need to be activated.

Add pumpkin puree and mix using a spoon and gradually the milk to reach a soft, compact and slightly sticky dough.

Knead for few seconds into the bowl until the ingredients will be well combined (don't over-knead the dough or it will become too sticky).

Sprinkle some flour under and over the dough into the bowl.

Cover the bowl with plastic wrap and a tea towel and let it rise in a warm place for about 2 hours (or until double in size).

Place the dough on a well-floured surface, knead for few seconds and form a big ball; split it in 6 equal portions. Take every piece of dough and form into a smooth ball.

Grease the 6 pieces of kitchen cooking twines using some vegetable oil: for each dough ball, wrap the kitchen twine around the dough to form 8 segments (do not wrap too tight). Watch the recipe video below for the tutorial.

Place the wrapped ball on a backing tray lined with parchment paper; place them 2 inches apart to allow the buns to expand while rising.

Cover with tea towel and let it rise for about 30-40 minutes.

Brush the buns with egg yolk + milk mix.

Bake in preheated oven at 190°C-375°F for about 10 minutes.

Let them cool for about 40 minutes on a wire rack.

Remove the kitchen twine: using a little scissor cut the kitchen twine on the top and under the buns; lift the twine pieces and pull them out from the back of the buns.

Halve 3 pecans and insert them in the buns as pumpkin stalks.
Video
Notes
Store at room temperature wrapped in plastic wrap then placed into a paper bag for about 2-3 days.
Store in freezer for up to 3 months.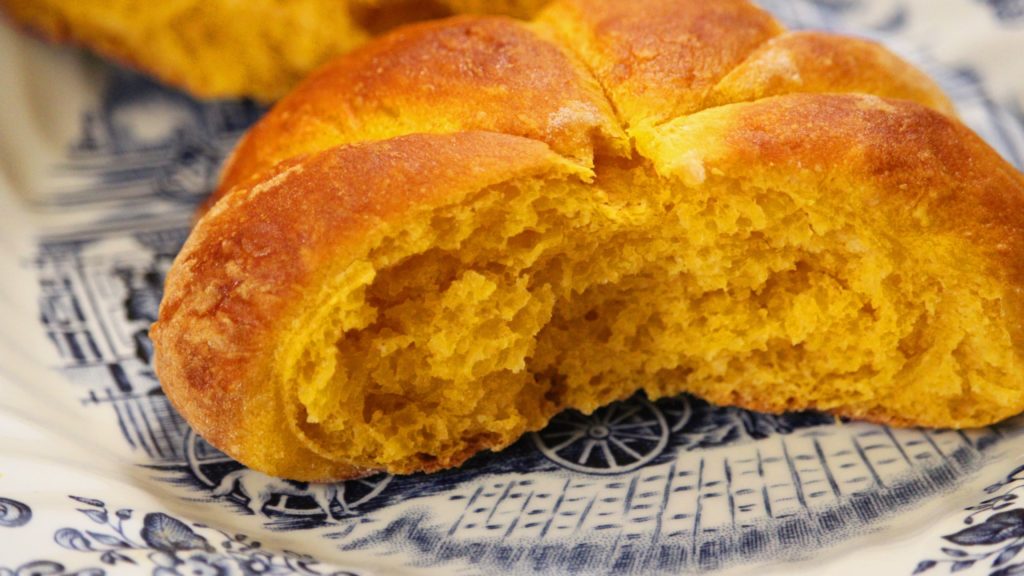 I made the dough using my homemade pumpkin puree: click here for the recipe, it's very quick and easy and you don't need the oven to get your smooth pumpkin puree!
As you can see this bread features soft and tender crumbs.  For this result, you don't need to knead it, but you should let the dough pretty sticky and do not add too much flour!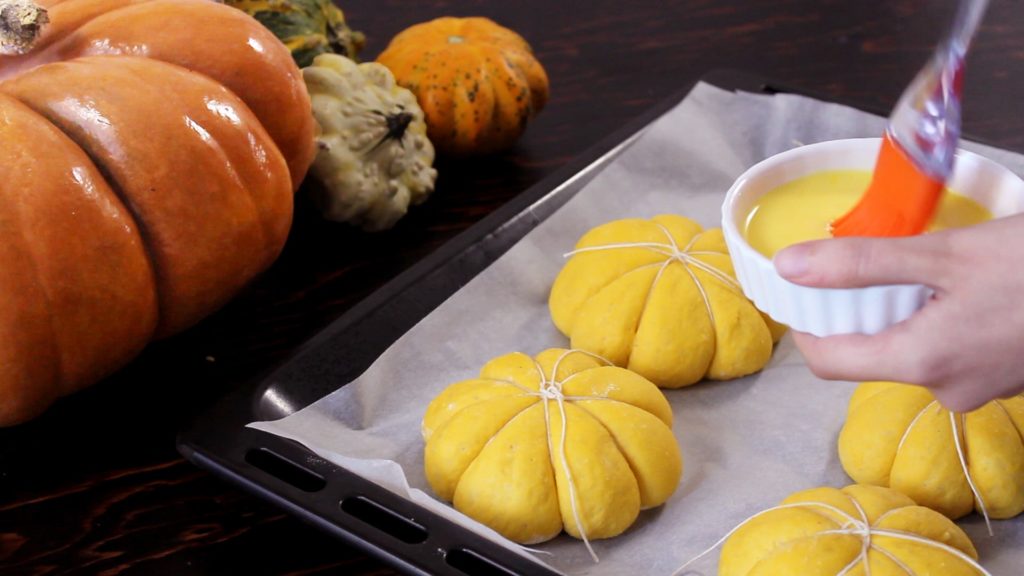 To get a shiny and browny crust, I brushed the raw buns with eggs+milk mix. Thanks to the egg wash, the rolls will turn out shiny with a tasty luscious look after baking!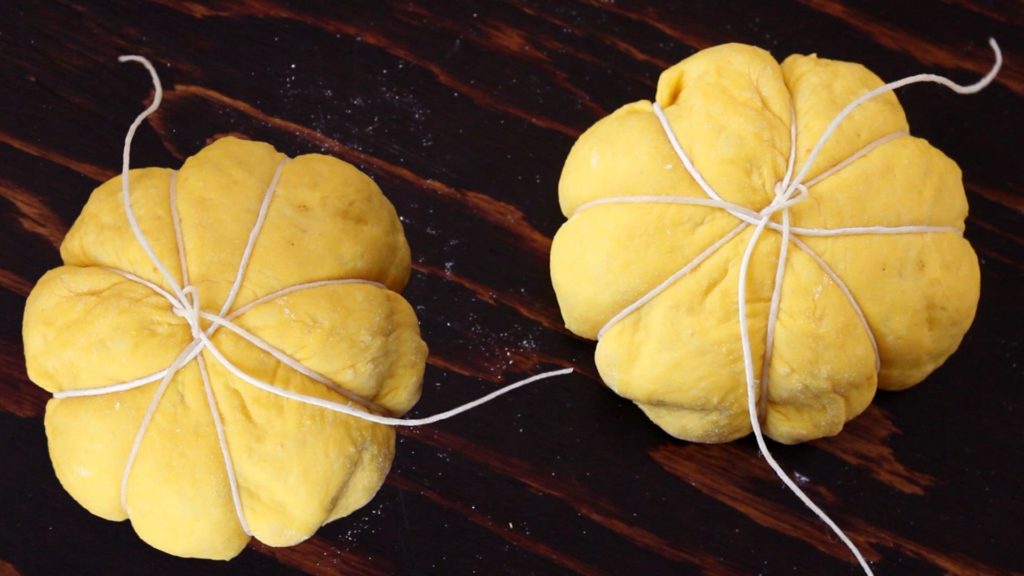 In my recipe video above, you can see how I wrapped my buns using cooking twine to get a cute pumpkin shape.
Remember to grease the twines with oil and to unwrap them when the rolls are almost cooled completely, so it will be very easy to remove the twines!
To form the bread loaf, I divided the dough into 3 balls and make some folds to any ball.
Folding the dough (aka lamination method) is very important to get a tall bread and make it rising a lot, so don't skip it and follow all the instructions in my recipe video!