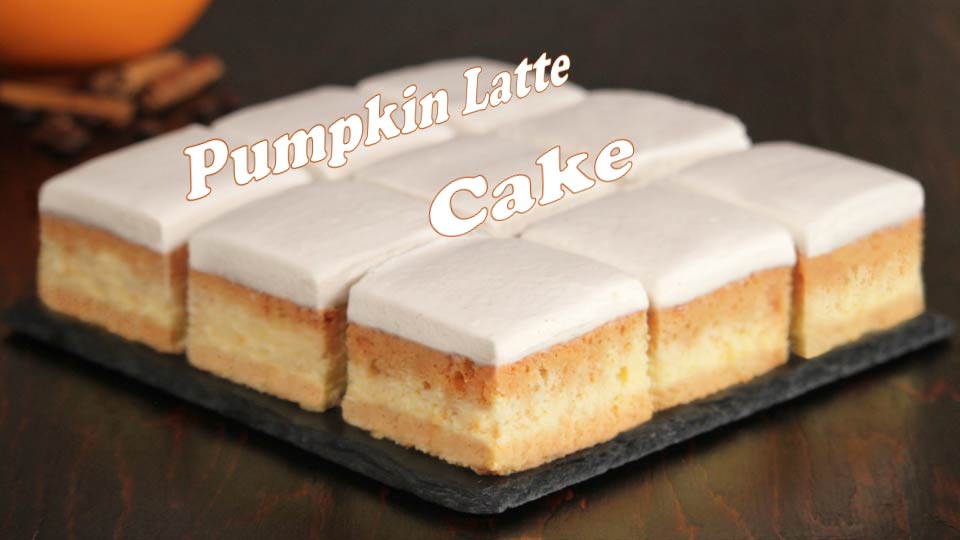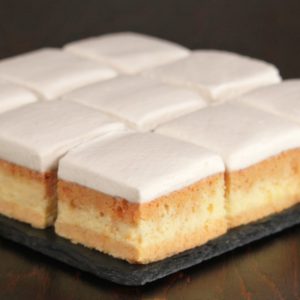 PUMPKIN SPICE LATTE CAKE
Pumpkin Spice Latte is one of the most beloved Pumpkin Autumn treat, so why don't turn it into a delicious cake?
This cake is made with a soft sponge cake soaked into Pumpkin Spice Latte made in a classic way (and so much better than the Starbucks one :D): homemade pumpkin puree, sugar, spices, milk and espresso coffee.
You know I'm Italian so I make my Espresso Coffee with a traditional Moka pot, but you can prepare your Espresso in your favourite way.
After you pour the Pumpkin Spice Latte bath on your cake, you have to wait at least 2 hours (better overnight) that your sponge cake absorbs all that delicious latte: please, do not skip this step! I usually wait overnight so the cake turns out incredibly moist, full of Pumpkin Spice Latte and so rich in flavor!
The topping is a simply whipped cream scented with cinnamon. I chose to not sweeten my whipping cream because I think the cake is enough sweet for me; feel free to add a bit of powdered sugar if you like.
Ingredients
Cake
3

egg whites

room temperature

1/2 tsp

cream of tartar

or few drops of lemon juice (optional)

40 g

(3 tbsp)

caster sugar

3

egg yolks

room temperature

40g

(3 tbsp)

caster sugar

1 tsp

vanilla paste

or vanilla exctract

50 g

(1/4 cup)

milk

100 g

(3/4 cup)

all purpose flour

3/4 tsp

baking powder
Pumpkin Spice Latte Bath
80 g

(1/3 cup)

pumpkin puree

75 g

(1/3 cup)

caster sugar

1/2 tsp

cinnamon powder

1/8 tsp

cloves powder

pinch of

nutmeg

pinch of

ginger powder

240 g

(1 cup)

milk

50 g

(3+1/2 tbsp)

espresso coffee

1/2 tsp

vanilla paste

or vanilla extract
Topping
200 ml

(1/2+1/3 cup)

whipping cream

chilled

1/4 tsp

cinnamon powder
Instructions
Cake
In a large bowl, place egg whites, cream of tartar and mix with a hand mixer.

Incorporate gradually 40 g of sugar starting when white foaming forms; mix until firm and stiff peaks. Set aside.

In a medium size bowl, mix egg yolks, 40 g sugar, vanilla, until pale and thick.

Incorporate milk quickly and don't overmix.

Mix together flour, baking powder and sift into yolk mix: mix just until combined and don't overmix!

Gently fold about 1/4 of egg white mix into the yolk mix.

Pour the yolk mix into the egg white mix and gently fold until combined: do not deflat the batter.

Place the batter into a lined and greased 20x20cm-8x8inch cake pan and spread evenly.

Bake in preheated oven (no fan, upper+lower heat) at 160°C-320°F for 20 minutes or until a toothpick comes out clean.

Cool down slightly then unmold the cake and cool down completely.
Pumpkin Spice Latte Bath
Make the espresso coffee: I'm using a Moka Pot, you can use your coffee machine. Set aside.

In a small saucepan, place pumpkin puree, sugar, spices and bring to a simmer over low heat stirring often.

Incorporate milk, espresso coffee, mix and remove from heat.

Sift to remove the excess of pumpkin pulp: you'll get about 300 ml od Pumpkin Spice Latte Bath.

Place the cooled cake into its pan lined with parchment paper and make holes with a fork throught the cake.

Gradually pour all the sifted Pumpkin Spice Latte Bath over the cake.

Cover with plastic wrap and place in refrigerator for at least 2 hours better overnight.
Topping
Whip the whipping cream and add cinnamon when almost medium peaks form.

Spread evenly the whipped cream on top of the chilled cake.

Trim the edges and cut the cake into 9 squares. Serve.
Video
Notes
Store in refrigerator for about 2-3 days.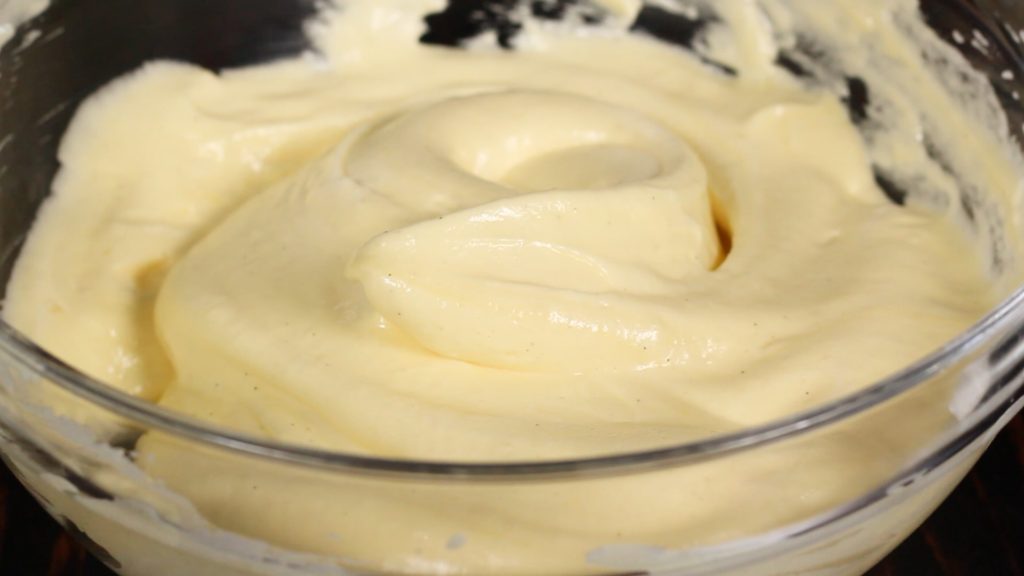 Sponge cake is very easy to make but if you want to get a fluffy perfect sponge cake, you should follow some easy tips:
use eggs at room temperature;
use a hand or stand mixer to whip the whites and yolks, so you can incorporate a lot of air in the batter that is very important in this cake;
be careful when you incorporate the yolks mix into the white mix to fold gently the batter: you don't have to deflate the batter.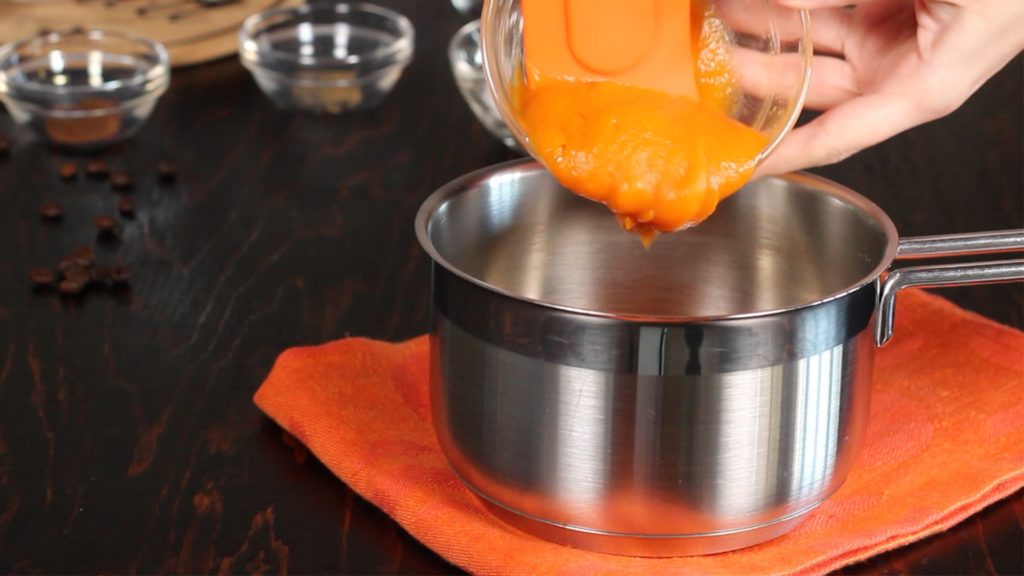 I always make my homemade pumpkin puree without oven: it's quick, easy and taste delicious!
Just steam your peeled pumpkin (I use a microwave steamer that works in few minutes) and puree it when still hot using a hand blender. That's it!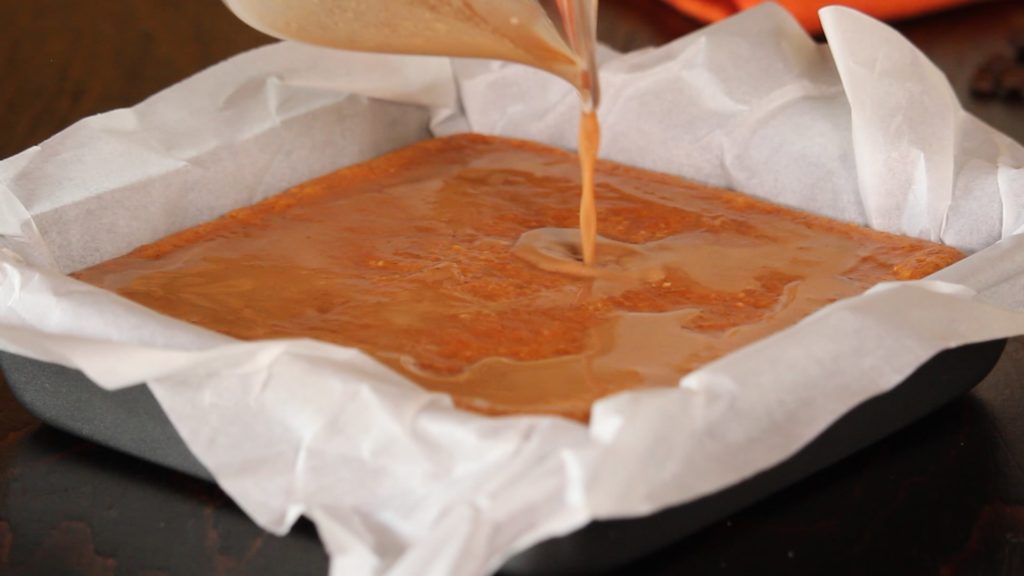 Even if you think the Pumpkin Spice Latte bath could be too much for your cake, please pour it ALL over your cake: the sponge cake will absorbe it at all during the chilling time.
For this reason the chilling time is very important to well soak the cake with the Pumpkin Spice Latte: I suggest to leave your soaked cake in refrigerator 8 hours, but if you're in a hurry, you can soak it for 2 hours. But please, do not skip the chilling time.