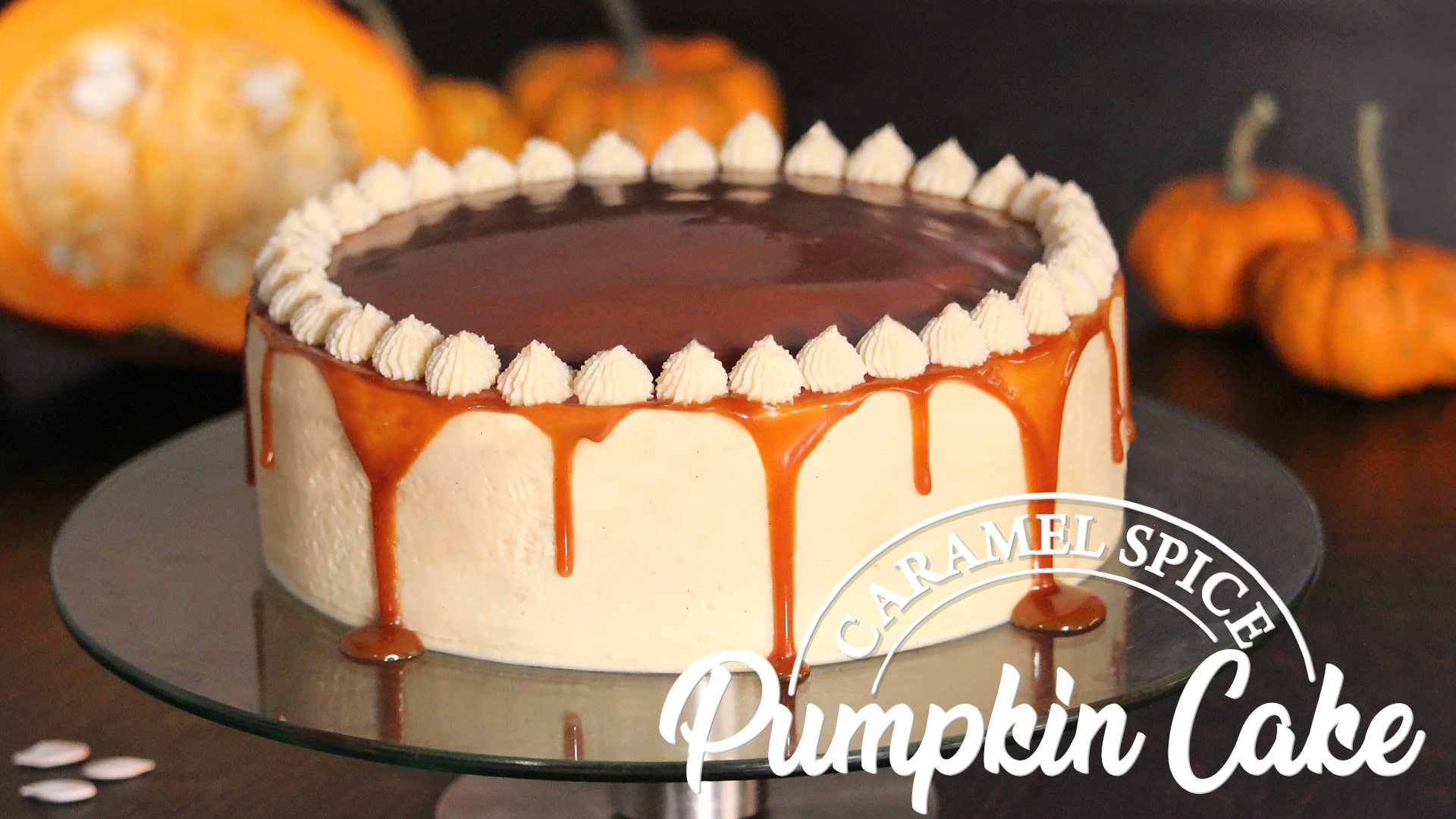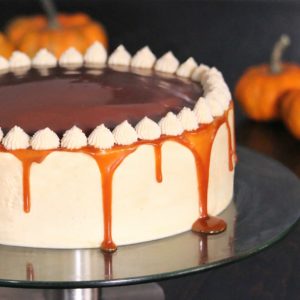 PUMPKIN SPICE CARAMEL CAKE
Very moist Pumpkin Spice Caramel Cake made with homemade fresh Pumpkin Puree, filled with caramel Cream Cheese Frosting and coated with luscious and shiny homemade Caramel.
You have to try this cake even if you usually don't like pumpkin because it's not too sweet and the spices mix in the cake batter is the perfect match with caramel and cream cheese!
This is the perfect Halloween and Thanksgiving cake!
Ingredients
Pumpkin Spice Cake
270 g

(1 + 3/4 cups)

all purpose flour

1 tsp

baking powder

1/2 tsp

baking soda

1 tsp

cinnamon powder

1/2 tsp

ginger powder

1/8 tsp

nutmeg powder

1/8 tsp

cloves powder

from 4 cloves

110 g

(1/2 cup)

unsalted butter

room temperature

150 g

(3/4 cup)

light brown sugar

3

eggs

room temperature

40 g

(3 tbsp)

vegetable oil

(sunflower oil or flavorless oil)

300 g

(1 + 1/2 cup - 10,5 oz)

fresh pumpkin puree

1 tsp

vanilla paste
Caramel
220 g

(1 cup + 1 tbsp)

caster sugar

58 g

(4 tbsp)

water

125 g

(1/2 cup)

whipping cream

room temperature

20 g

(1 + 1/2 tbsp)

unsalted butter

1/2 tsp

sea salt

1 tsp

vanilla paste
Cream Cheese Frosting
500 g

(1 pound)

cream cheese (Philadelphia)

chilled

200 g

(1 cup)

unsalted butter

room temperature

80 g

(1/4 cup)

caramel

150 g

(1 cup + 3 tbsp)

powdered sugar

1 tsp

vanilla paste
Instructions
Pumpkin Spice Cake
In a medium size bowl sift together the dry ingrerdients (flour, baking powder, baking soda, spices).

In a large bowl mix for about 40 seconds the soft butter with sugar and vegetable oil until creamy: don't overmix or the cake will crack.

Incorporate the eggs one at a time and vanilla: mix just until combined and don't overmix.

Incorporate pumpkin puree.

Gently incorporate in two times the dry ingrerdients with a spatula just until combined; if there are lumps use a mixer for few seconds. Don't overmix the flour if you want a soft cake.

Using a kitchen scale, equally divide the cake batter in two greased and lined with parchment papers 20 cm-8 inch cake pans.

Bake in preheated oven at 180°C-350°F for about 18-20 minutes or until a toothpick comes out clean.

Cool down completely on a wire rack.
Caramel
In a medium size saucepan place sugar and water. Cover with a lid and bring to a boil over low heat. Don't stir!

Keep on cooking without stirring until the caramel will be dark amber color: it will take about 10 minutes to get this color (it depends to your heat), so be patient and pay attention to avoid burning it!

Remove from heat and incorporate in 3-4 times whipping cream (be careful: it will bubble a lot!).

Return to low heat for about 2-3 minutes or until thicken a bit.

Remove from heat and transfer to a heatproof bowl.

Cool down completely and add vanilla paste.
Cream Cheese Frosting
In a small bowl mix butter until light and creamy. Set aside.

In a large size bowl mix cream cheese with vanilla paste until creamy.

Incorporate the creamy butter and the caramel into cream cheese mix.

Sift powdered sugar in two times and mix until fluffy.
Assemble the Cake
Place one cake layer onto your serving plate and evenly spread on top about 1/3 of frosting.

Add the second layer of cake and evenly spread on top a bit less than 1/3 of frosting. Cover approximately the sides of the cake. Refrigerate for about 30 minutes.

Make a second frosting coat on the sides until smooth (optional). You'll be left about 4 tbsp of frosting for rosettes.

Heat for just few seconds the caramel in the microwave until get a pouring consistency (not too runny) and makes some drips on the sides.

Top the cake with the remaining caramel (maybe you could have about 4 tbsp of caramel leftovers) and gently spread evenly. Refrigerate for few minutes, mostly if you live in a hot climate.

Pipe on top some rosettes with the remaining cream cheese frosting and serve it.
Video
Notes
You can refrigerate the leftover for about 1 week.
Serve at room temperature.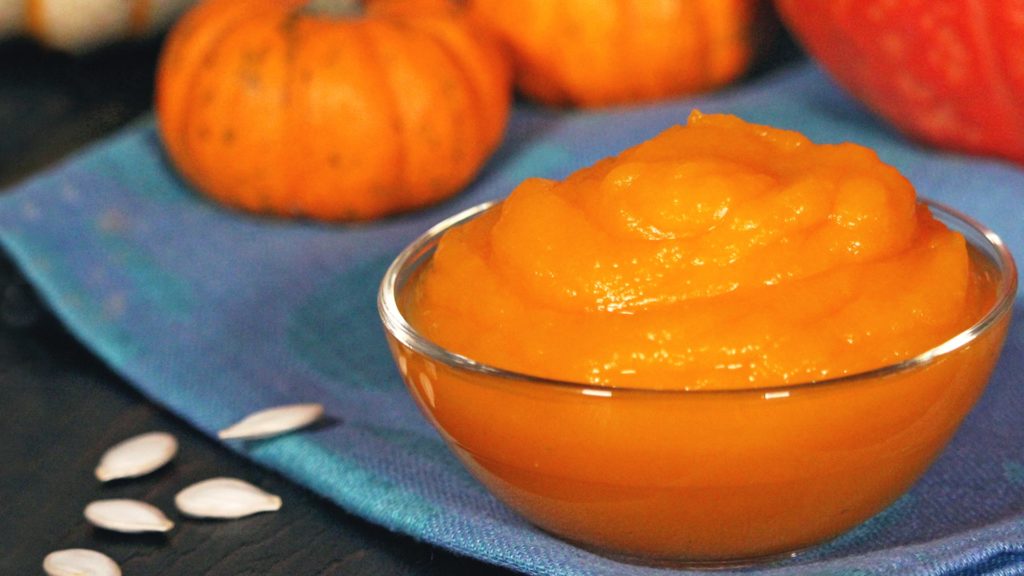 You can buy a canned pumpkin puree, or you can easily make it at home as I always do: better flavor, more moist and healthier than the store bought!
I easily prepare my pumpkin puree without oven in few simple steps:
remove the skin and seeds from your fresh pumpkin.
cut it in chunks.
steam them until fork tender. I use my microwave steamer and my pumpkin is ready in less than 10 minutes!  
puree until still hot with a hand blender or a food processor. 
Et voilà! You can use this puree for all your favourite Fall recipes.
You can store it in refrigerator for 2 days or in freezer for up to 3 months.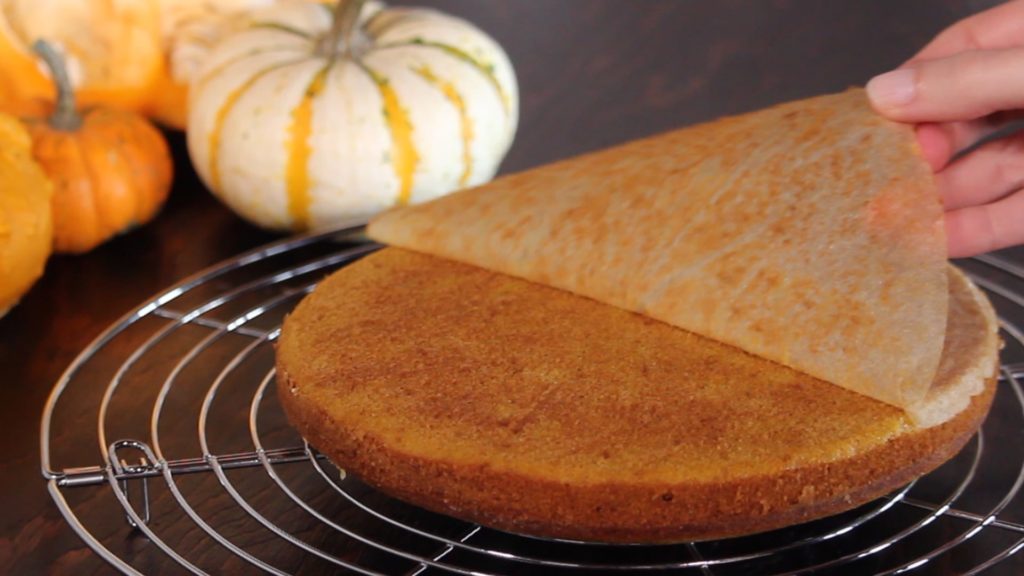 I always suggest to use a kitchen scale to equally divide your batter into two cake pans to get two identical cake layers.
You can also bake your cake in one cane pan. Then, after it cools down, you can cut it and divide it in two layers.
If you use only one cake pan, remember that your cake needs some minutes more to bake. Always use a toothpick to check: it's done when the toothpick comes out clean.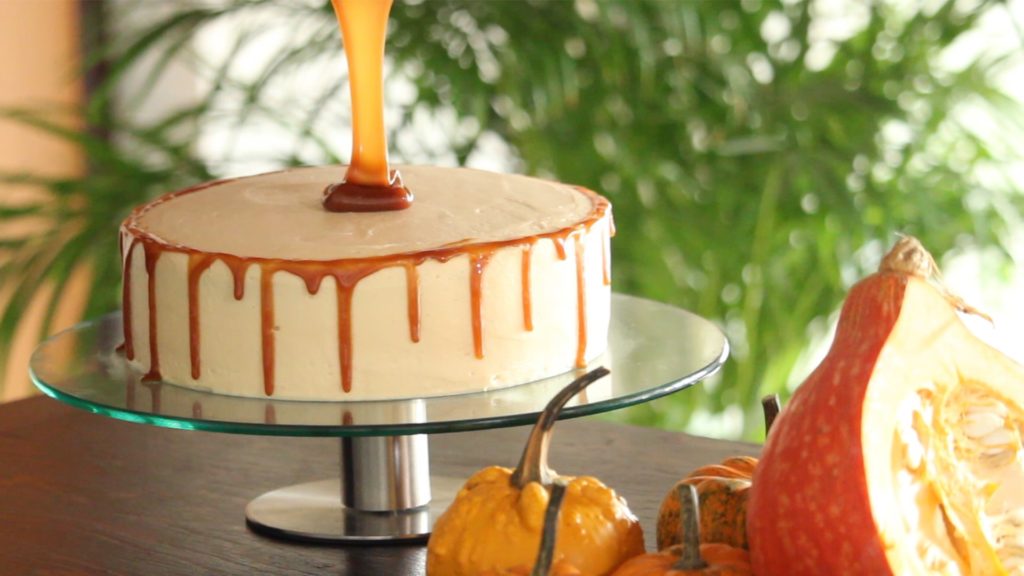 I think that homemade caramel is one of the most delicious thing on Earth, nothing to compare with a store bought one!
I put a lid over my saucepan when sugar and water are cooking, so I avoid the sugar crystalyzation on the sides of the pan thanks to the steam.
Always remind to pay attention when you pour room temperature cream into hot caramel since it will bubble a lot! For this reason, always use a high sides saucepan when you make caramel.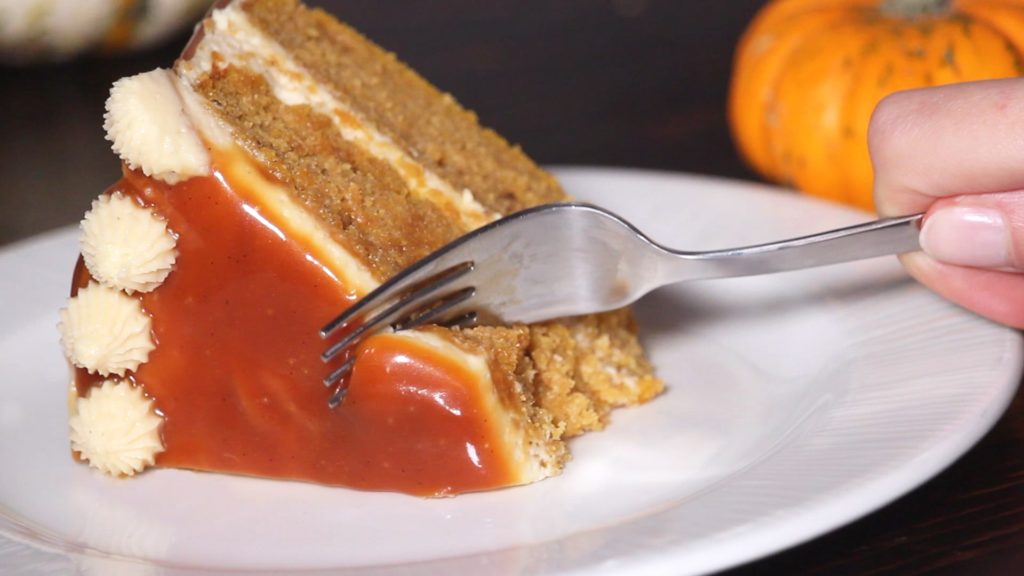 Just a hint when you pipe your rosettes on top of caramel: don't pipe very large rosettes just near the cake's side or they could slide off the cake! For this reason, I suggest to chill your cake before pipe the rosette on top, in this way your caramel will be firm enough to avoid slicing.