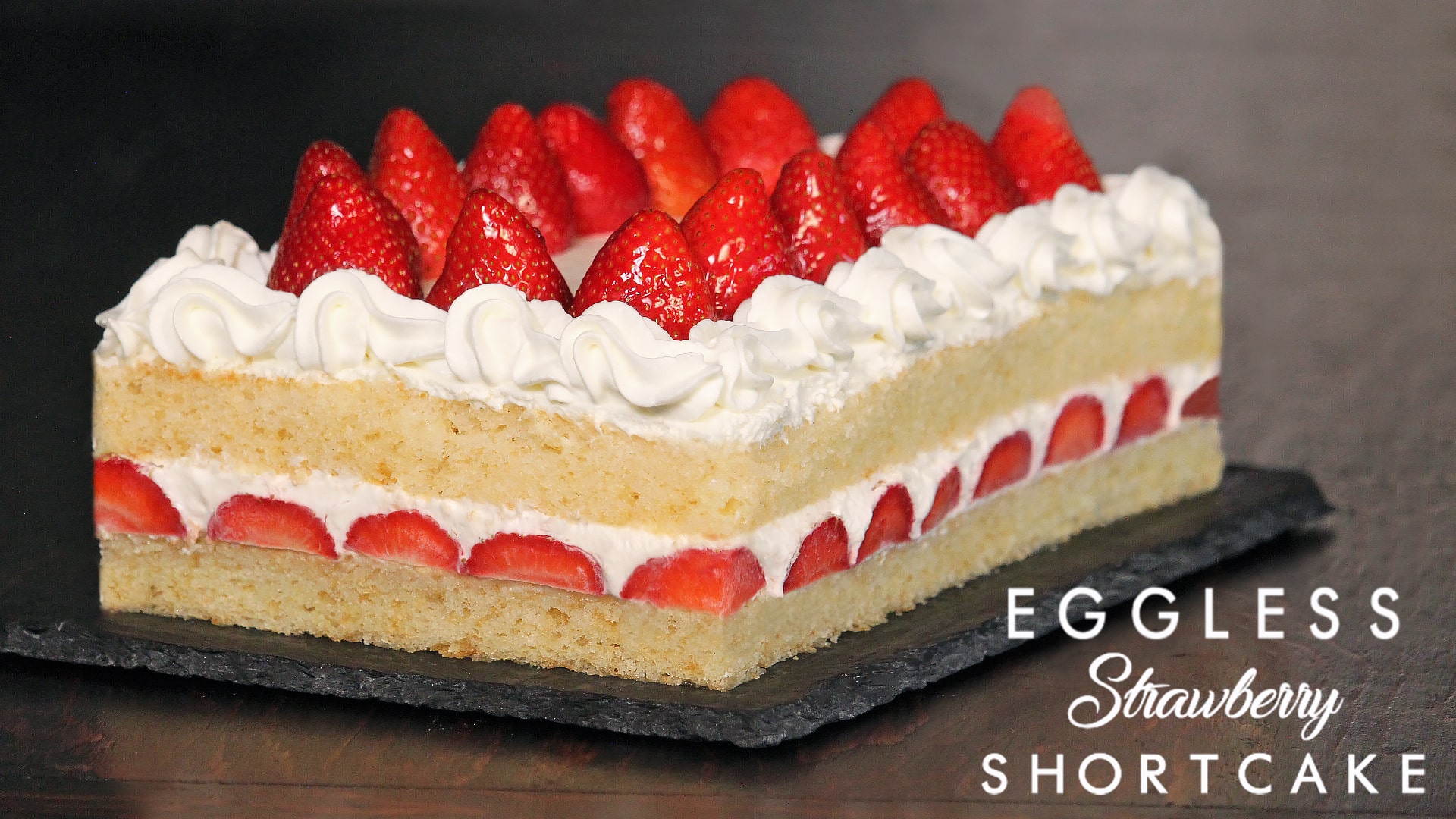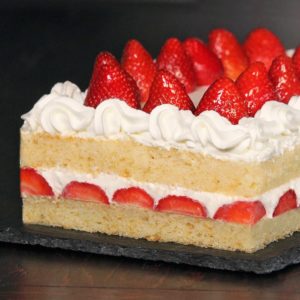 EGGLESS JAPANESE STRAWBERRY SHORTCAKE
Japanese Strawberry Shortcake is a simple cake very popular in Japan made with vanilla sponge cake, whipped cream and strawberries. This version is made with an eggless soft sponge cake but I can guarantee that nobody will notice it's made without eggs!
It became very popular as a Birthday Cake and during Christmas season, but I think it's perfect for any occasion.
Throught these years I've made many eggless cakes because many strict vegetarians or allergic followers asked me for them (and I've a friend allergic to eggs). I've found out that you get better results baking an eggless cake in thin layer than using a classic round tall cake pan.
For this reason I've used a rectuangular large baking sheet, then I've cut it in two to get 2 cake layers. You can use your oven baking tray (30x38cm-12x15inch) to bake this cake.
I've used long-life whipping cream for the filling because you can get more stabilized and thick whipped cream than using fresh whipping cream. Consider that more fat features your whipping cream, more stabilized will be your whipped cream. You can also use heavy cream if you can find it in your Country.
You don't need to soak these cake layers with sugar syrup because Eggless Sponge Cake features oil and milk in the batter, so it's already moist and if you soak it, it becomes too fragile.
You can make this cake the day before: the more it will stay in the fridge, the more soft and fluffy the sponge will turn out!
Ingredients
Eggless Sponge Cake
300 ml

(1+1/4 cup)

milk

room temperature

18 g

(1+1/4 tbsp)

white vinegar or any vinegar

or lemon juice

260 g

(2 cups+2 tbsp)

all purpose flour

50 g

(5 tbsp)

cornstarch

you can substitute it with all purpose flour

10 g

(2+1/4 tsp)

baking powder

4 g

(1/2 tsp)

baking soda

1/4 tsp

salt

225 g

(1 cup)

sugar

1+1/2 tsp

vanilla paste or extract

160 g

(3/4 cup)

vegetable oil
Filling
600 ml

(2+1/2 cups)

heavy cream or long-life whipping cream

chilled

65 g

(1/2 cup)

vanilla powdered sugar

or simple powdered sugar+2tsp vanilla extract

about 700 g

(1,5 pound)

fresh strawberries

washed and well dried
Instructions
Eggless Sponge Cake
In a medium size bowl, mix milk and vinegar and set aside for about 10 minutes. This is the homemade method to get buttermilk: if you have buttermilk, use it and skip vinegar (or lemon juice).

Meanwhile sift and mix together into a large bowl flour, cornstarch, salt, baking powder, baking soda and sugar.

Add vegetable oil into the milk mix.

Gradually pour milk mix into flour mix and mix with a whisk until almost combined.

Incorporate vanilla paste or extract and mix until well combined: do not overmix!

Place the batter into a lined and greased baking sheet (30x38cm-12x15inch) and spread it eavenly.

Bake in preheated oven (no-fan, upper and lower heat) at 180°C-350°F for about 15 minutes or until a toothpick comes out clean.

Cool down slightly then remove from the cake pan and cool down completely.

When completely cooled down, divide the cake into 2 equal rectangles (30x19cm-12x7,5inch each one).
Filling
Put a very large bowl in freezer for about 15 minutes to chill.

Meanwhile cut in half about 500 g (1 pound) strawberries and place the cutted side onto kitchen paper to dry.

Remove the bowl from the freezer and use it for whipping the cream until medium peaks form.

Add powdered sugar (and vanilla if you're not using vanilla powdered sugar) and mix until medium-stiff peaks form. Be careful to not overmix whipping cream.
Assemble the Cake
Spread a thin layer of whipped cream on top of one cake layer.

Place halved strawberries on top, placing the largest ones obliquely on the corners of the cake.

Spread a generous amount of whipped cream on top of strawberries and fill all the gaps both on top than on the sides of the cake.

Place the second cake layer on top.

Spread some whipped cream on top (you'll get whipped cream leftover for decorating the cake top).

Put the cake in refrigerator for at least 4-5 hours to set.

Remove the cake from refrigerator and cut the sides with a serrated knife.

Decorate on top whith the remaining whipped cream and whole strawberries.
Video
Notes
Store in refrigerator for about 2-3 days.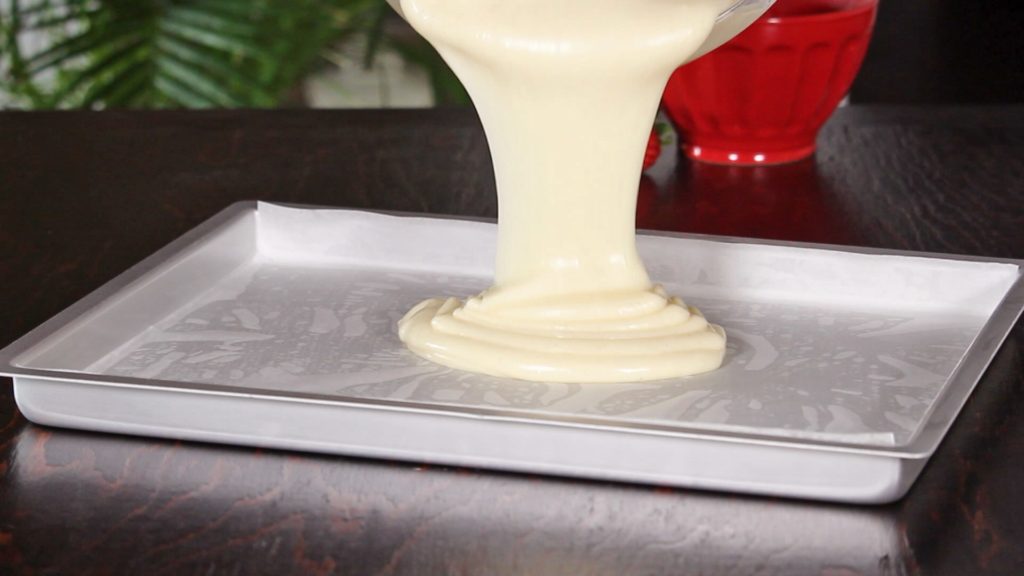 If you usually bake eggless cakes, I suggest to bake them in a large and thin sheet pan. Thin eggless cakes bake better than taller cakes, without humid and heavy crumbles, they stay soft and fluffy, very similar to classic egg sponge cakes.
I've used a 30x38cm-12x15inch lined and greased baking sheet, but you can also bake this recipe in your oven tray (my oven is large 60cm-23,5inch, if you have an American large size oven, this recipe will give you thinner cake).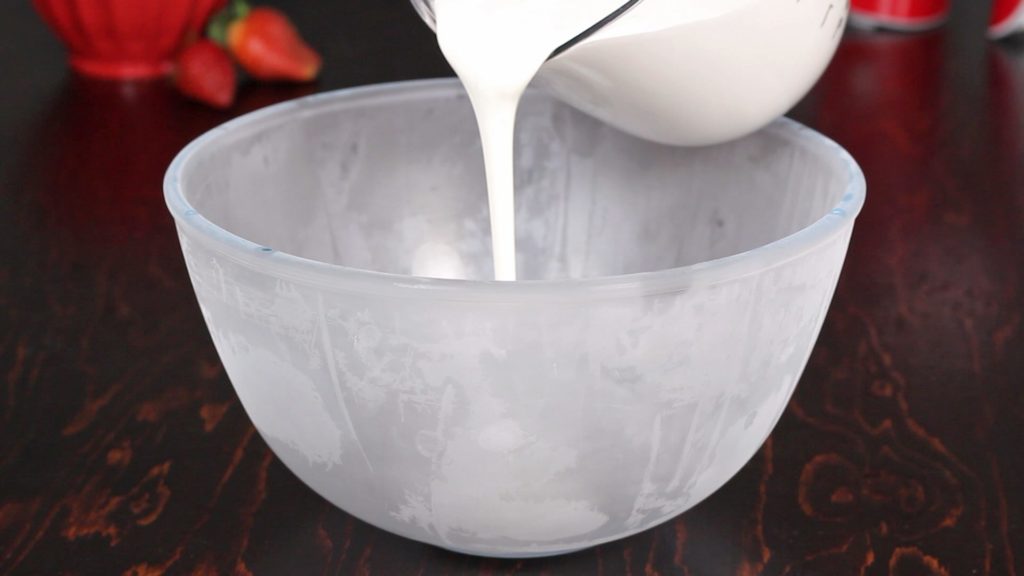 Whipping cream is very easy to make, but you should pay attention when you make it, mostly if you likve in hot climate and your whipped cream deflat easily. Here some tips:
Remember to put your cream in refrigerator at least 4-5 hours before use it, it has to be very chilled!
Chill the bowl in freezer for 15-30 minutes before use it, preferably a pyrex bowl that is freezer-safe.
Use high fat whipping cream (like heavy cream) and long-life whipping cream that are more stabilized than low fat or fresh cream.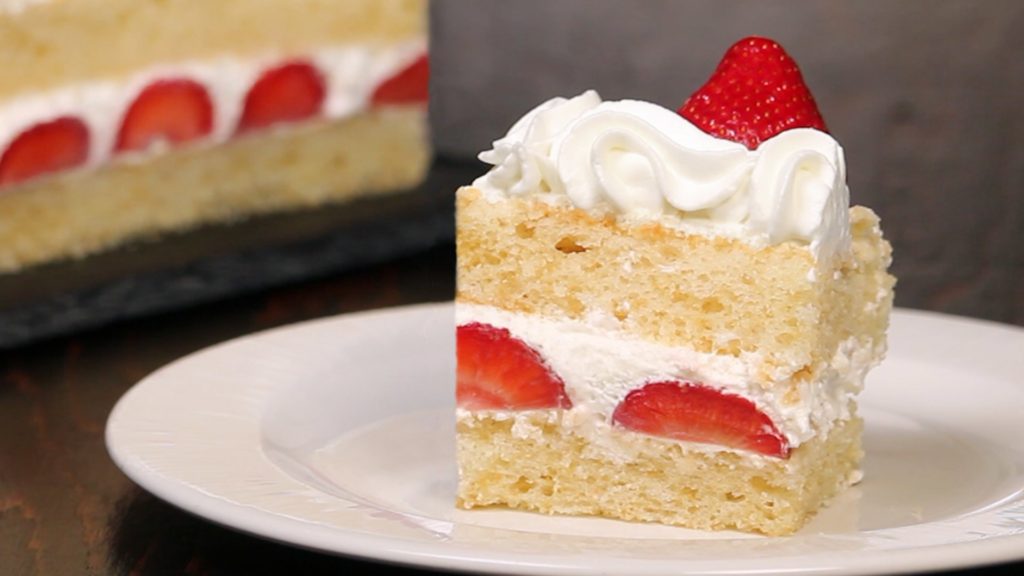 If my previous tips for perfect stabilized whipped cream didn't help you, I suggest to add Mascarpone cheese (or cream cheese if you can't find Mascarpone in your Country) to your whipping cream to get thicker and more stabilized frosting. Here the recipe of my Mascarpone Frosting:
300 g (10,5 oz) Mascarpone cheese (chilled)
240 ml (1 cup) Whipping cream (chilled)
75 g (2/3 cup) powdered sugar
1+1/2 tsp vanilla extract
In a large bowl place all the ingredients and mix with a hand mixer until become smooth and creamy. Do not overmix or it could turn into butter 😀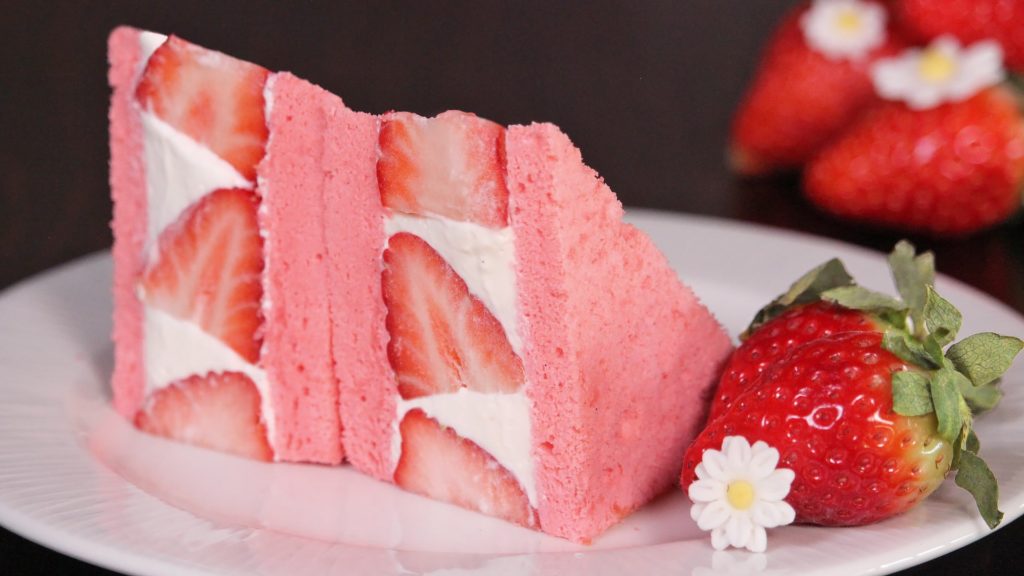 You can also make stabilized whipped cream using gelatine (or agar agar if you're vegan) following my Japanese Strawberry Sandwich recipe here on my website.