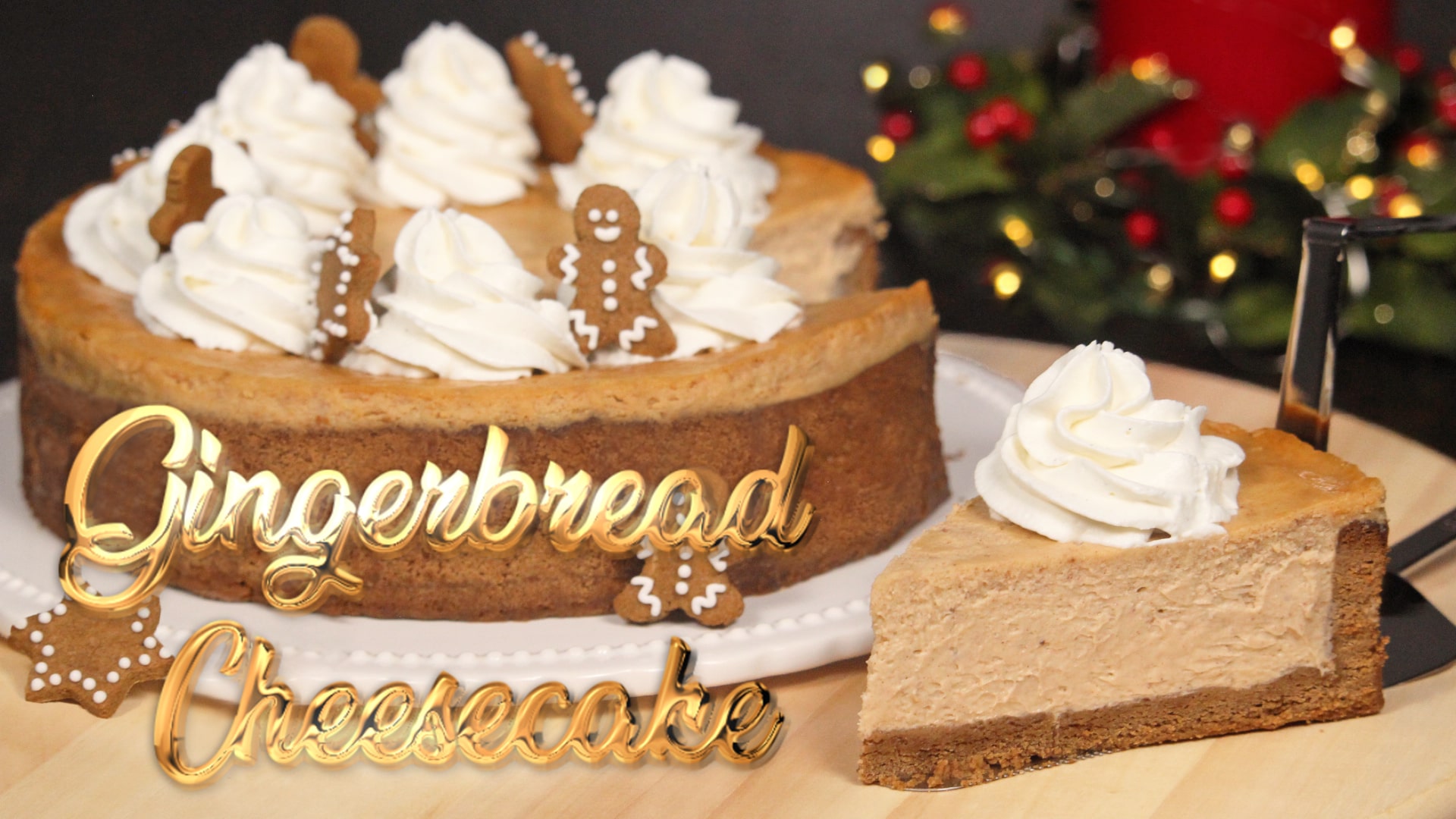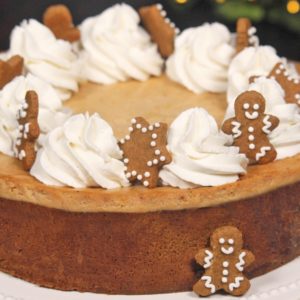 GINGERBREAD CHEESECAKE
Delicious and super creamy festive Christmas Cheesecake. this Gingerbread Cheesecake will be the masterpiece on your holiday tables!
Made with homemade gingerbread cookie crust from scratch (no grinded biscuit for this recipe!), it features a smooth, luscious and creamy spiced cream cheese fiiling with the classic gingerbread taste!
Topped with cream cheese frosting and decorated with cute homemade mini gingerbread cookies (made using the leftover cookie crust dough), it's a must Christmas try if you like Cheesecakes!
Ingredients
Gingerbread Crust
275 g

(2+1/4 cups)

all purpose flour

1/4 tsp

baking soda

2 tsp

cinnamon powder

1/4 tsp

ginger powder

1/4 tsp

cloves powder

pinch of nutmeg

50 g

(1/4 cup)

brown sugar

75 g

(1/3 cup)

unsalted butter

cubed and chilled

52 g

(3 tbsp)

molasses

or honey or maple syrup: : if you substitute molasses with them, consider to reduce the sugar amount and the water

About 45 g

(3 tbsp)

water
Gingerbread Cheesecake
600 g

(1 pound)

cream cheese like Philadelphia

chilled

200 g

(1 cup)

brown sugar

180 g

(3/4 cup)

whipping cream

chilled

60 g

(1/4 cup)

unsweetened plain yogurt

or sour cream

1 tsp

vanilla paste

or vanilla extract

3

eggs

room temperature

8 g

(1 tbsp)

cornstarch

2 tsp

cinnamon powder

1/4 tsp

ginger powder

1/8 tsp

cloves powder

pinch of nutmeg
Frosting
120 g

(1/2 cup)

whipping cream

chilled

70 g

(1/3 cup)

cream cheese

chilled

20 g

(2+1/2 tbsp)

powdered sugar
Instructions
Gingerbread Crust
In a food processor place flour, baking powder, brown sugar, all the spices, cubed butter and pulse for about 1-2 minutes until you get a sand mix and butter completely combined (do not overmix, you don't have to heat the butter).

Add molasses, water and process about 1 minute until get a dough. The water amount could vary depending on your flour: if the dough comes out wet, add a bit of extra flour; if the crumbs are dry and they don't stick together, add a bit of extra water.

Invert the crumbs onto a parchment paper sheet and press them together to get a compact dough.

Roll the dough between a parchment paper sheet and a plastic wrap film, so you don't need to add extra flour onto the working surface. Roll into about a 30cm-12inch diameter circle.

Cut a 20cm-8inch circle using the bottom of a 20cm-8inch springform cake pan, place the cookie disc into your lined and greased 20cm-8inch springform pan and pinch it with a fork.

Cut some 4cm-1,5inch dough strips and place them as sides crust into your springform pan.

Place a parchment sheet onto the cookie crust and fill it with dry beans, raw rice or pie weights to blind bake the crust.

Bake in preheated fan oven at 210°C-410°F for 15 minutes.

Remove the pie weights and set aside. If you want to get a more crispy crust, you can bake again, without the weights and the parchment paper, at 180°C for 10-15 minutes covering the sides with aluminium foil.

You can use the leftover dough to cut some small gingerbread as decoration for the cake.
Gingerbread Cheesecake
In a large bowl mix cream cheese, sugar, vanilla and the spices until smooth using a whisk.

Add whipping cream, yogurt and combine.

Add eggs one at a time: when you add the eggs don't overbeat the batter, mostly if you're using a hand mixer, and stop just until combined.

Add sifted cornstarch and mix just until combined: don't overbeat, you should incorporate as little air as possible.

Wrap the springform pan with the crust with a double aluminium foil and pour the cheesecake batter into the prepared crust.

Bake in waterbath in preheated oven (no fan, upper+lower heat) at 160°C-320°F for 1h and 15 minutes: the cake is ready when still jiggle at the center.

Turn off the oven, open the oven door and leave the cake in there for another 30 minutes so it starts to slightly cool down.

Remove the cake from the oven cool down completely at room temperature.

Cover and refrigerate for at least 4 hours, better overnight.
Frosting
Place all the ingredients in a medium size bowl and mix with a hand mixer until get smooth and medium peaks frosting.

Run a sharp knife around the inside edge of the pan to unmold the cake.

Decorate with the Frosting on top and mini gingerbread cookies.
Video
Notes
Store in refrigerator for 1 week.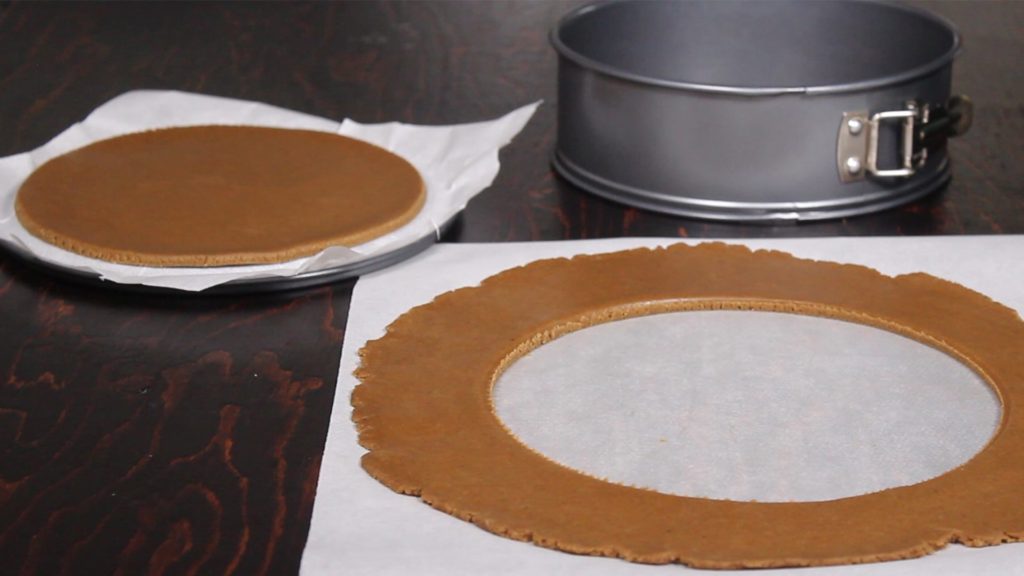 For this special Christmas GIngerbread Cheesecake, I didn't use store-bought cookies to grind for classic cheesecake crust, but I made my own gingerbread cookie dough from scratch and use it to line the springfrom cheesecake pan.
I blind baked it and I can guarantee you that it's the most delicious cheesecake crust ever! It's also quick to make because I've used a food processor for making the dough, very easy! 
If you want to use store-bought cookies, you can follow the crust recipe from my Classic Cheesecake recipe, just add the spices (cinnamon, ginger, cloves and nutmeg) to turn it into a spiced gingerbread cookie crust.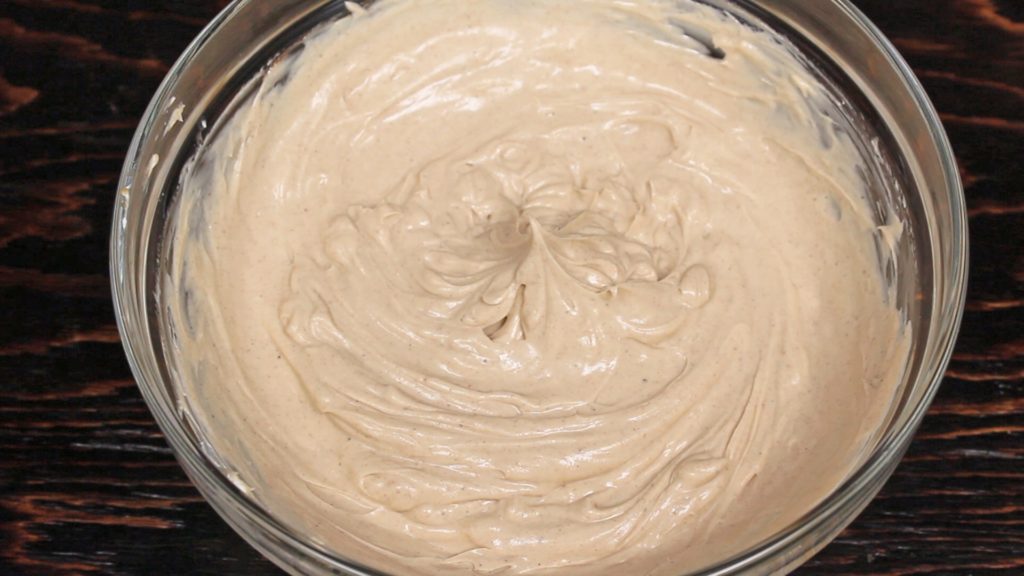 When you make classic cheesecake you shouldn't incorporate air in the cheesecake batter, or it could crack on top. For this reason, I've used a whisk and not a hand mixer to mix all the ingredients together.
You can also use chilled ingredients (I mean cream cheese and whipped cream), as you can see the batter turns out smooth without any lumps and you don't have to worry about taking the ingredients out of the fridge hours before!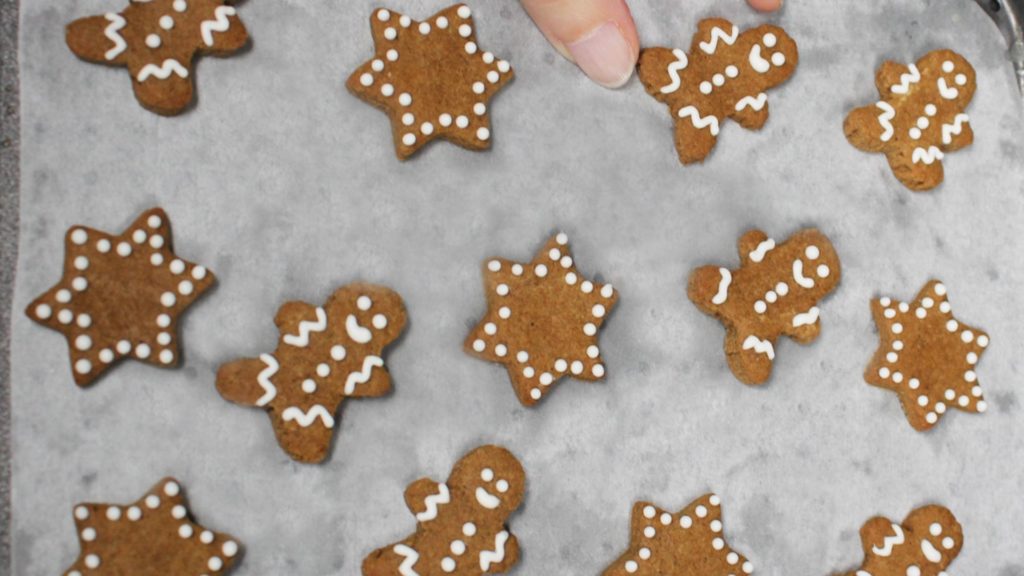 I made these cute mini gingerbread cookies as decoration using the leftover cookie dough from the homemade gingerbread crust.
I decorated them with royal icing: check the recipe here!