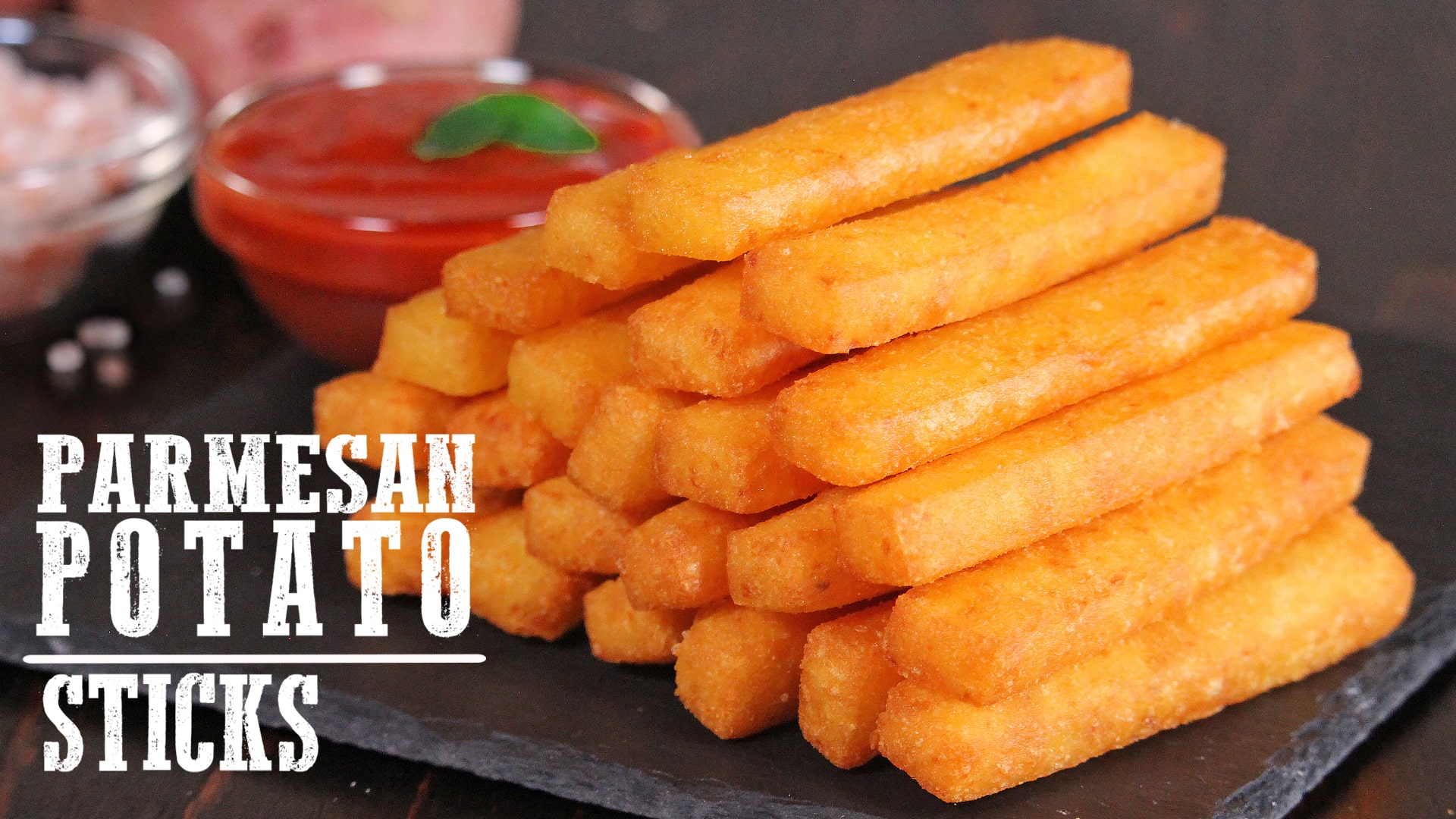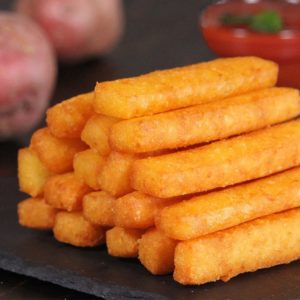 PARMESAN POTATO STICKS
How to make delicious and irresistible Parmesan Potato Sticks! Super crispy and crunchy potato reipce, made only with three ingredients!
I added grated Parmigiano Reggiano cheese for extra flavor, but you can use Parmesan cheese if you can't find Parmigiano in your Country or substitute it with other cheese like grated Cheddar cheese.
Perfect as snacks, appetizer or side dish, everyone will fall in love with these amazing and easy potato sticks!
Ingredients
490 g

(1 pound)

potatoes

if you can, choose potato type with low starch like red skin potatoes

60 g

(1/2 cup)

Parmigiano Reggiano cheese, grated

or Parmesan cheese or shredded Cheddar cheese...

90 g

(3/4 cup)

potato starch

or cornstarch

Salt

Peanut oil

or other deep frying oil
Instructions
Peel, cut potatoes into chunks and boil them in salted water until fork tender.

Mash potatoes when still hot into a large bowl, add Parmigiano cheese, cornstarch, salt if needful and mix until get a non sticky doguh. The amount of cornstarch cold vary depending on the type of potaotes you used: my potatoes are pretty dry, but if you use a very starchy moist potatoes you may need to add a bit more of cornstarch.

Place the potato dough into a 1,2L ziplock bag (21x19cm-8x7inch) and, using a rolling pin, evenly spread the dough into the bag.

Put the bag filled with the potato dough in freezer for about 20 minutes or until heat the oil.

Heat oil over medium heat until reaches about 175°C-345°F (watch my recipe video below if you don't have a thermometer to know when the oil is ready).

Remove potato dough from the ziplock bag breaking it and cut the potato dough into about 36 sticks (1cm-0,3inch thick).

Fry the potatoes stick for about 5 minutes stirring to evenly brown them.
Video
Notes
You can add salt on top just before serving if needful.
You can store raw or fried potato sticks in freezer for 2 months.
If you freeze them fried, warm them into air fryer or oven.
If you freeze them raw, fry them into hot oil directing from the freezer without defrosting them.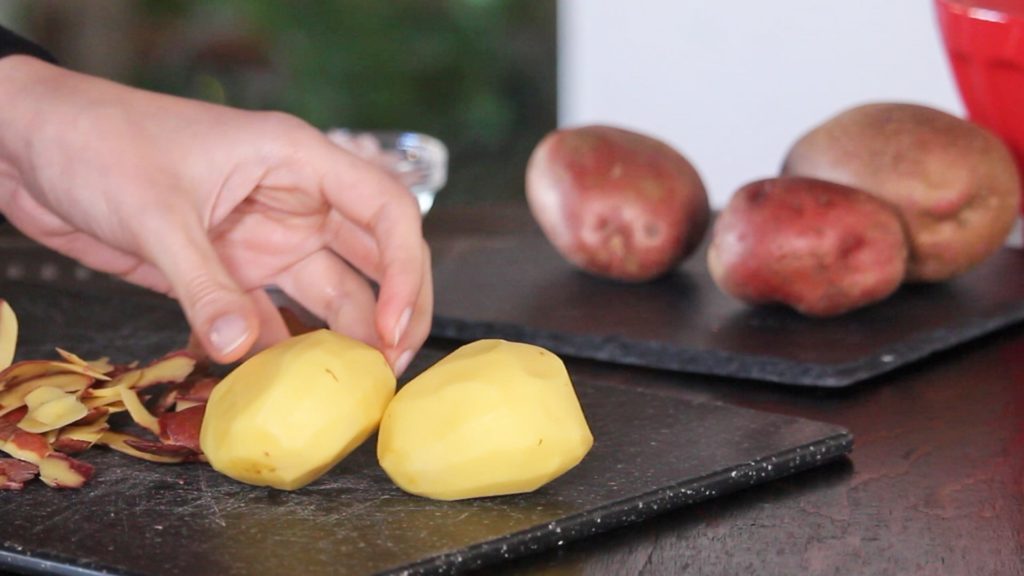 Every Country has many and different potato types that feature more or less starch amount. For this recipe I suggest to use a potato type with low starch amount, like red skin potatoes. They are not sweet potatoes, but just normal potatoes with red skin and yellow flesh.
Don't worry if you can't find this potato type in your Country, you can use your usual potatoes, just consider that you may need a bit more cornstarch (or potato starch) to get a non-sticky dough as you can see in my video.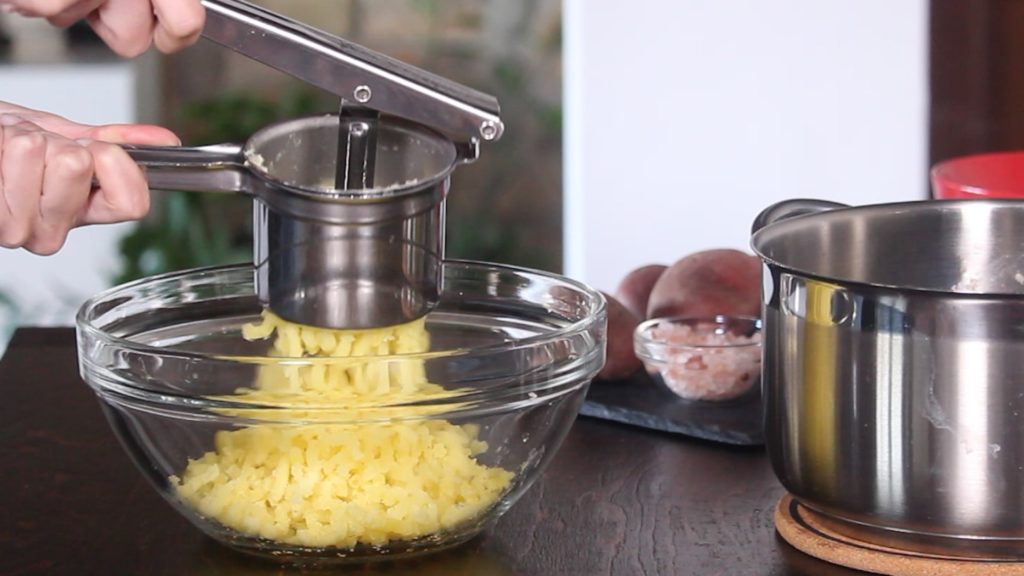 Mash potatoes when they are still hot, so you'll get more fine mashed potatoes. I've used a potato ricer (it's the classic tools we use in Italy for mashing potatoes), but feel free to use your normal potato masher ar even a fork!
I honestly think that potato ricer work better for mashing potatoes, you'll get very smooth mashed potatoes, smoother than when I use a potato masher.
I leave you the link to my potato masher if you're interested in trying this kind of tool: it works amazing!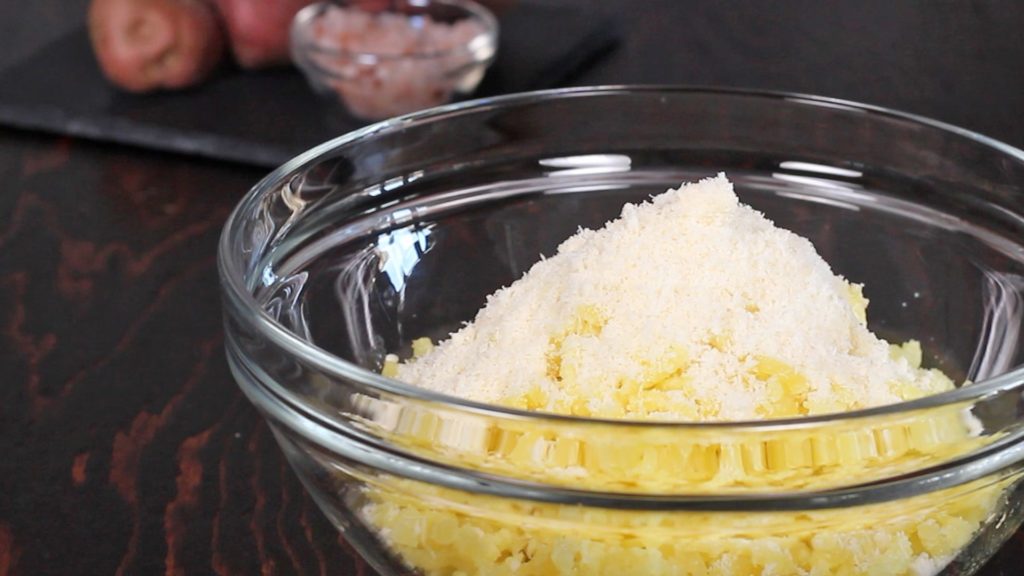 Parmigiano Reggiano cheese gives a great salty and cheese taste to potatoes, it's one of my favourite ingredient I always add to my potatoes to bring them to a next level.
If you can't find Pramigiano Reggiano in your Country, surely you can find Parmesan or similar cheese, they work perfect too in this recipe.
If you don't like Parmigiano cheese, you can also use grated Cheddar instead.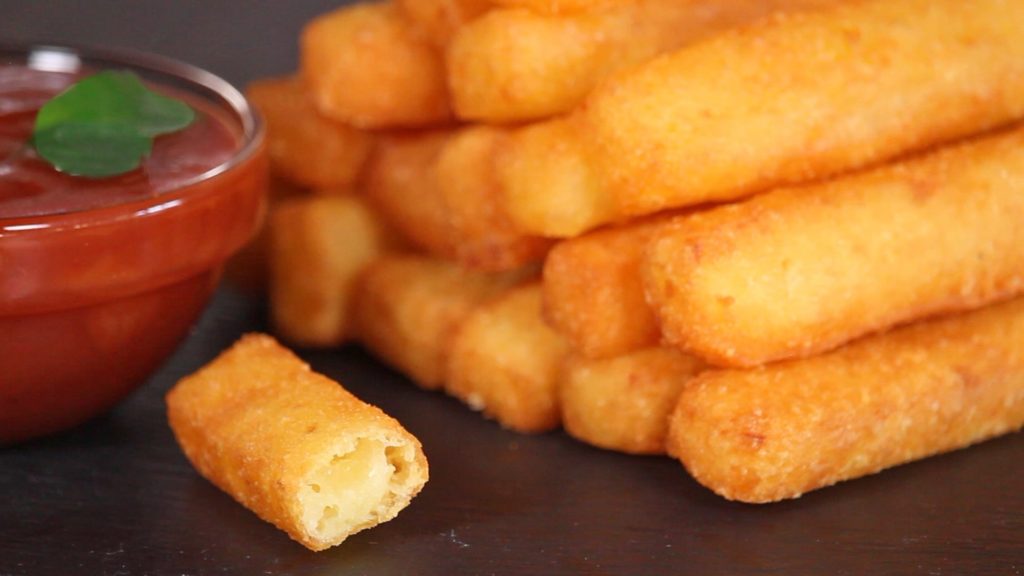 You can dip these potato cheese sticks in your favourite dipping sauce but if you're looking for an irresistible tomato dipping sauce, I suggest to try my Marinara dipping sauce recipe: sure you will love it!