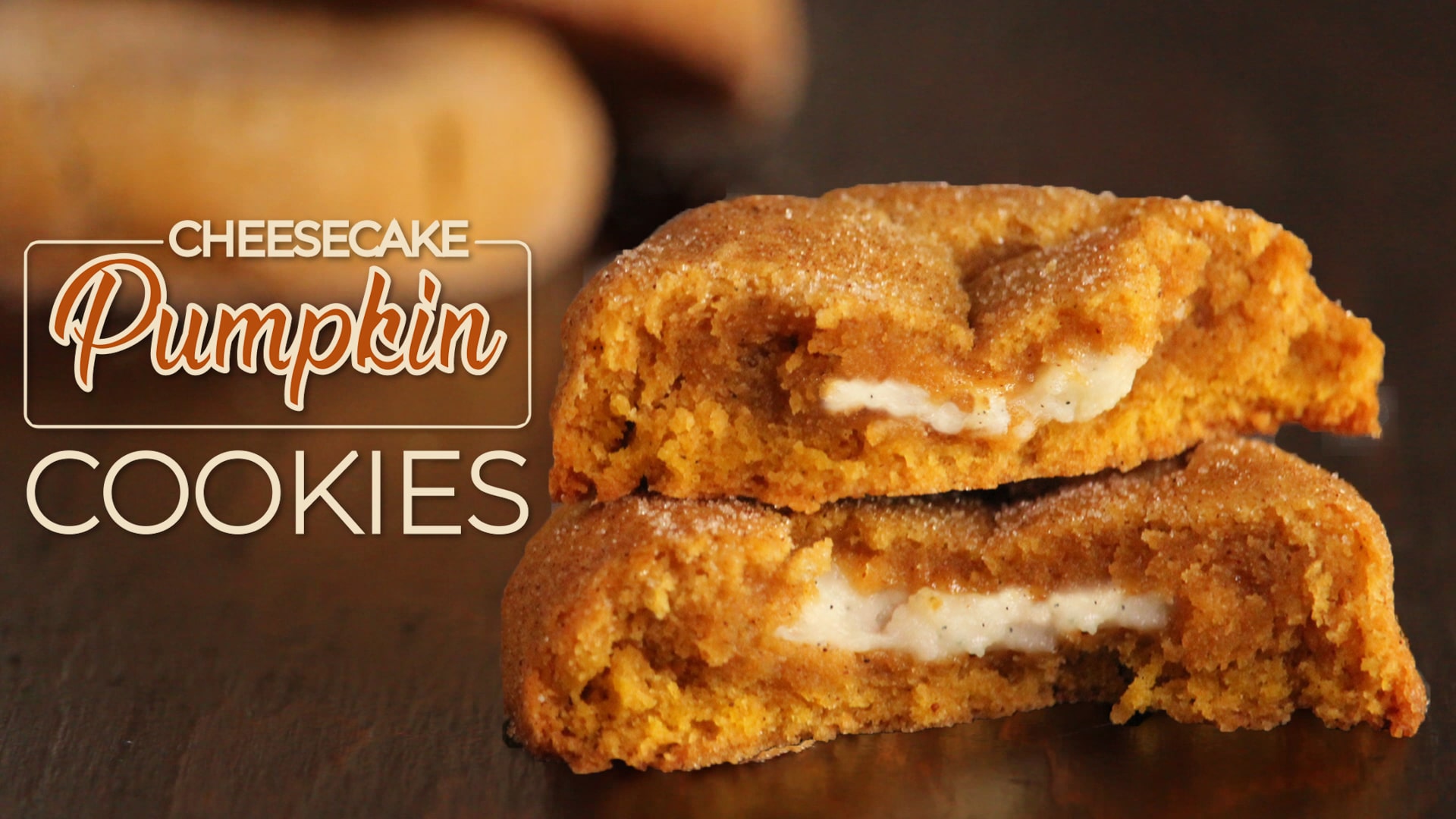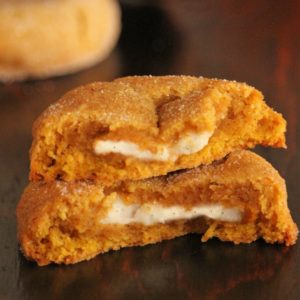 PUMPKIN CHEESECAKE COOKIES
These are the best Autumn cookies ever! Pumpkin Cheesecake Cookies are full of pumpkin spice flavor, with an irresistible cinnamon-sugar coating and a creamy cheesecake filling!
They have a slightly crispy crust with a super soft inside: they literally melt in your mouth.
I made them with my homemade pumpkin puree (I always prepare a huge amount and stock it in freezer), you can find the recipe here on my website: it's incredibly quick and easy to make and you don't need oven!
Just one suggestion: you should use pretty dry pumpkin puree in this recipe, and usually homemade puree is a bit watery. In the recipe video below, I show you how to thick and dry your pumpkin puree in few minutes.
I made large cookies and with this recipe you'll get 10 large cookies; but if you prefer smaller cookies, you'll get about 15 cookies.
Ingredients
Cheesecake Filling
60 g

(4 tbsp)

cream cheese

like Philadelphia

14 g

(2 tbsp)

powdered sugar

1/4 tsp

vanilla paste

or vanilla extract
Pumpkin Cookie Dough
110 g

(1/2 cup)

unsalted butter

room temperature

50 g

(1/2 cup)

caster sugar

50 g

(1/2 cup)

brown sugar

1

(17 g)

egg yolk

1/2 tsp

vanilla paste

or extract

50 g

(1/4 cup)

pumpkin puree

the more thick and dry as you can

180 g

(1+1/2 cup)

all purpose flour

1/4 tsp

baking powder

1/4 tsp

baking soda

3/4 tsp

cinnamon

1/8 tsp

cloves

pinch of ginger

pinch of nutmeg

pinch of salt
Coating
35 g

(3 tbsp)

granulated white sugar

1/4 tsp

cinnamon
Instructions
Cheesecake FIlling
In a small size bowl combine together cream cheese, powdered sugar and vanilla until smooth.

Divide the cream cheese mix into 10 equal tsp placed onto a lined sheet.

Put in freezer for at least 20 minutes or until hard and frozen (meanwhile prepare cookie dough).
Pumpkin Cookie Dough
If you're using homemade pumpkin puree or if your canned pumpkin puree is watery, cook it for some minutes over low heat keeping on stirring, until it becomes dry, thick and very dense. Set aside to cool.

In a large bowl cream together butter, brown sugar, caster sugar, vanilla until become smooth and well combined. You can use a spatula or a hand mixer.

Incorporate the egg yolk and the pumpkin puree. Don't worry if it lumps a bit, it will turn out smooth after you adding flour mix.

In a medium size bowl sift and mix together flour, salt, baking powder, baking soda and all the spices.

Add the flour mix in 3 times into the butter mix: use a spatula to combine or, if you are using a hand mixer, don't overmix! Your cookie dough may need a bit more/less flour depending on how much watery was your pumpkin puree. The dough should be very soft but not too sticky.

Place the cookie dough into refrigerator for at least 20 minutes, mostly if you live in a hot climate. You can skip the refrigerating time if you live in a cold climate.
Coating
In a small bowl mix together sugar and cinnamon.

Use a 5cm-2inch large ice cream scooper to scoop the cookie dough.

Flatten the cookie dough ball into a circle and place in the center a frozen scoop of cheesecake filling.

Fold the edges of the cookie dough circle around the cheesecake filling and roll into a ball: mostly if you live in a hot climate, roll quickly the cookies because cream cheese filling tends to melt quickly; you can return the cheesecake filling to freezer for minutes more if it melts.

Repeat for the rest of the dough: you'll get 10 large stuffed cookie balls (or 15 if you're using a smaller scooper).

Roll every ball into the sugar-cinnamon coating, place 5 balls onto a lined baking sheet (at least 5 cm-2 inch apart) and slightly flatten the top.

Bake in preheated fan oven (upper+lower heat) at 180°C-350°F for about 9 minutes or until the sides become slighlty golden. Don't over bake!

Cool down completely on a wire rack before serving.
Video
Notes
You can store the cookies in an air tigh container or a tin cookie box at room temperature for up to 6-7 days.
You can freeze raw stuffed cookies balls for up to 3 months (in this case, you need to bake them for some minutes more).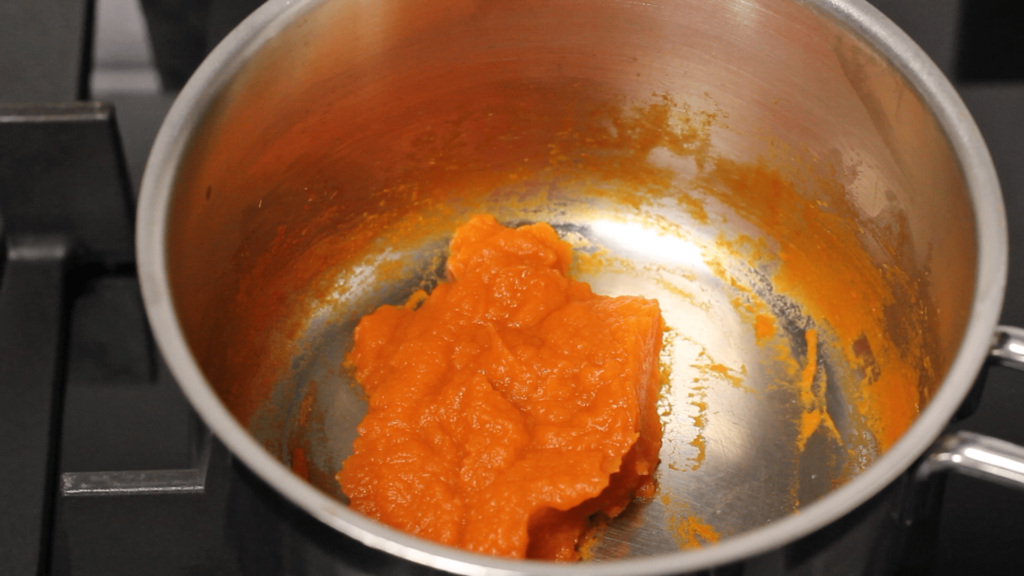 These Pumpkin Cheesecake Cookies are very easy to make, but you should pay attention to the Pumpkin Puree you use for this recipe.
I always use homemade pumpkin puree for my recipes: I make a huge amount and store it in small bags in my freezer. If you've never made homemade pumpkin puree I suggest to follow my easy to go recipe here, you don't need oven and it's quick and easy. 
Homemade pumpkin puree is usually a bit watery, but in this recipe you need thick and dry pumpkin puree.
For this reason I cook my pumpkin puree over low heat for some minutes stirring very often, to get a thick and dense puree.
Even if you're using canned pumpkin puree, please check the consistency and cook it to get a thick puree if it's too soft and creamy.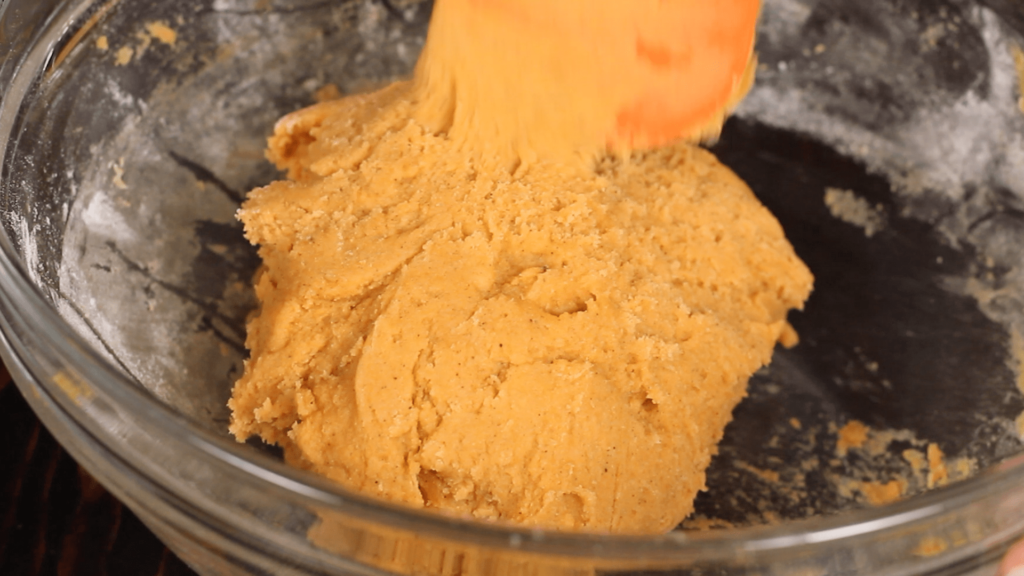 Just because your pumpkin puree could be a bit less-more watery than mine, it's possibile you need a bit more-less flour to form your cookie dough.
The consistency of your Pumpkin Cookie Dough is perfect when very soft but not too sticky! You should be form into balls without dirty your hands too much.
But pay attention to not use too much flour or your cookies will turn out cakey and not soft.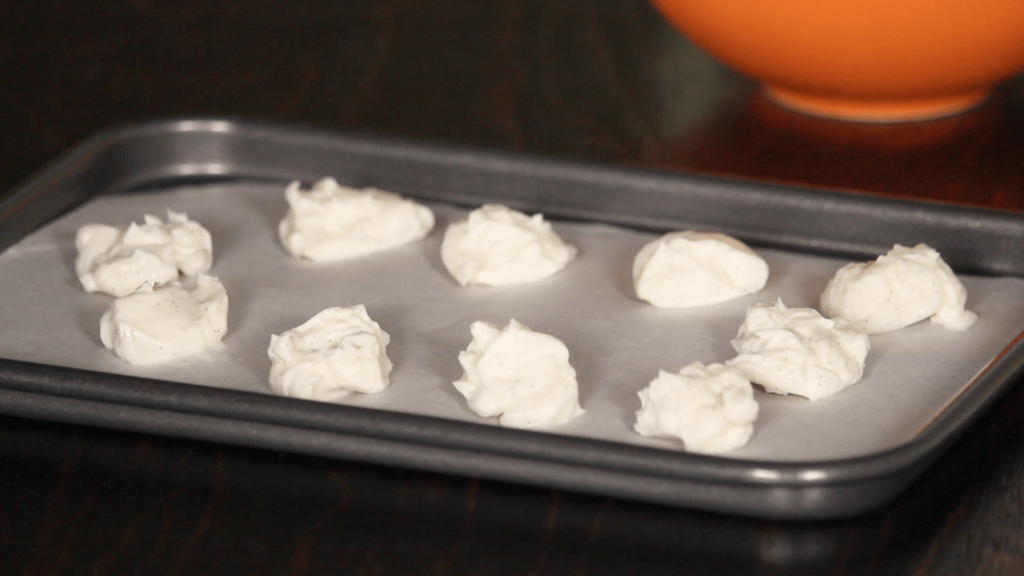 To form your cookies, it's pretty important to freezer well the Cheesecake filling. Thanks to this step, the filling won't dry while baking and it will be more easy to form your cookie balls without making a mess 😛