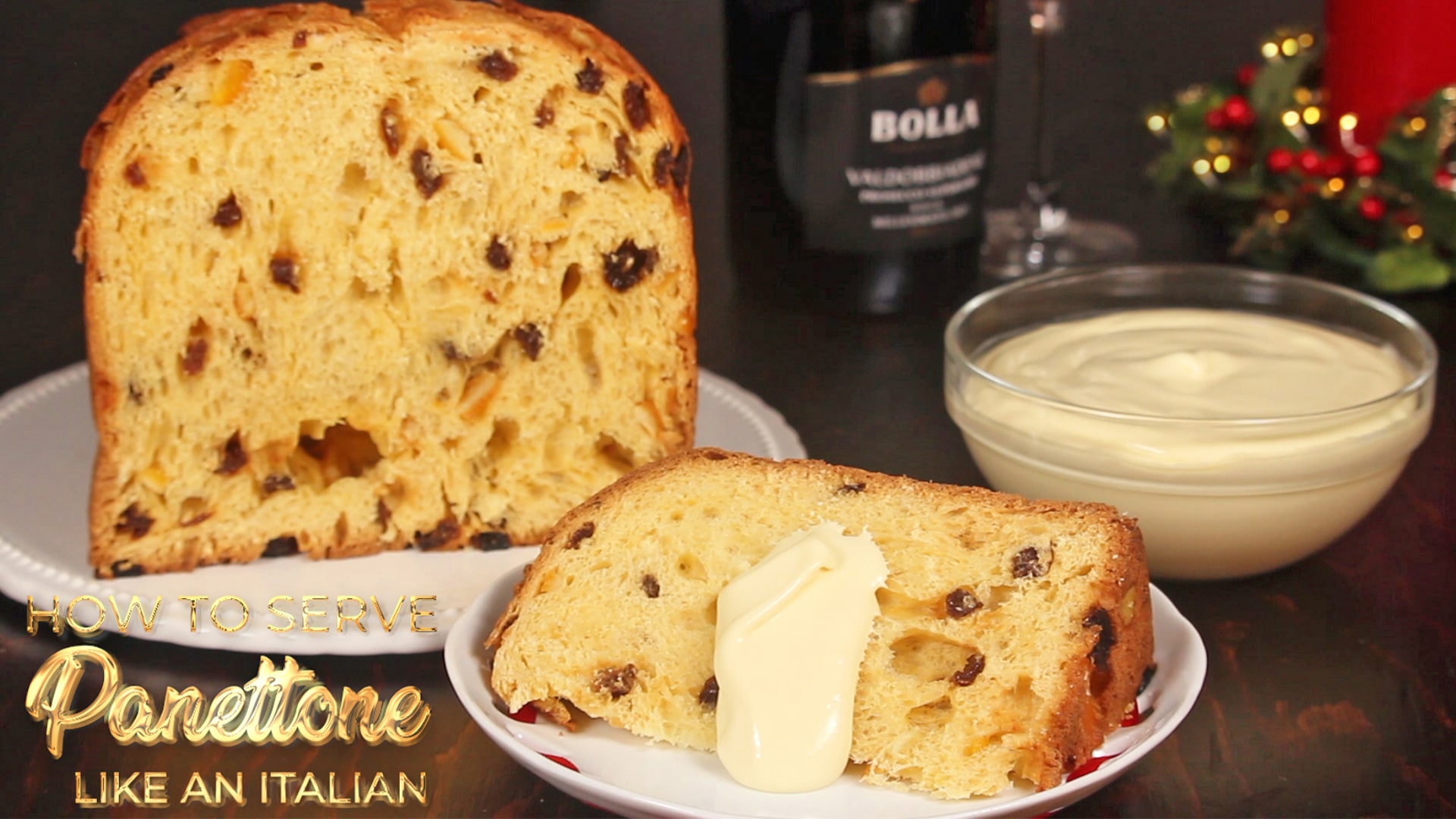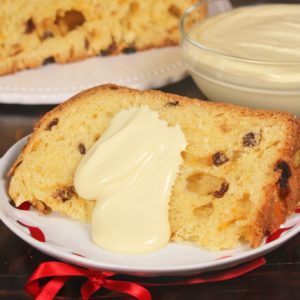 ITALIAN PANETTONE FROSTING - HOW TO SERVE PANETTONE LIKE AN ITALIAN
Traditional Original Italian Mascarpone creamy and smooth frosting to serve with Panettone.
In Italian we call it "Crema per il Panettone" and the main ingredients are Mascarpone cheese, egg yolks, whipping cream and sugar.
It's common (but not mandatory) to add a splash of liquor like Marsala or an orange liquor like Grand Marnier: every liquor that matches good with the orange and zesty Panettone flavor.
In my tips below I also share with you all the tips to serve Panettone perfectly like we do in Italy, so check them out!
Here in my website you can also find the recipes for my Easy and Quick Panettone and my Eggless Mini Panettone without molds. Enjoy!
Ingredients
2

egg yolks

75 g

(1/3 cup)

caster sugar

25 g

(2 tbsp)

water

250 g

(9 oz)

Mascarpone cheese

chilled; if you can't find it in your Country, use the smoother and sweeter cream cheese you can find

120 g

(1/2 cup)

whipping cream

chilled

About 1 tbsp

Marsala liquor

optional. You can substitute it with an orange liquor like Grand Marnier
Instructions
Place the egg yolks in a large heatproof bowl and mix with a hand mixer at high speed for about 4 minutes, then set aside.

Place the sugar in a small saucepan and add the water: cook over low heat and bring to a boil without mixing. When sugar syrup starts simmering, let it boil for 6-7 minutes over low heat, or until a thermometer reaches 121° C-250° F. The syrup should be pretty transparent, not amber or too yellow in color.

Add immediately, little by little, the hot (and slightly thick) sugar syrup into the yolk mix keep on mixing with your hand mixer. If you have a stand mixer, you can use it.

Mix the yollk mix at medium-high speed for at least 5-6 minutes, until the yolk mix cooled down almost at room temperature and become very pale and thick.

In a large bowl palce chilled Mascarpone, whipping cream and start mixing with a hand mixer at medium speed until smooth and no lumps (don't worry you can see many lumps at the beginning, keep on mixinand it will turn out very smooth and about 2 minutes!).

Incorporate the cooled down egg yolk mix: mix with a hand mixer until completely comeibned and become a bit thick (but not too much, do not overbeat!).

Add your liquor (optional) and gently fold with a spatula.

Let in rest in refrigerator for at least 2 hours before serve it with your Panettone.
Video
Notes
Store in refrigerator for about 4-5 days.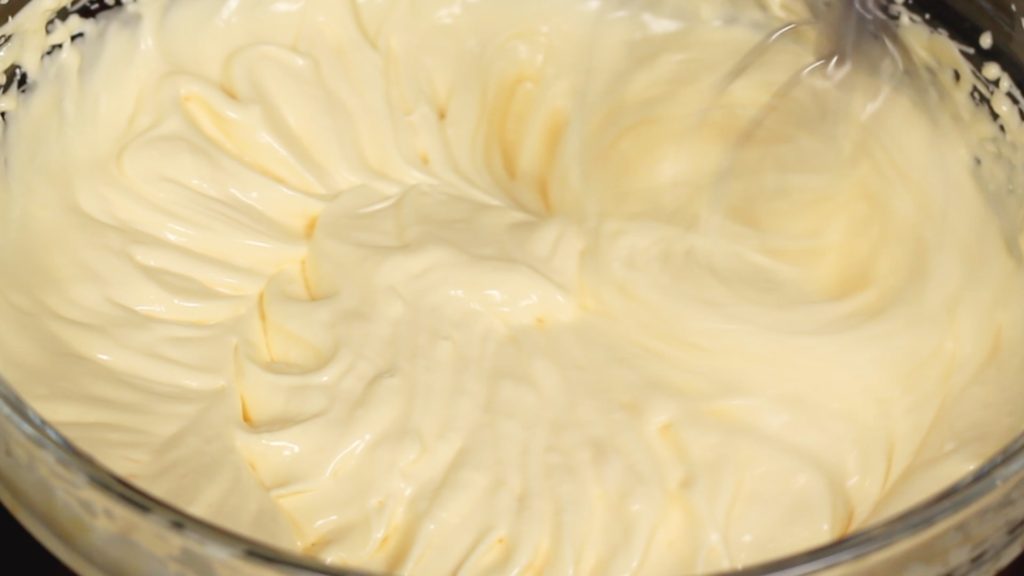 For Panettone Frosting, you should use Mascarpone (the traditional Italian cream cheese), because it's the main ingredients in this recipe. If you live in a Country where you can't find Mascarpone cheese, you should find a very smooth and thick cream cheese that is the sweeter as you can find!
Mascarpone is made from whipping heavy cream, so it's sweeter than classic cream cheeses (I mean, like "Philadelphia" cream cheese) that are a bit more sour and less rich in taste.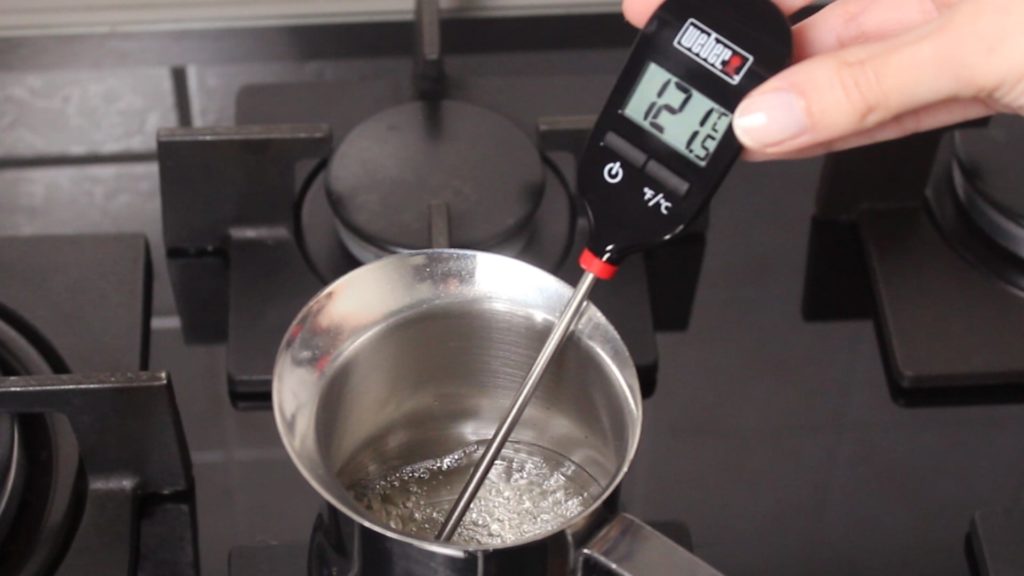 When I was a child, my grandma (and the majority of Italian moms and grandmas) made this Panettone Frosting with raw egg yolks, just beating the yolks with sugar. Something similar to the Tiramisu frosting.
In this recipe I wanted to show the Pro method: I used a hot sugar syrup to pasteurize the yolks, so they are safe to be eaten.
You should bring the sugar syrup at 121°C then IMMEDIATELY pour it into the egg yolks and beat until thick, pale and almost cooled down at room temperature.
If you don't have a thermomether, bring the sugar and water to a simmer over low heat, than timing 6-7 minutes (always on low heat) of simmering and it should be ready. It should be stay pretty transparent and a bit thick when you pouring into the yolks.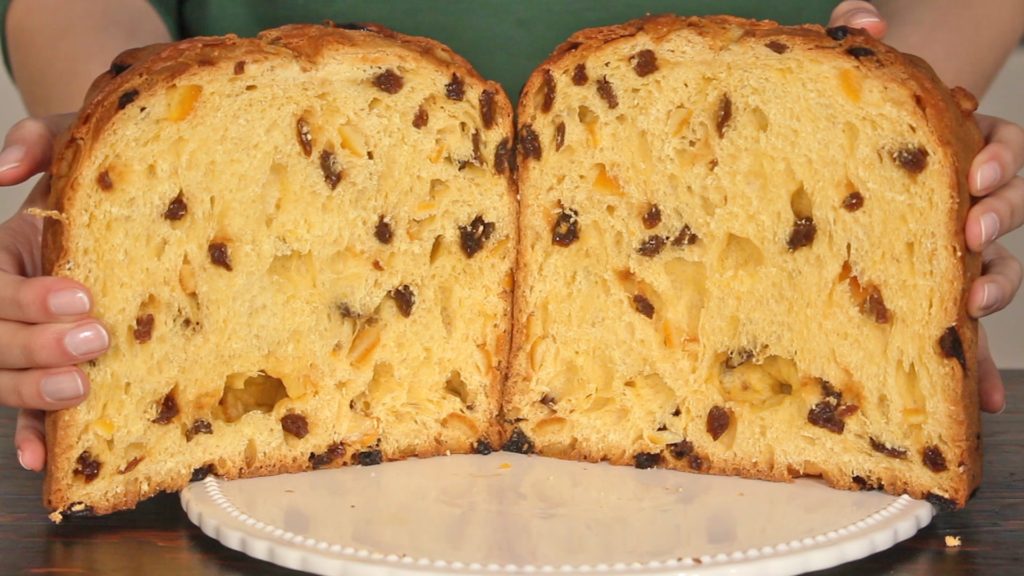 The traditional Panettone recipe is very long and difficult to make at home: it's made with sourdough (no yeast!), it requires many days of kneading and proofing and you surely need a stand mixer (hand kneading doesn't work well for Panettone). 
That's why I made an Easy Panettone Recipe without kneading and ready in few hours (not days!), so everyone can easily make your own homemade Panettone with the true original Italian flavor!
I'm so glad to share with you this easy recipe, mostly for people who lives out of Italy where a Panettone could be very expensive (and often even not original too).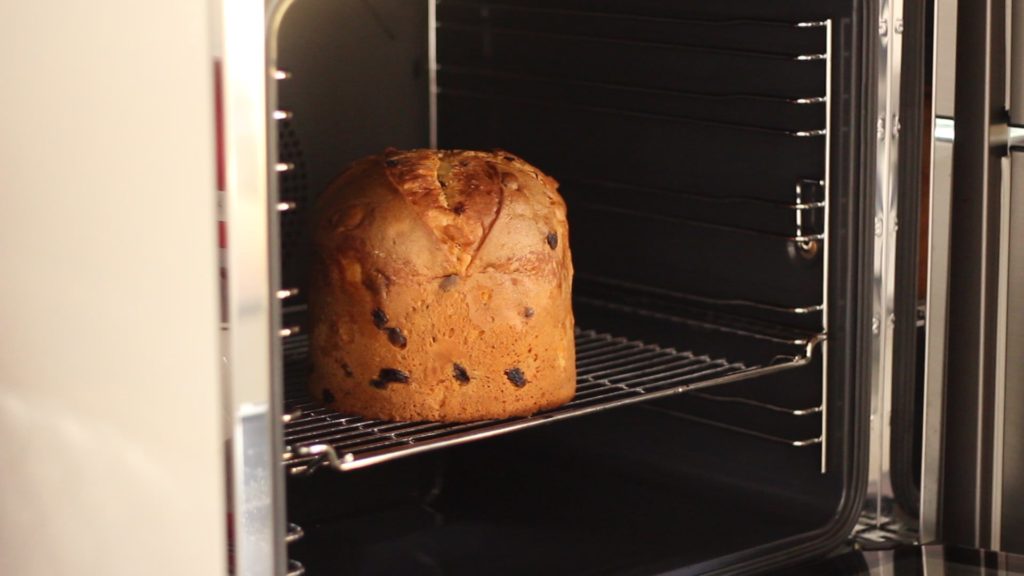 The perfect steps to serve Panettone are these:
Preheat your oven (upper+lower heat, no fan) at 80°C-180°F. 
Unmold Panettone from the paper mold as I showed in my video above.
TURN your oven OFF.
Place your whole Panettone into the preheated oven and let it slightly warm up for about 2-3 minutes. You SHOULD NOT serve Panettone hot, just slightly warm it up to activate its orangy flavor. The right temperature to serve it is about 25°C-77°F.
Slice Panettone using a serrated knife for bread.
Serve it with my Panettone Frosting and Italian Prosecco wine in a flute glass!